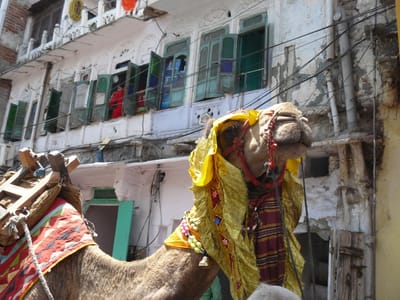 Happy to be able to take 6 weeks holiday again this year, after a shorter visit in 2017.
I spent the first month in Udaipur, Rajasthan, one of my favourite places in India.
The Idea was to have one hour of Hindi classes every day to improve my ability to communicate and share with the locals.
I already had a reasonable vocabulary, but little understanding of grammar.
I can now read and write quite well, though I still don't understand a lot. Indians like to speak fast !

The photos are more or less in chronological order
.
Back to my favourite Guest House, Old Jheel. The first floor doubles as staff quarters with 2 rooms and 16 bunk beds.My room with terrace on the 4th floor was the only other room occupied.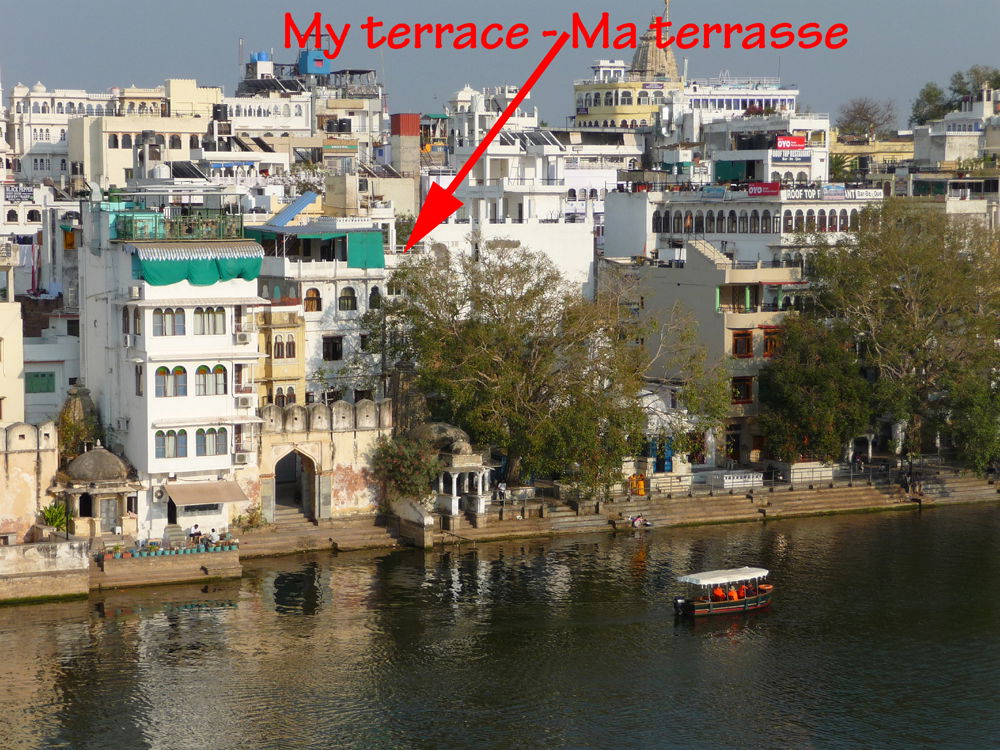 Love this view from my terrace.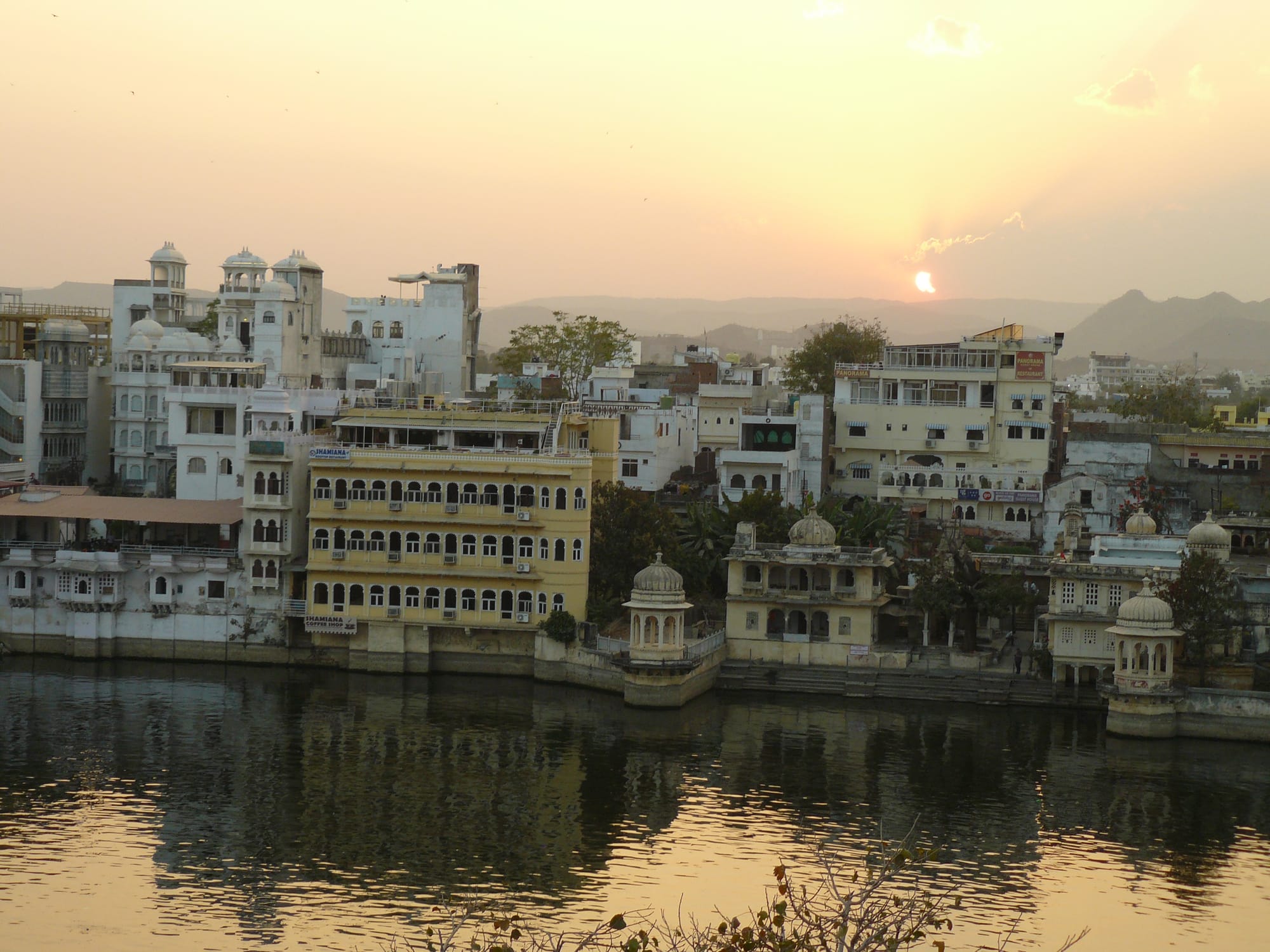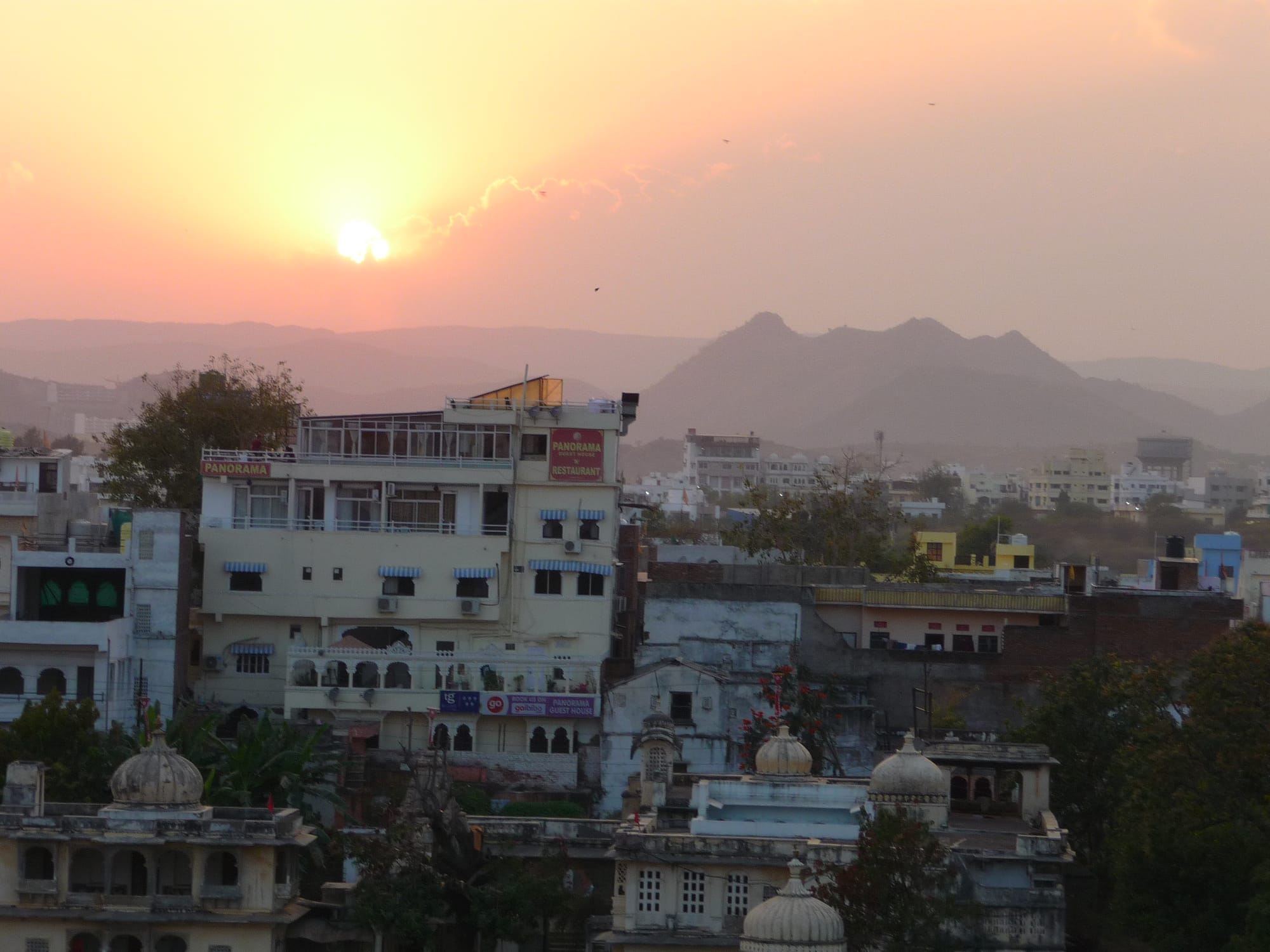 Peaceful Lake Pichola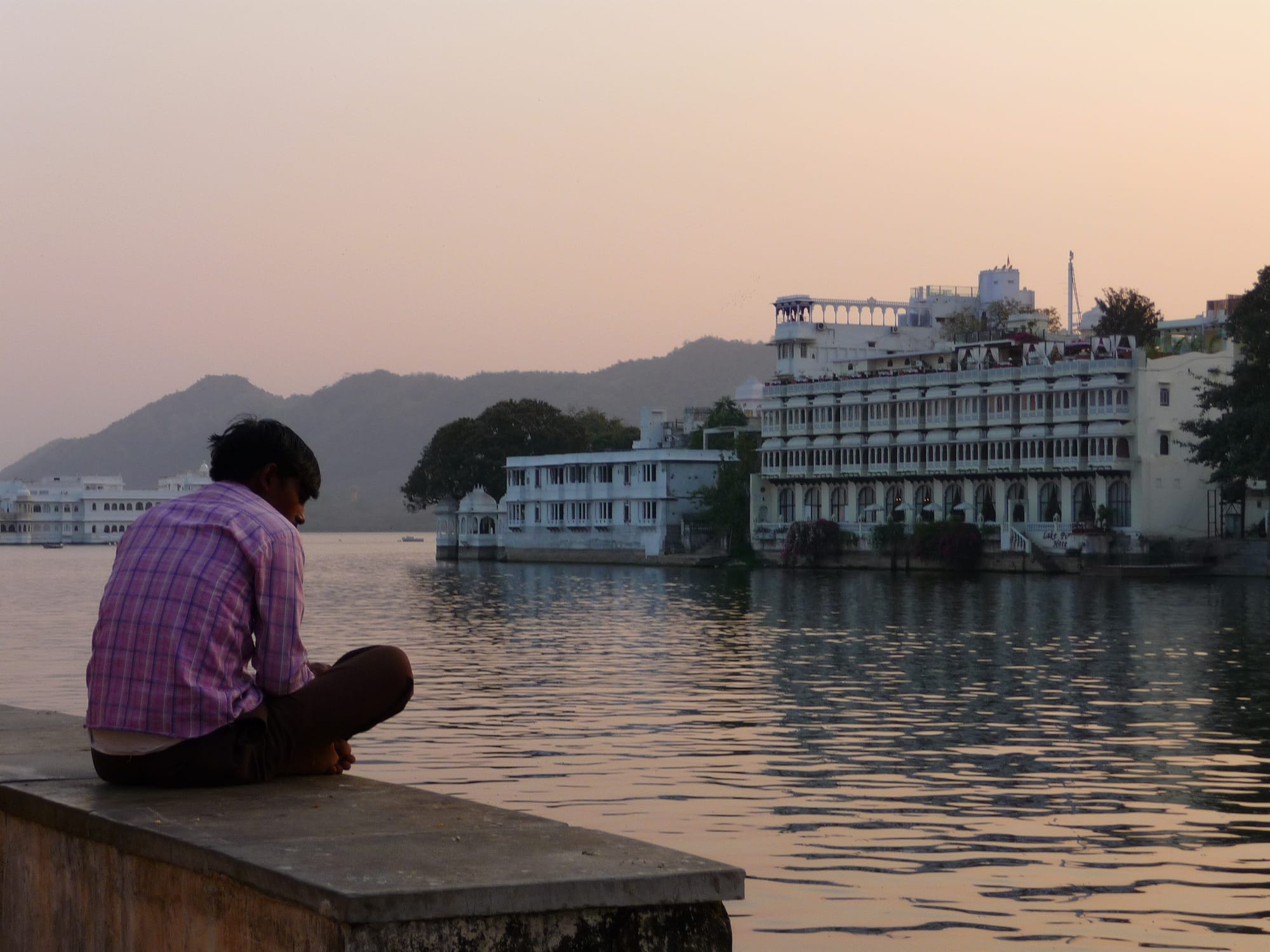 View from my favourite restaurant for chai - Dream Heaven on Hanuman Ghat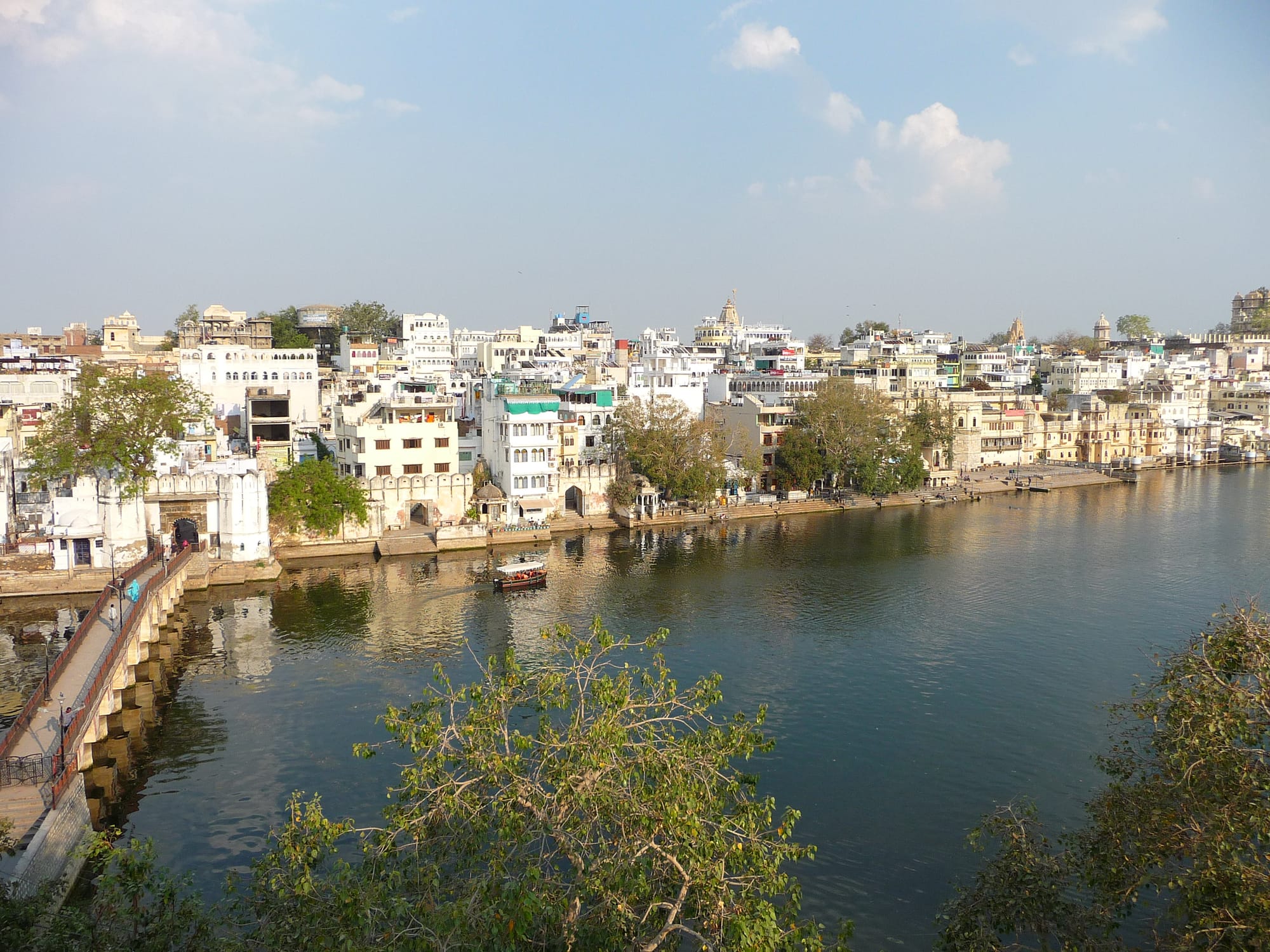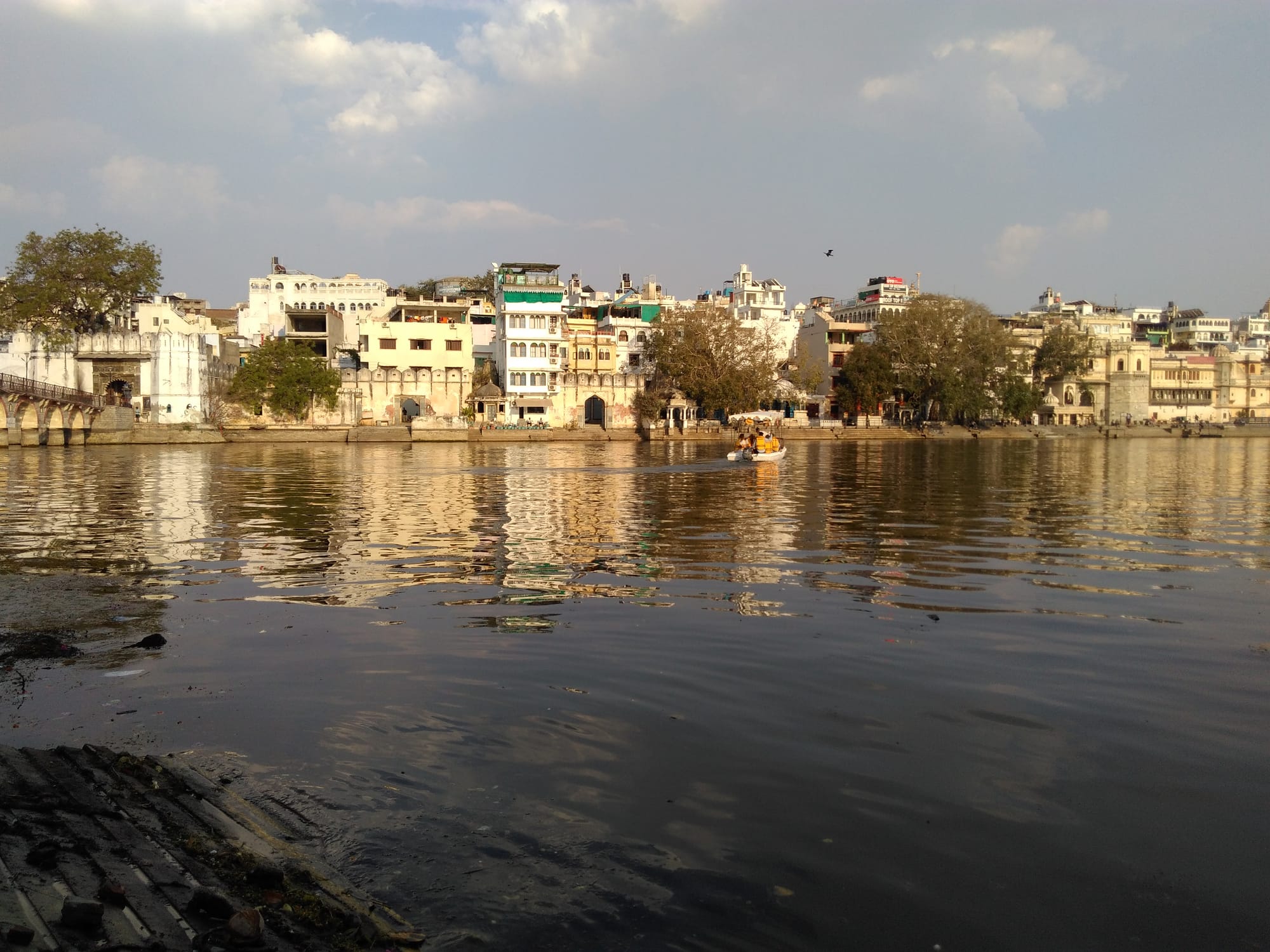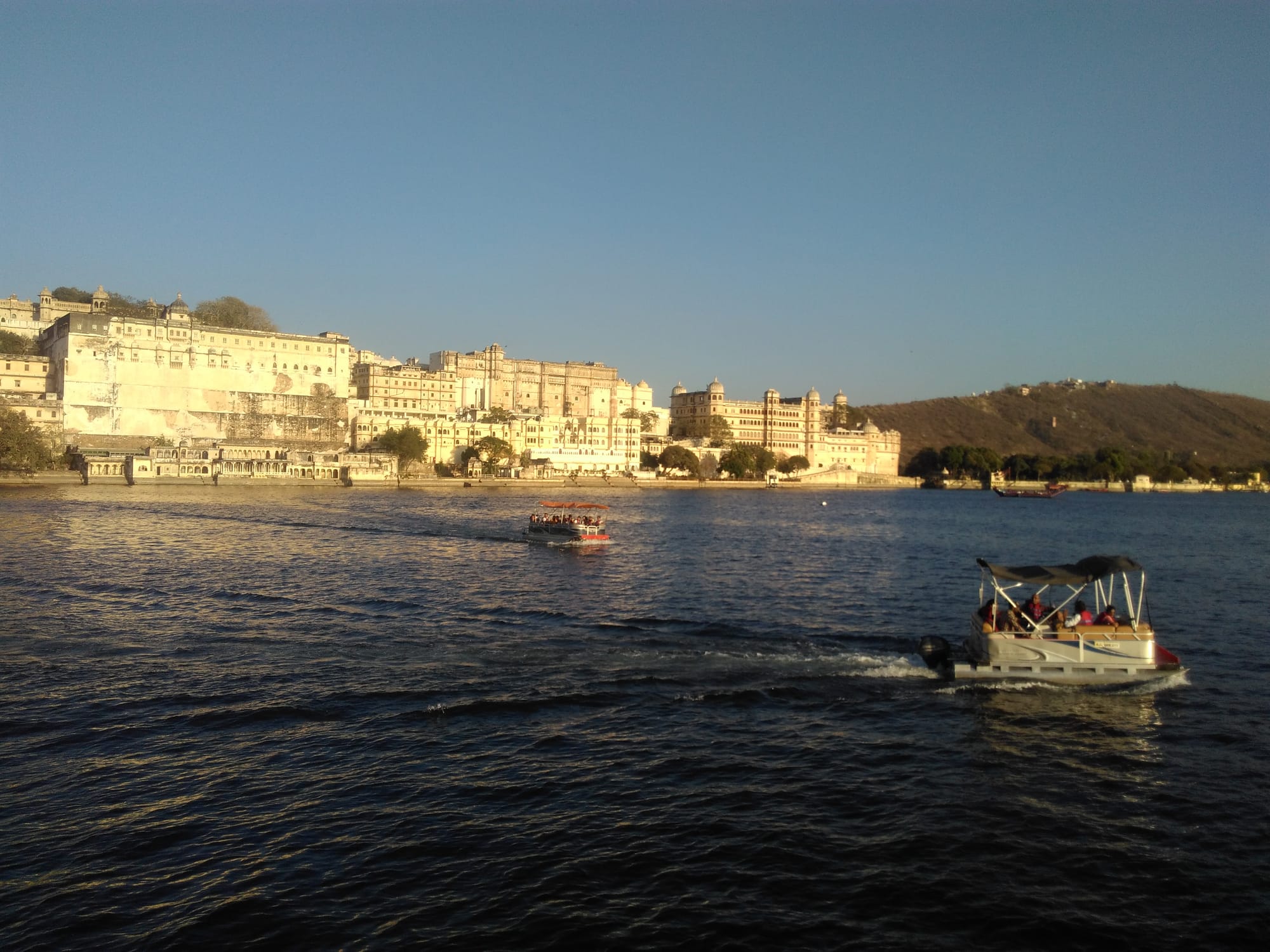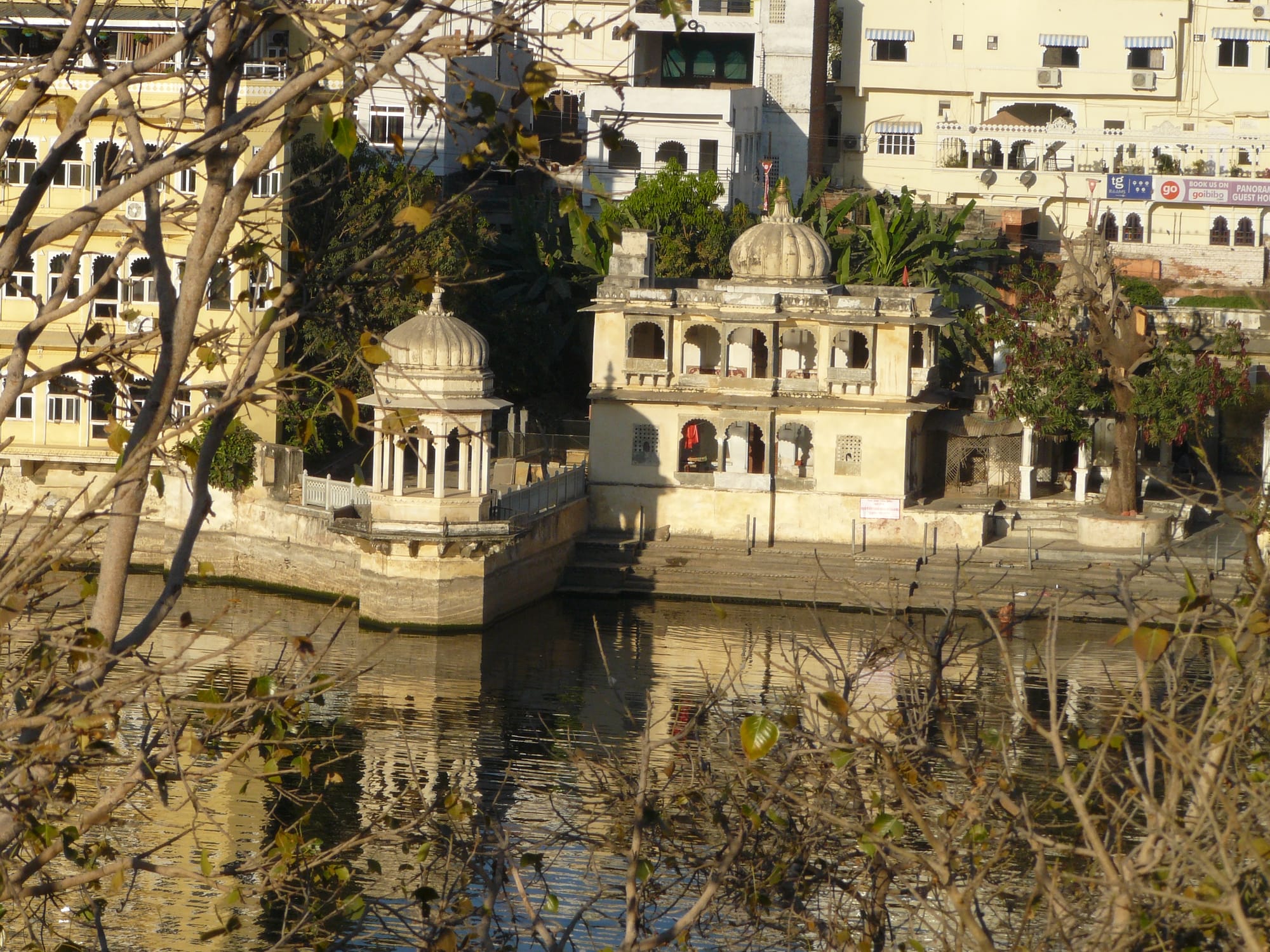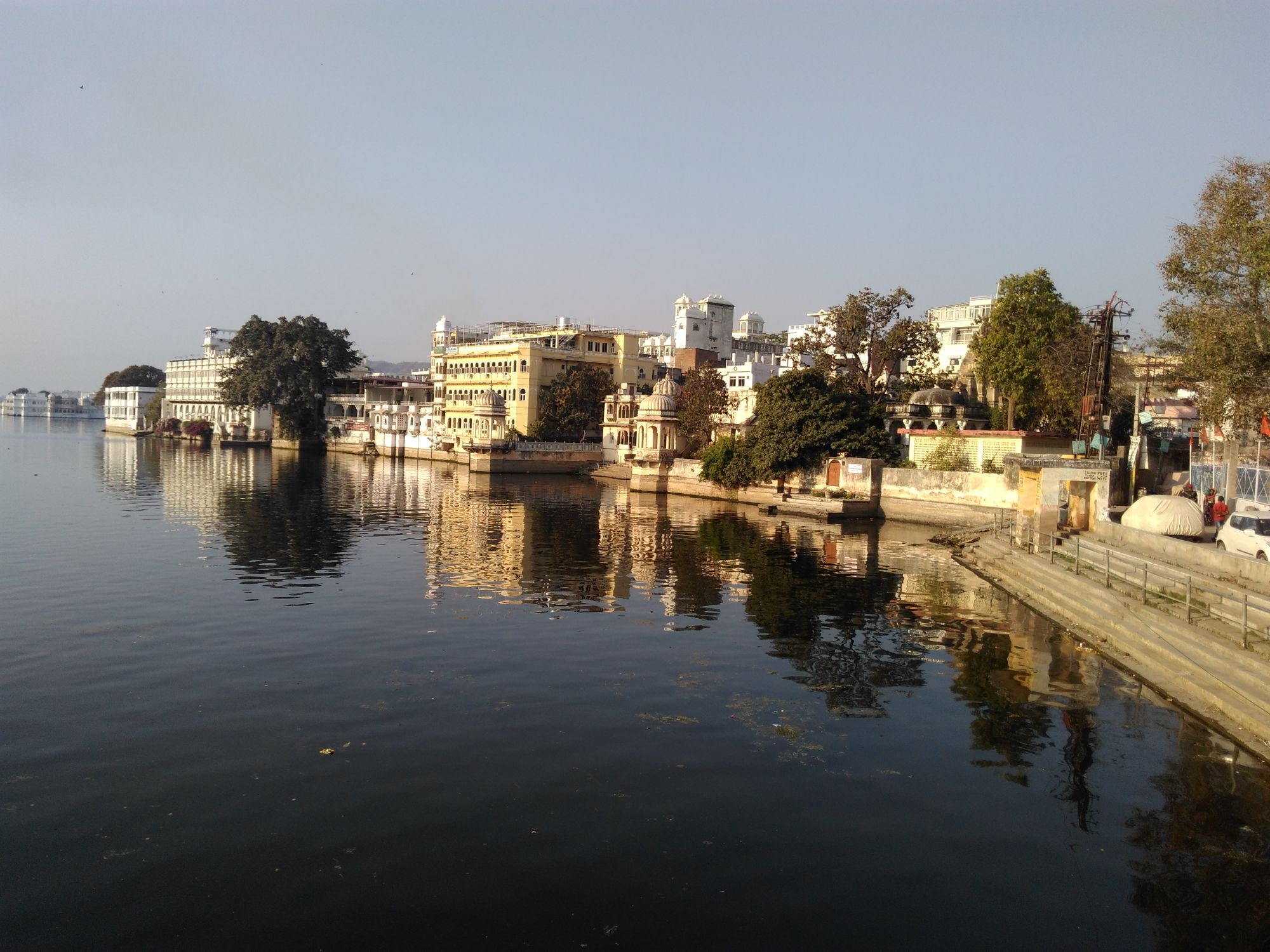 Preparing for the Ladies Festival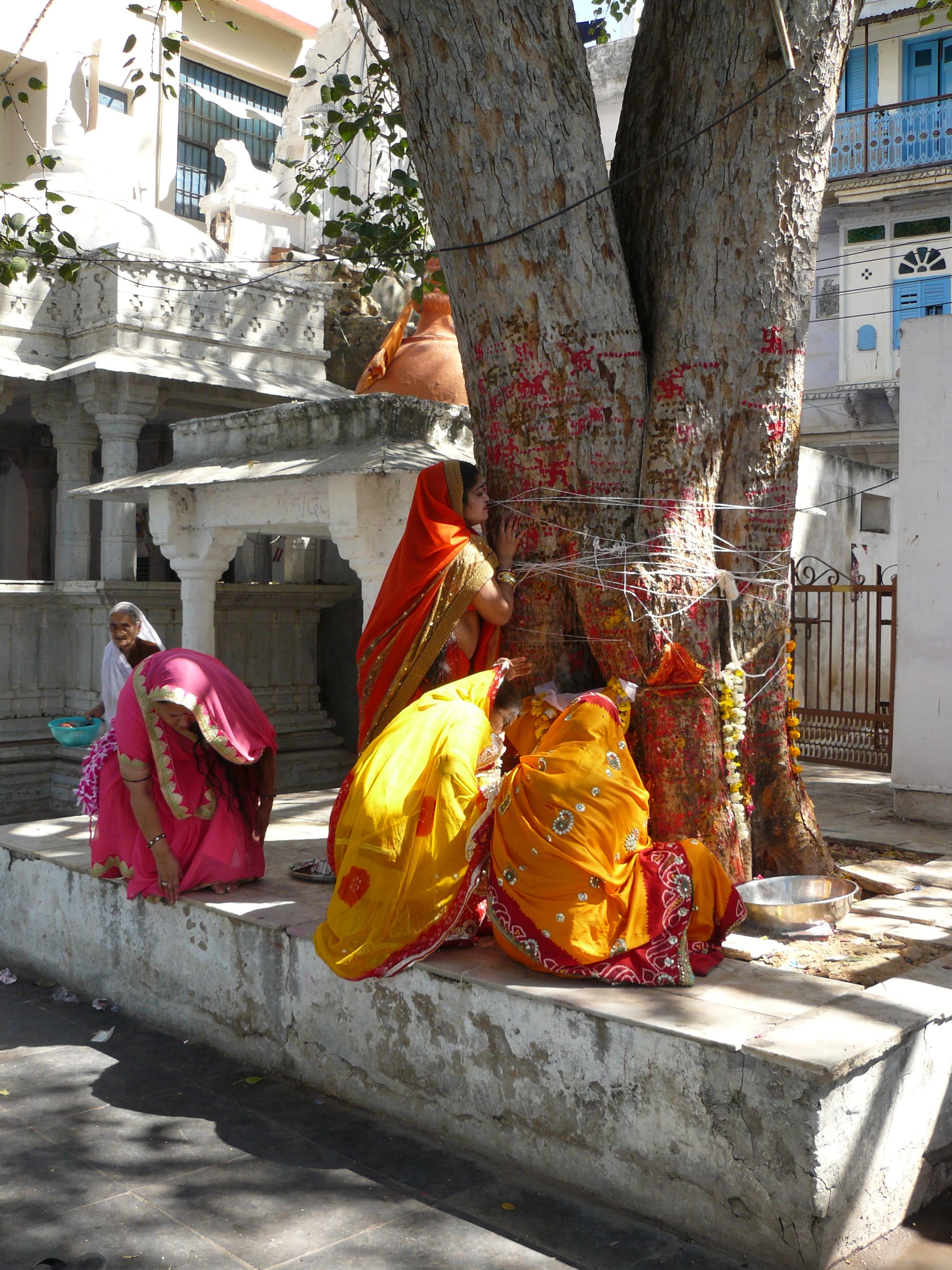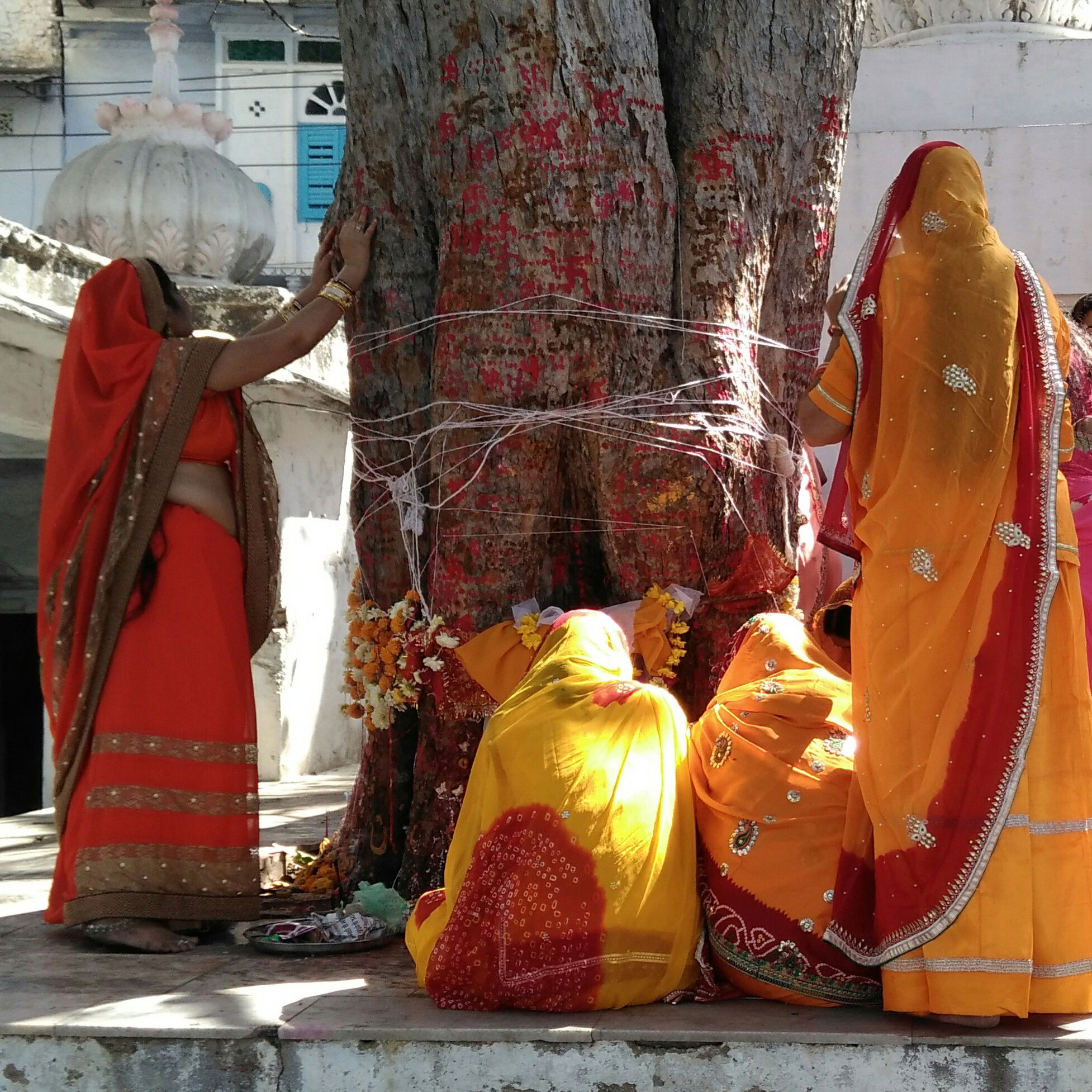 Typical street in Udaipur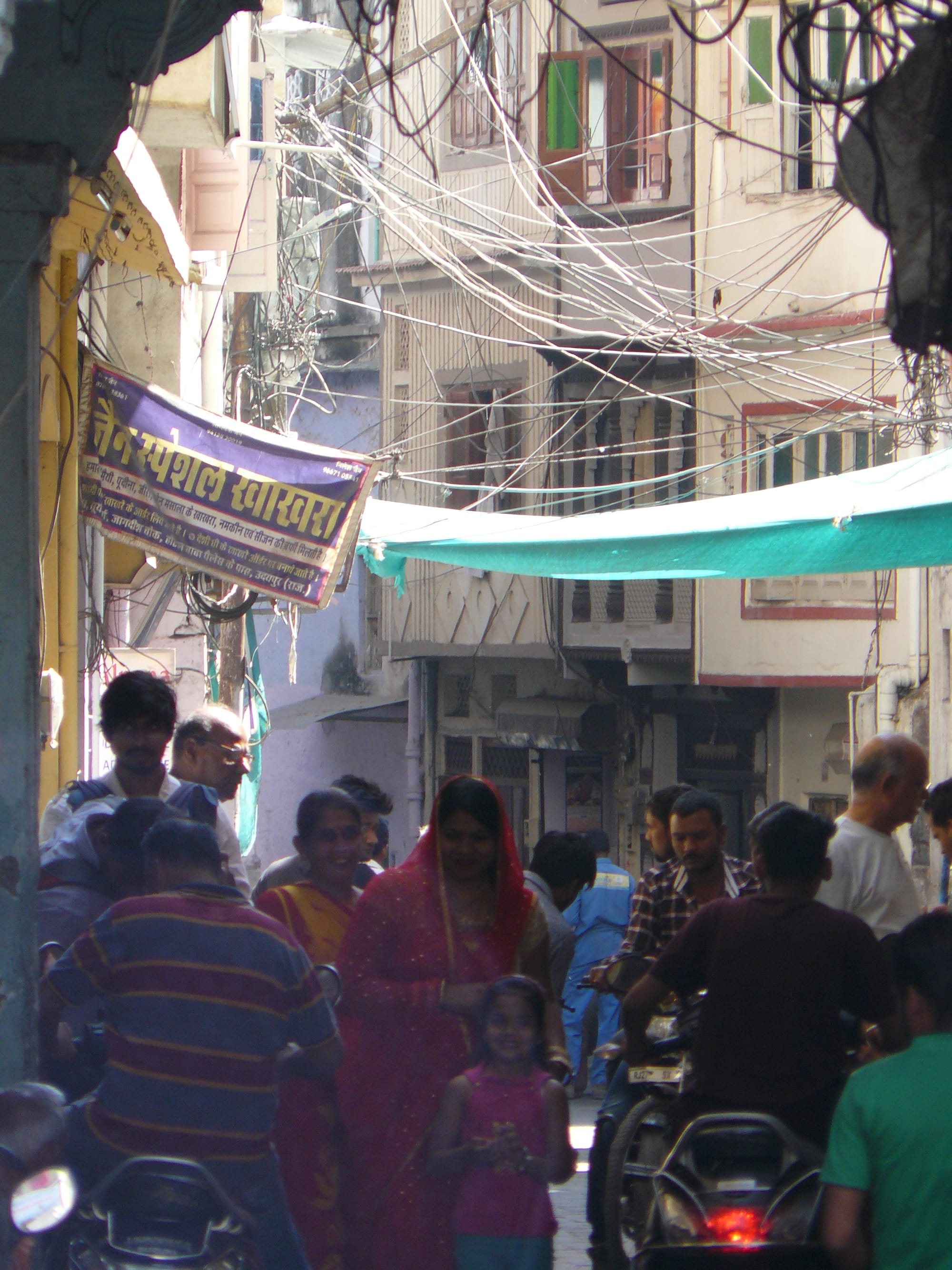 Colourful Udaipur - Bohara HouseThe streets of Udaipur are full of colour, and in particular traditional Rajasthani wall paintings.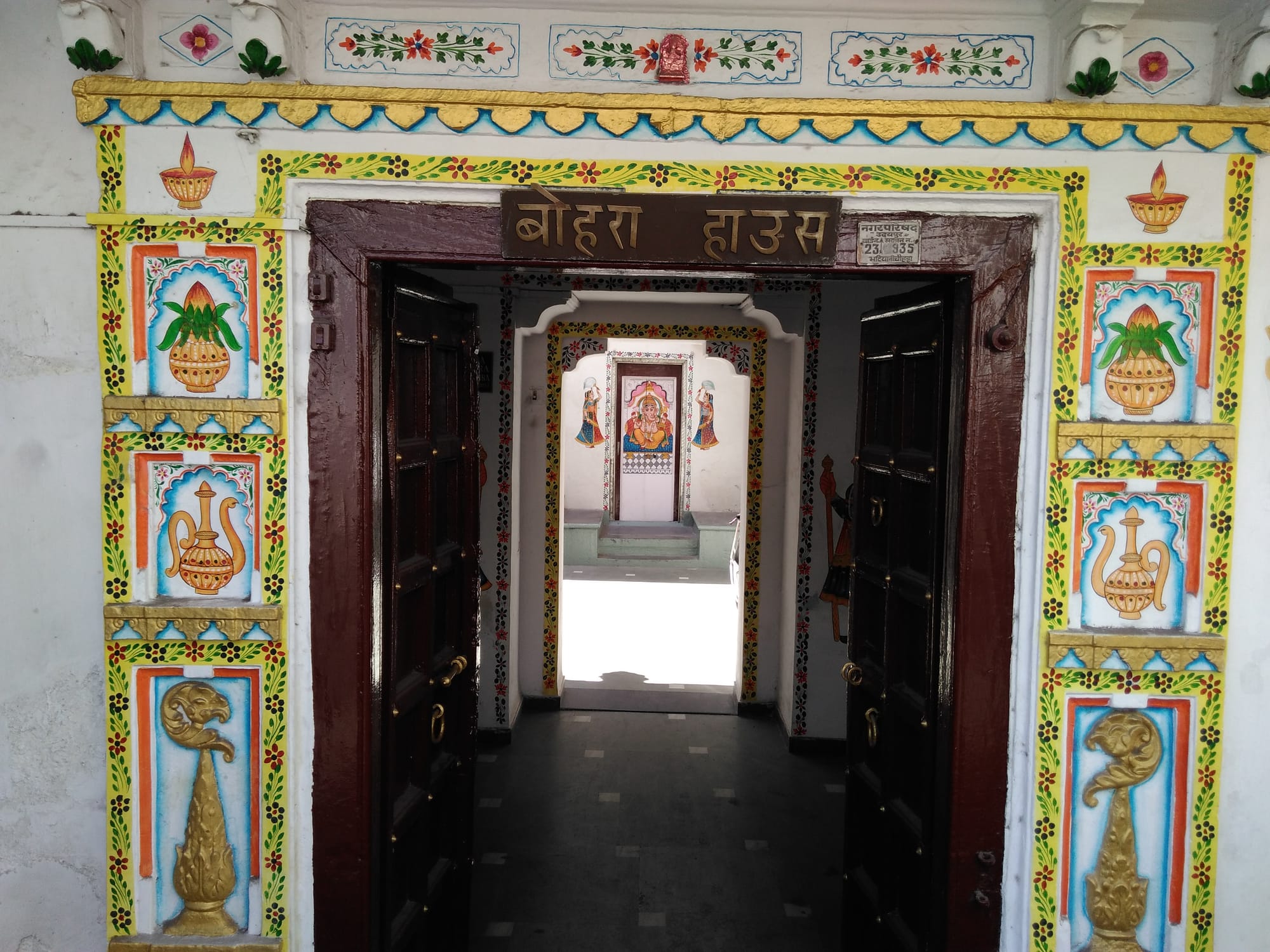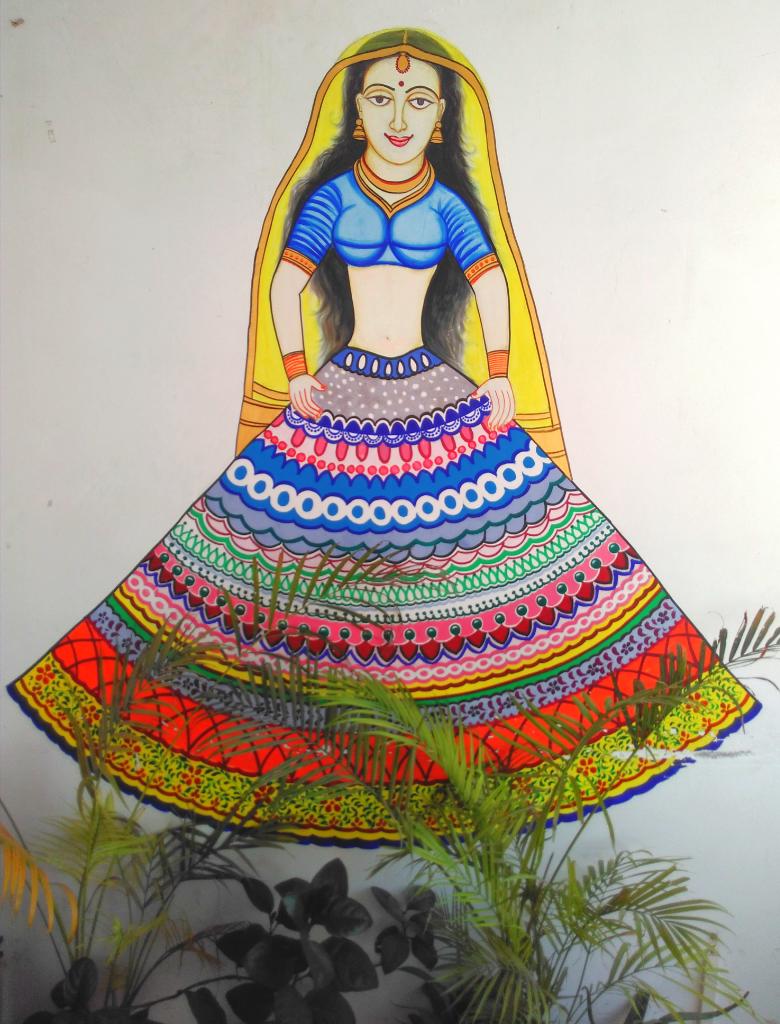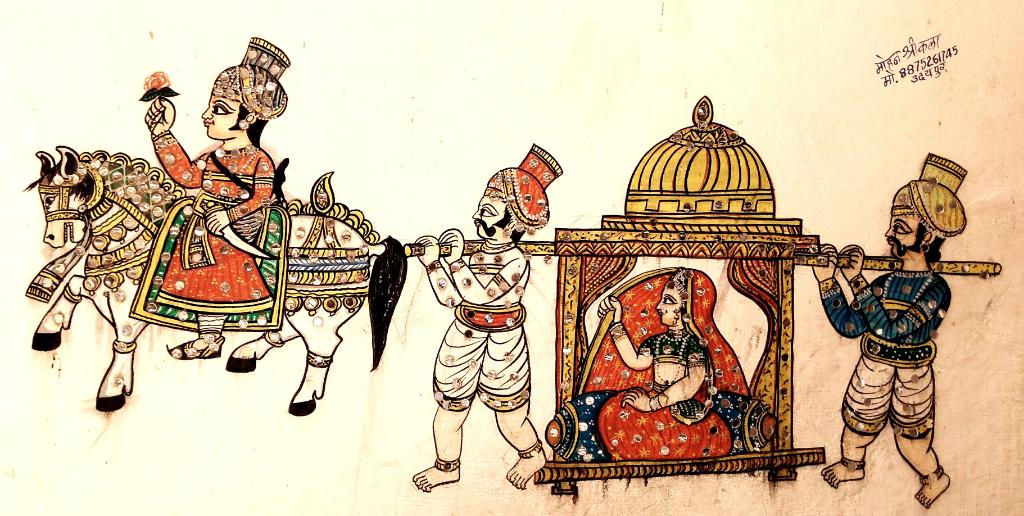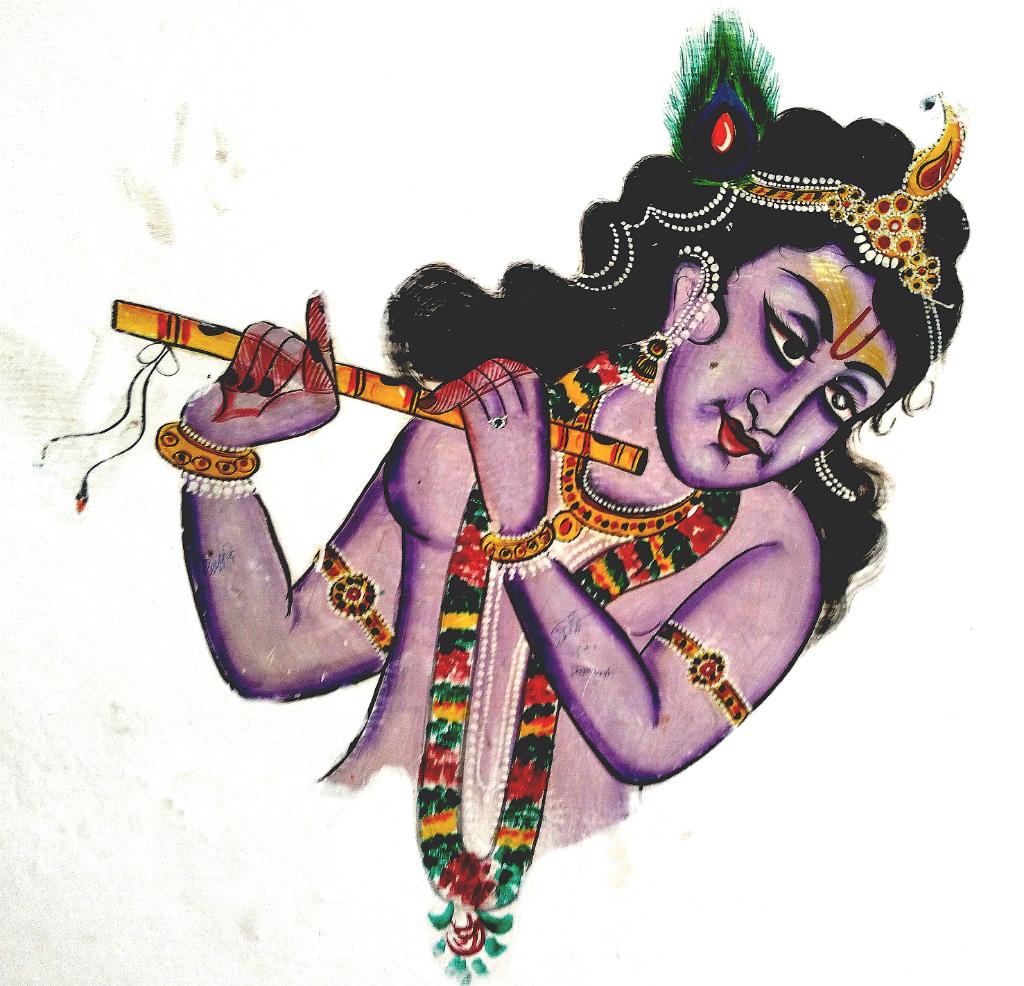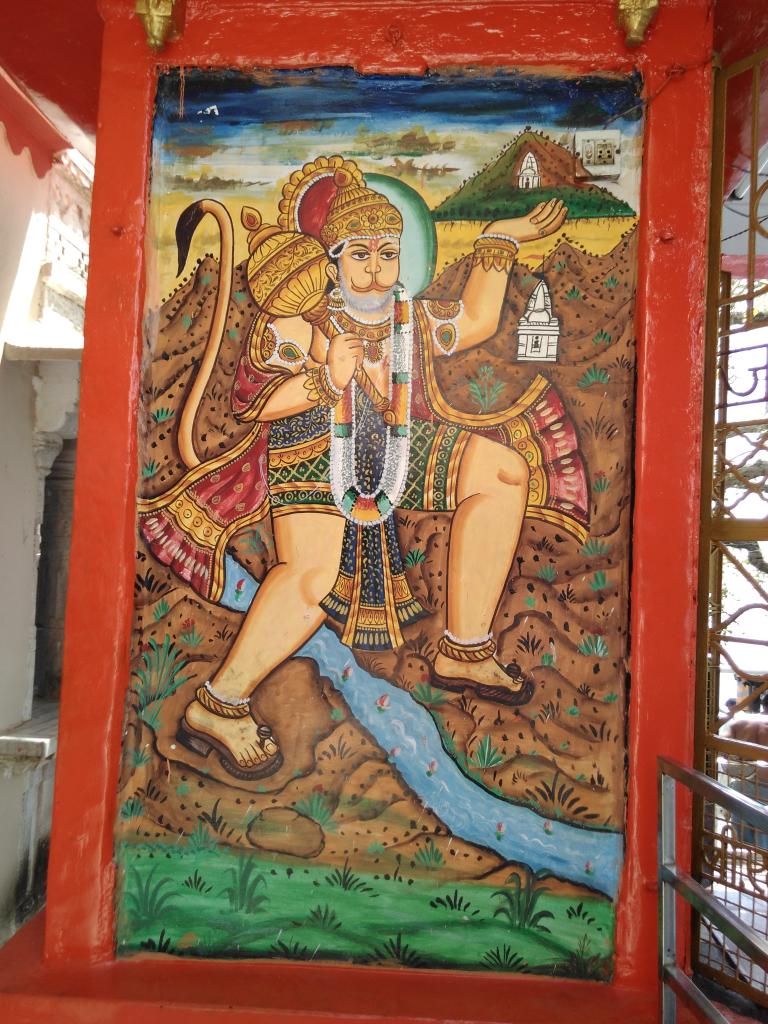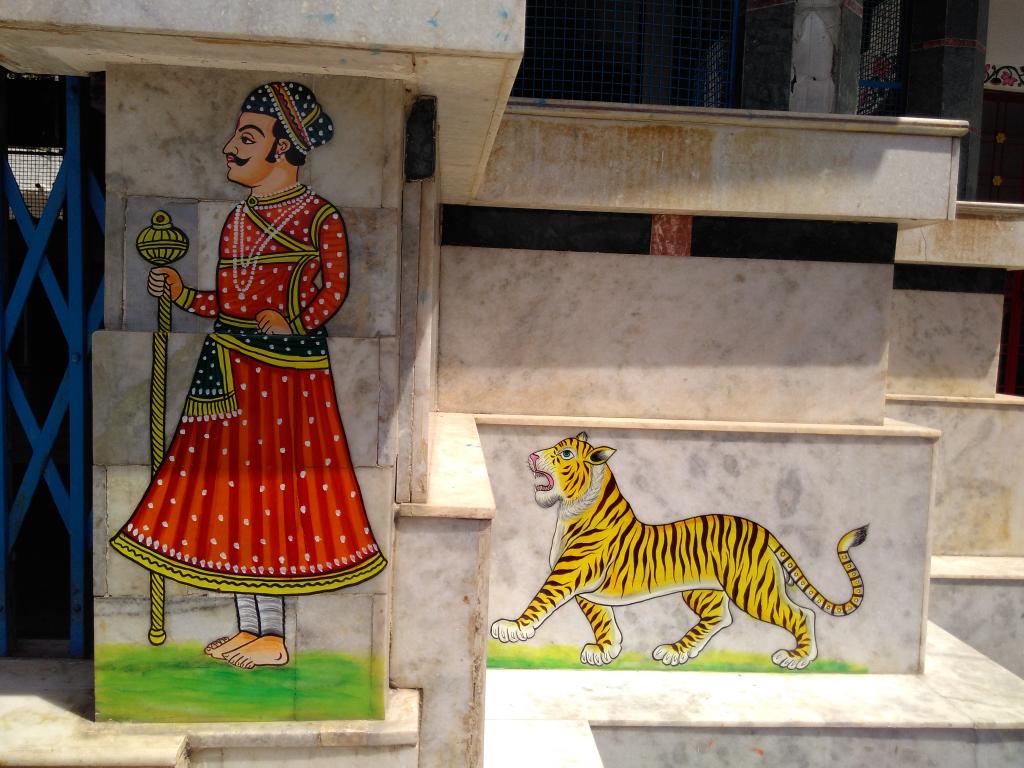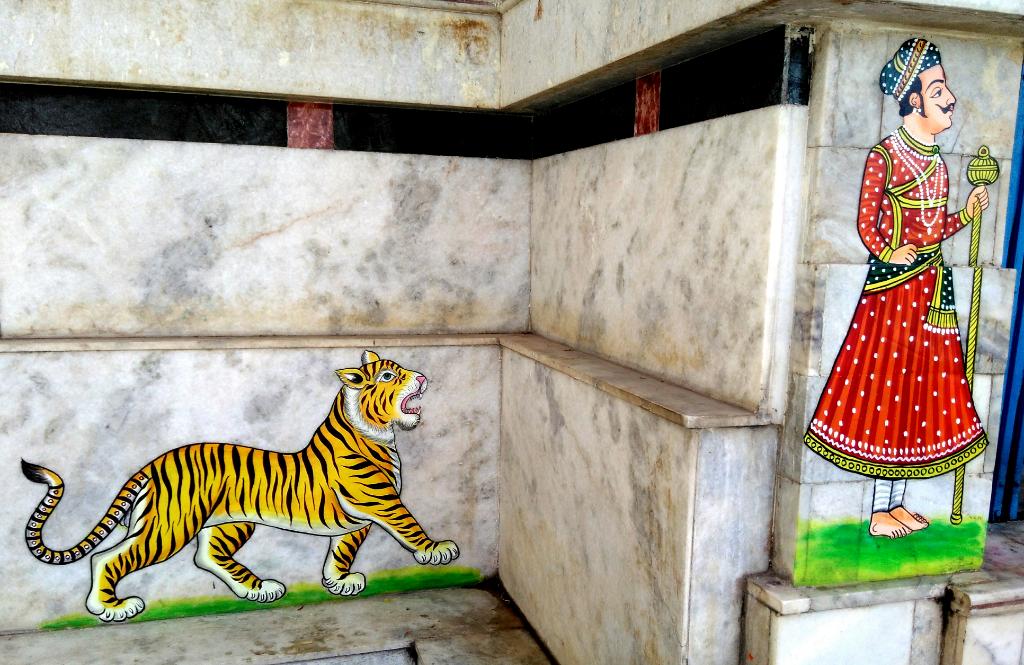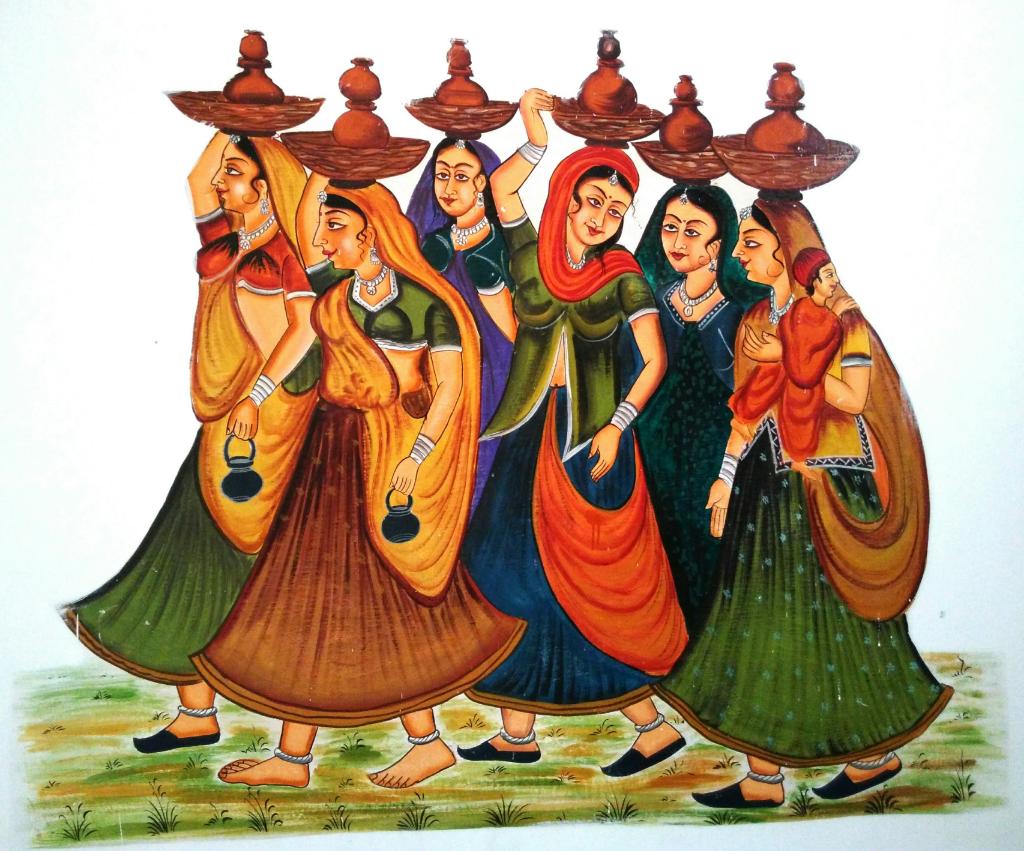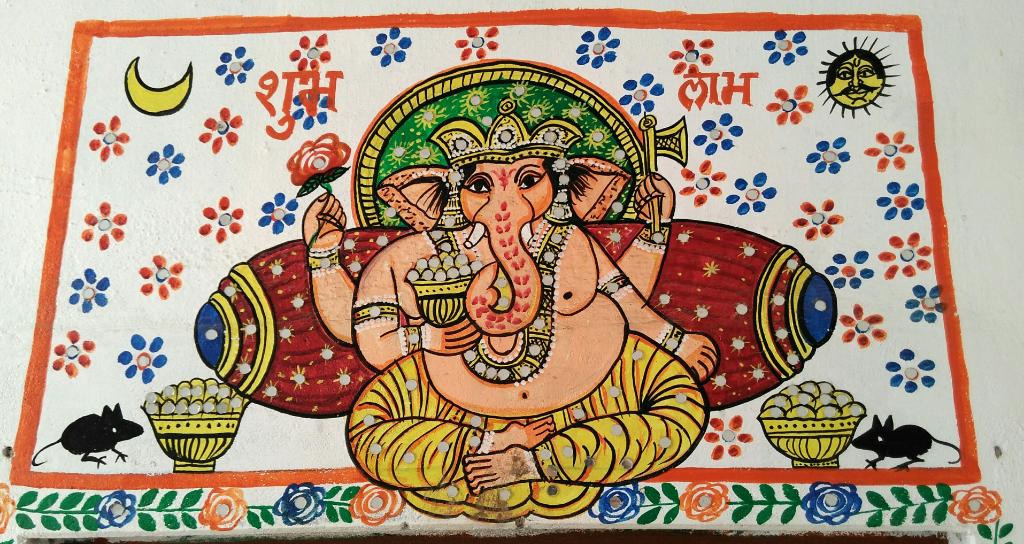 Jagdish Temple, Udaipur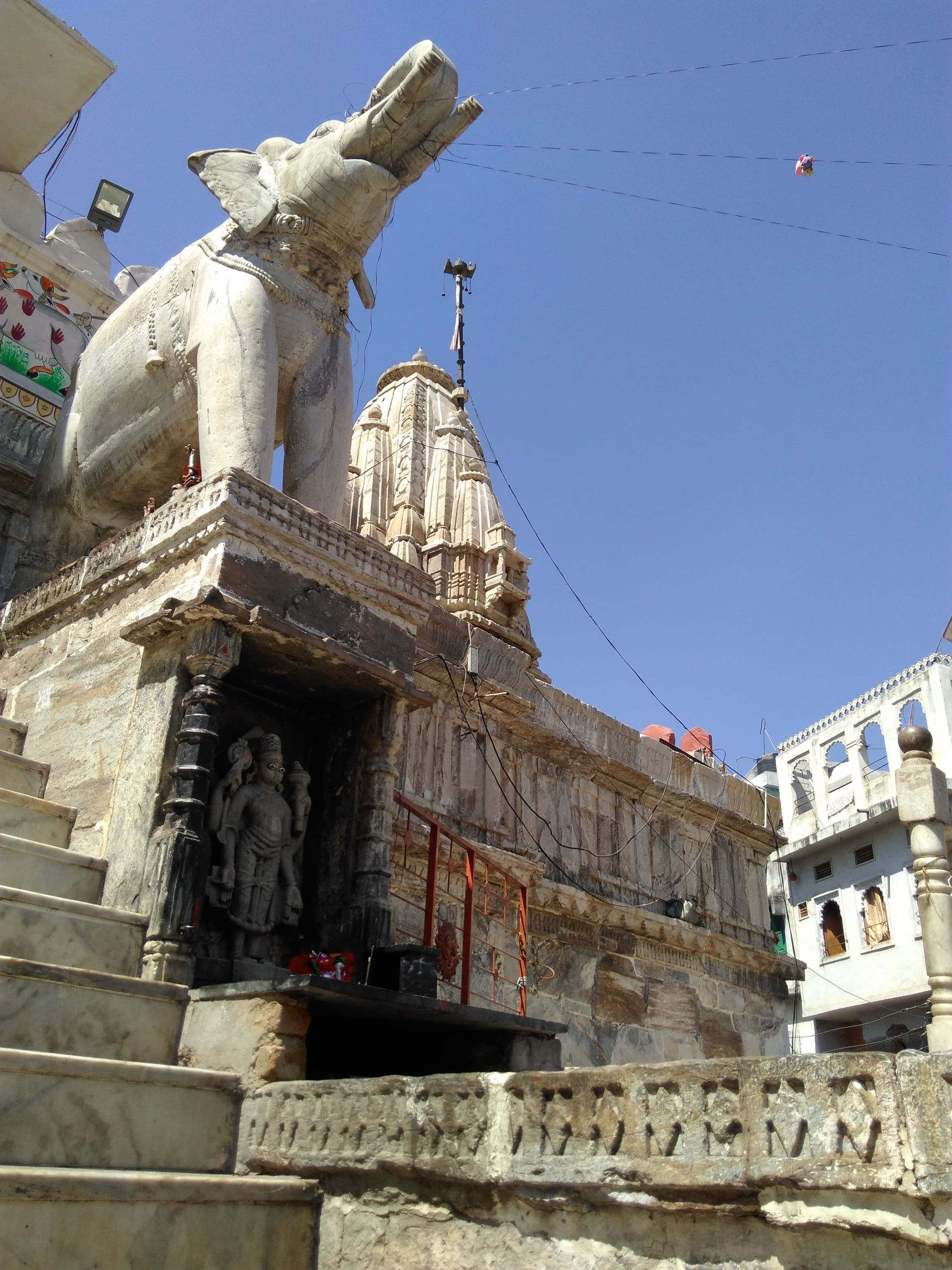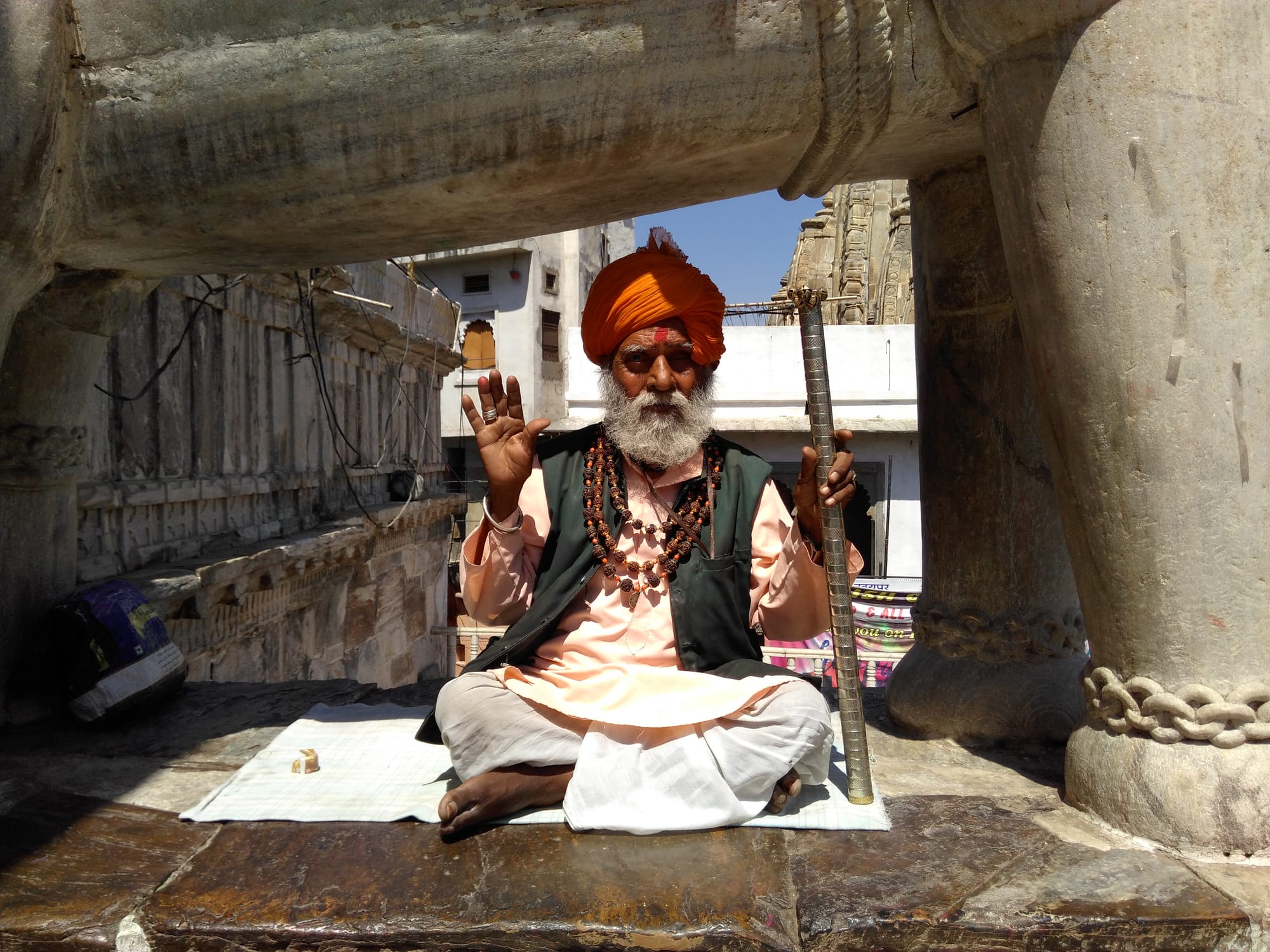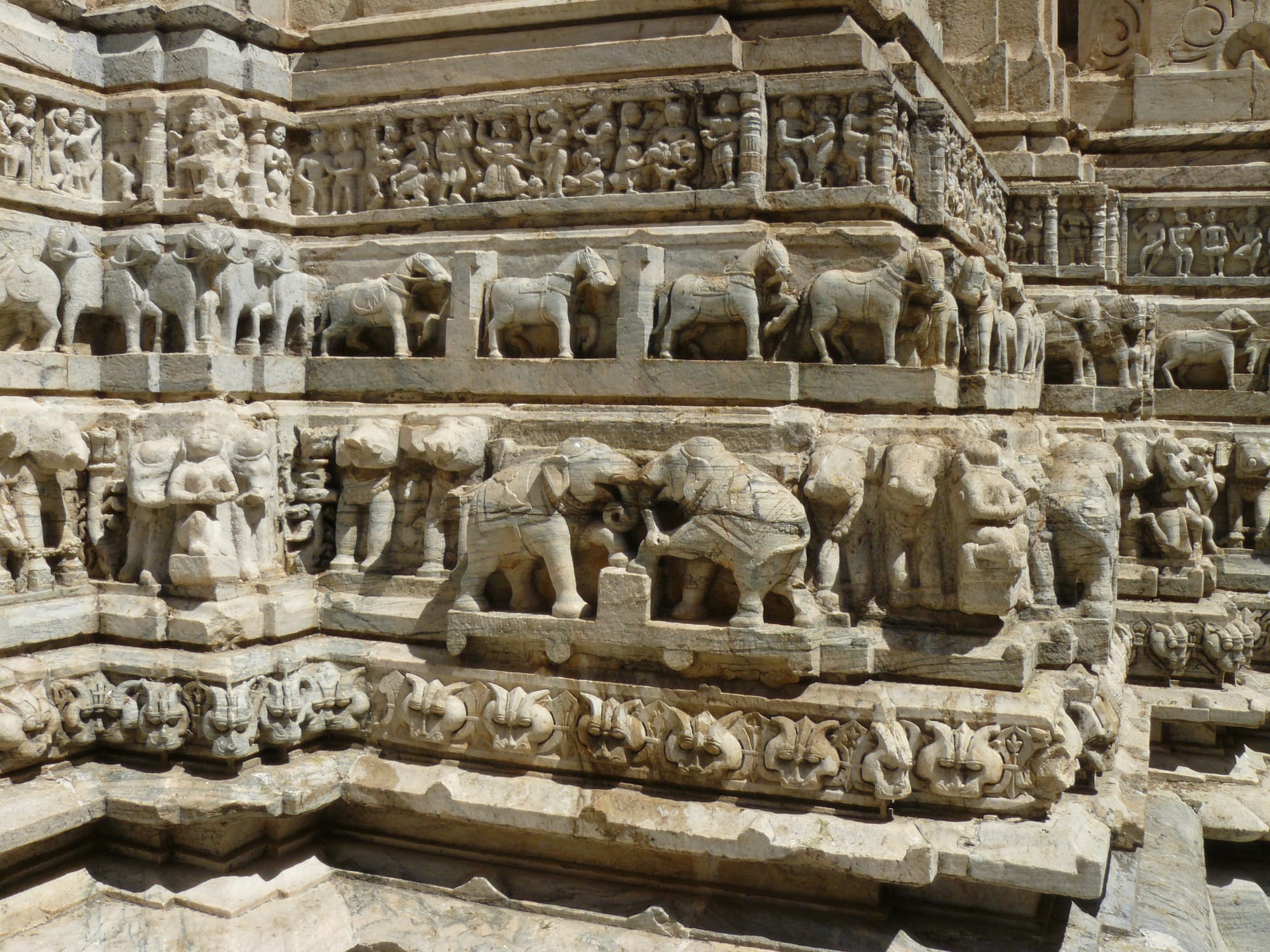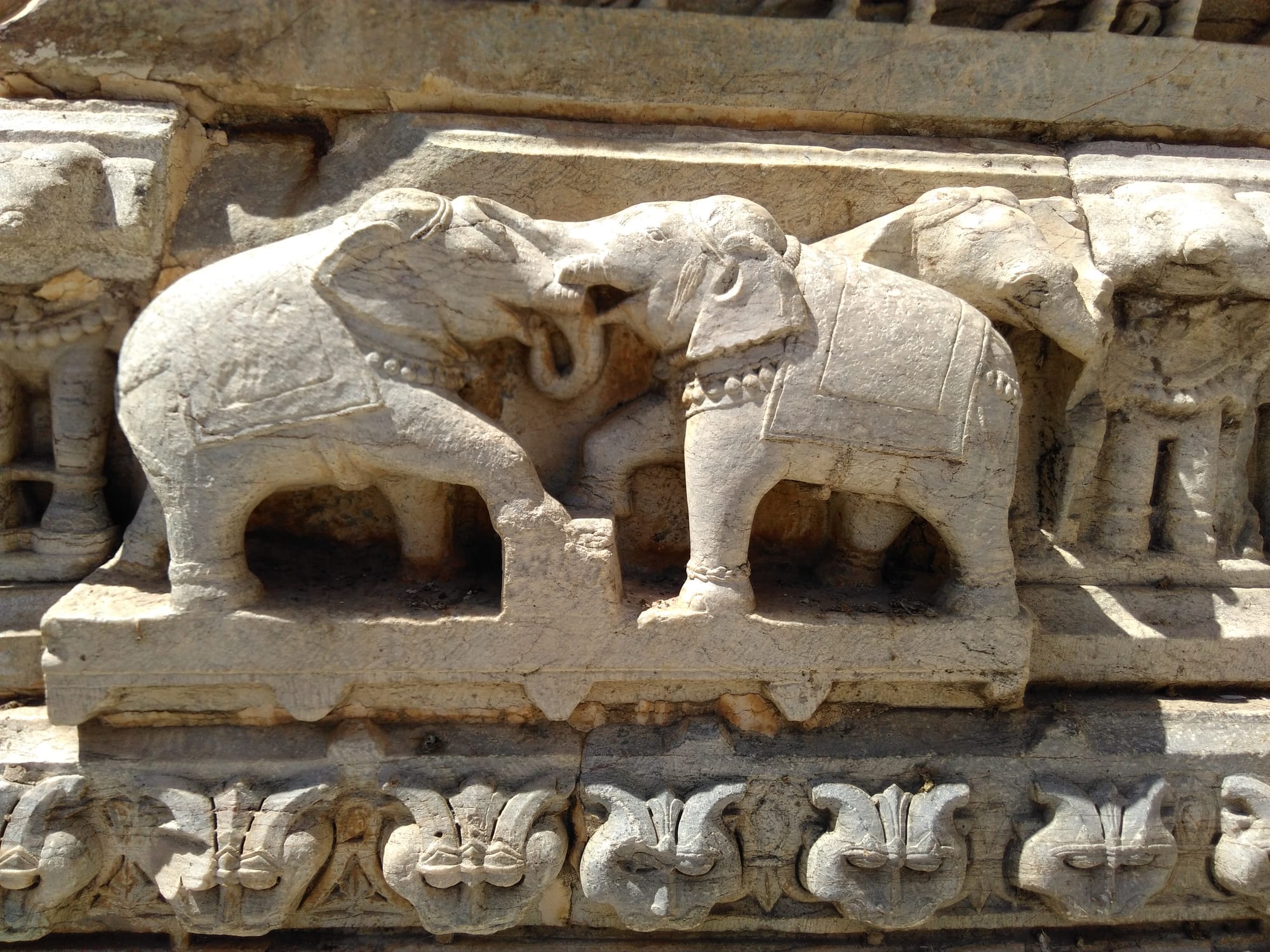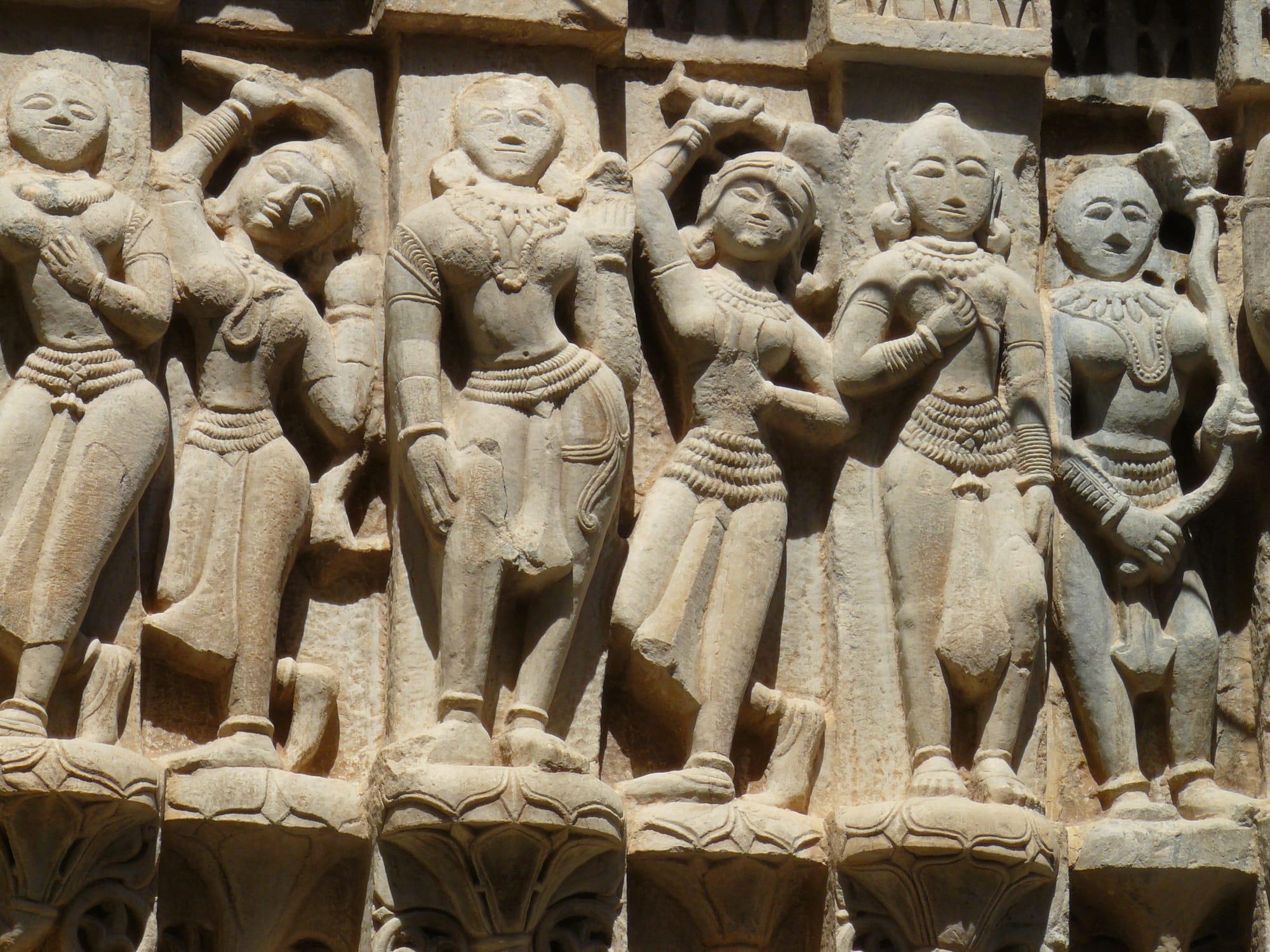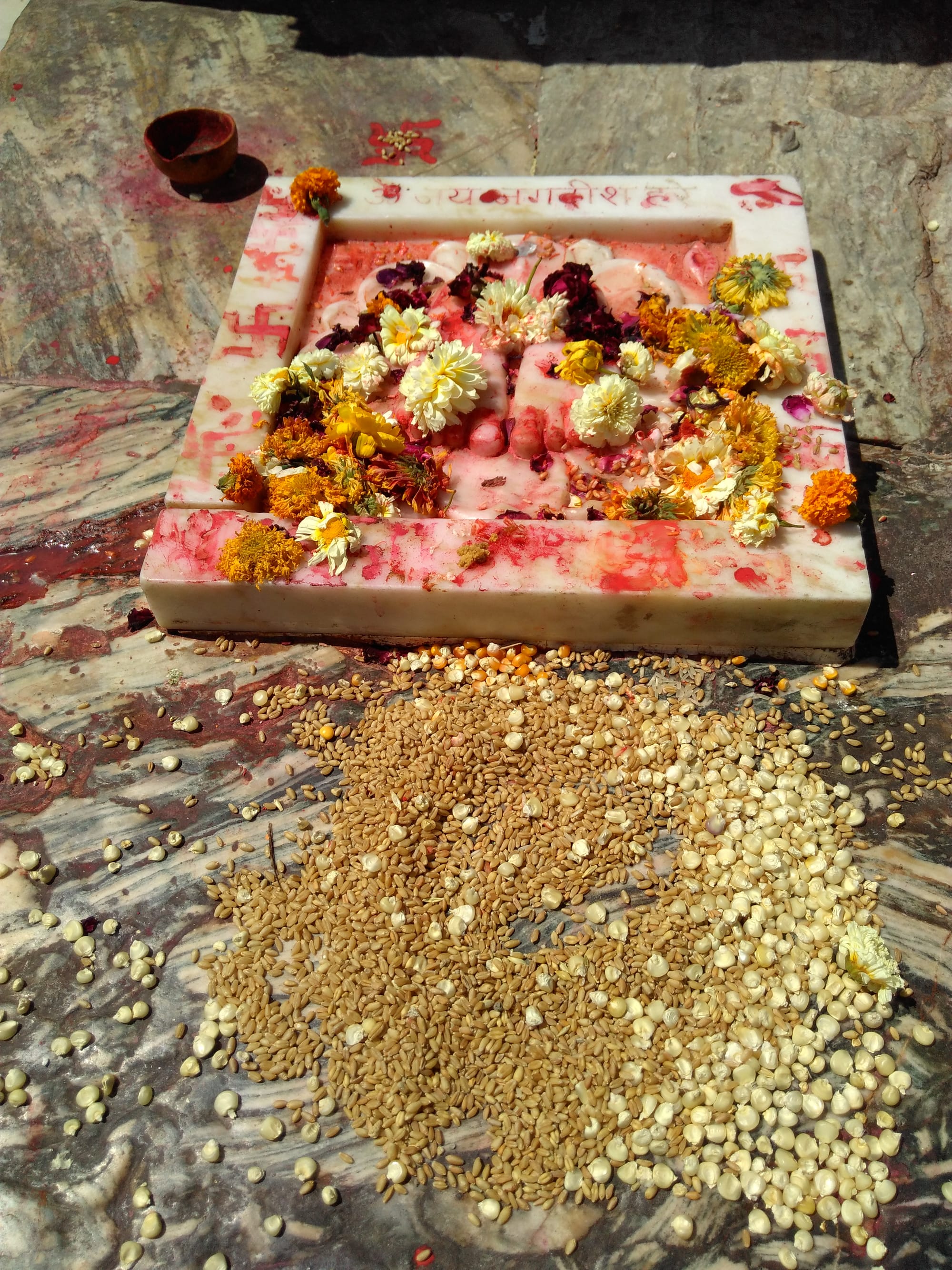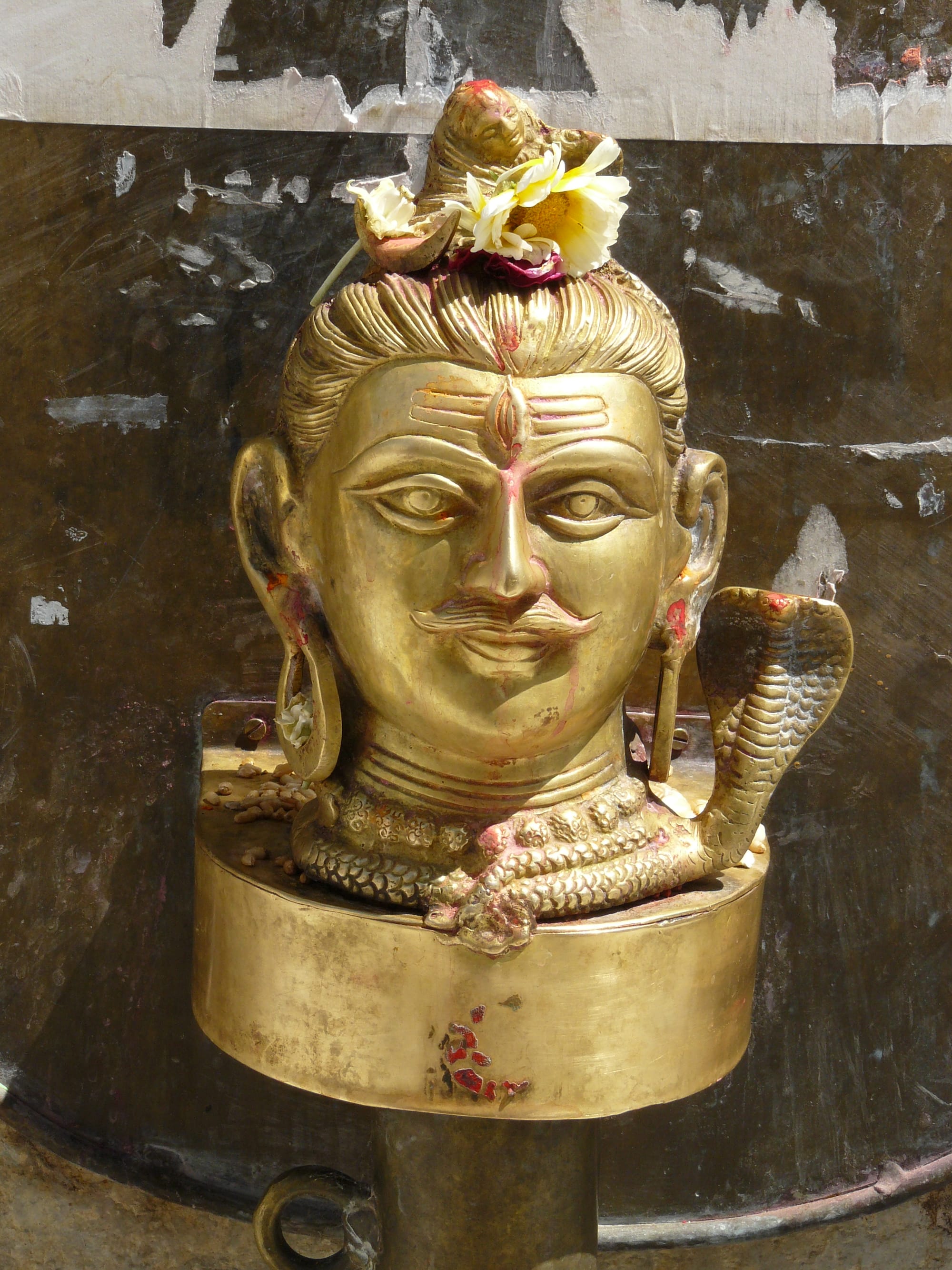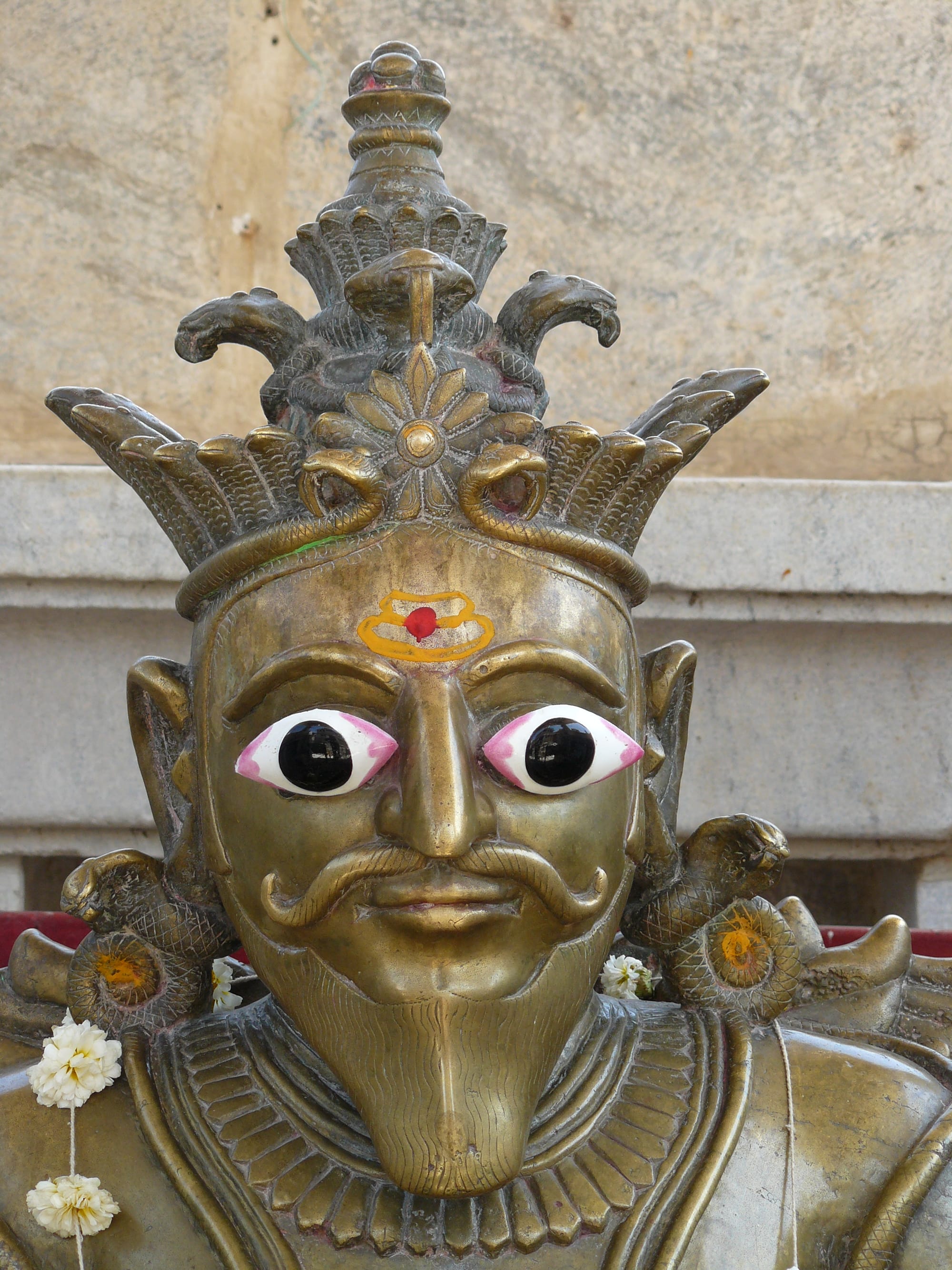 Royal Cenotaphs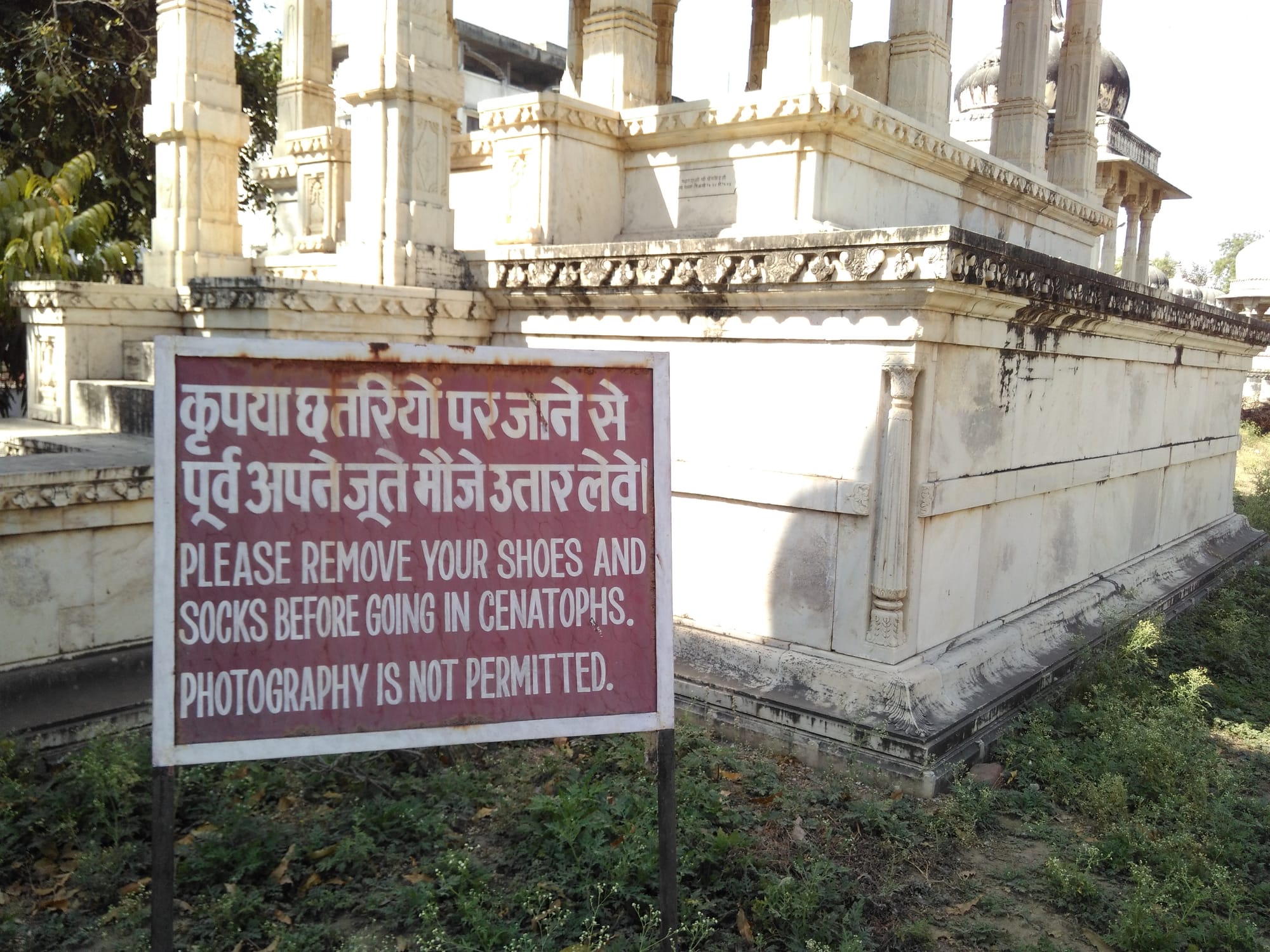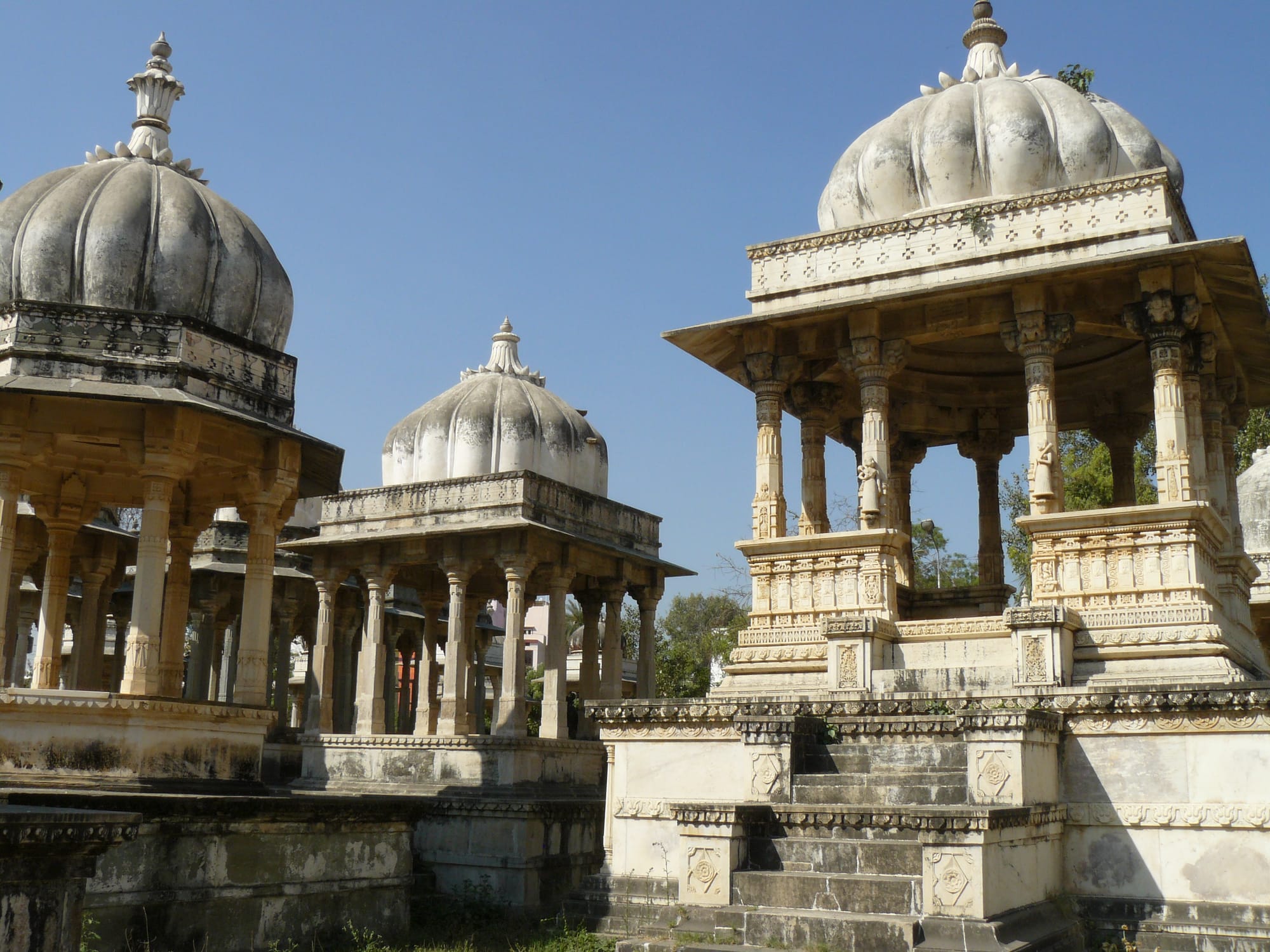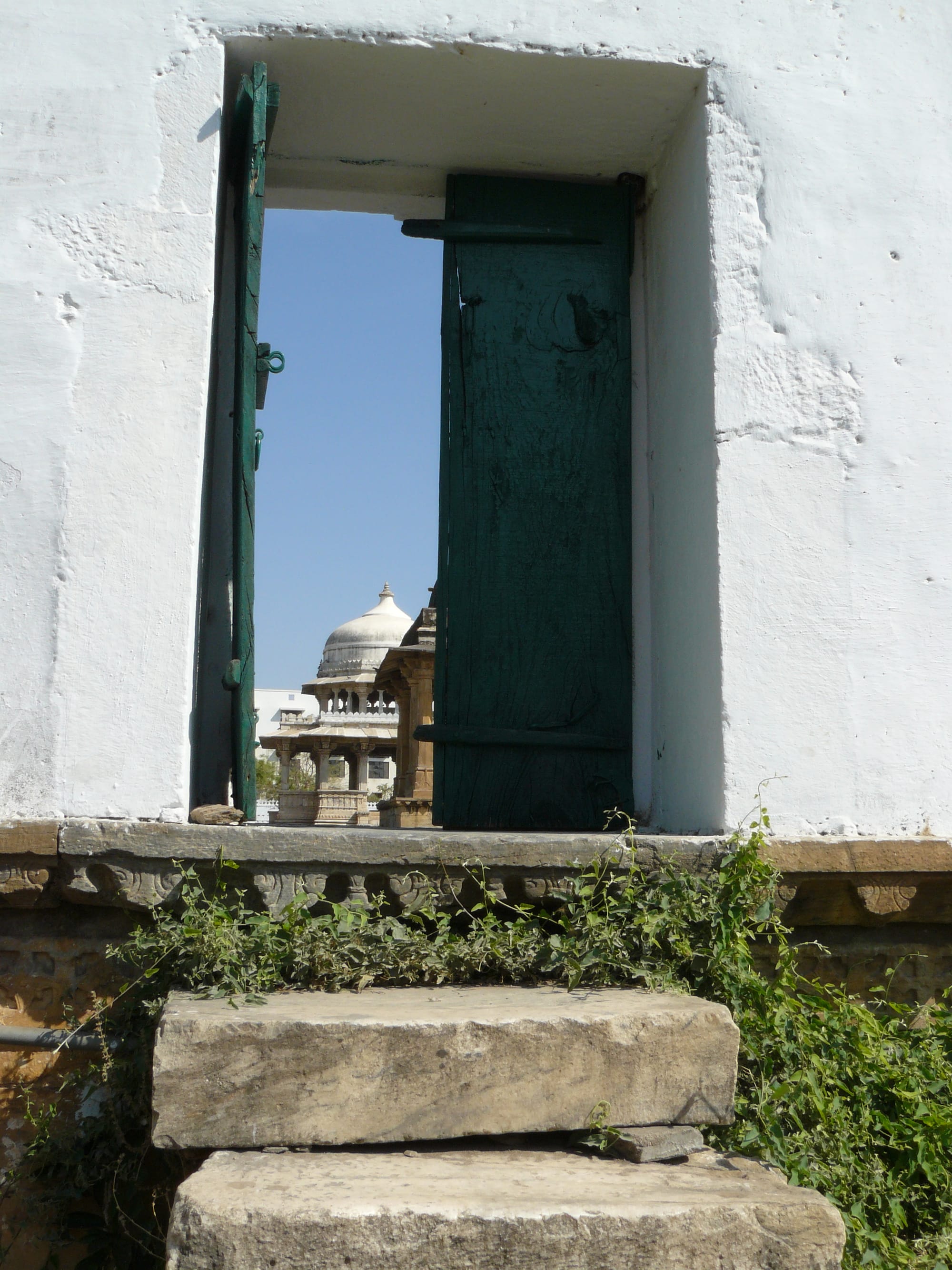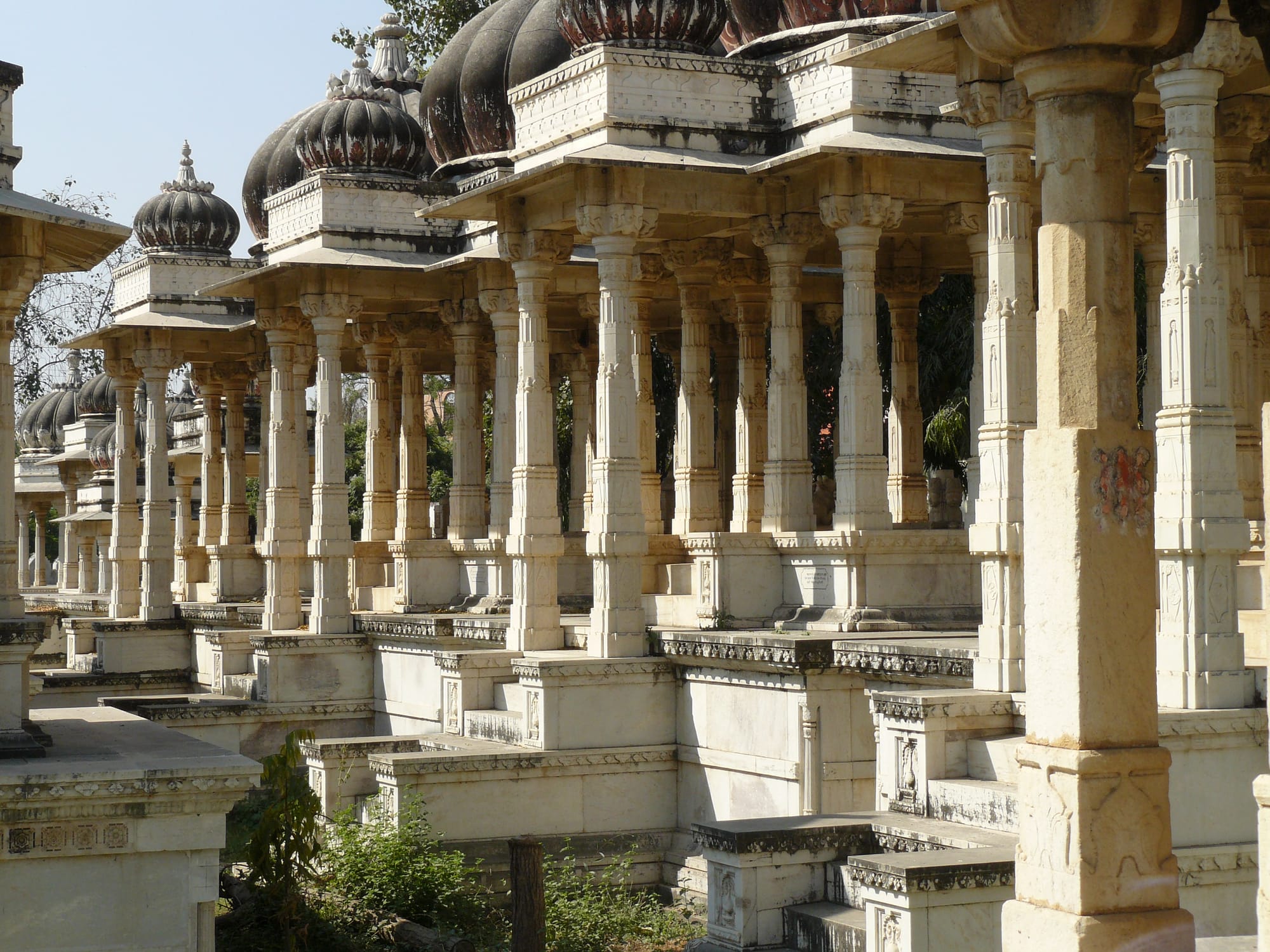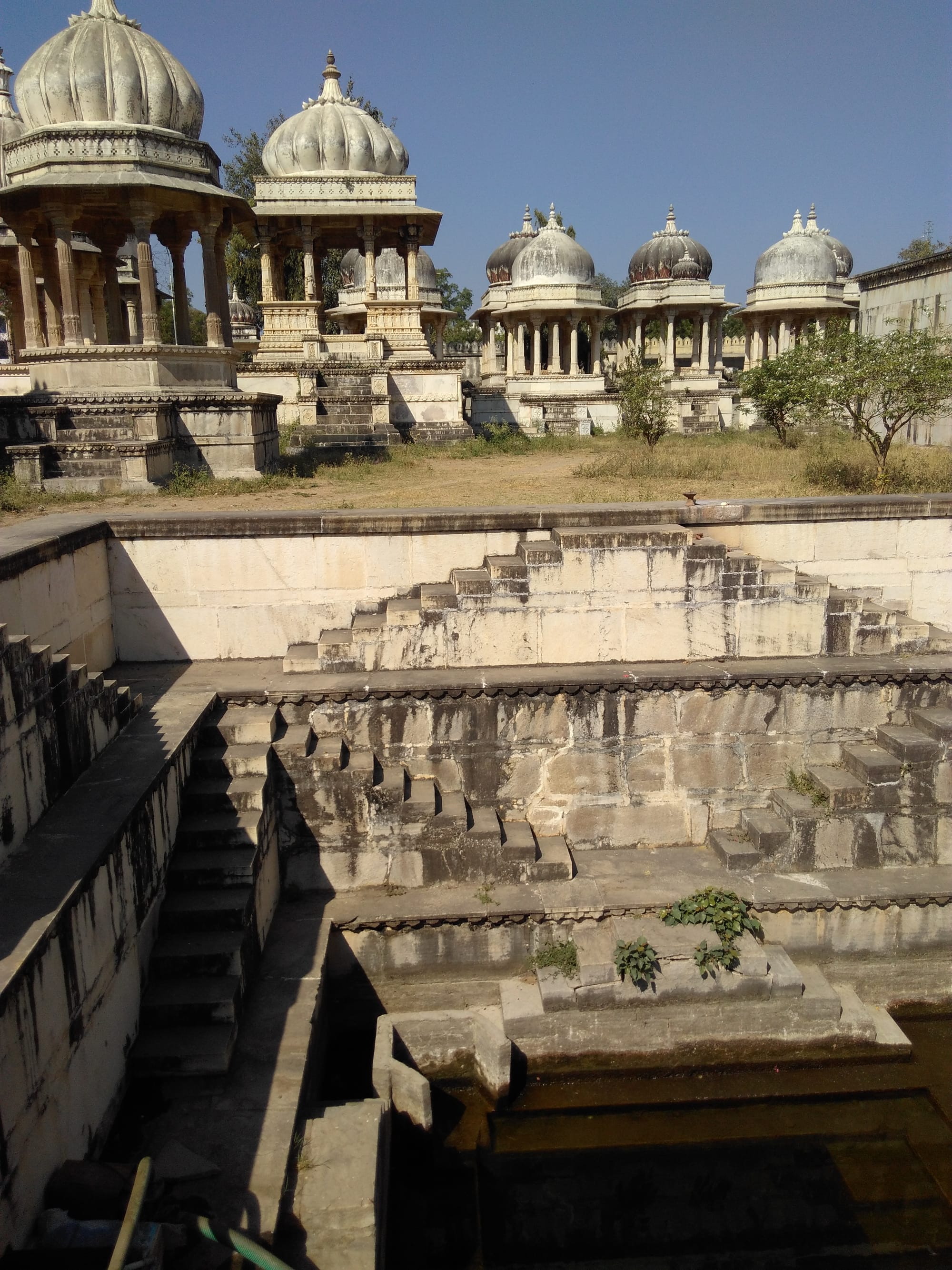 Queens' Gardens - 5 Gardens with FountainsRain Without Clouds - Bin Badel Barsat - बिन बादल बरसात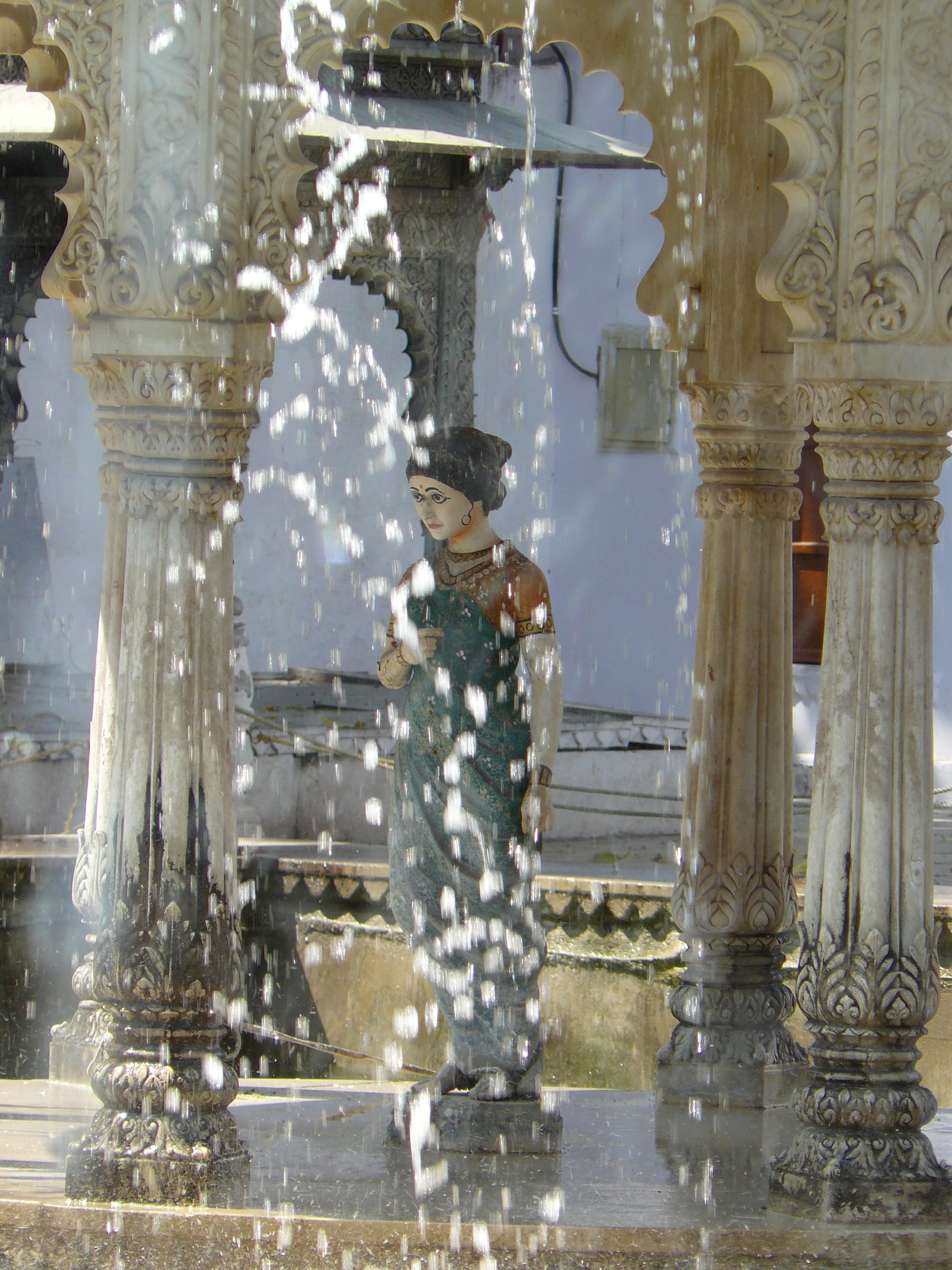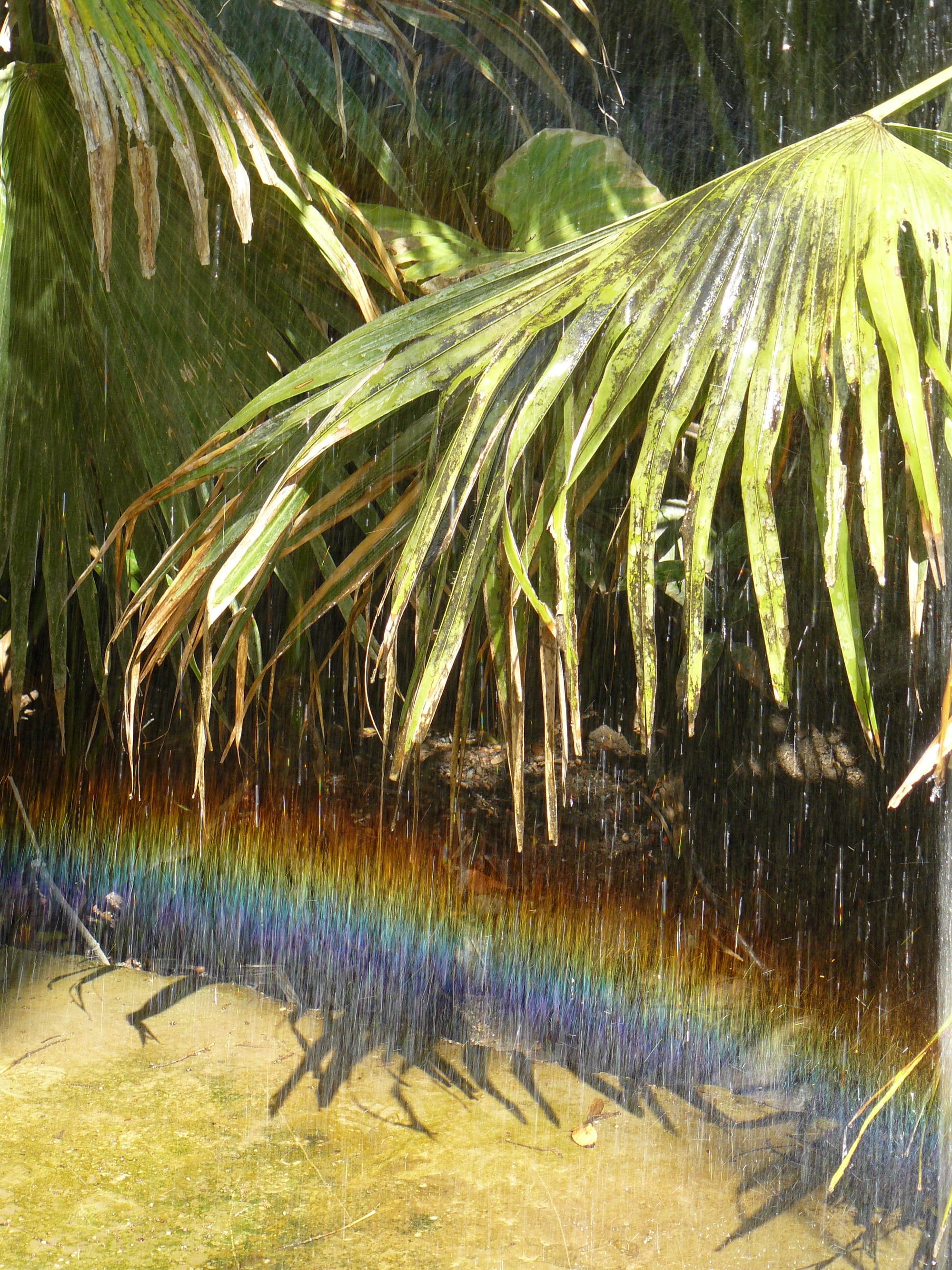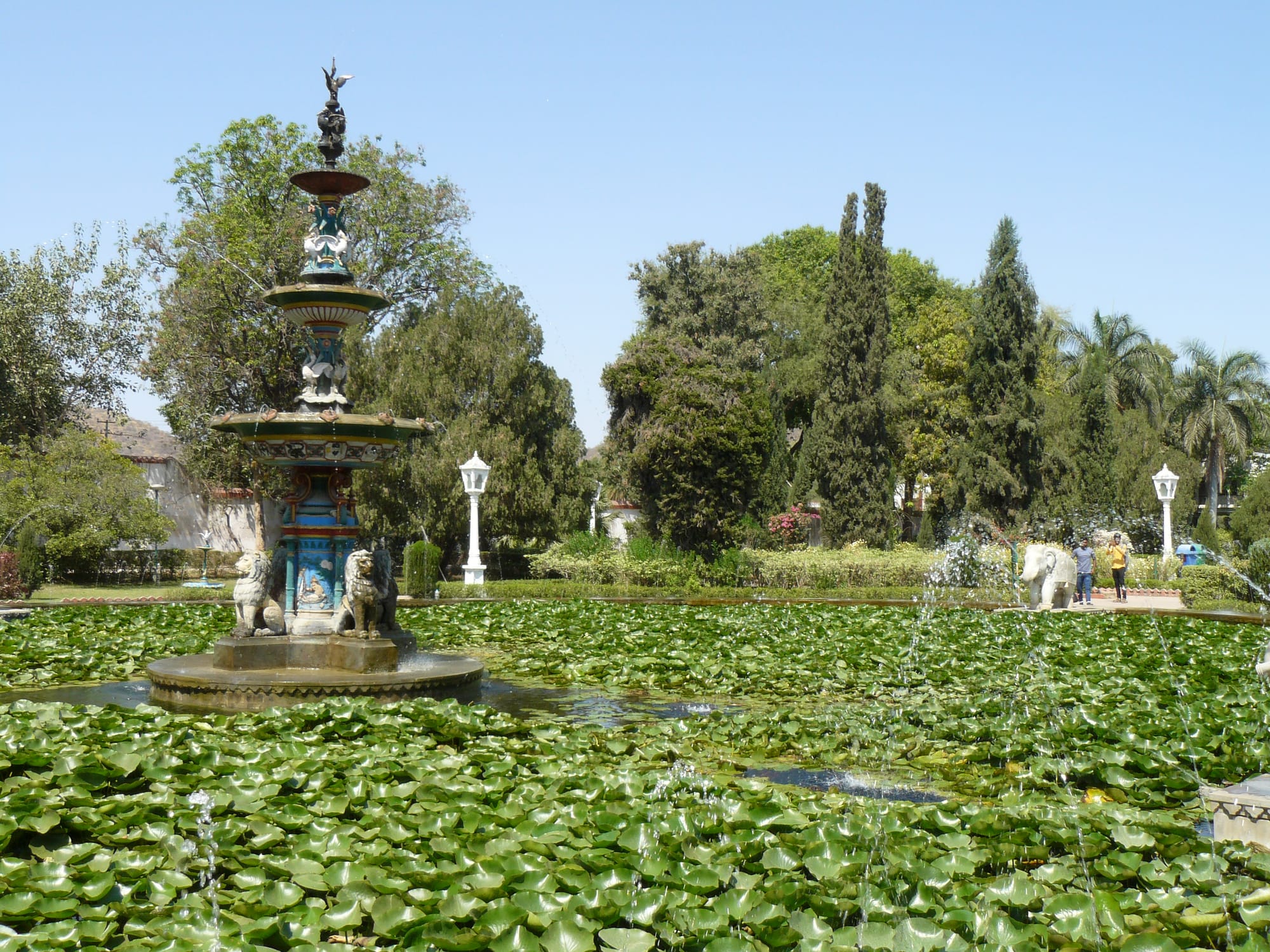 Mali - Gardener - माली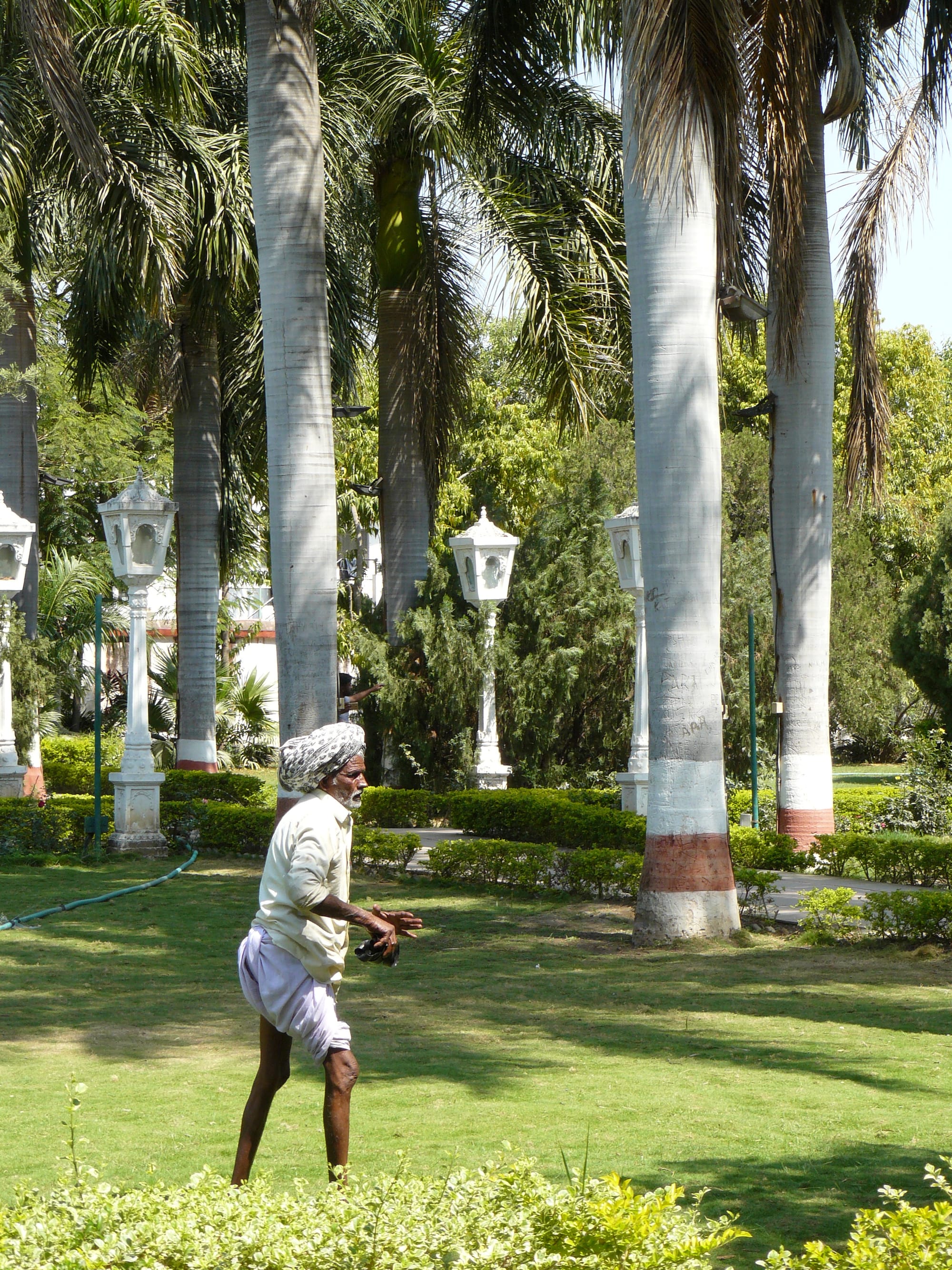 Fountain - Churna - झरना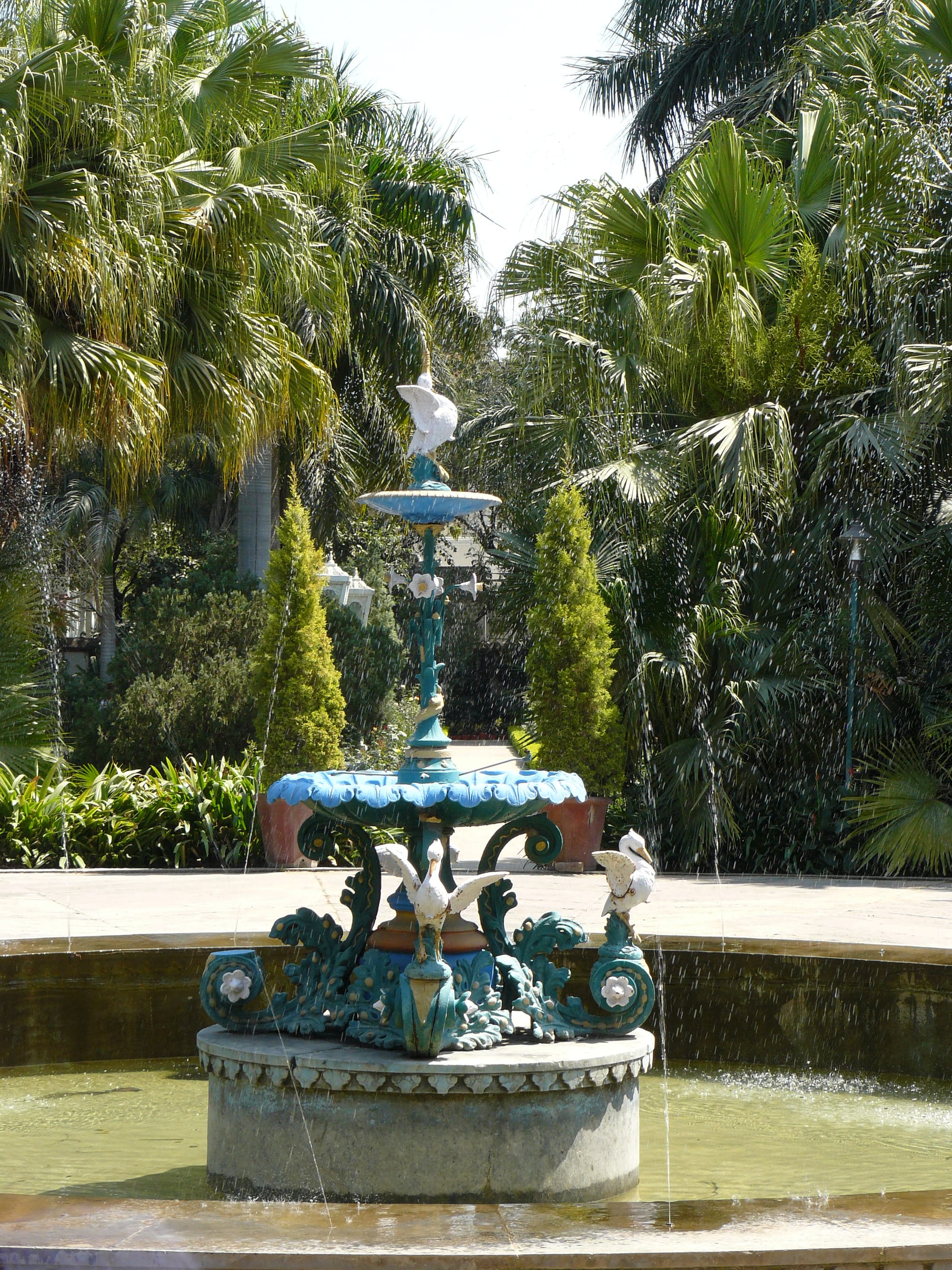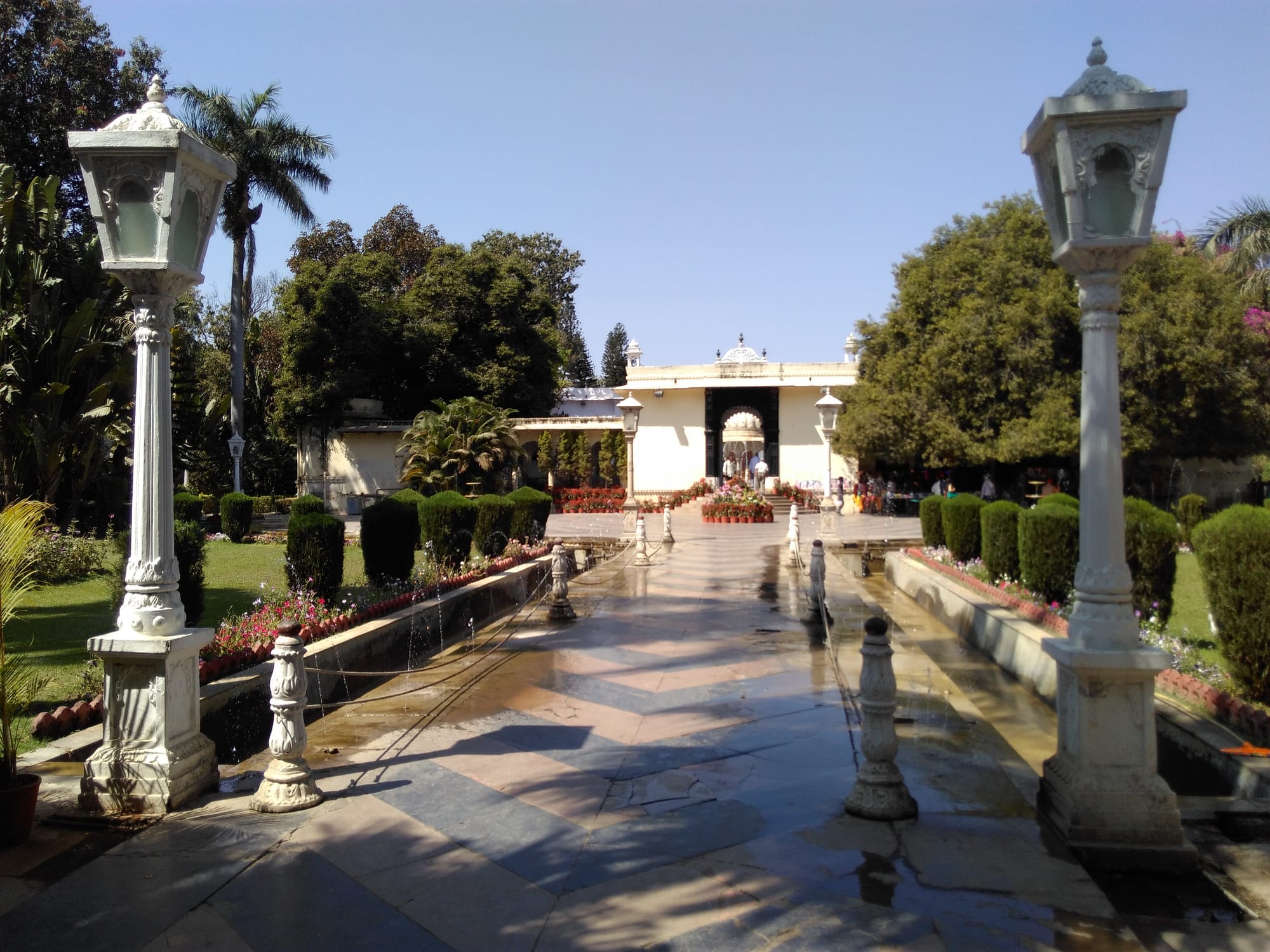 Statue of Chetak ridden by Maharana Pratap Singh at the Battle of Haldighati on 21 June 1576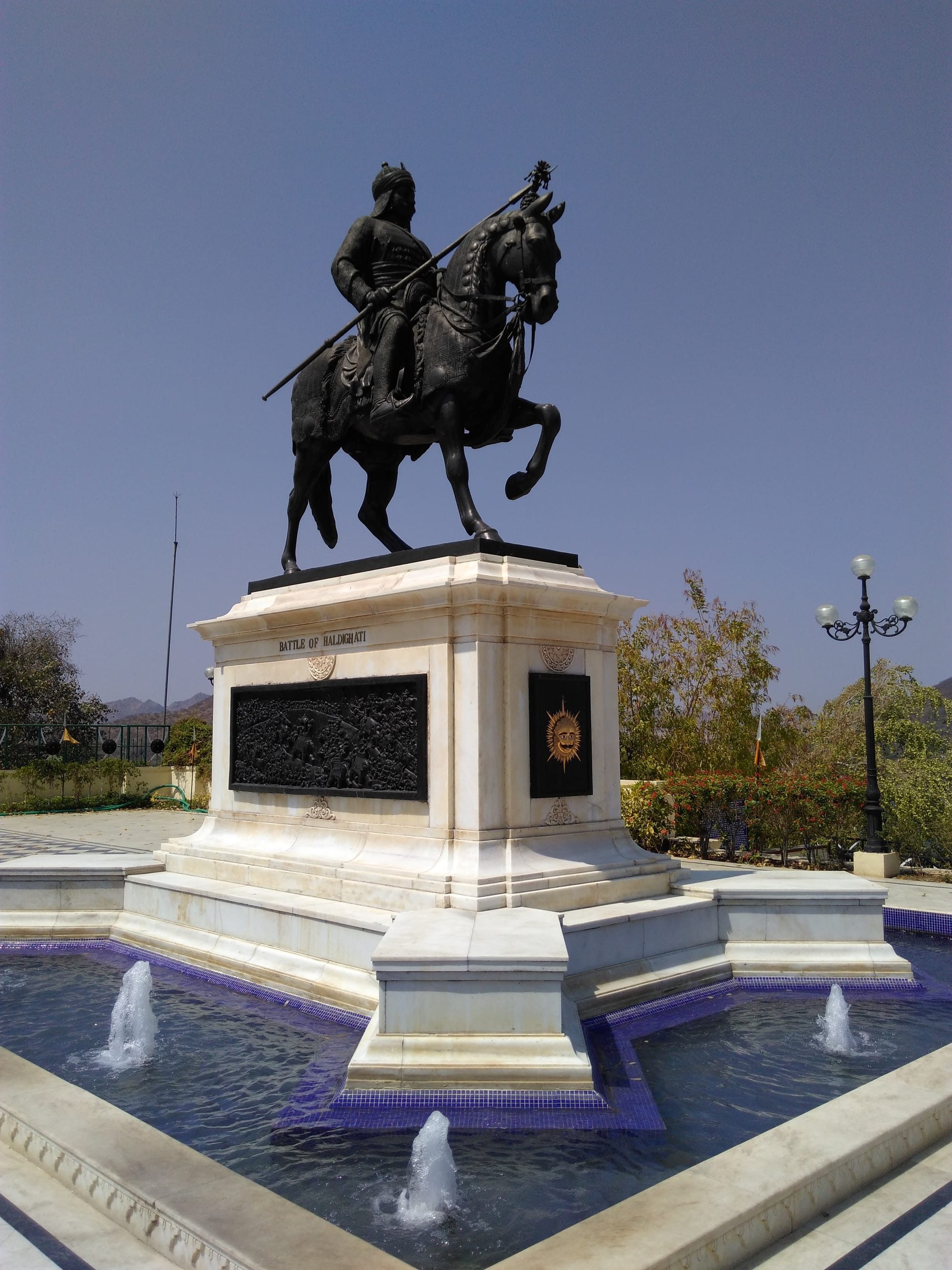 Street Food - Samosa, Aloo Barda, Bread Barda, Poha.........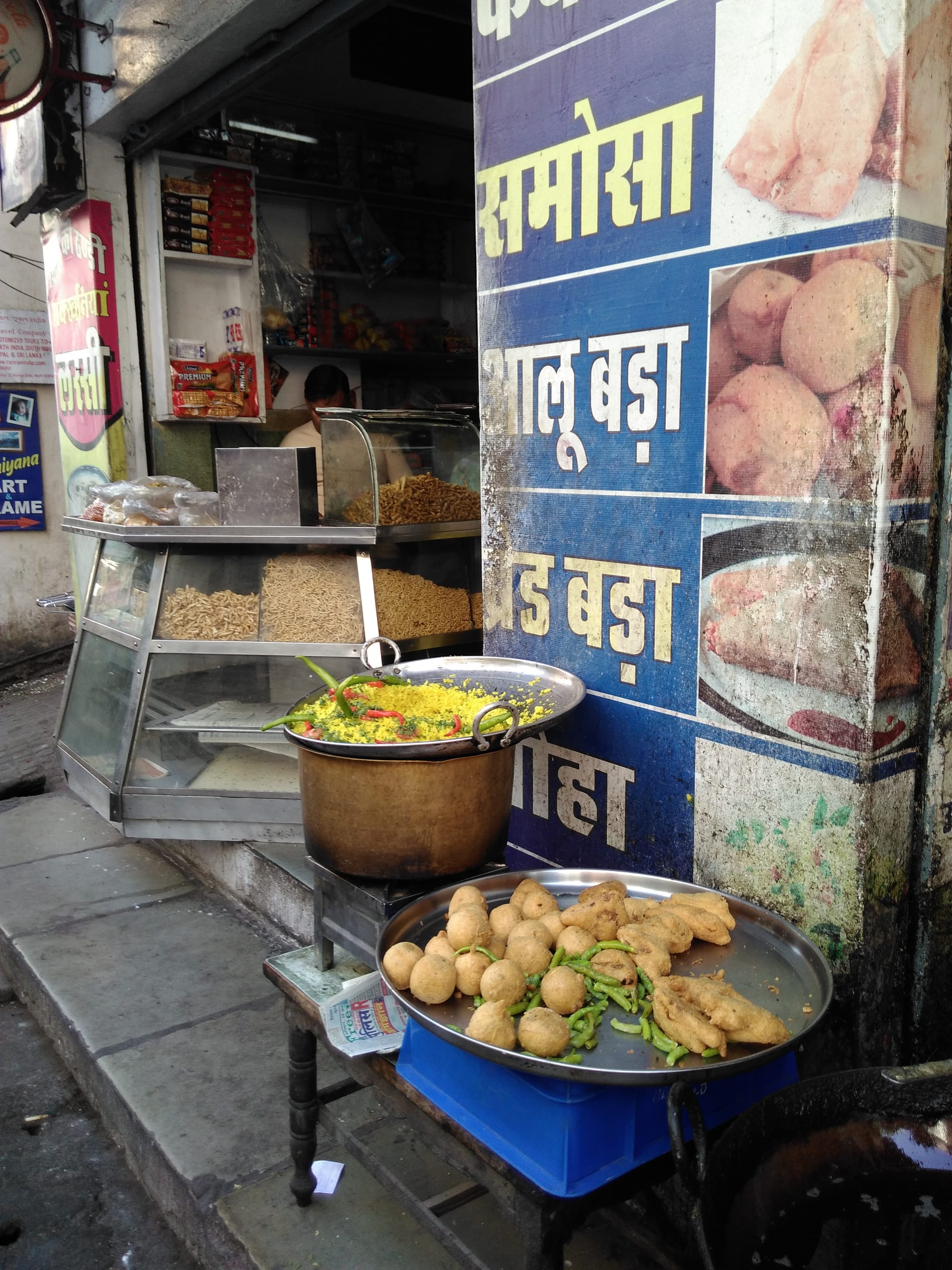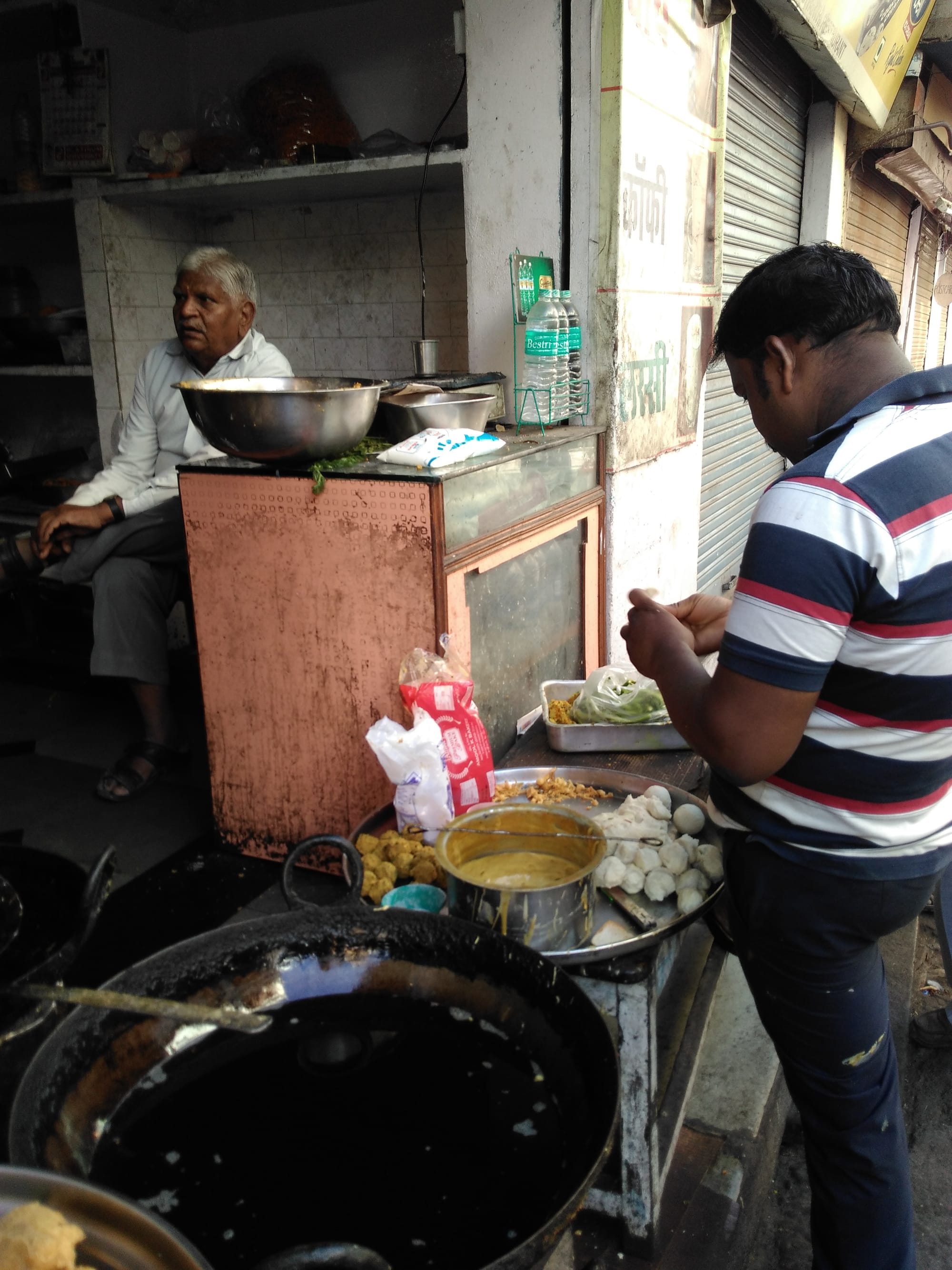 Gypsies selling to local store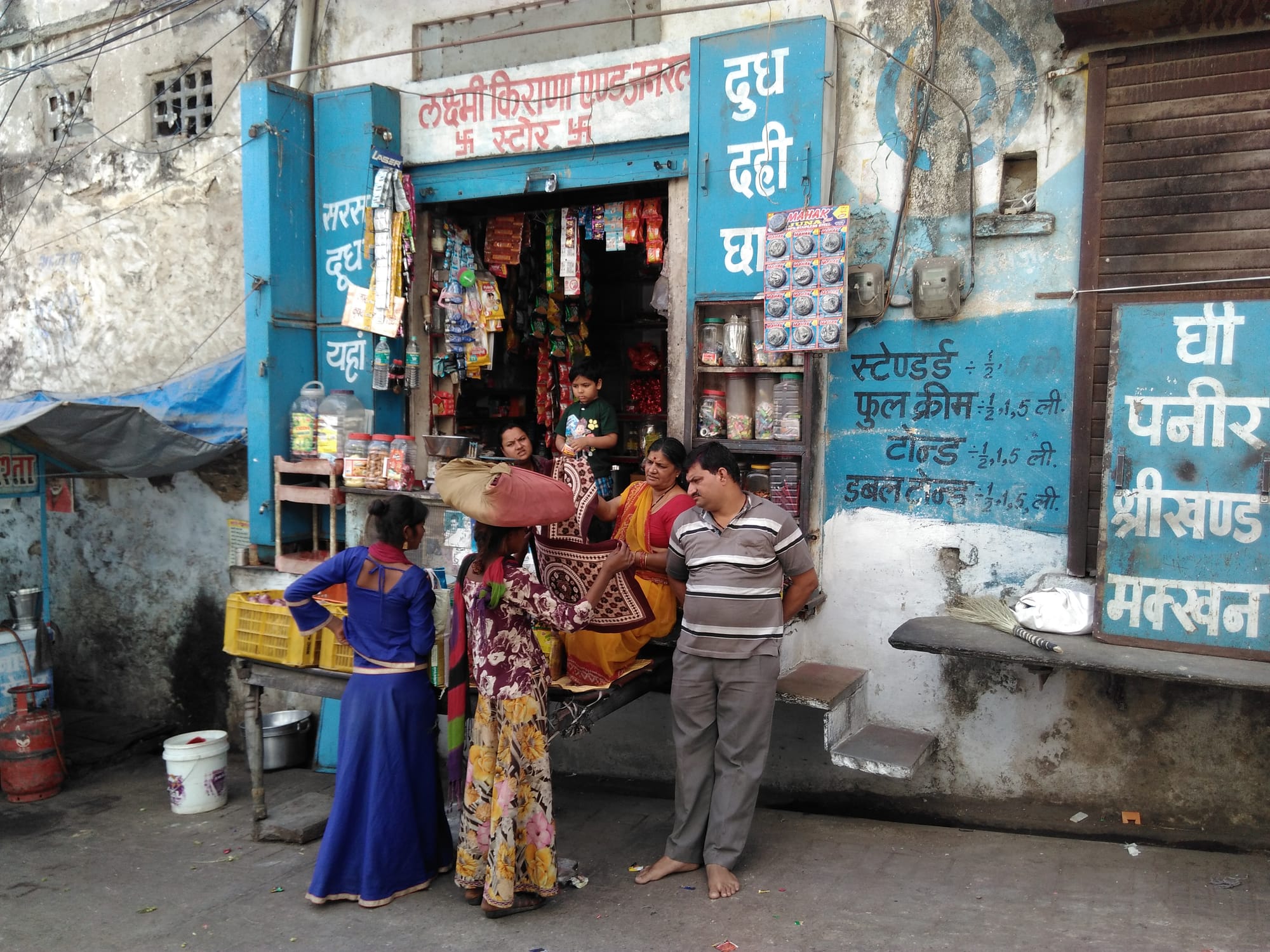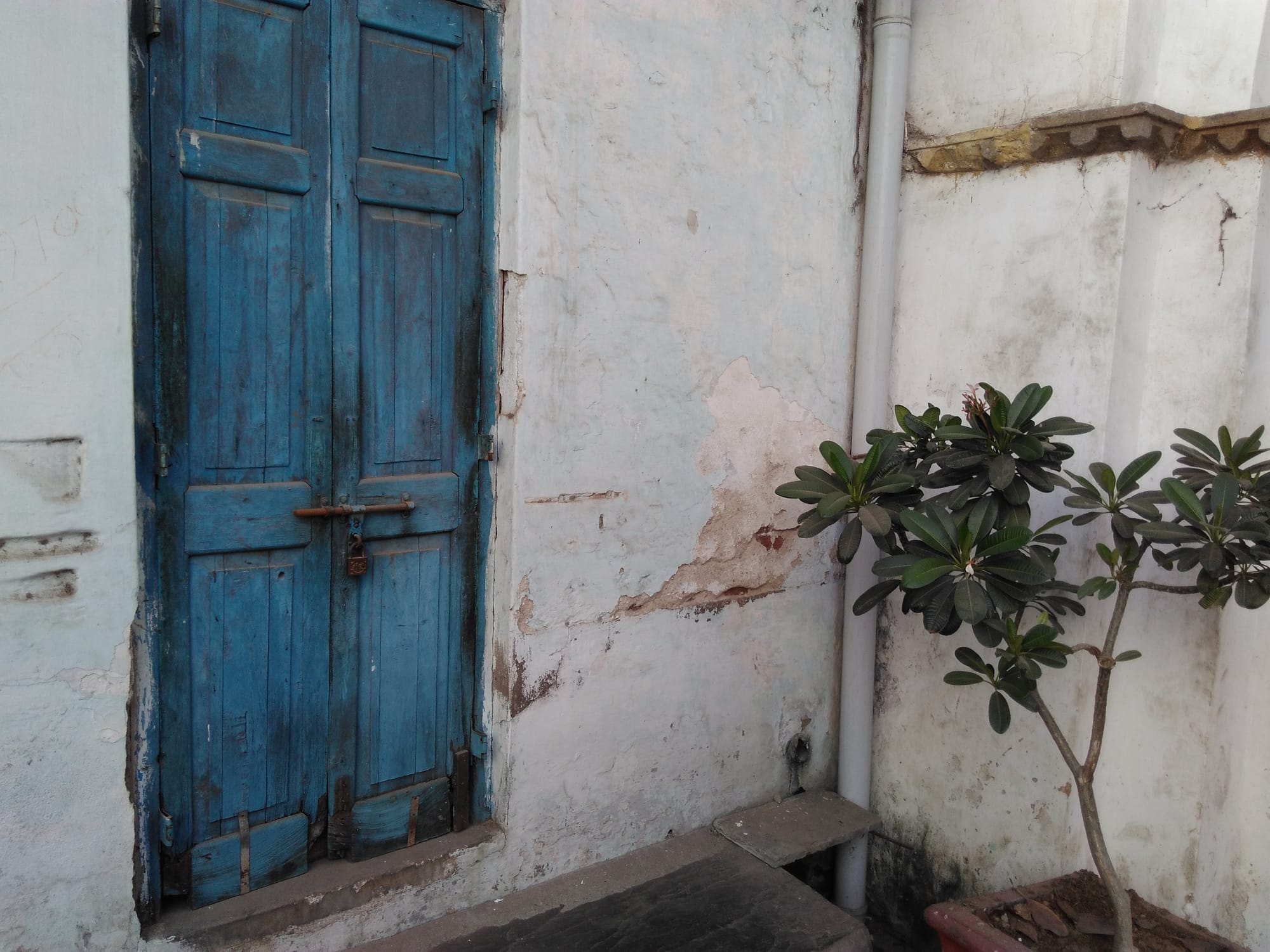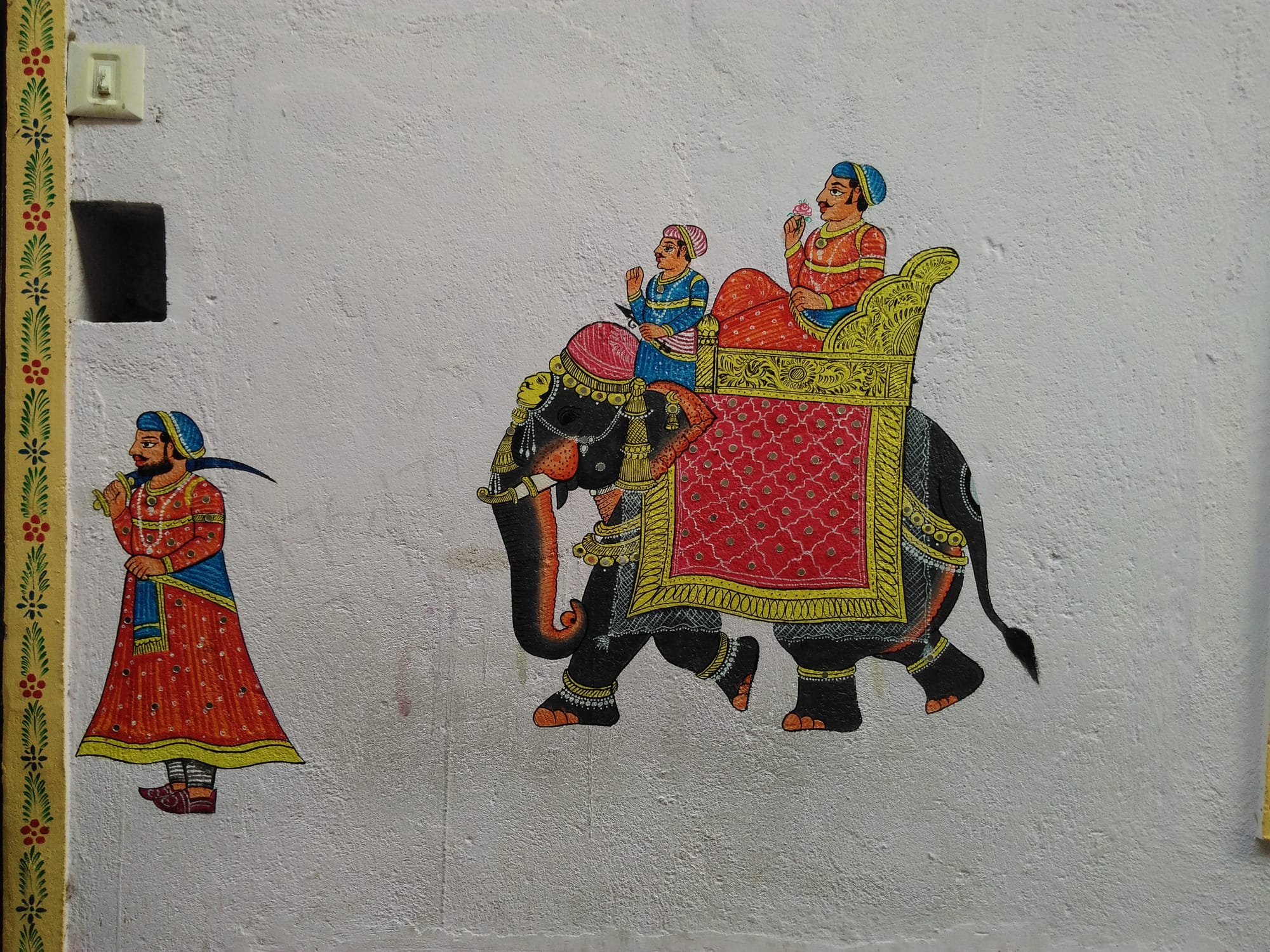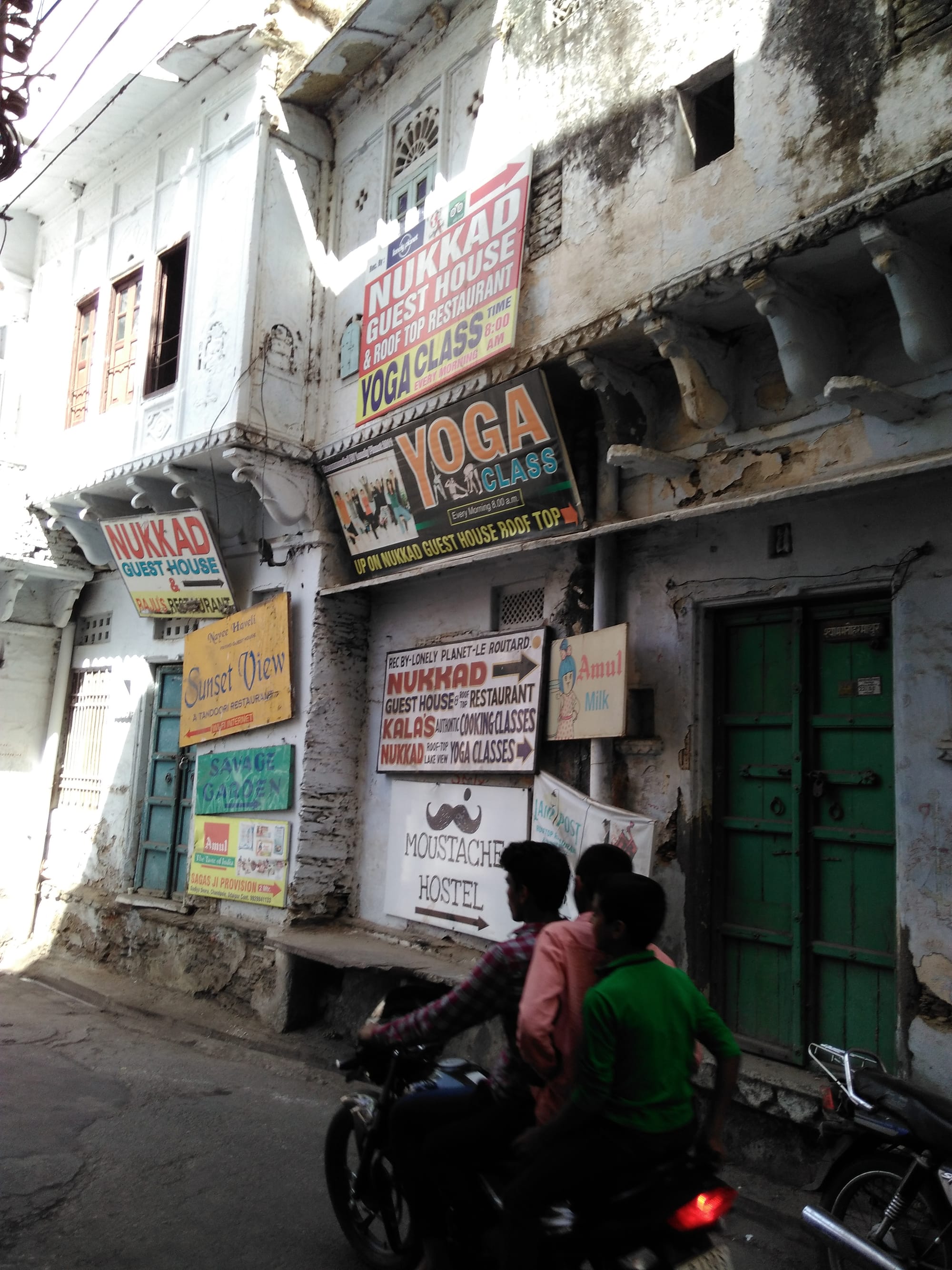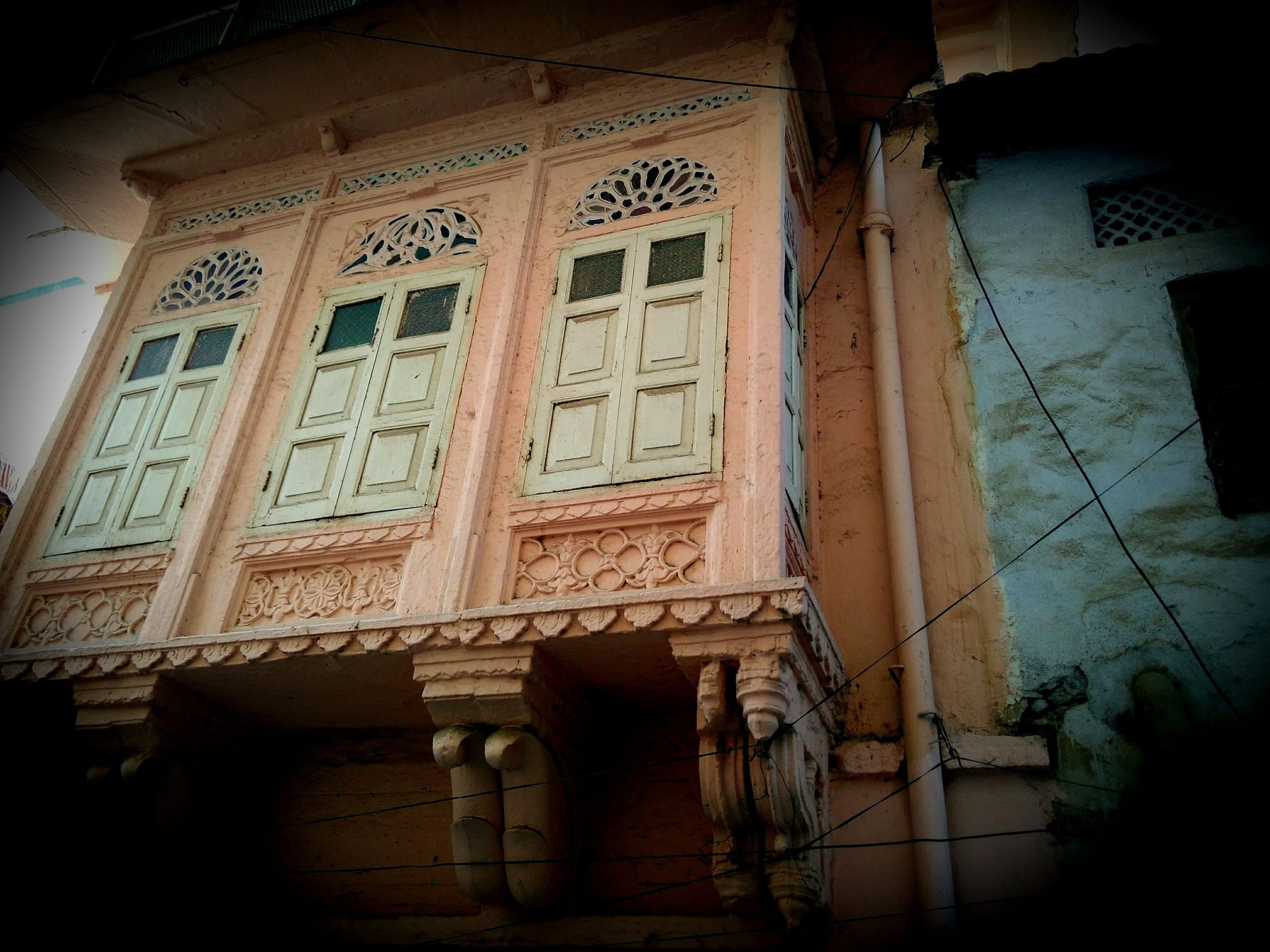 Favourite Parantha Stand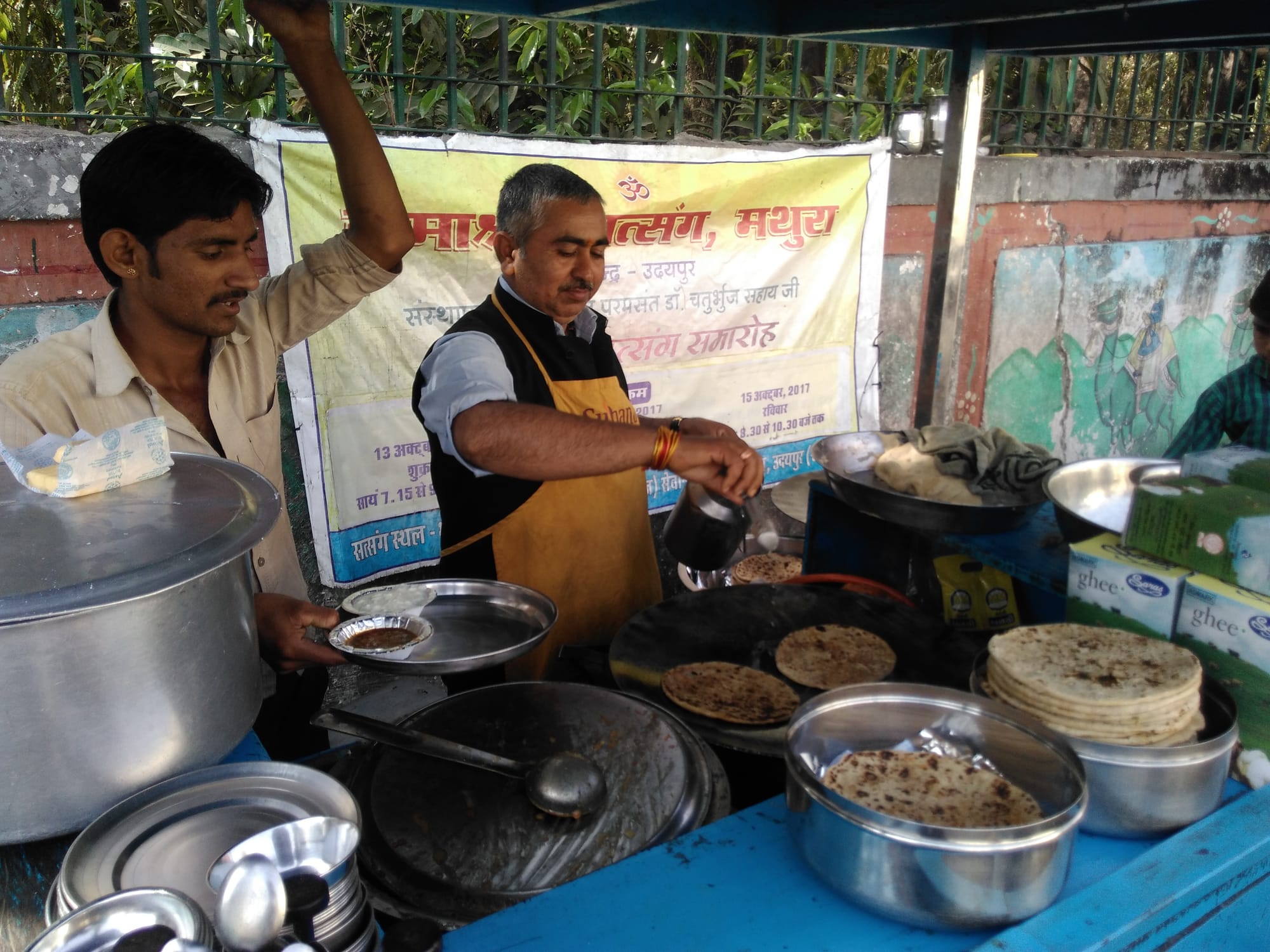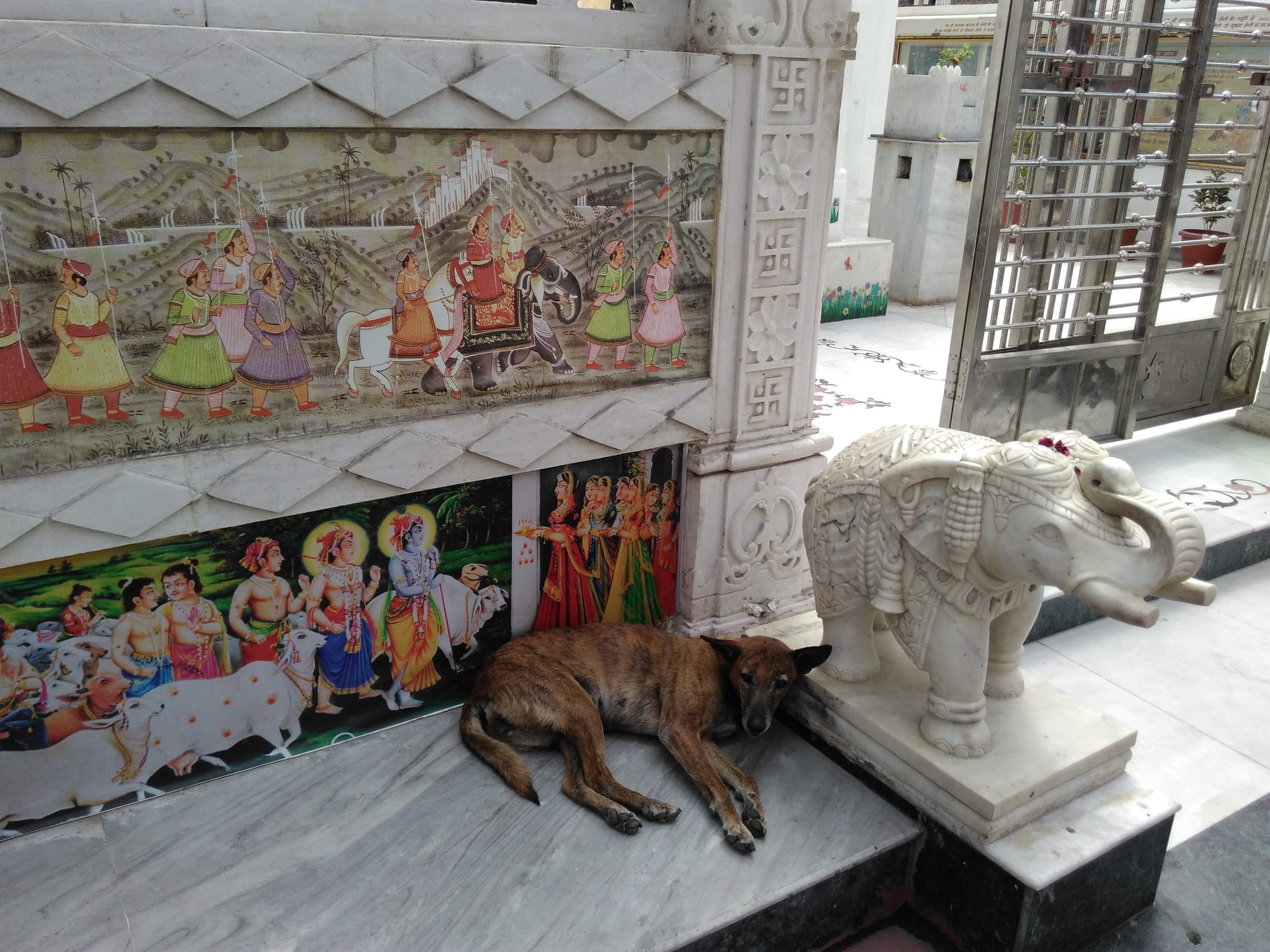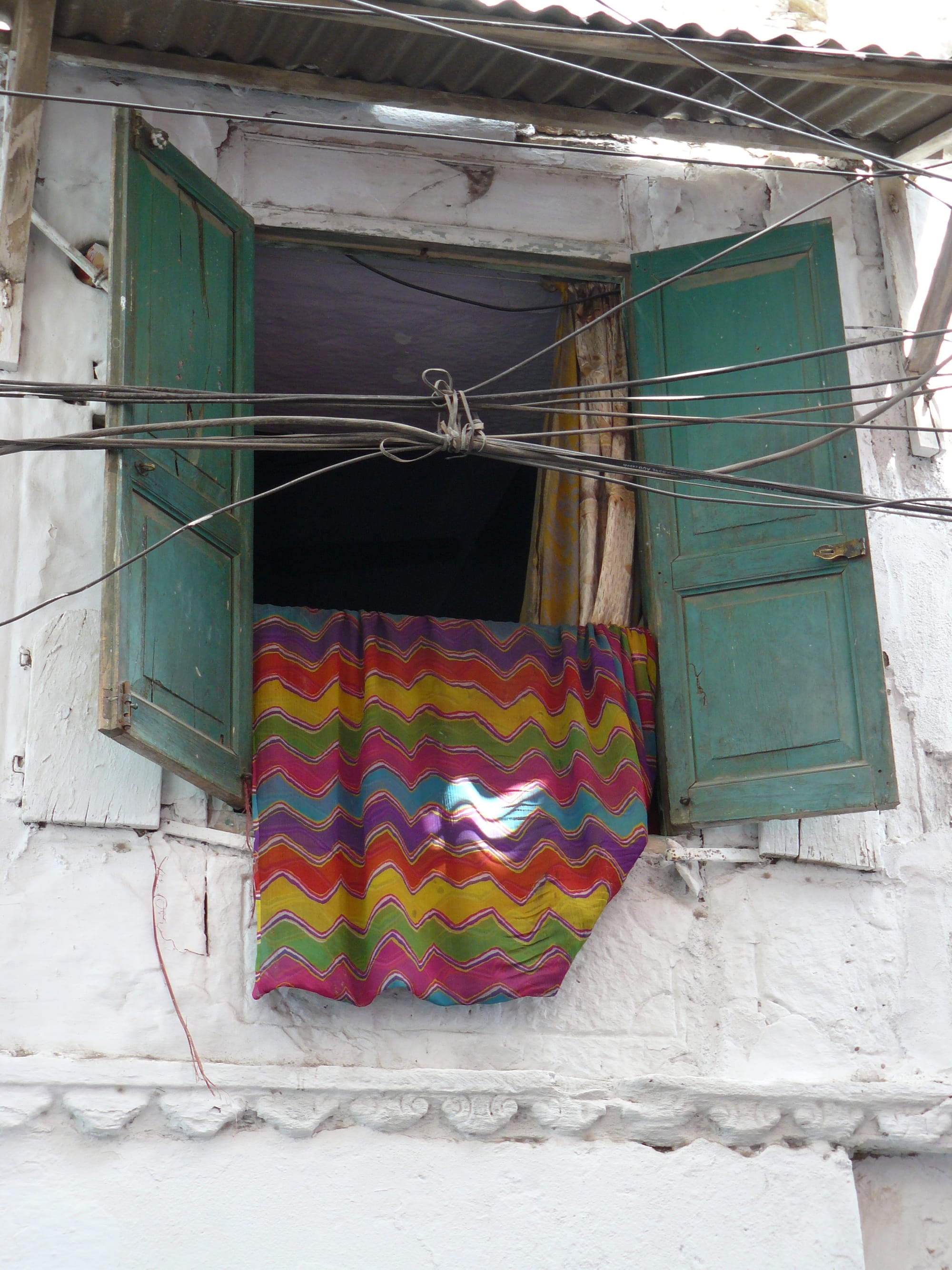 School's Out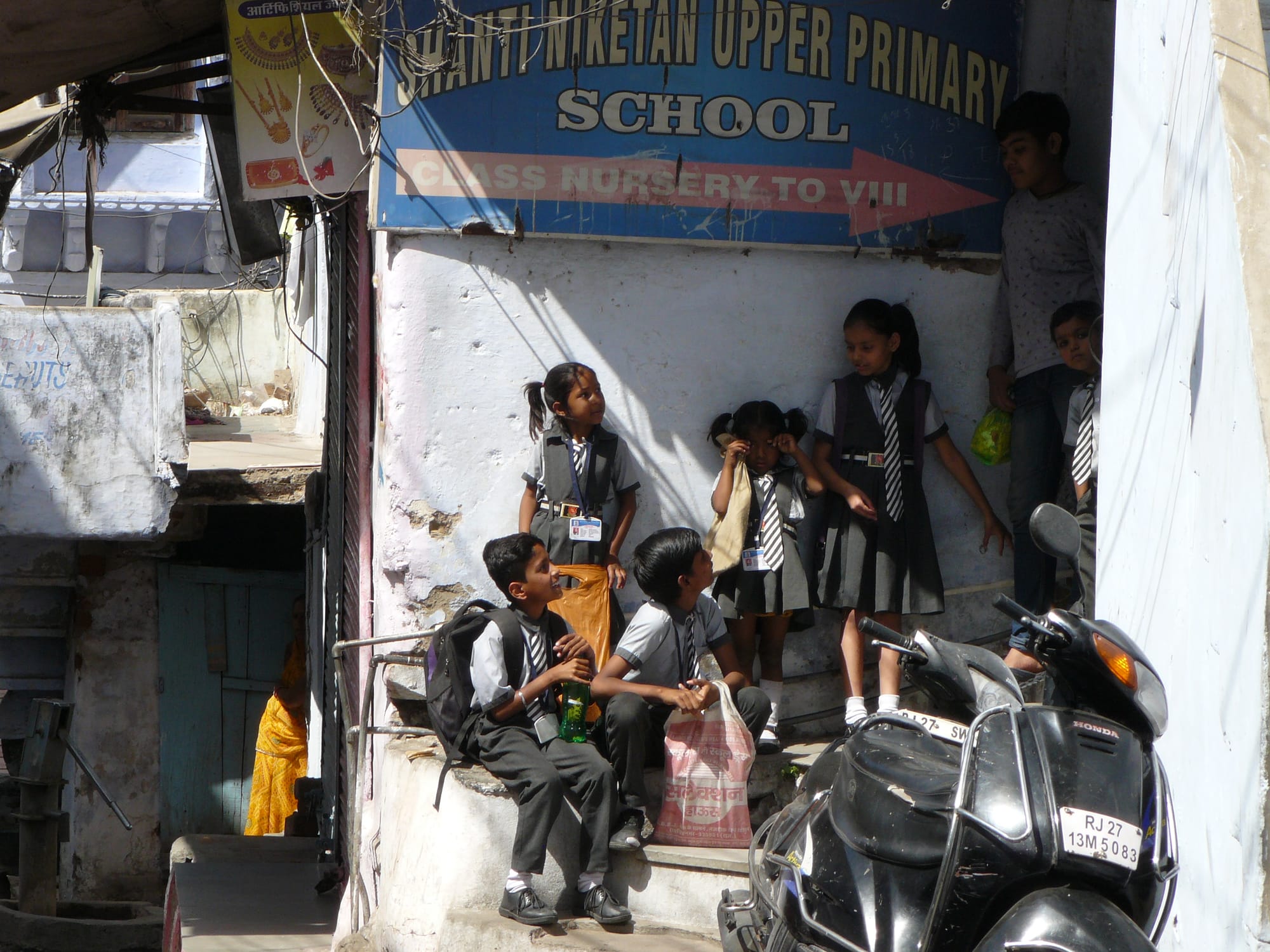 Jagdish Chowk, the Central Square in Old Udaipur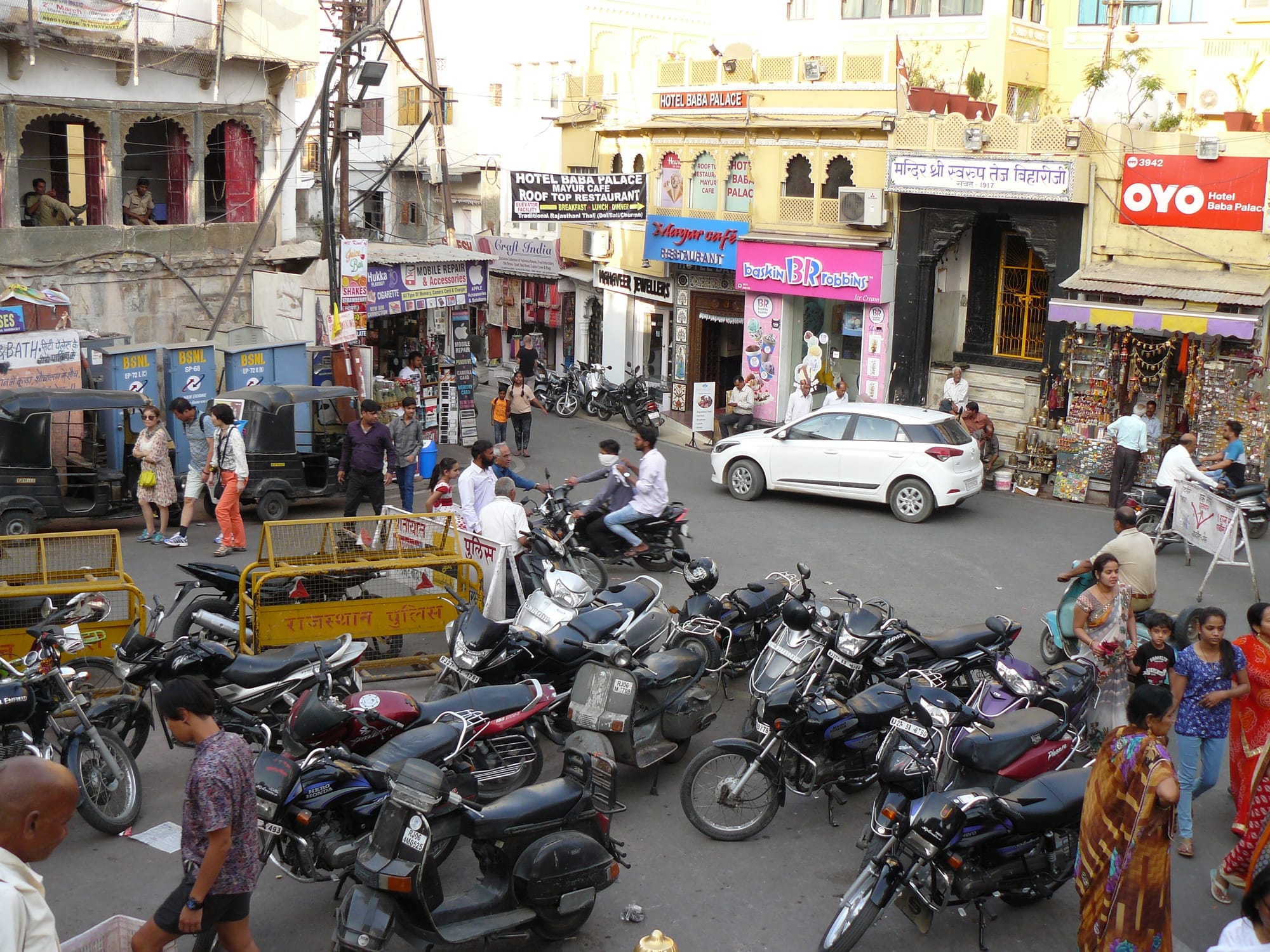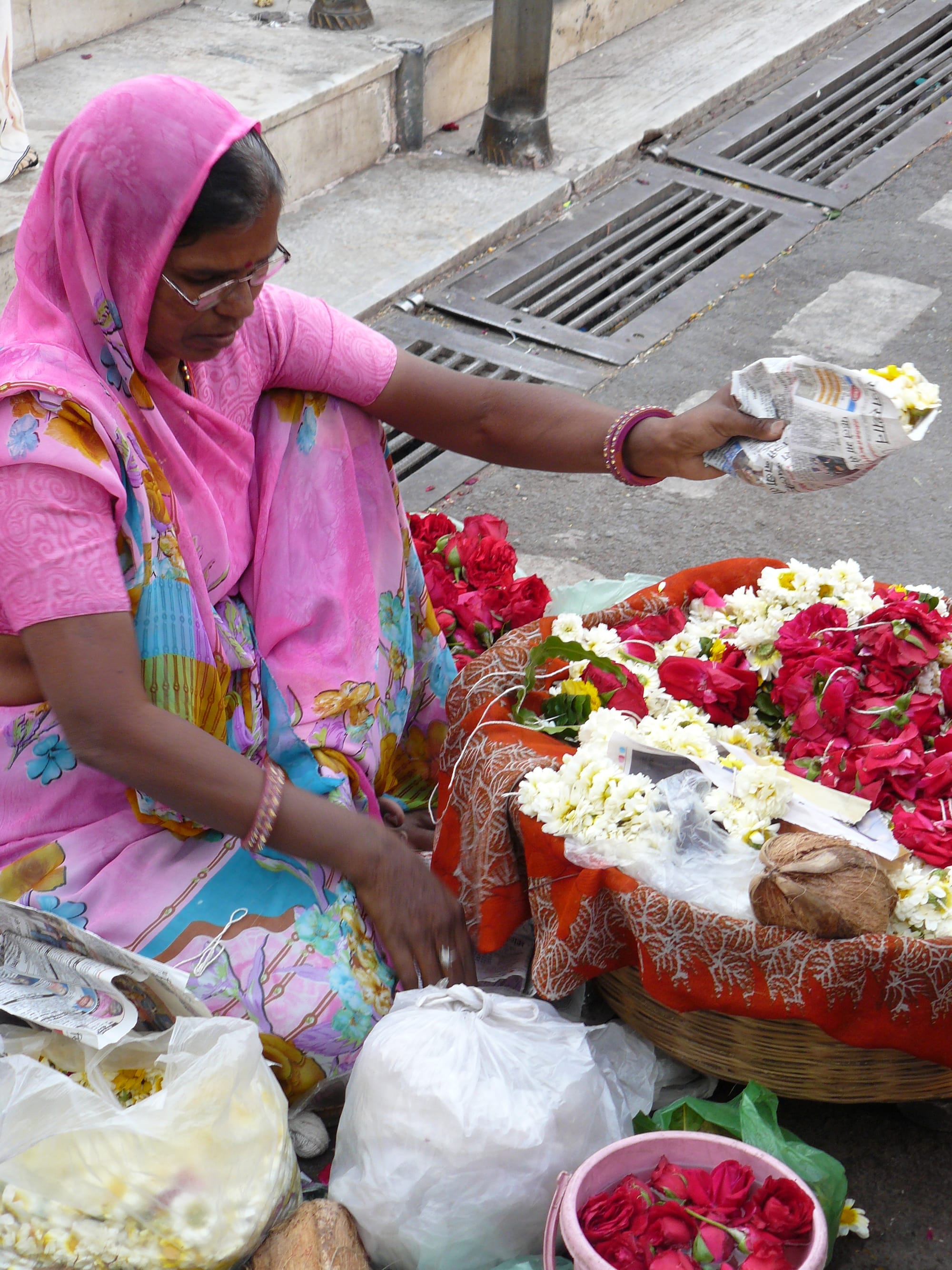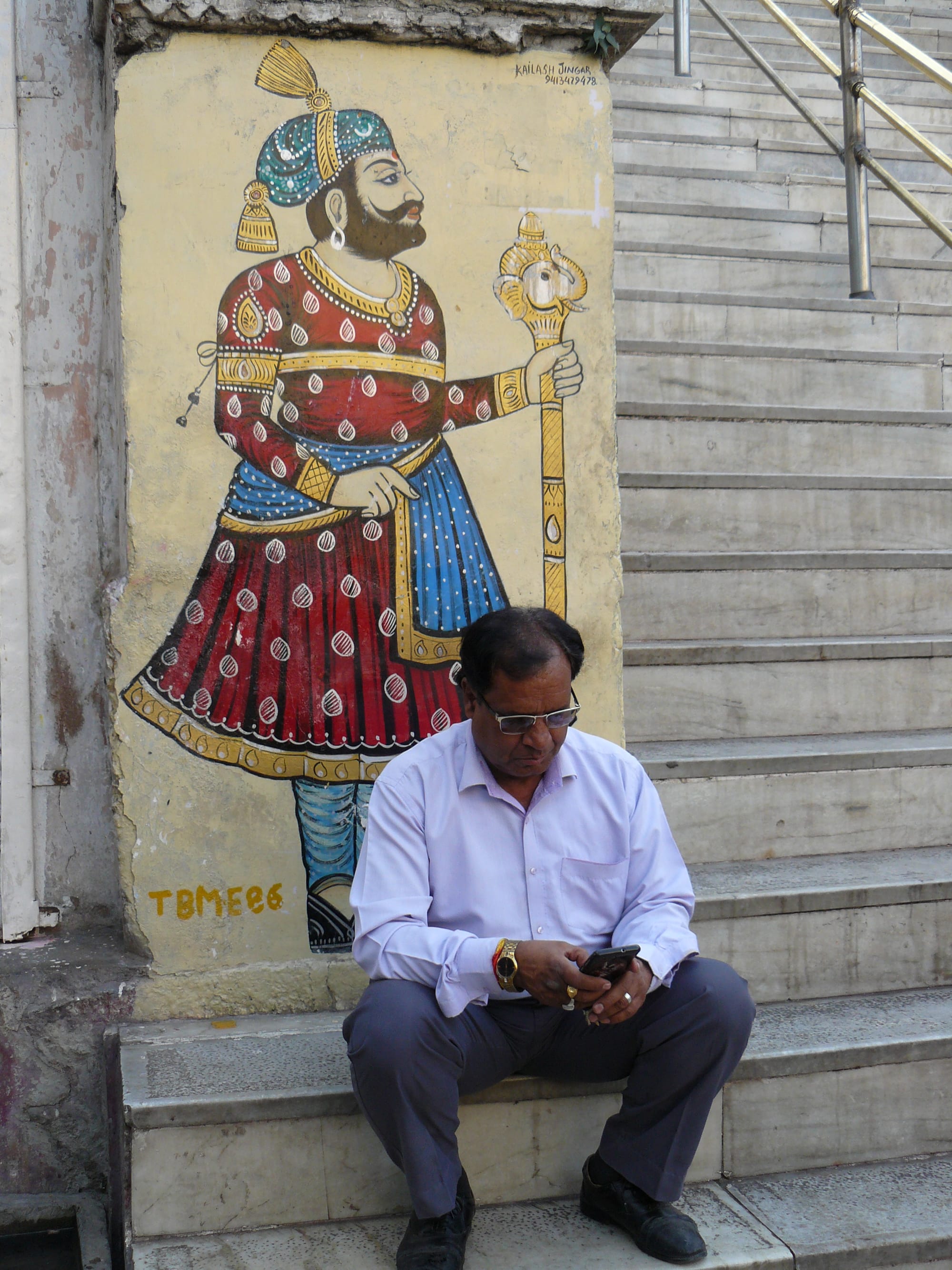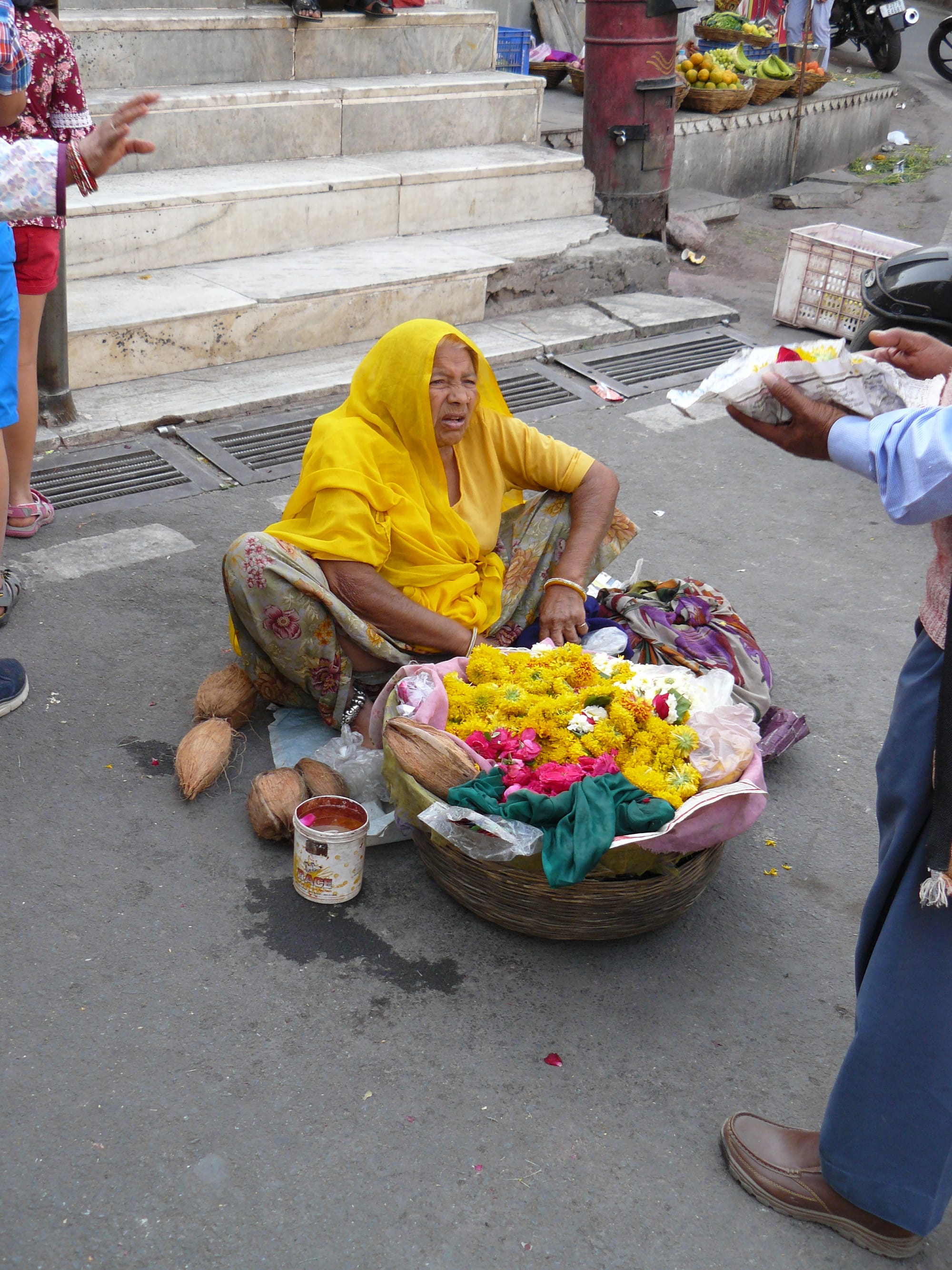 Lake Palace Hotel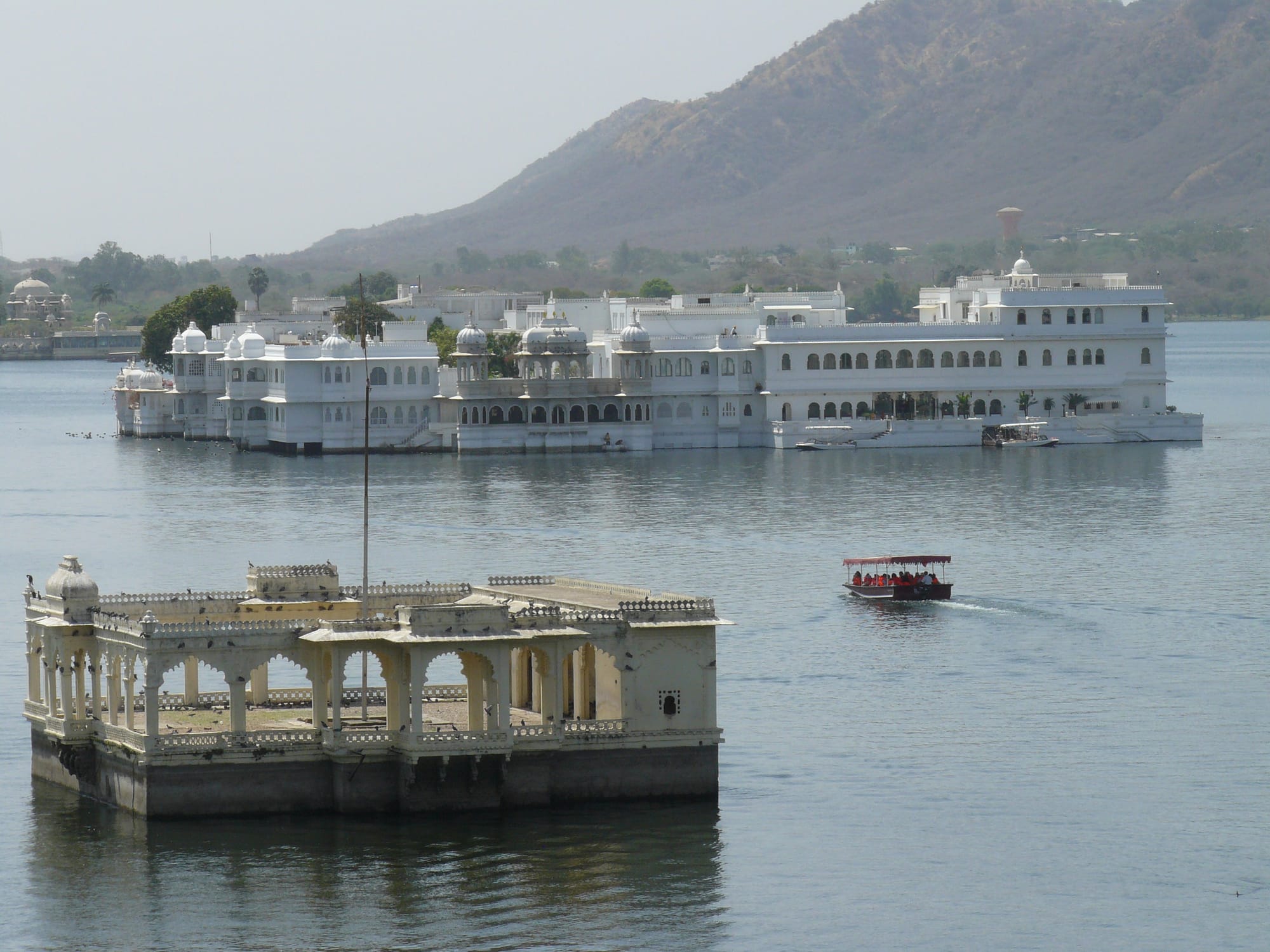 Lake Pichola - again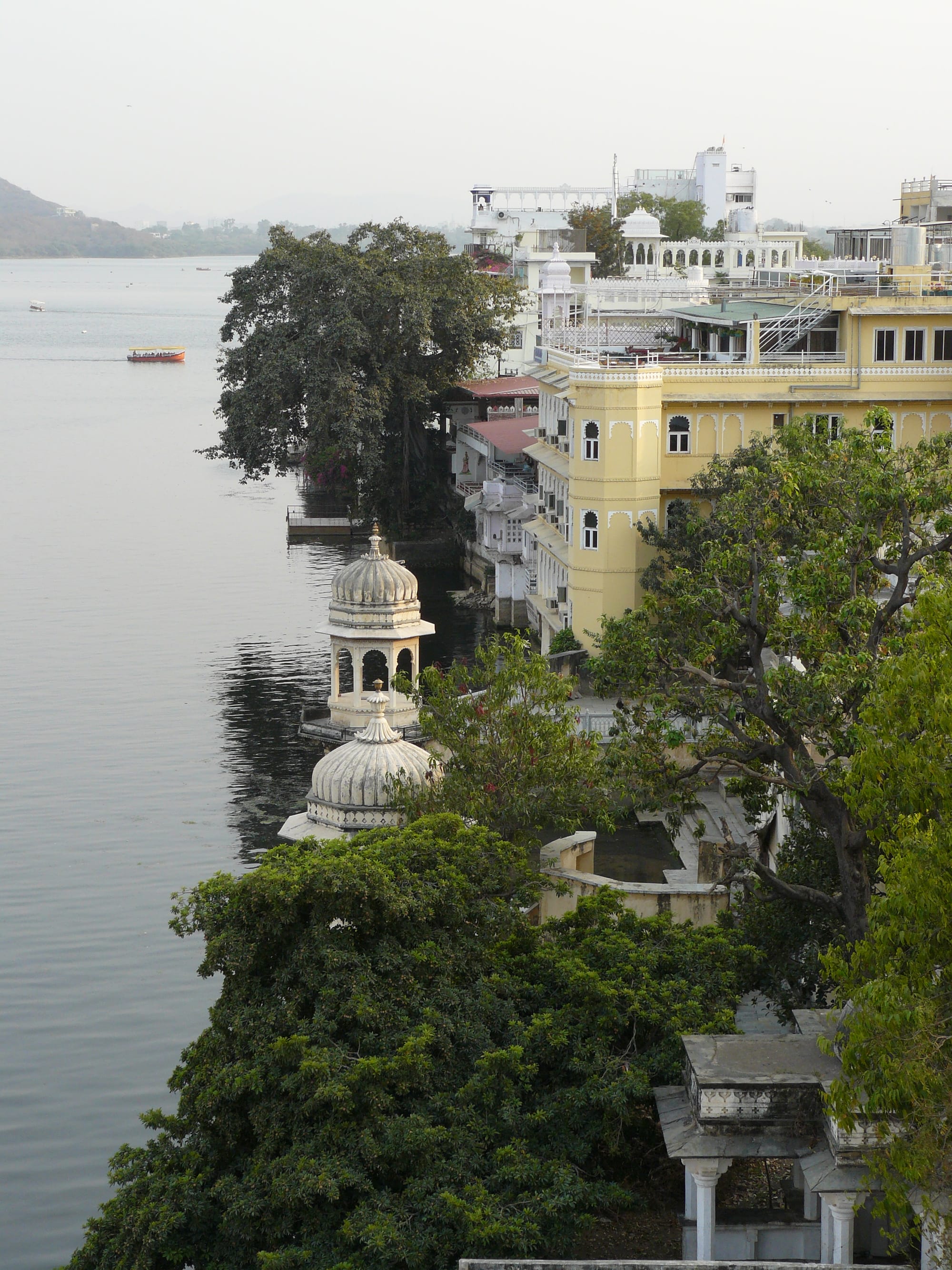 Battyani Chohotta - a popular tourist street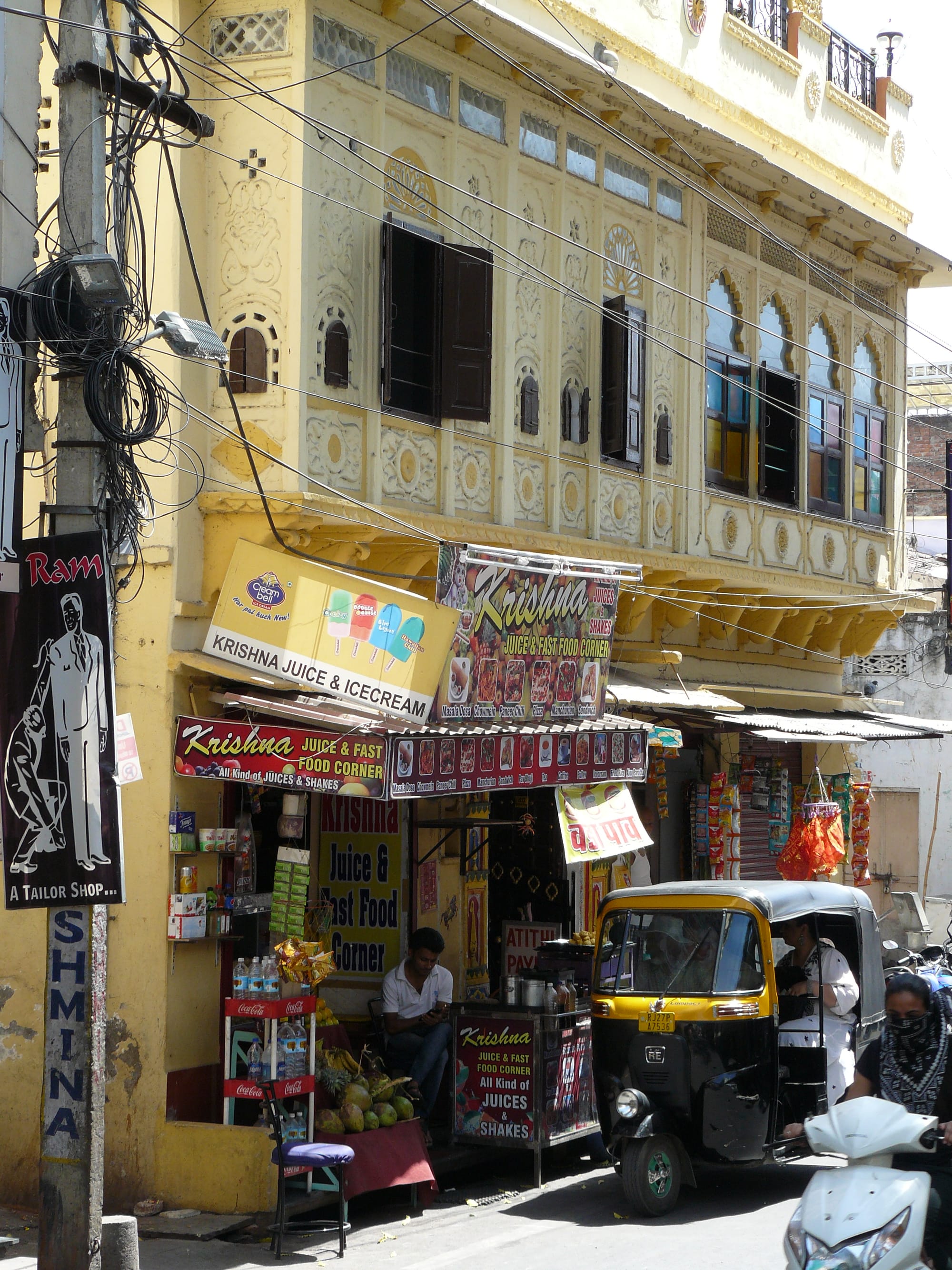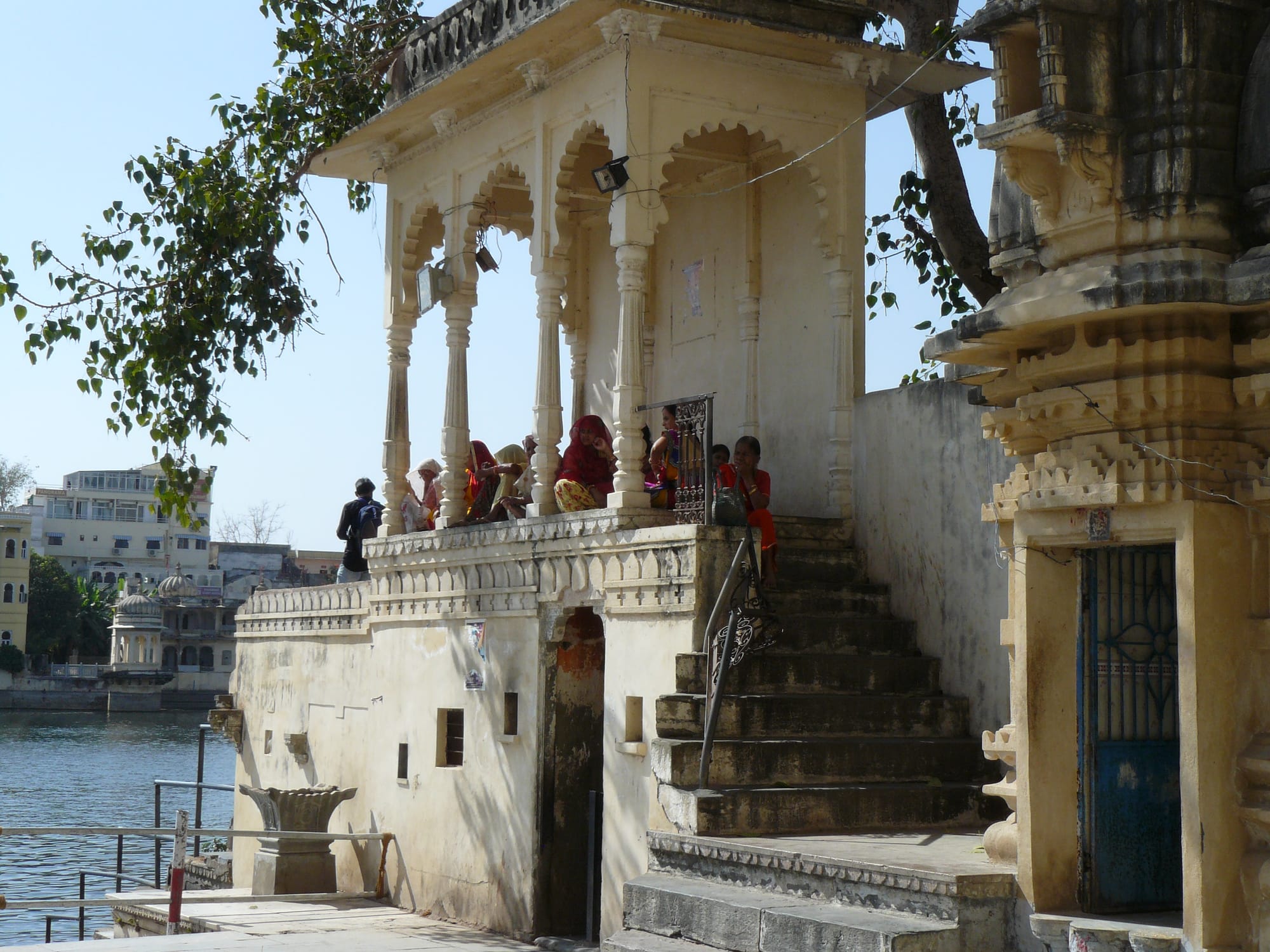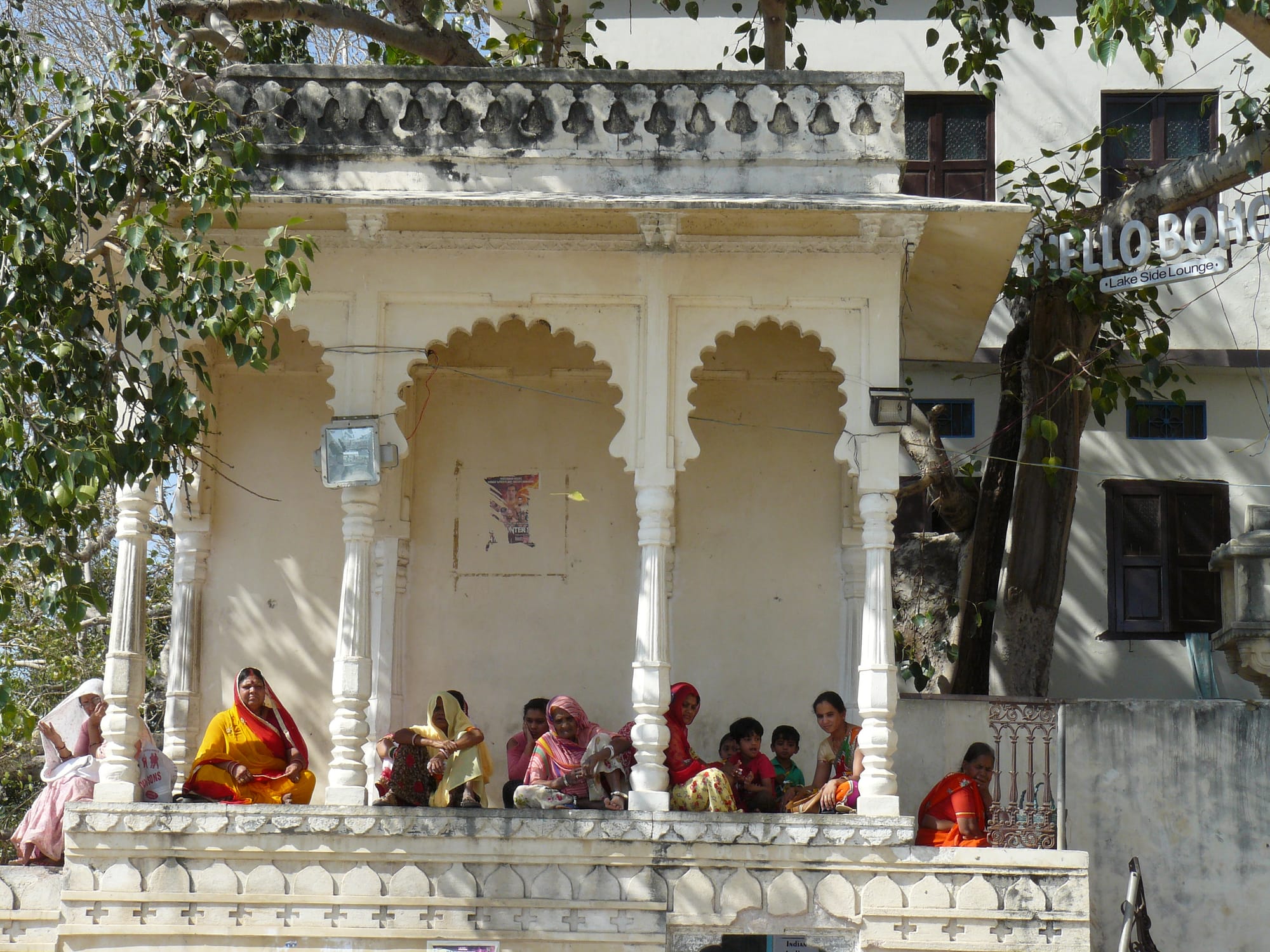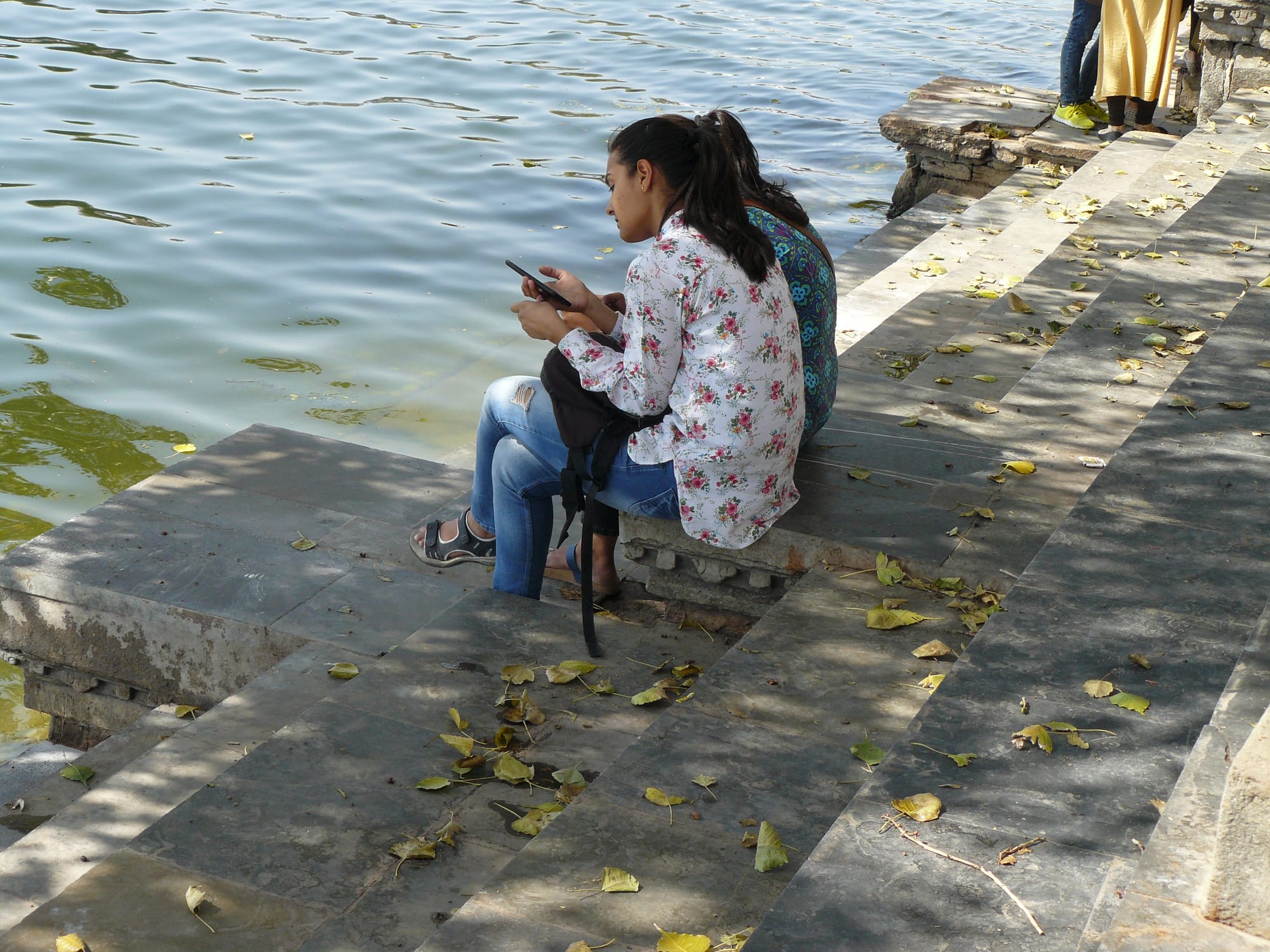 Amazing weeding boat !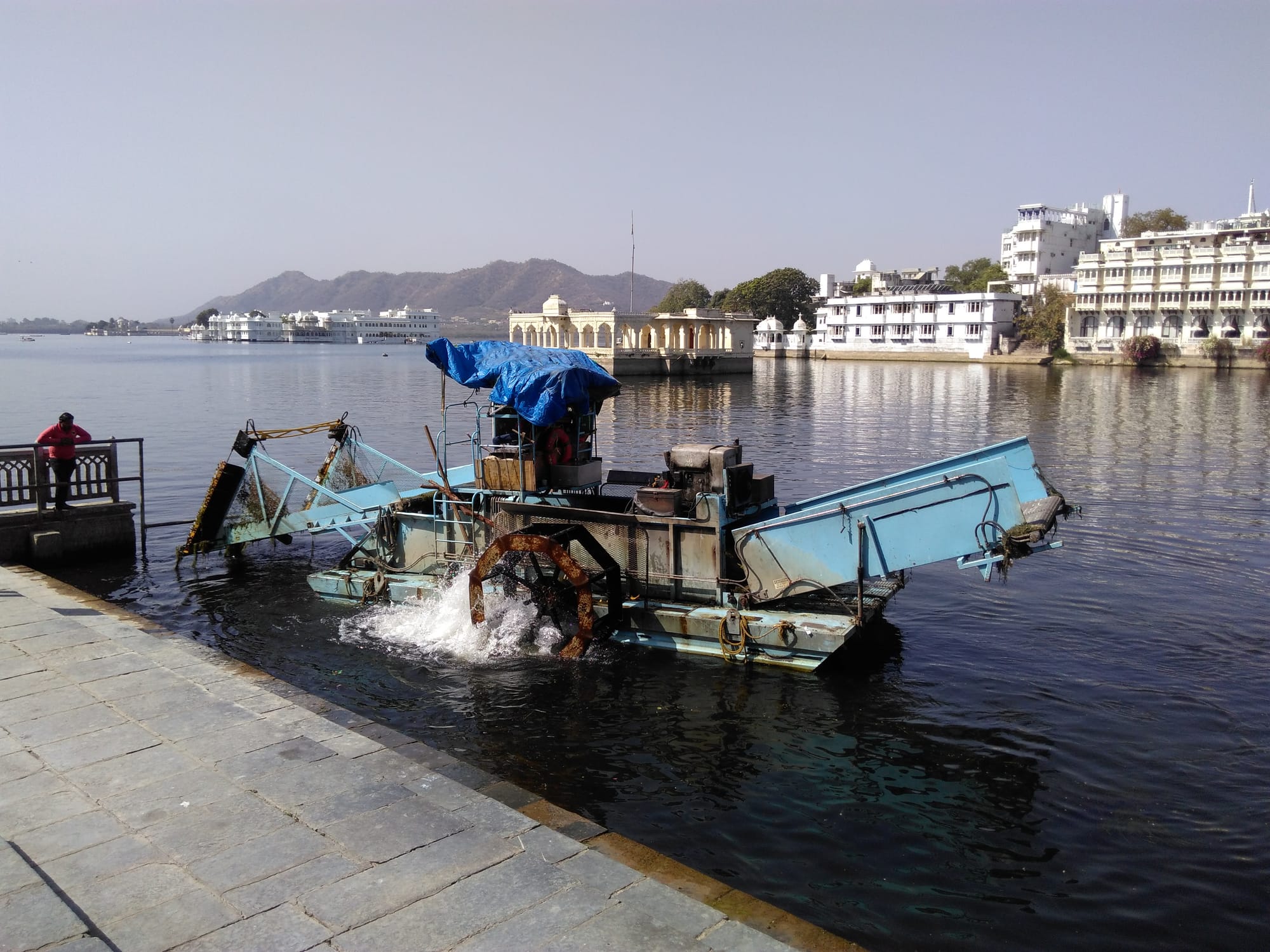 Jagdish Temple, Jagdish Chowk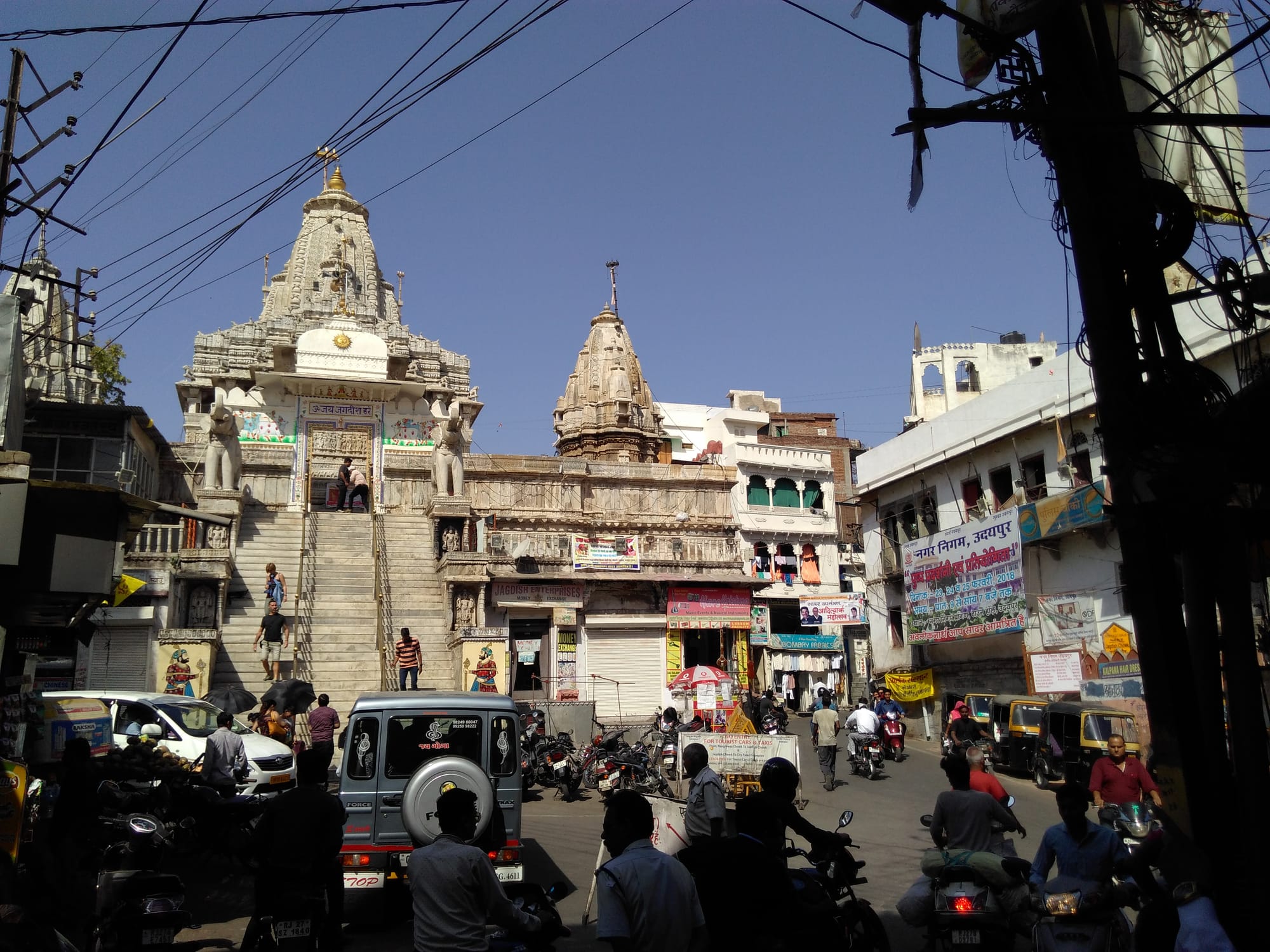 I dare you !!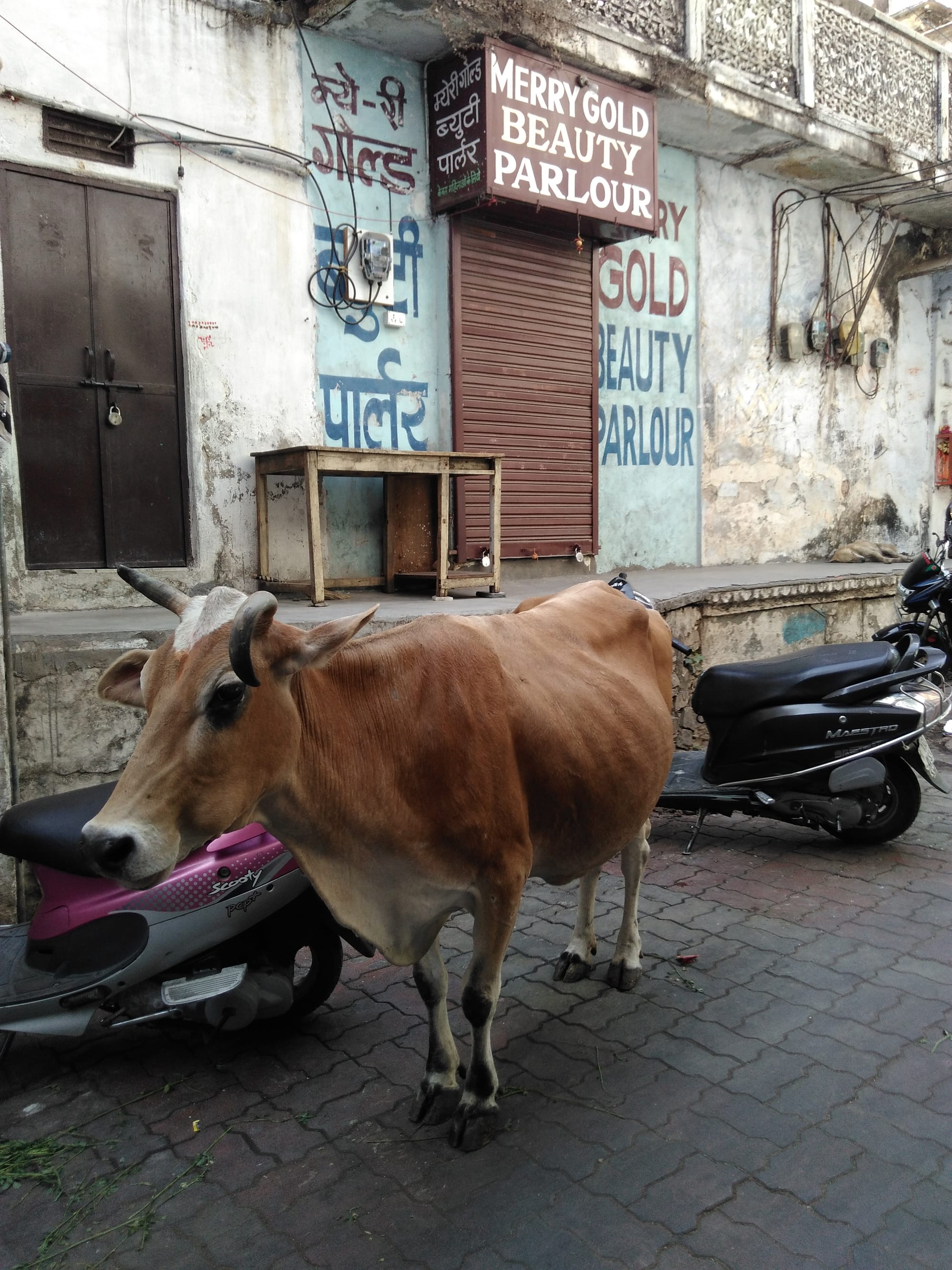 Maachli gel ki Raani hai, jeevan uska pani hai ...................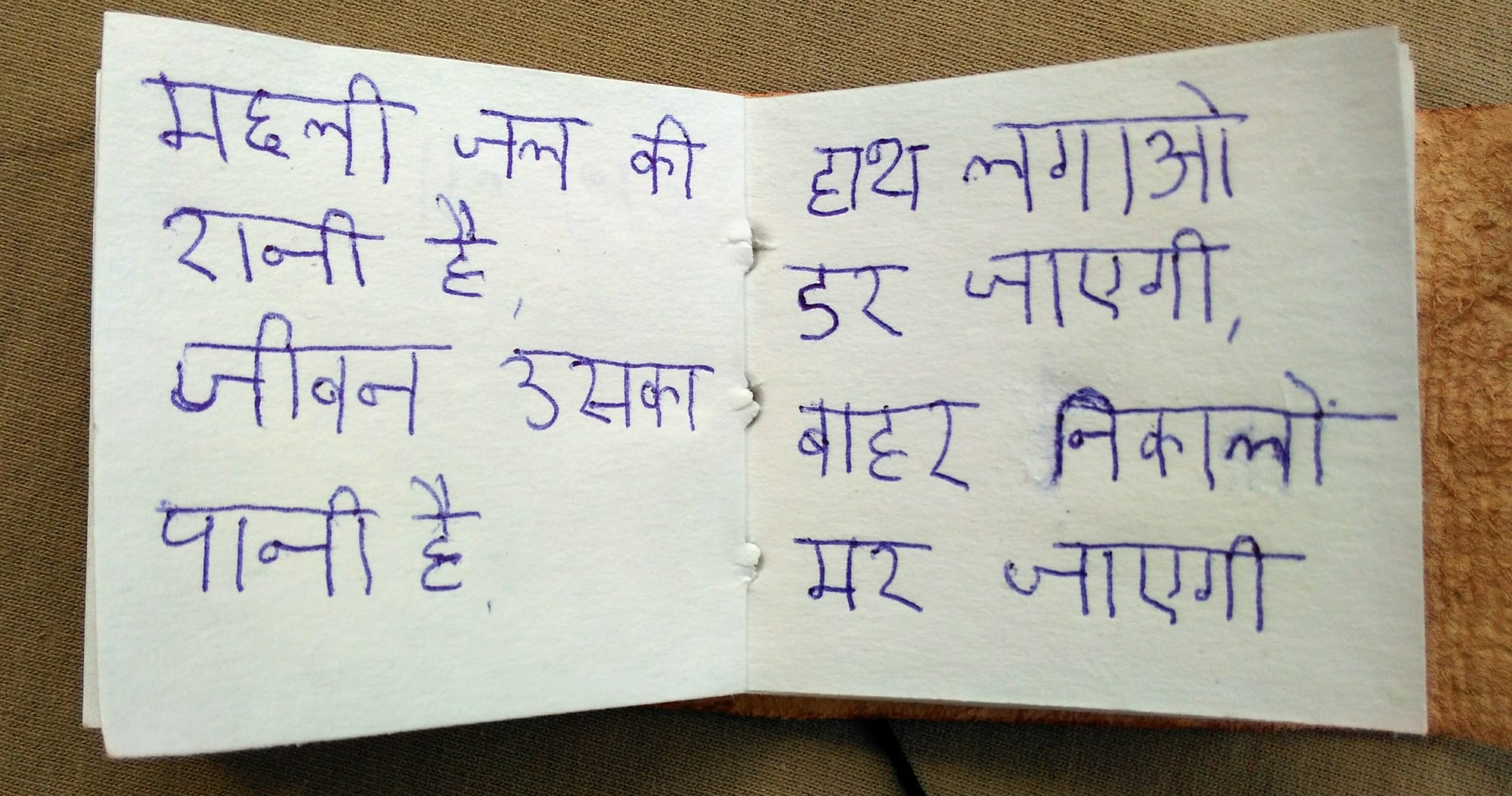 School girls selling their handicraft at the Ladies Festival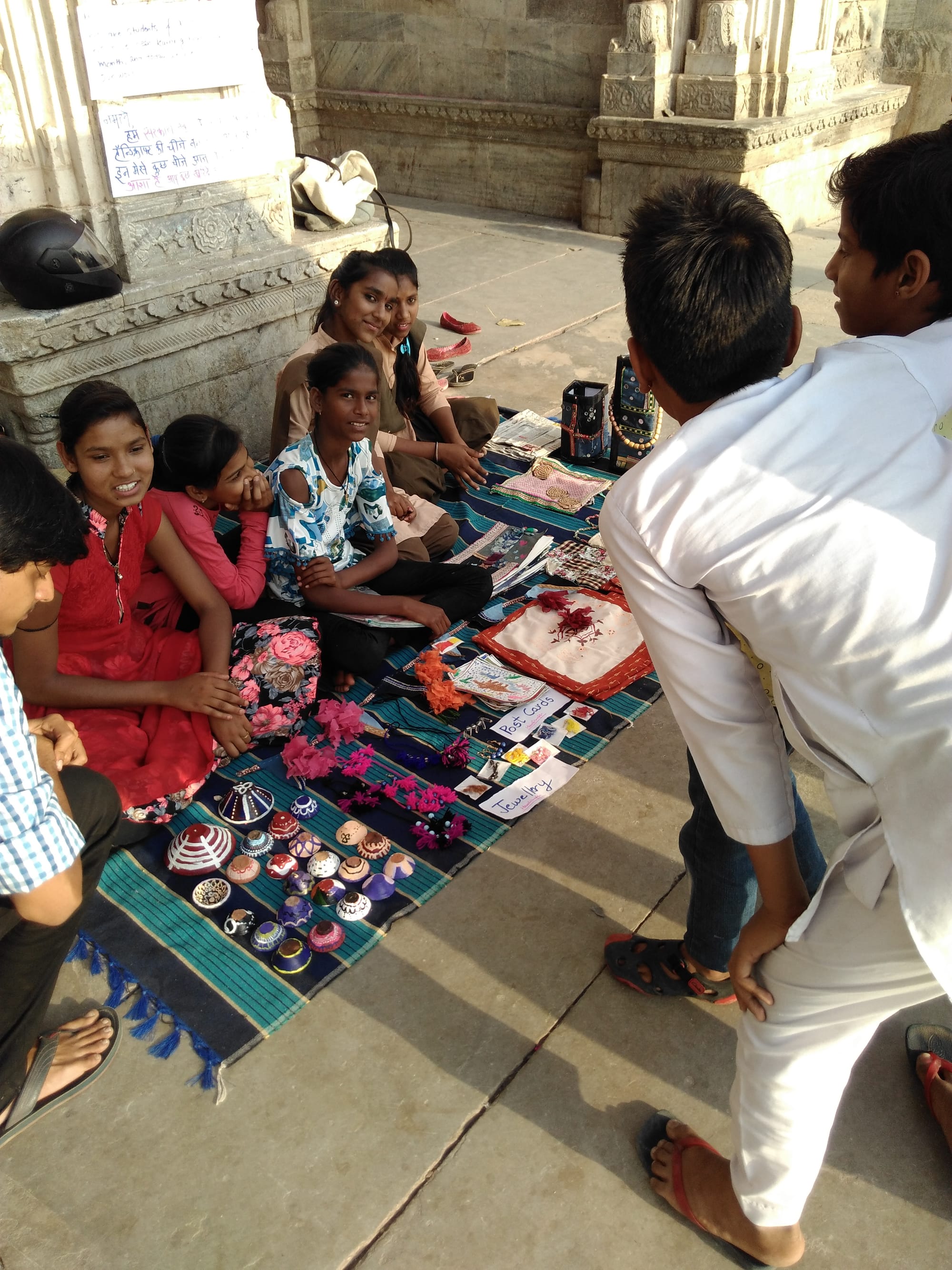 Udaipur is full of Bougainvilleas, Belvederes and Beggars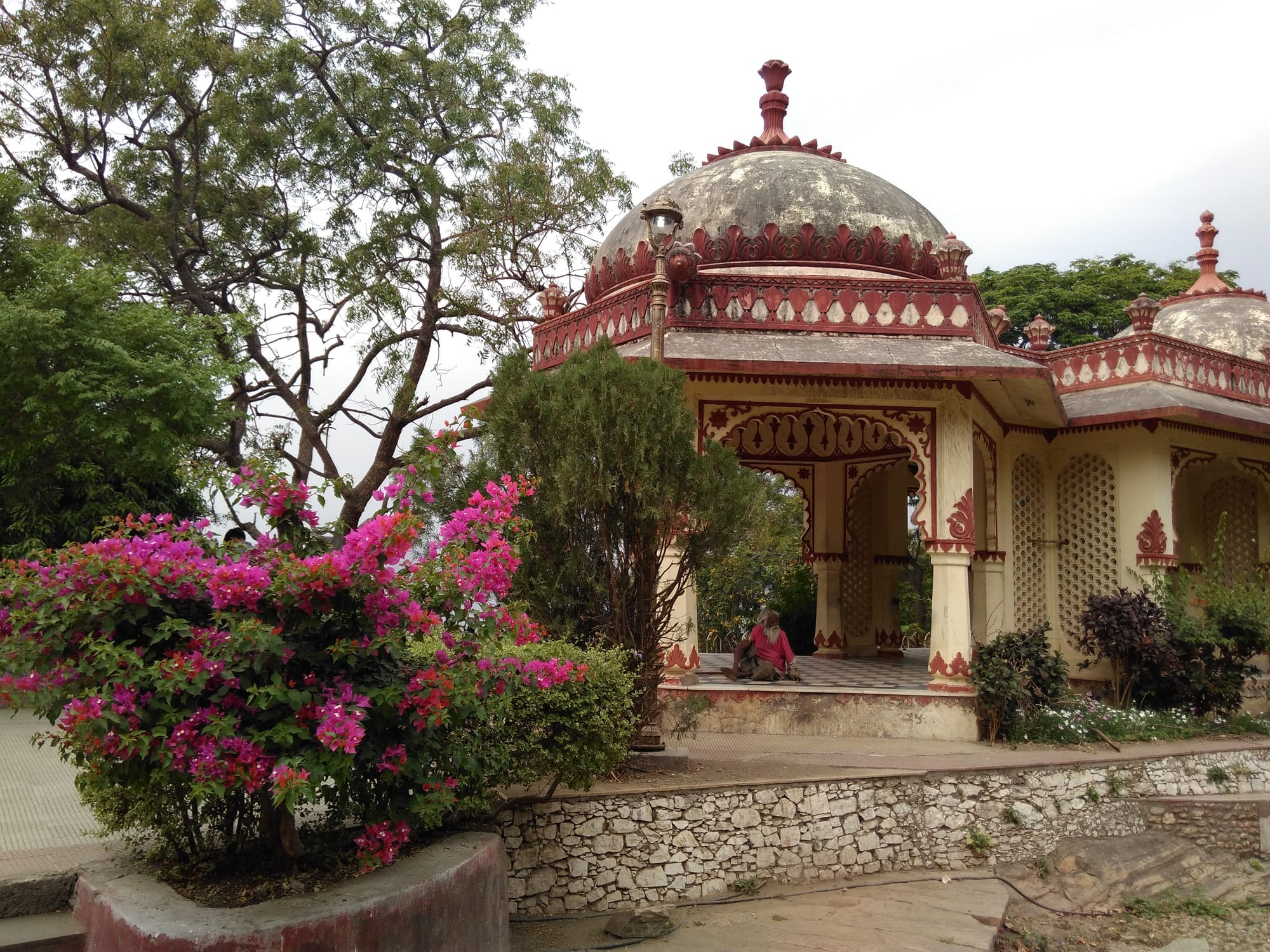 BBack to Dream Haven for Chai with a view of the City Palace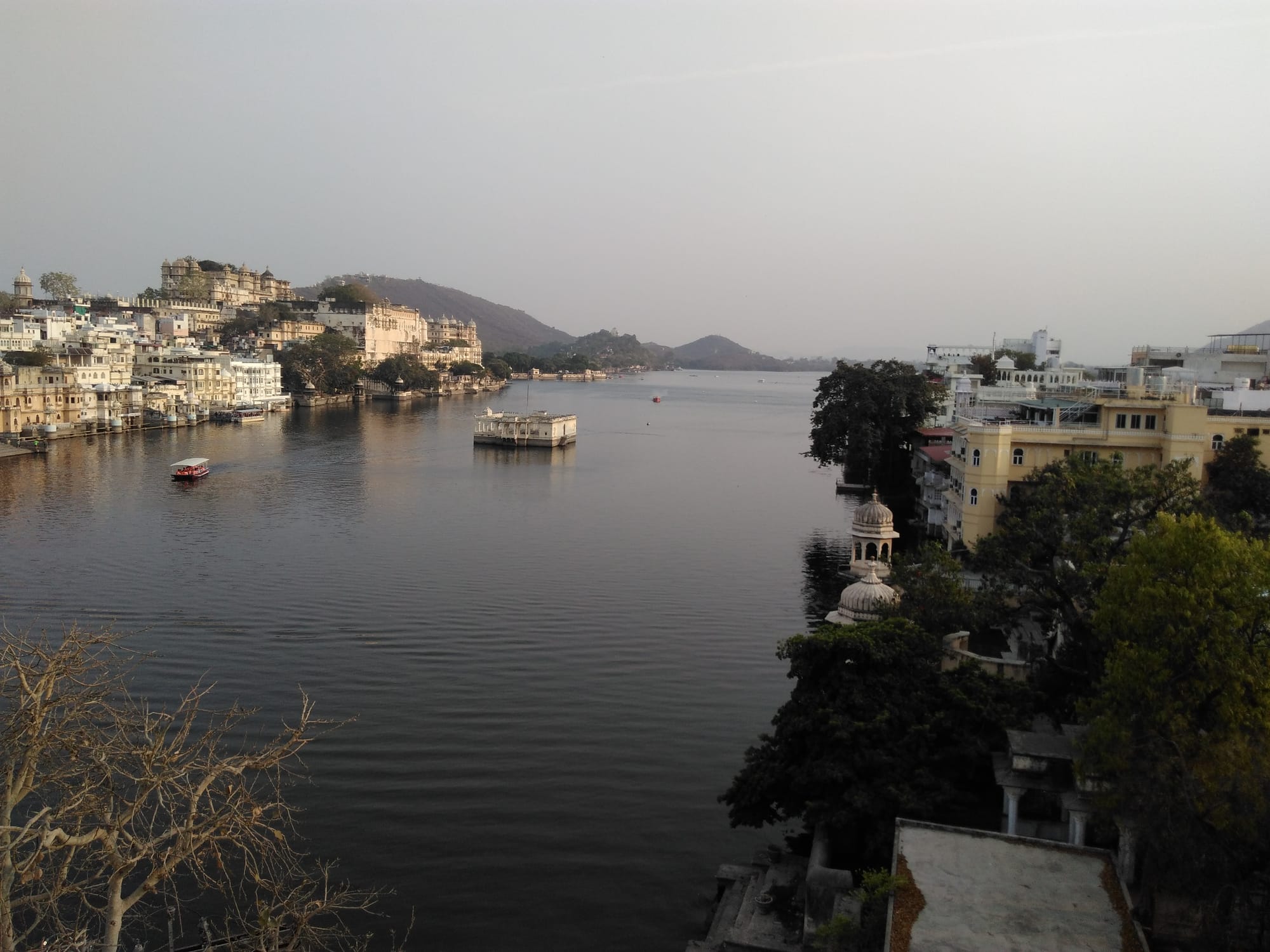 Potato Crisps drying in the sun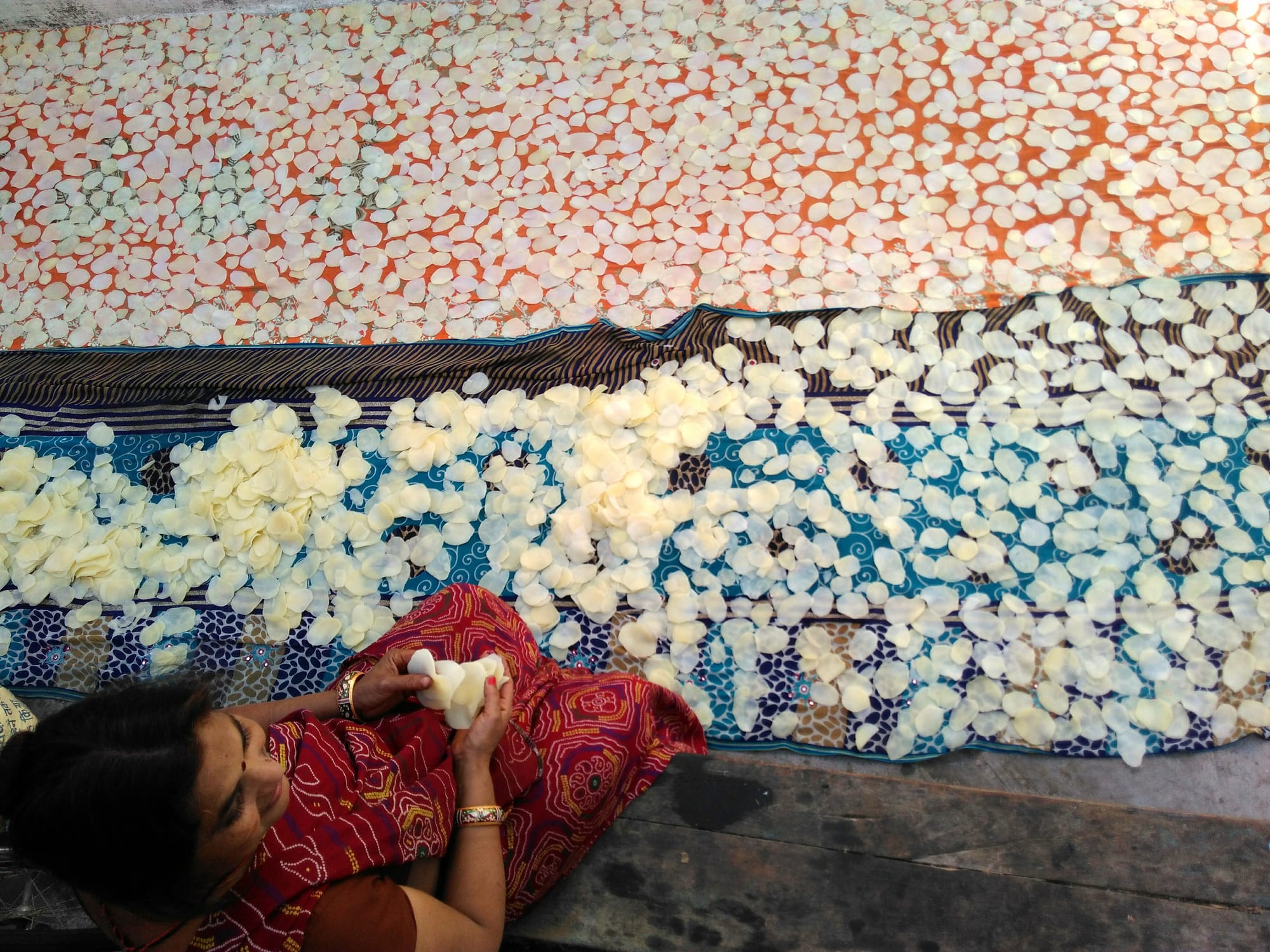 Gulab Baagh - The Rose Garden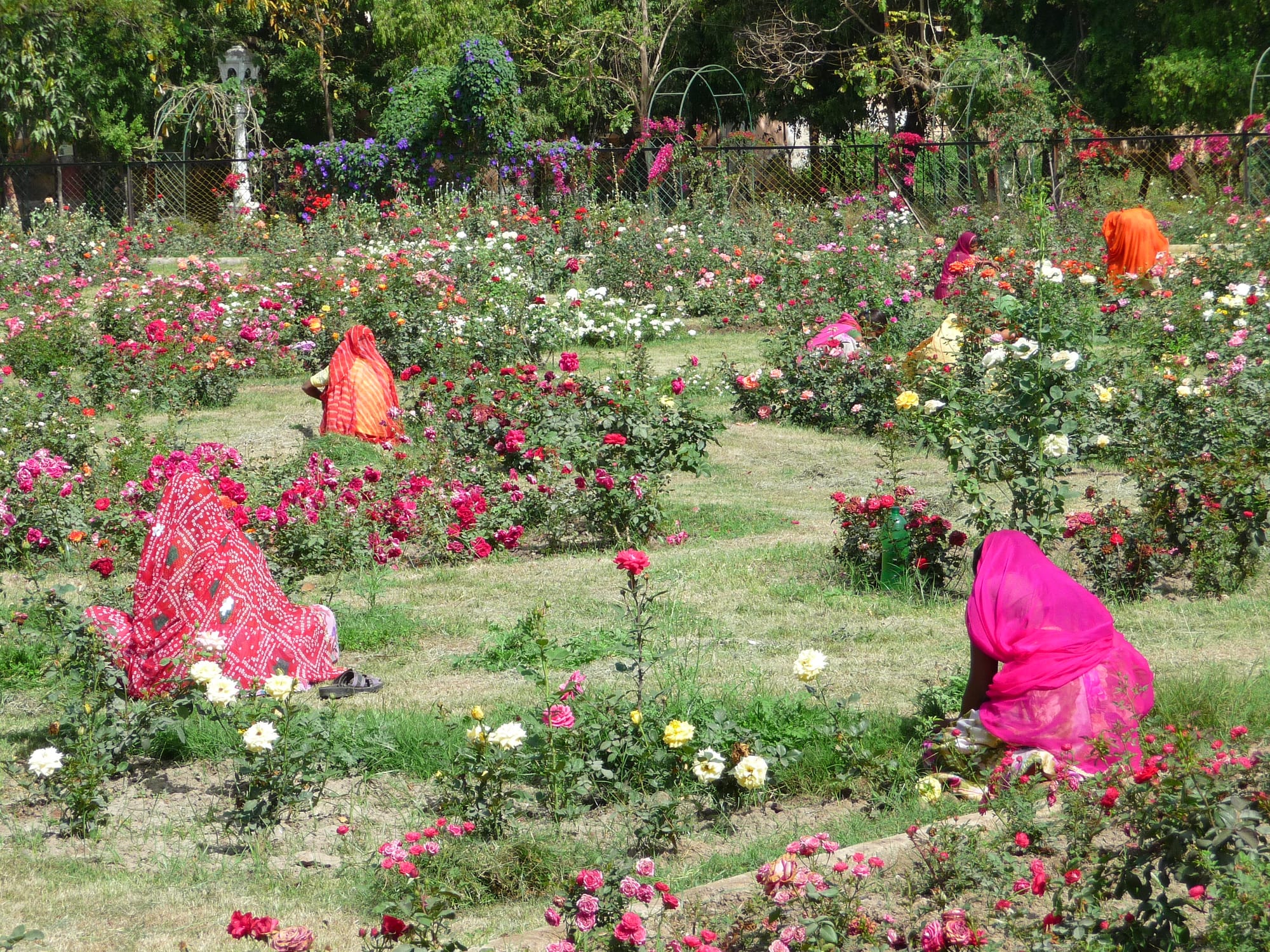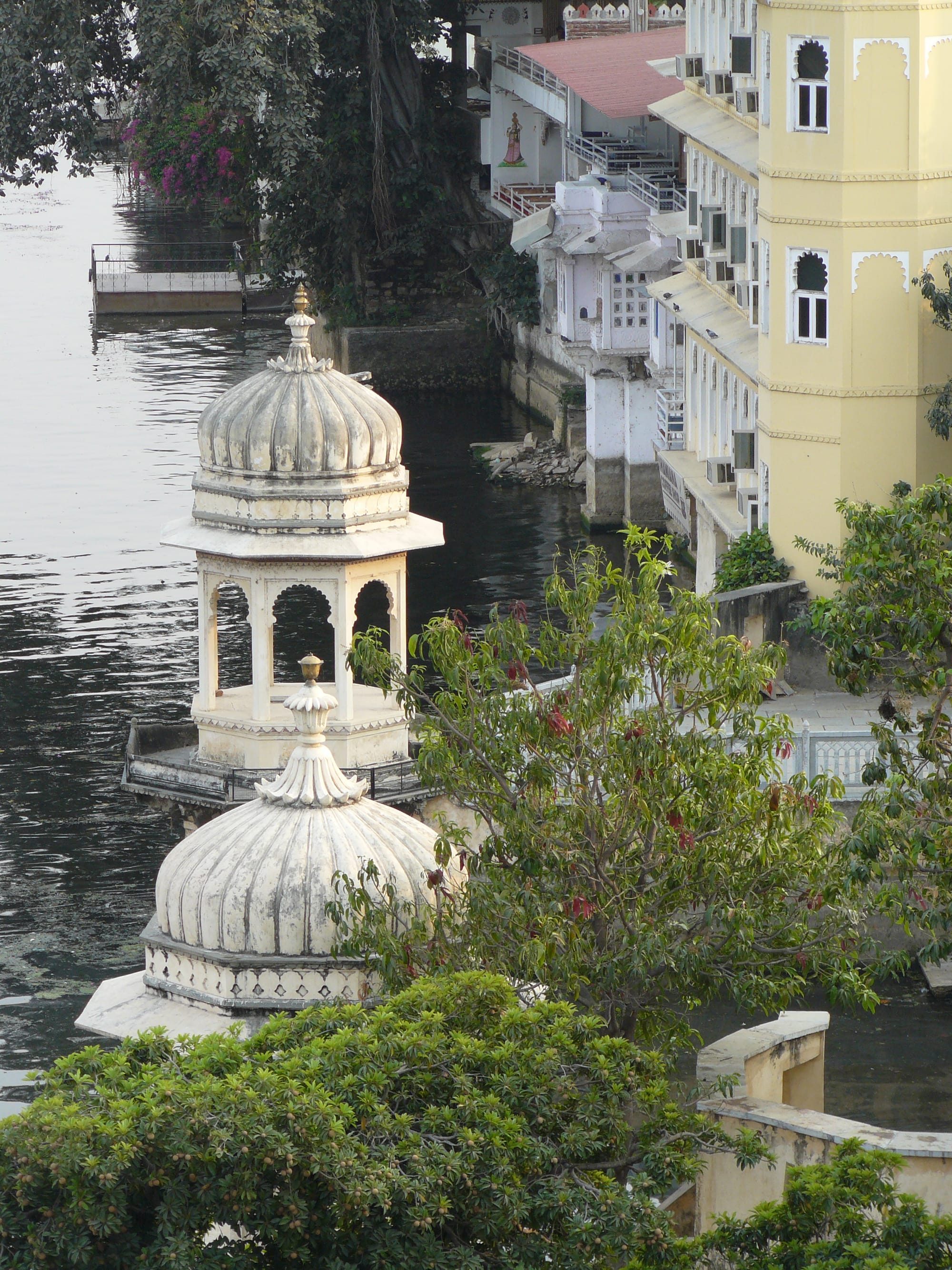 Hanuman - The Protector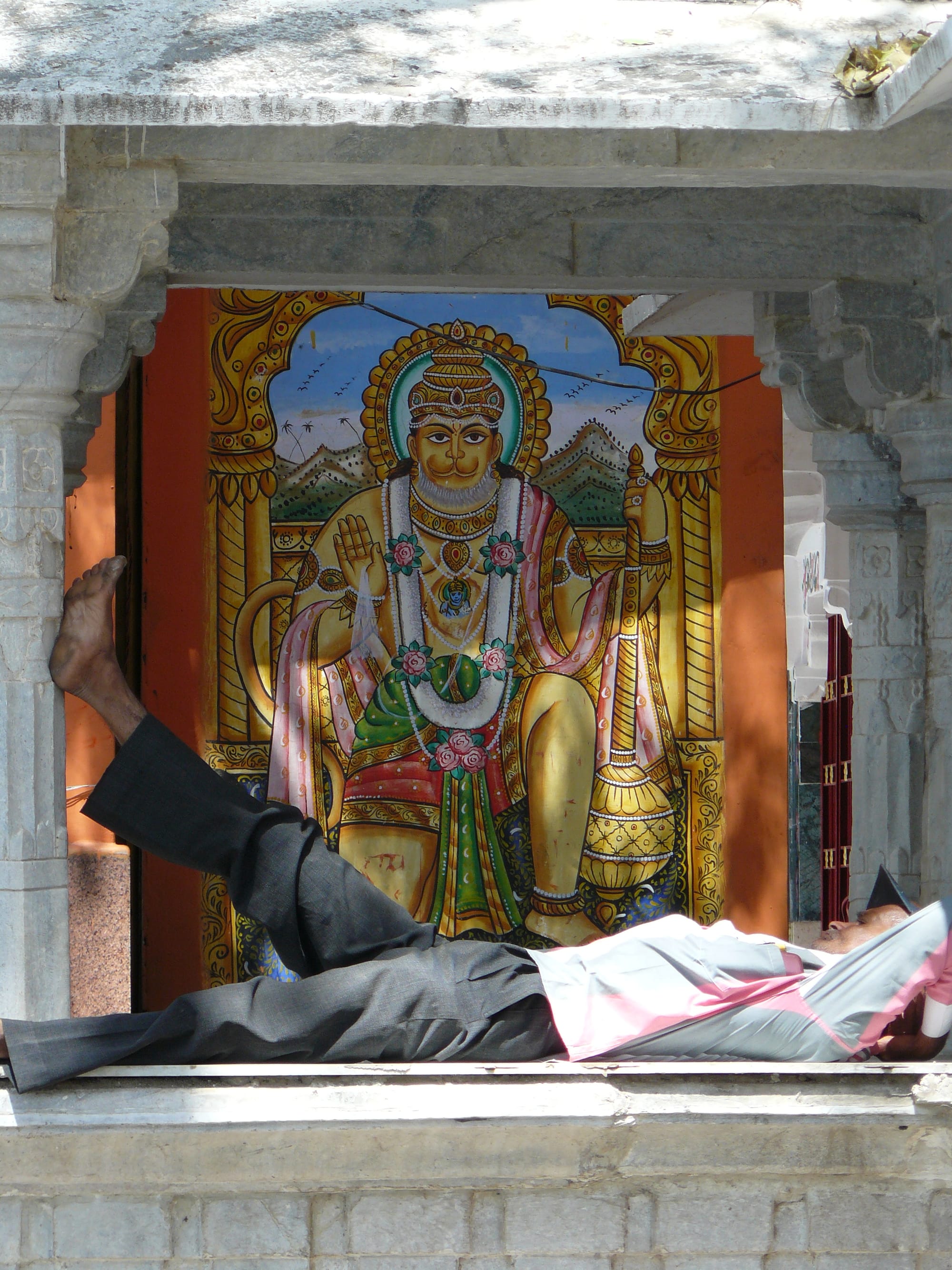 Some of the many puppets depicting Hindu Gods at the Ladies Festival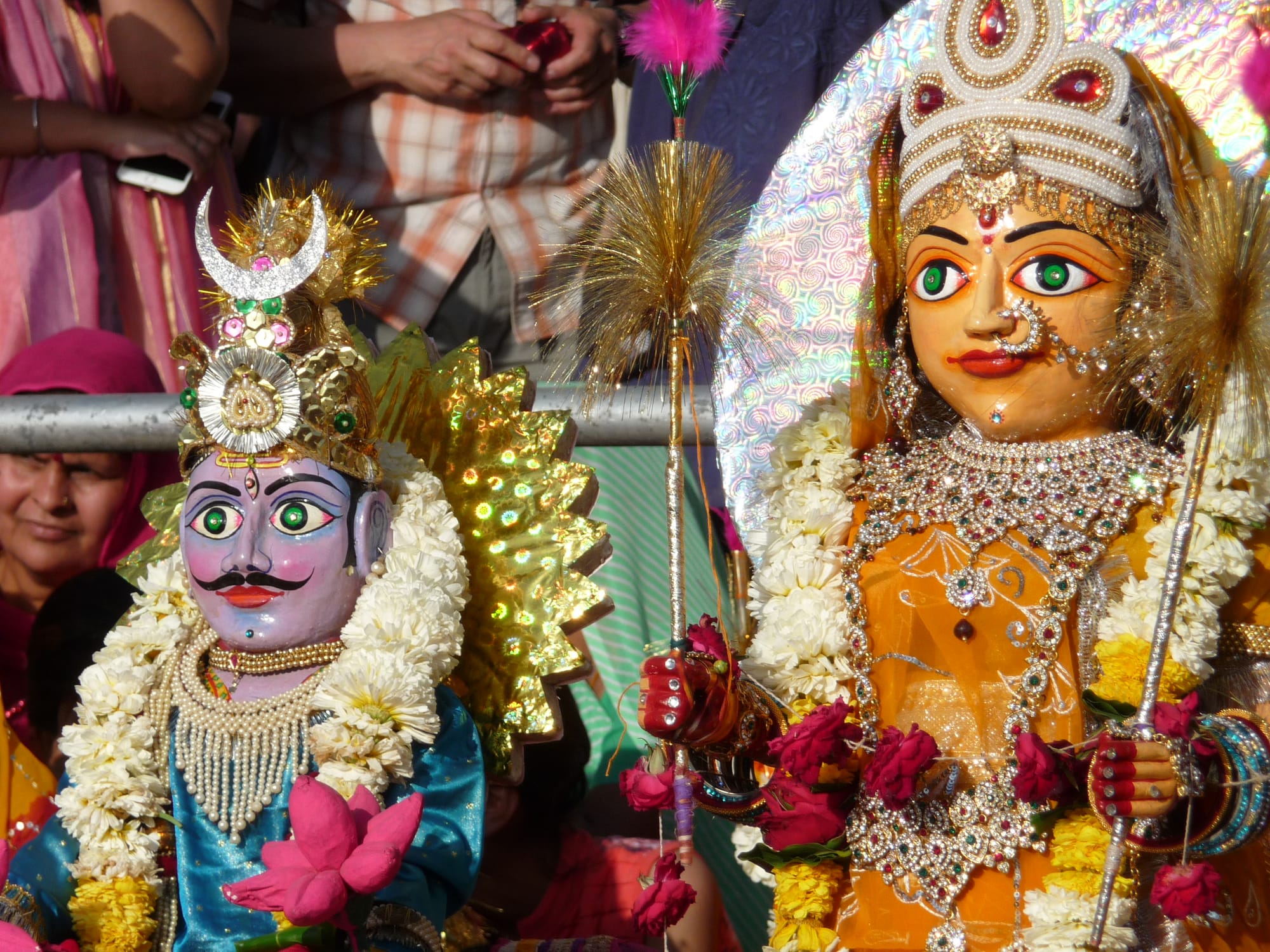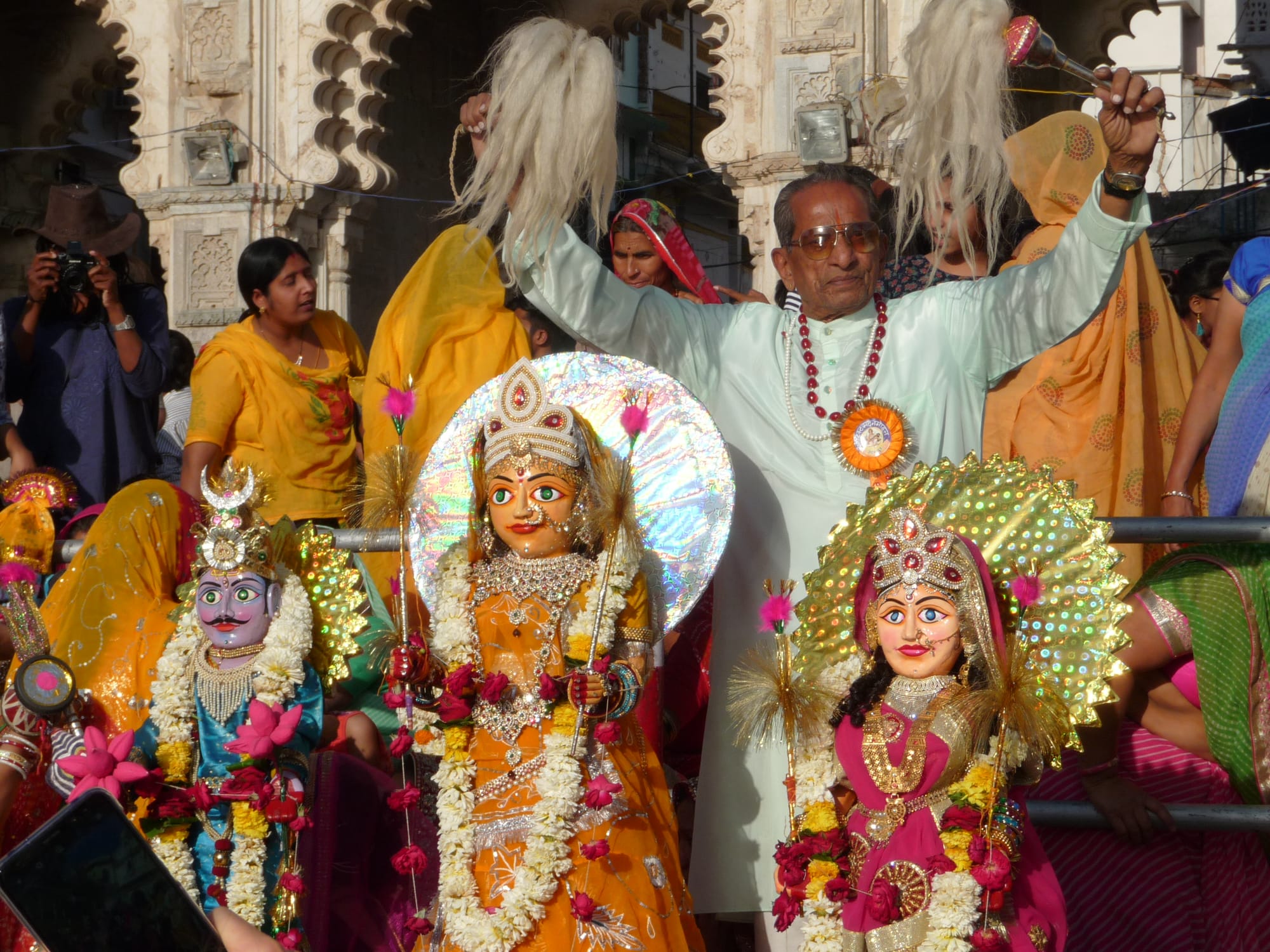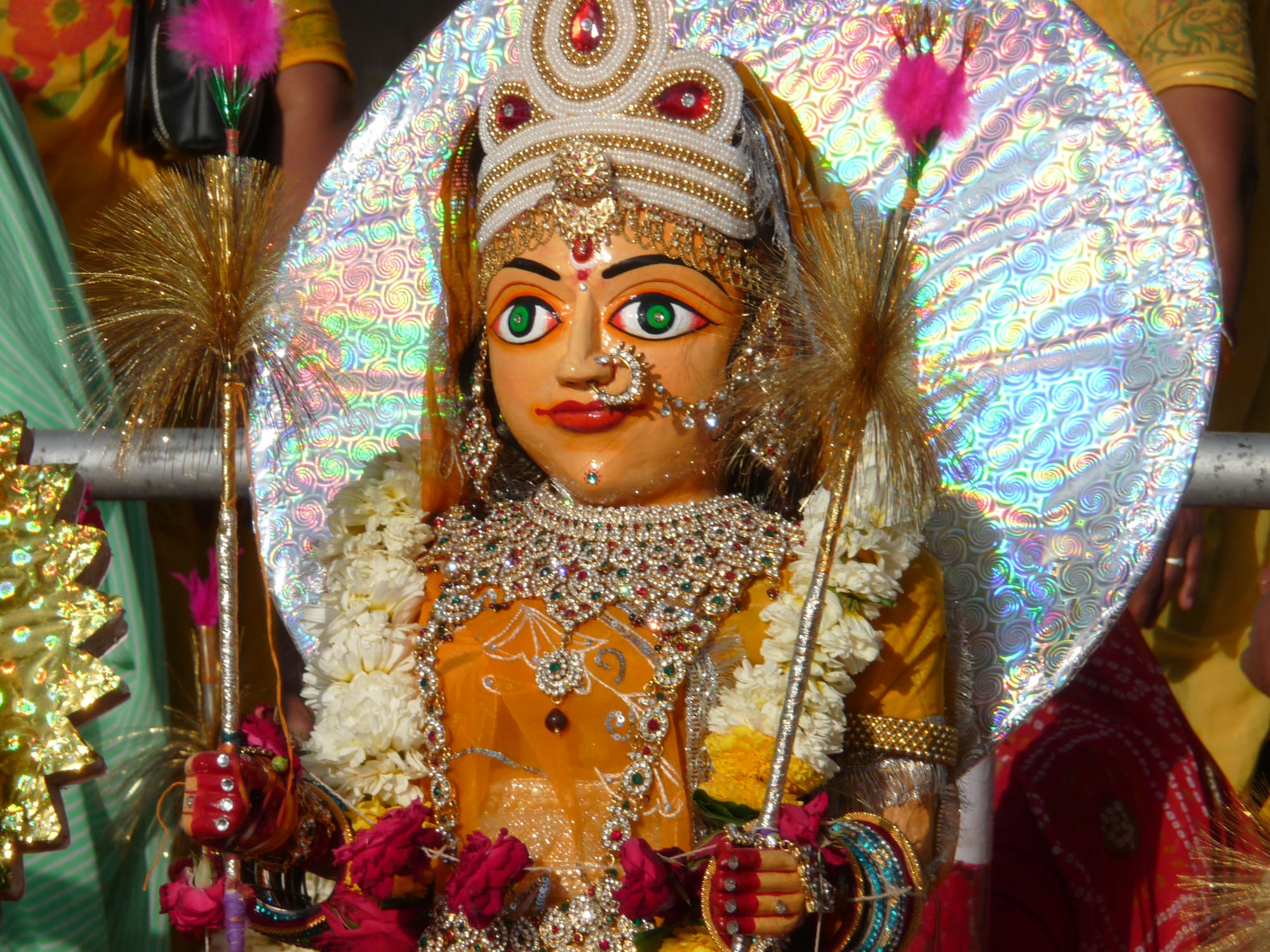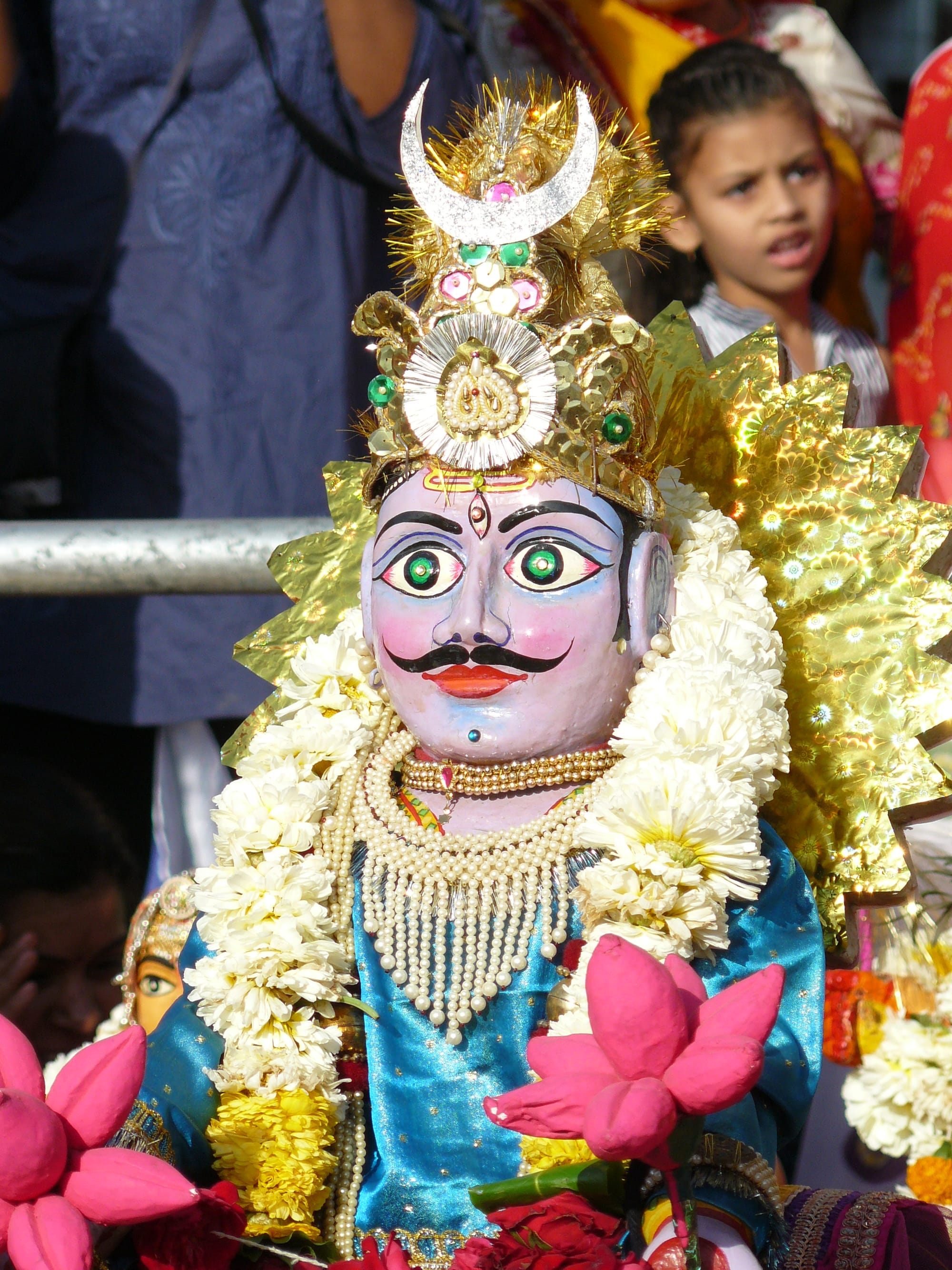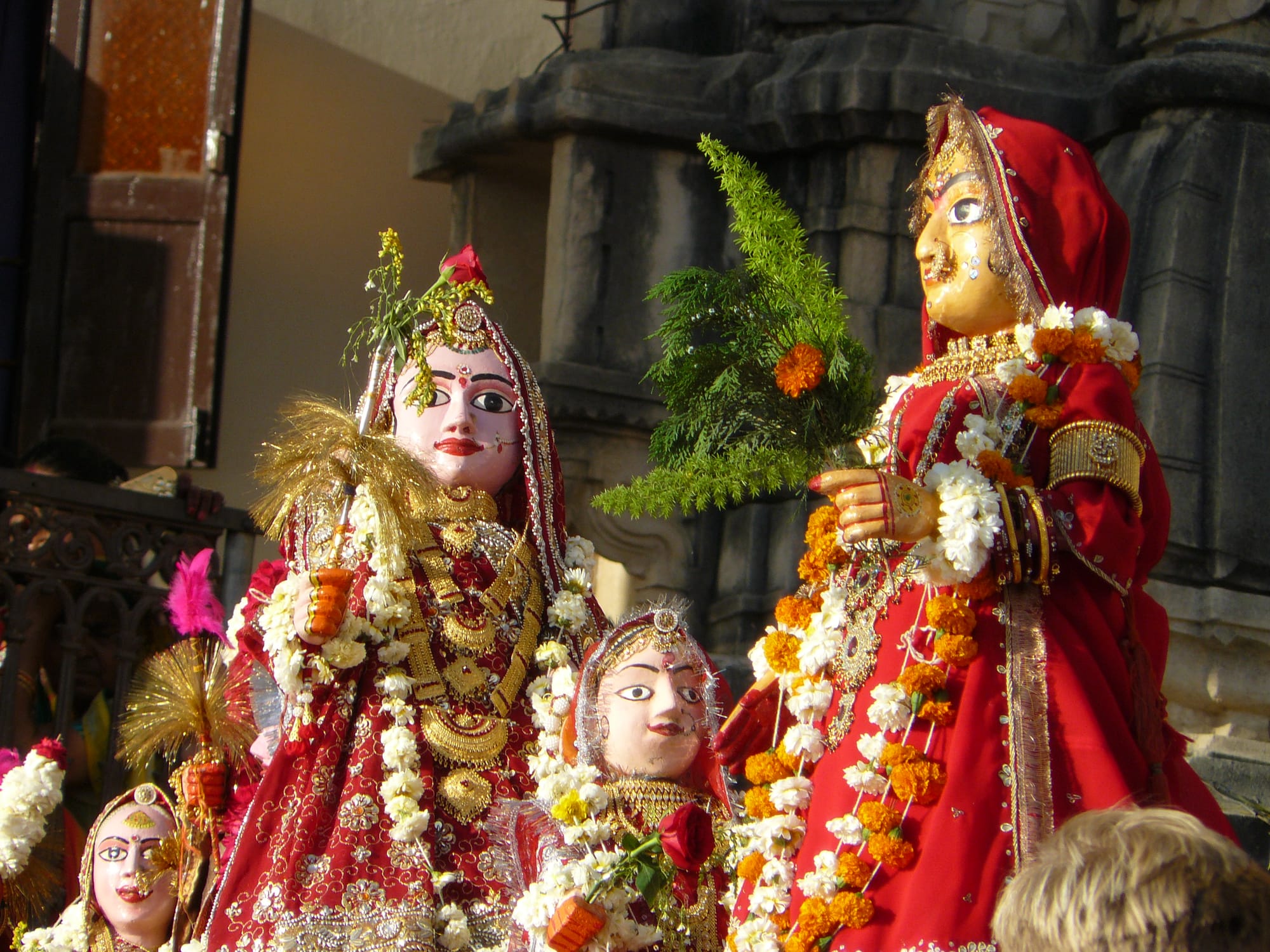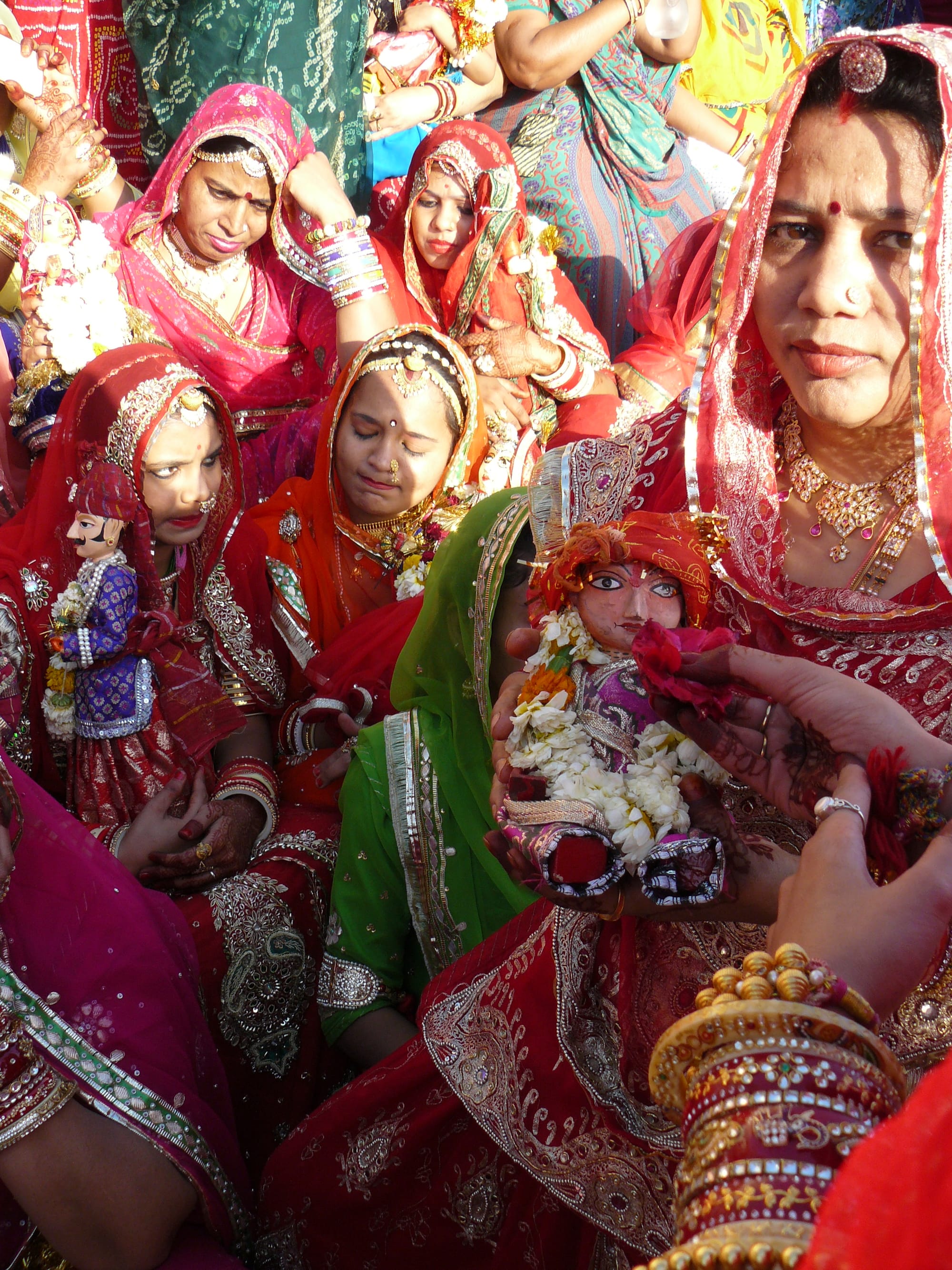 Symbolic feeding of the Gods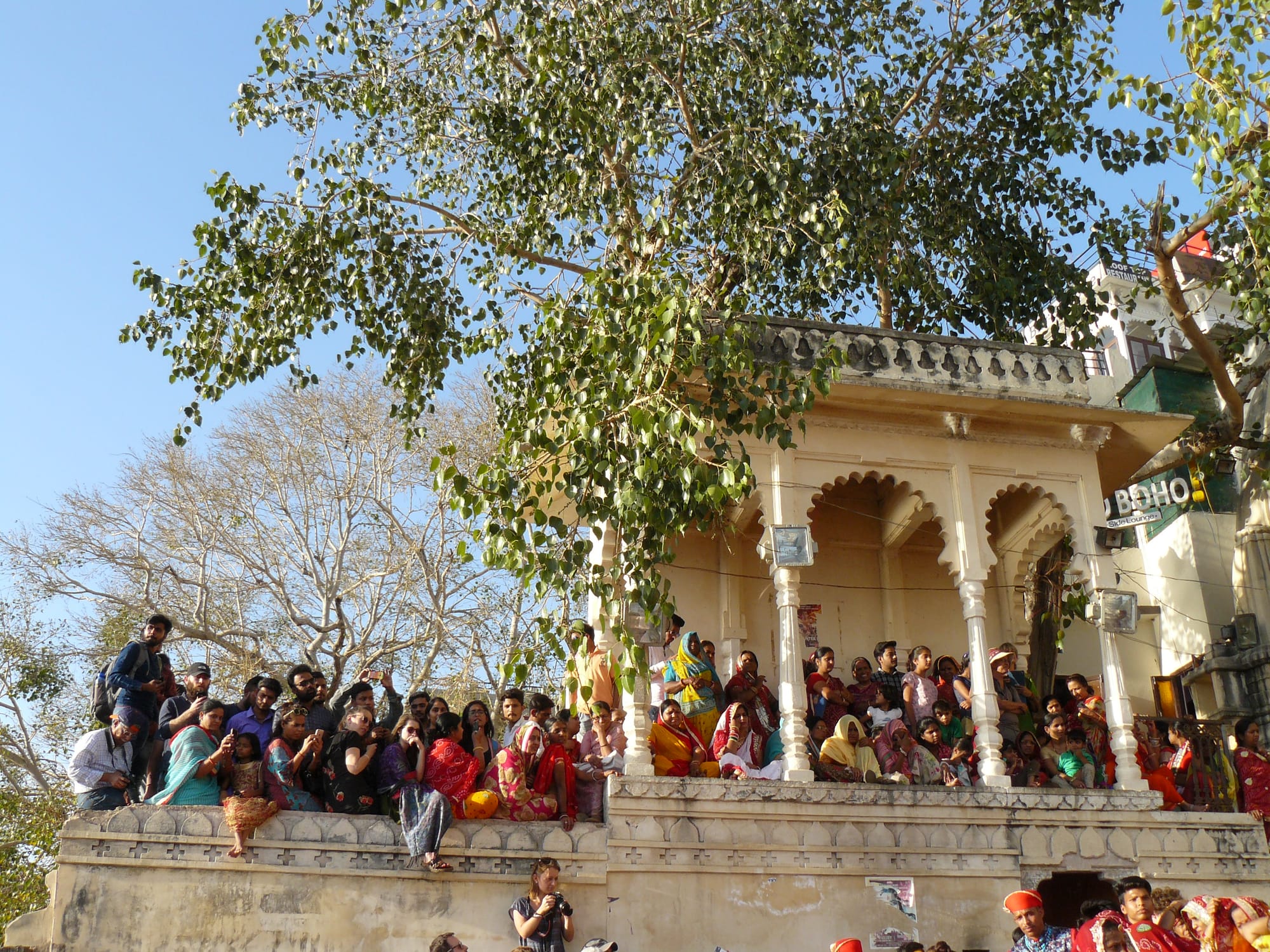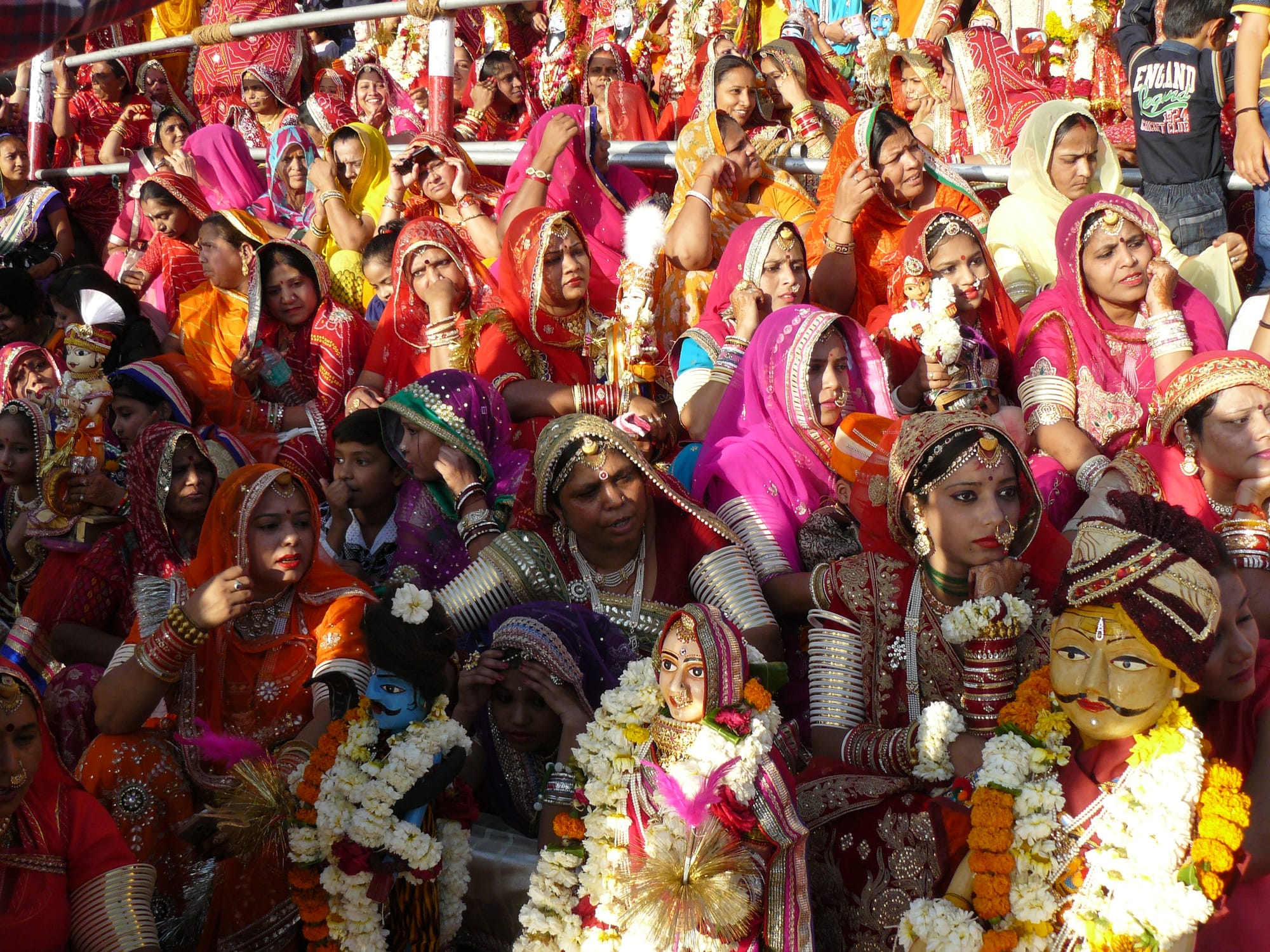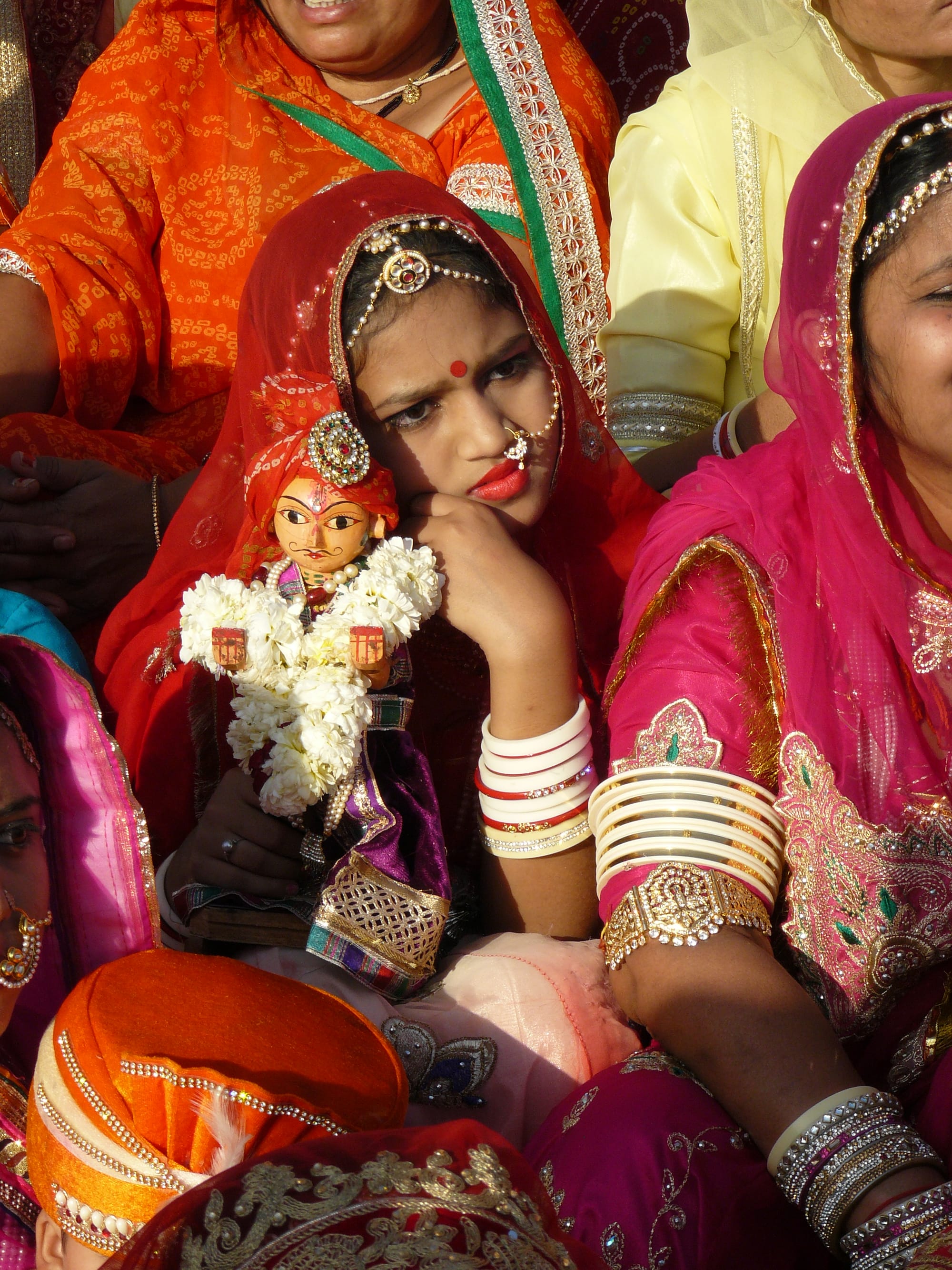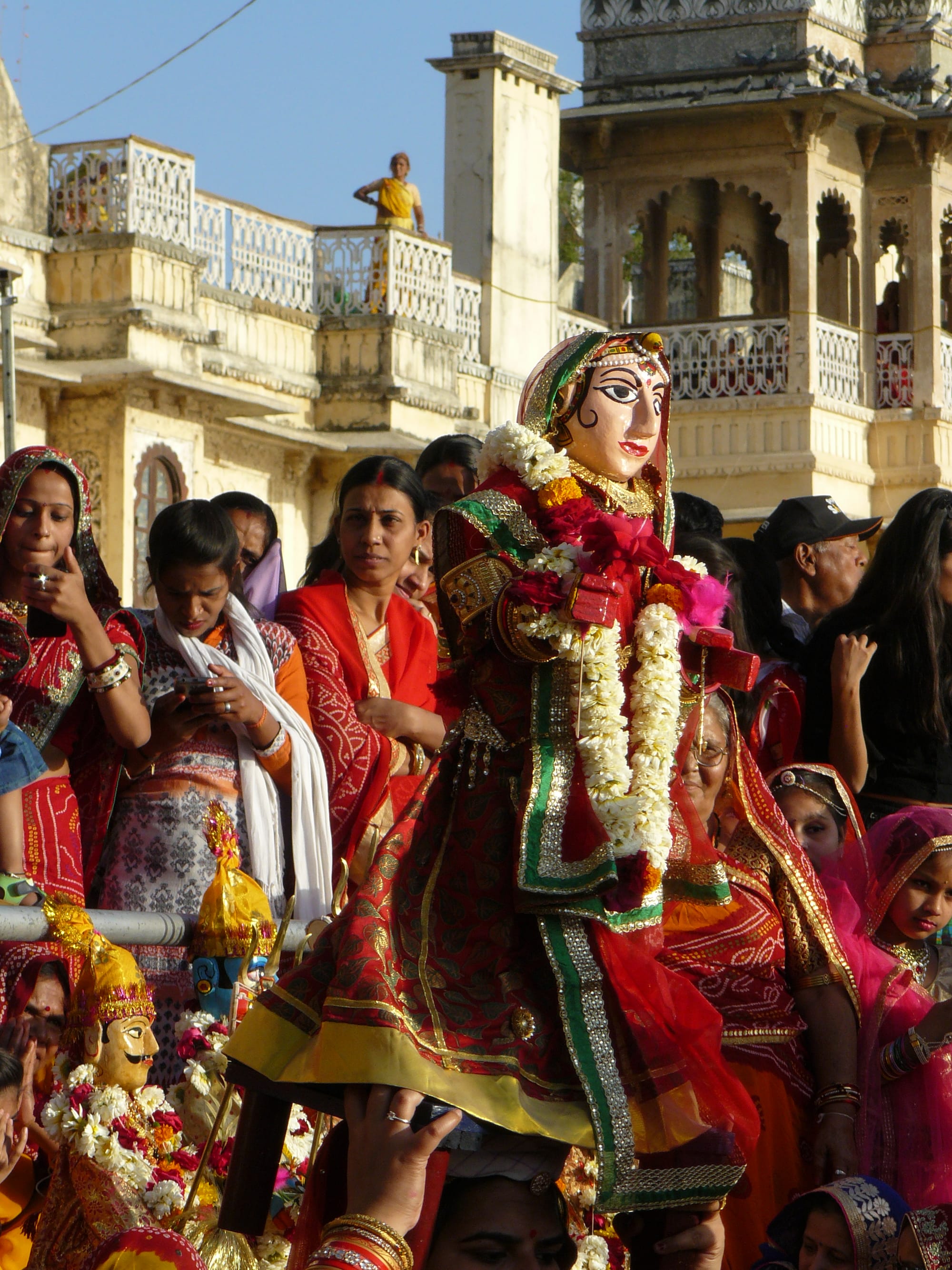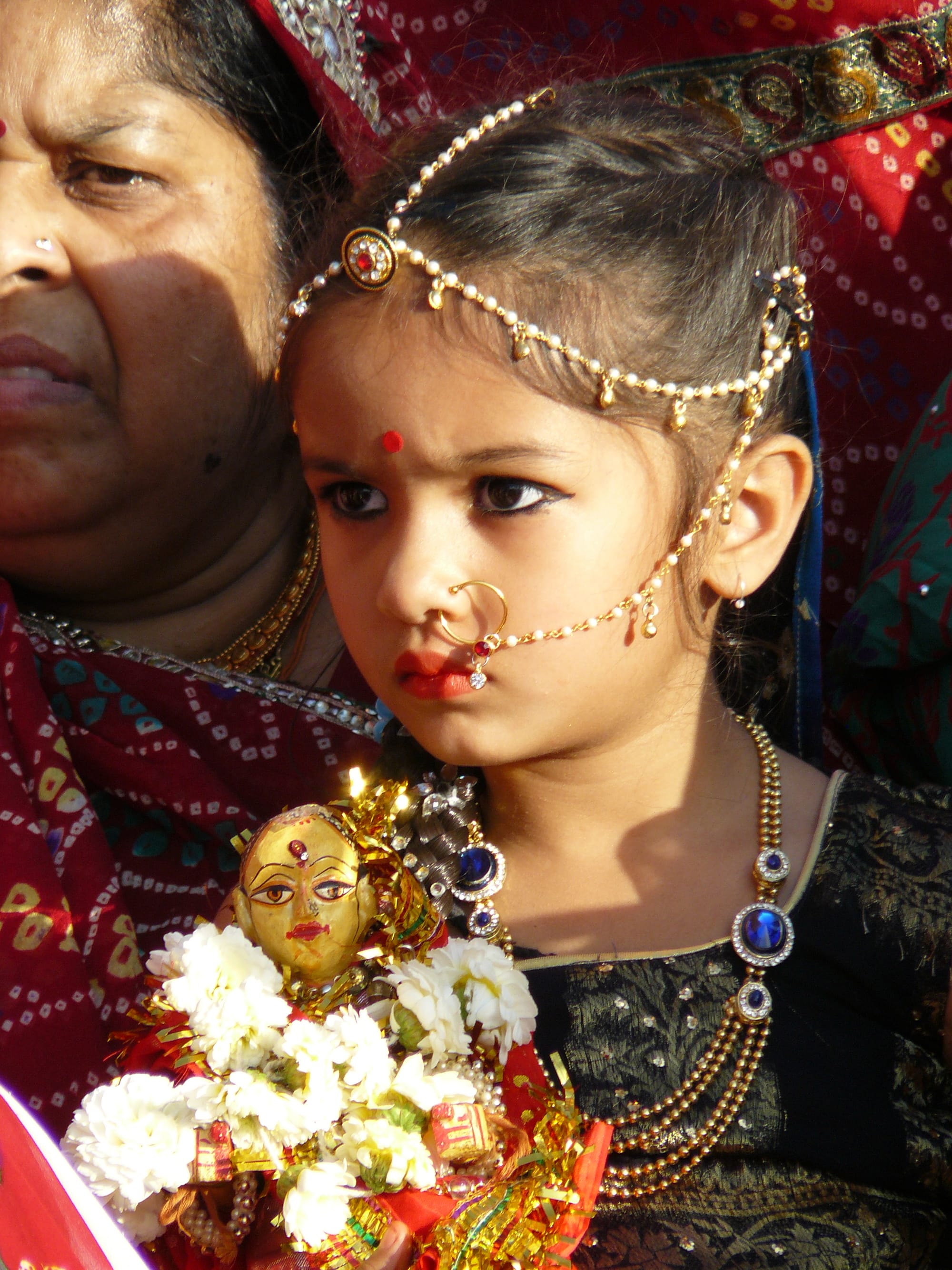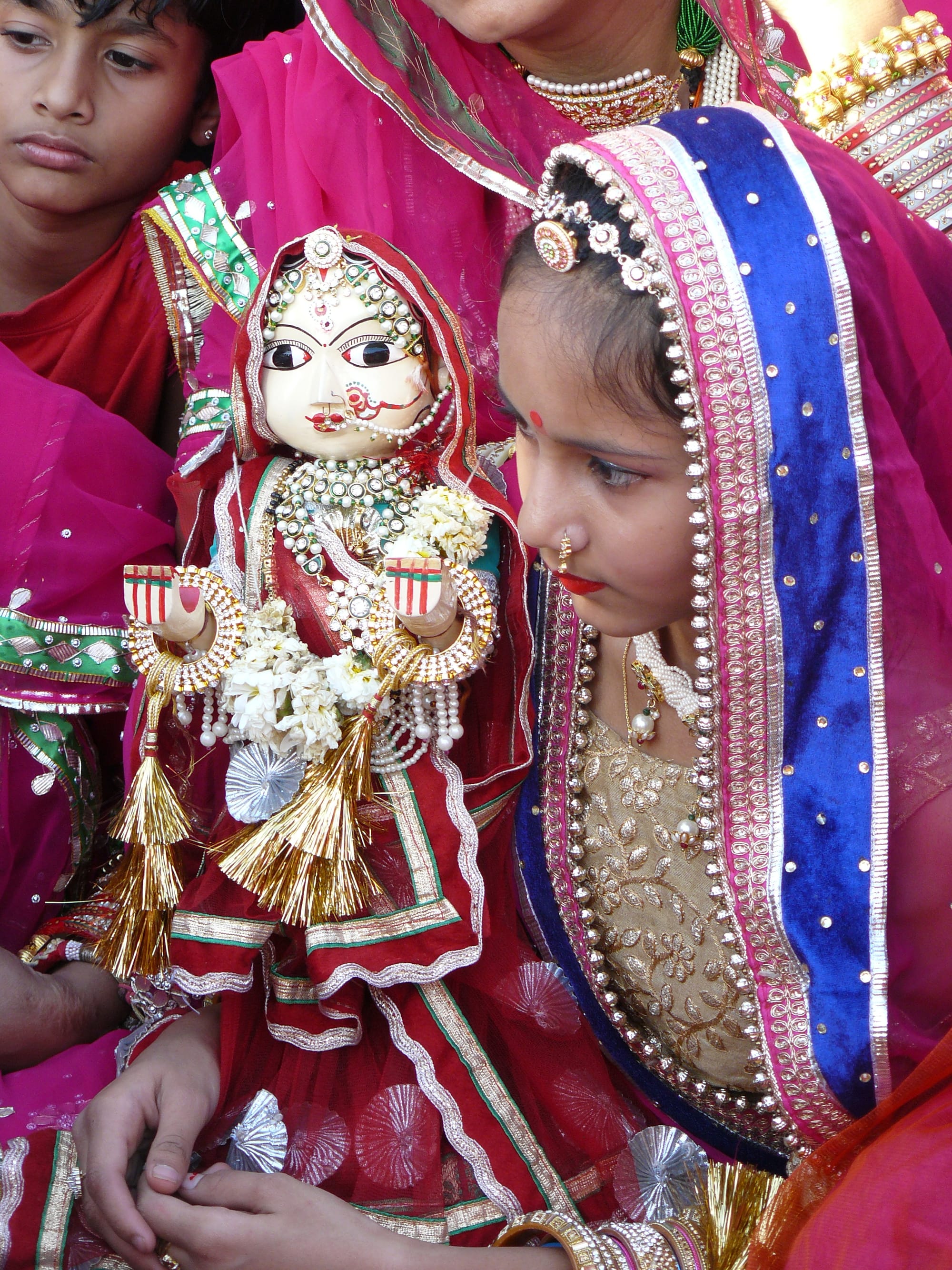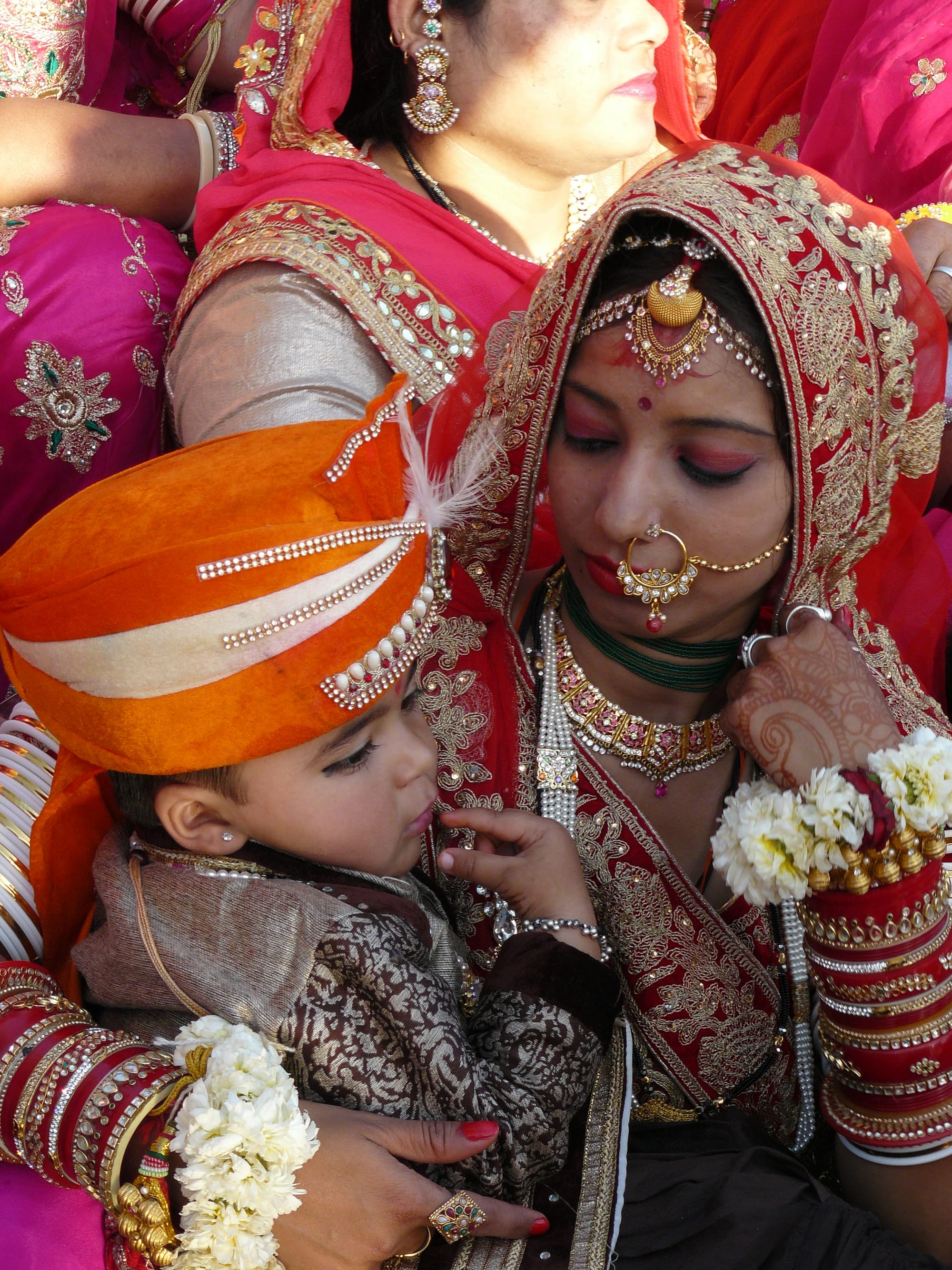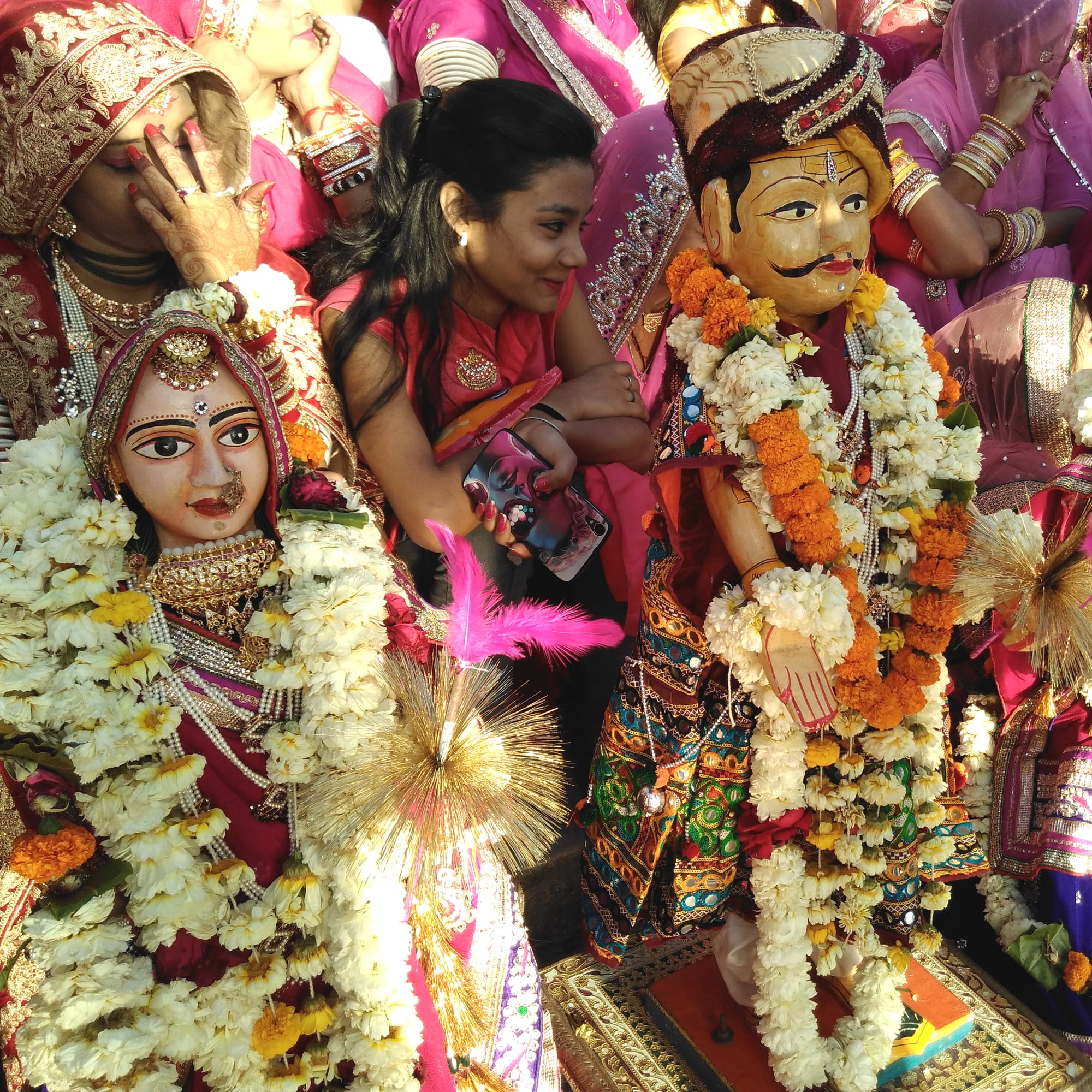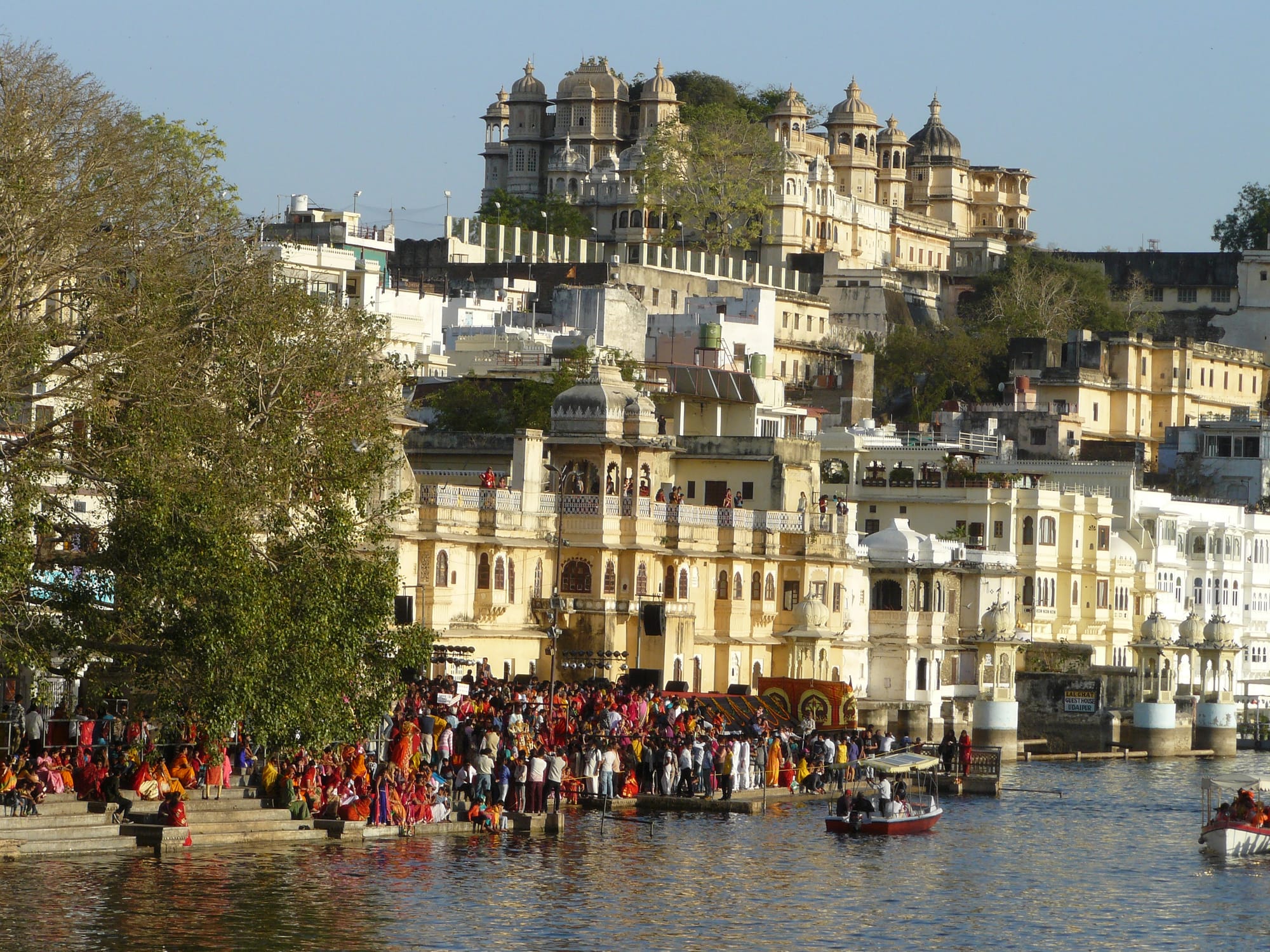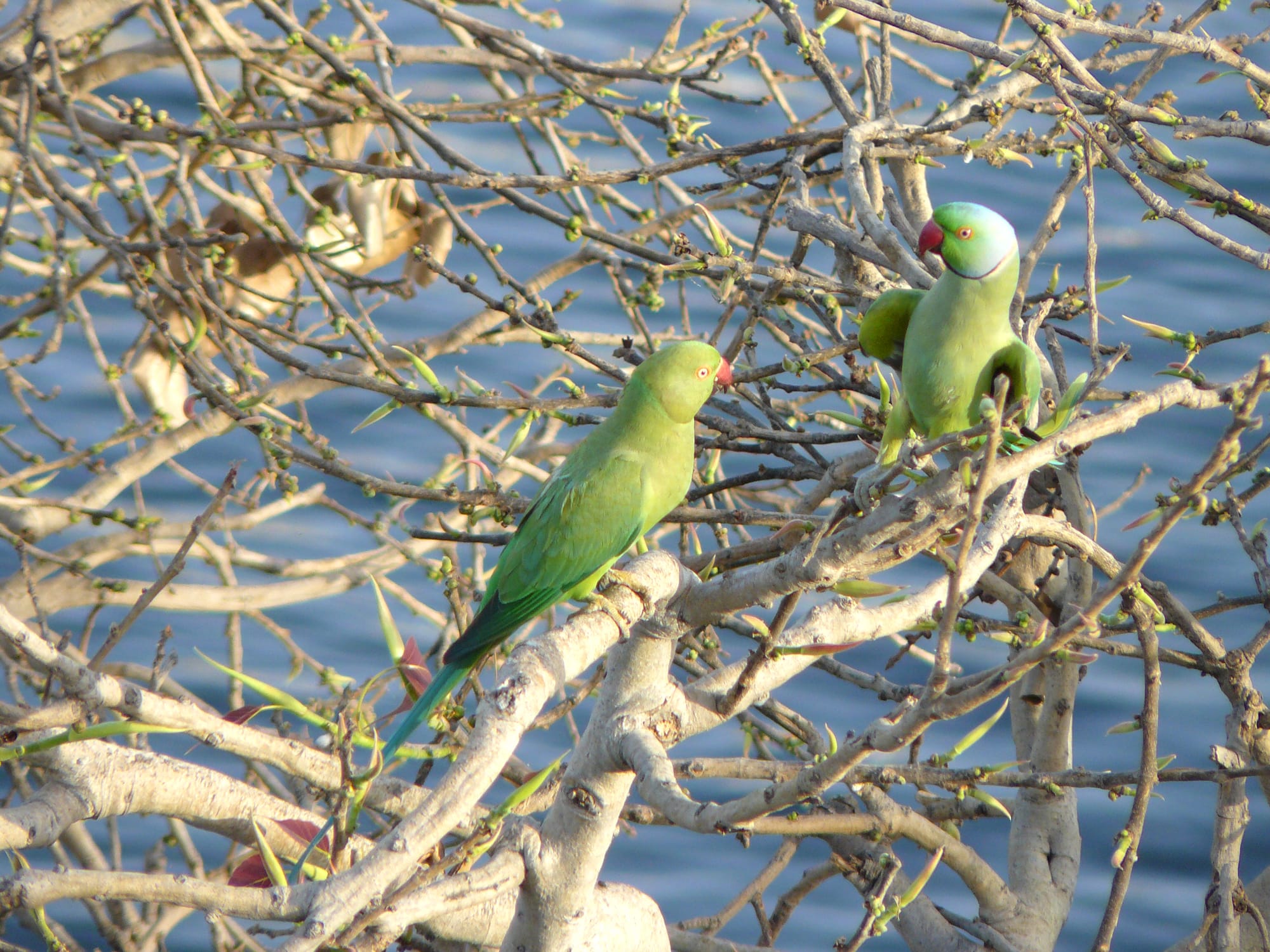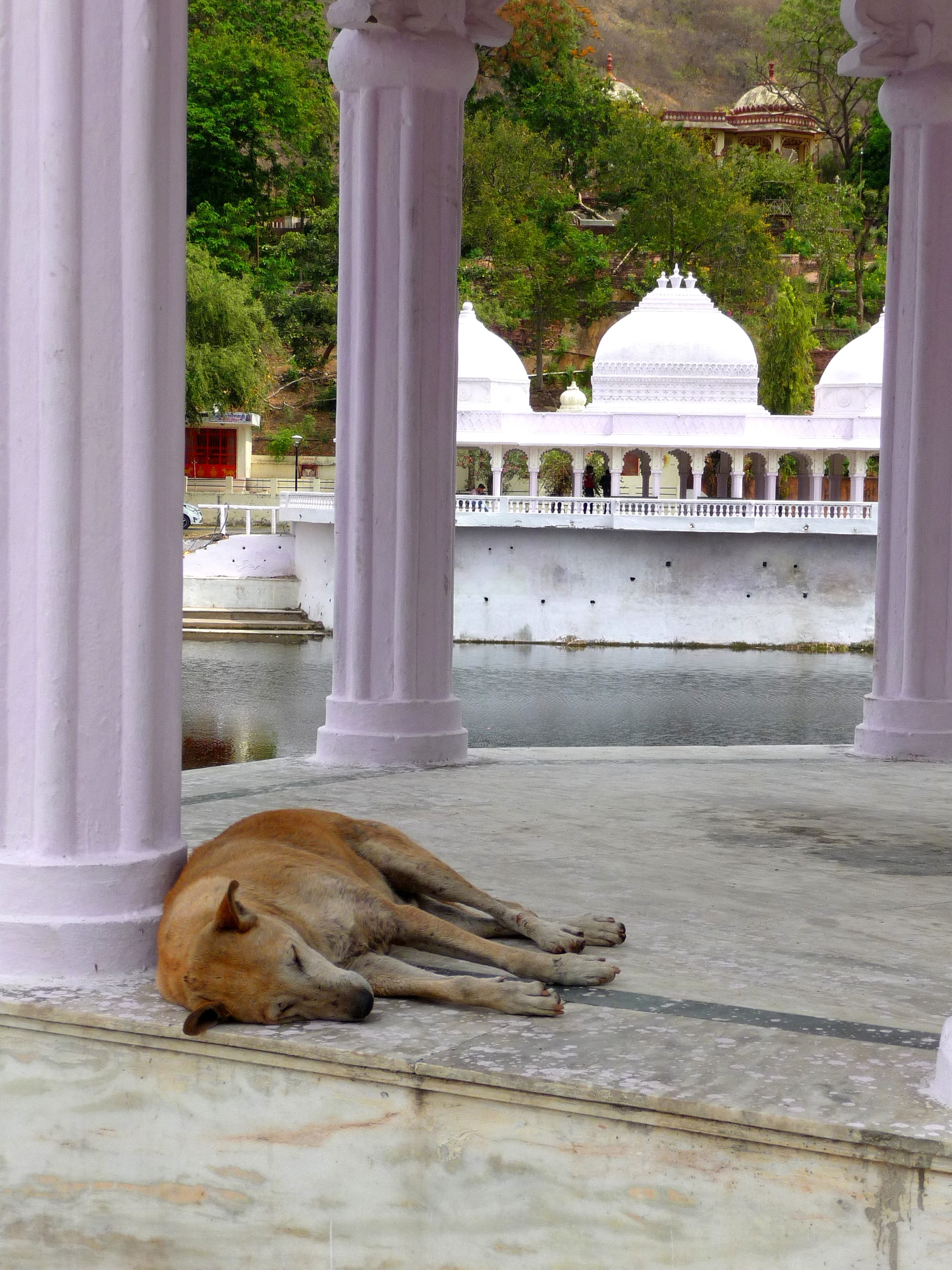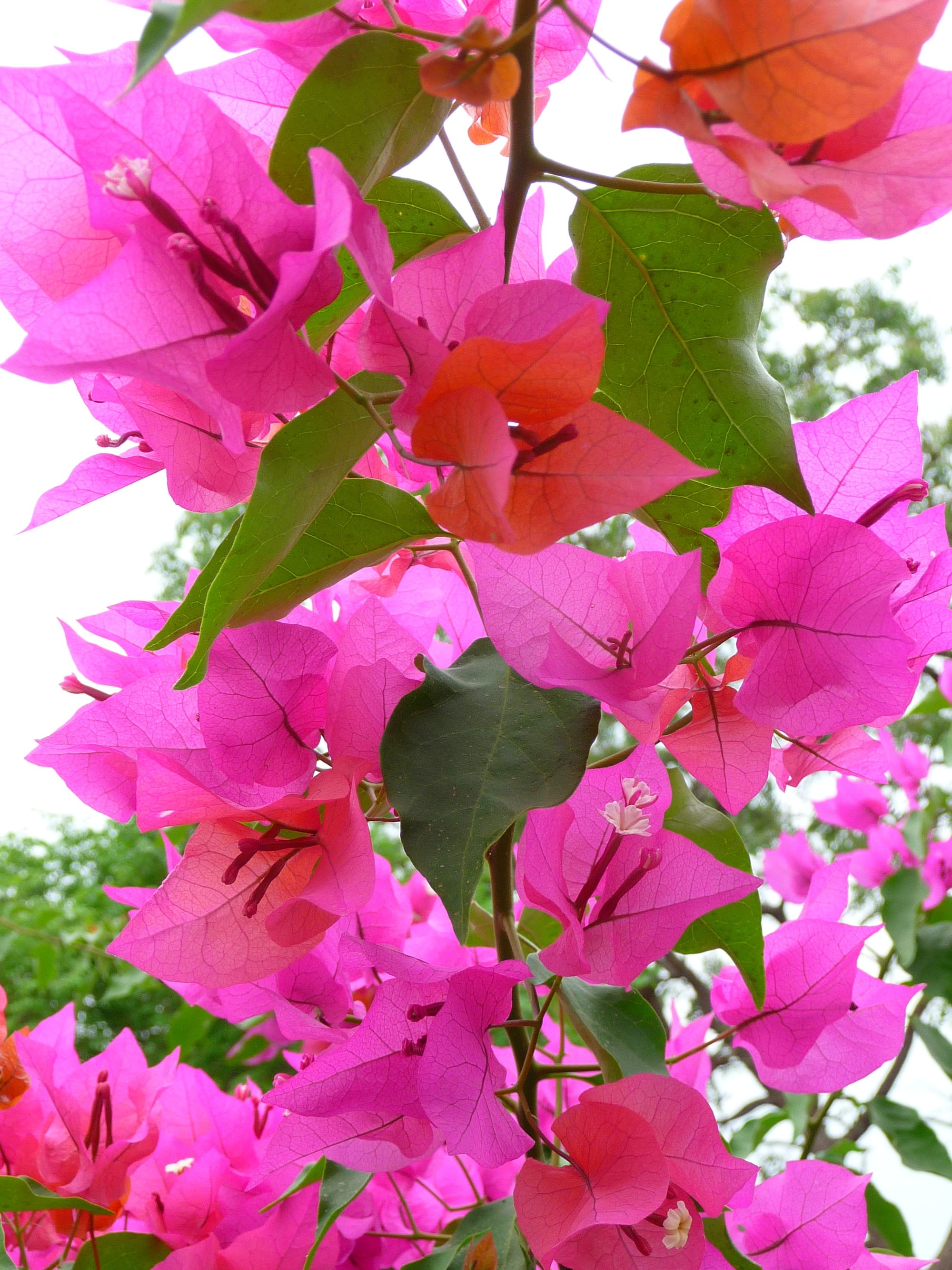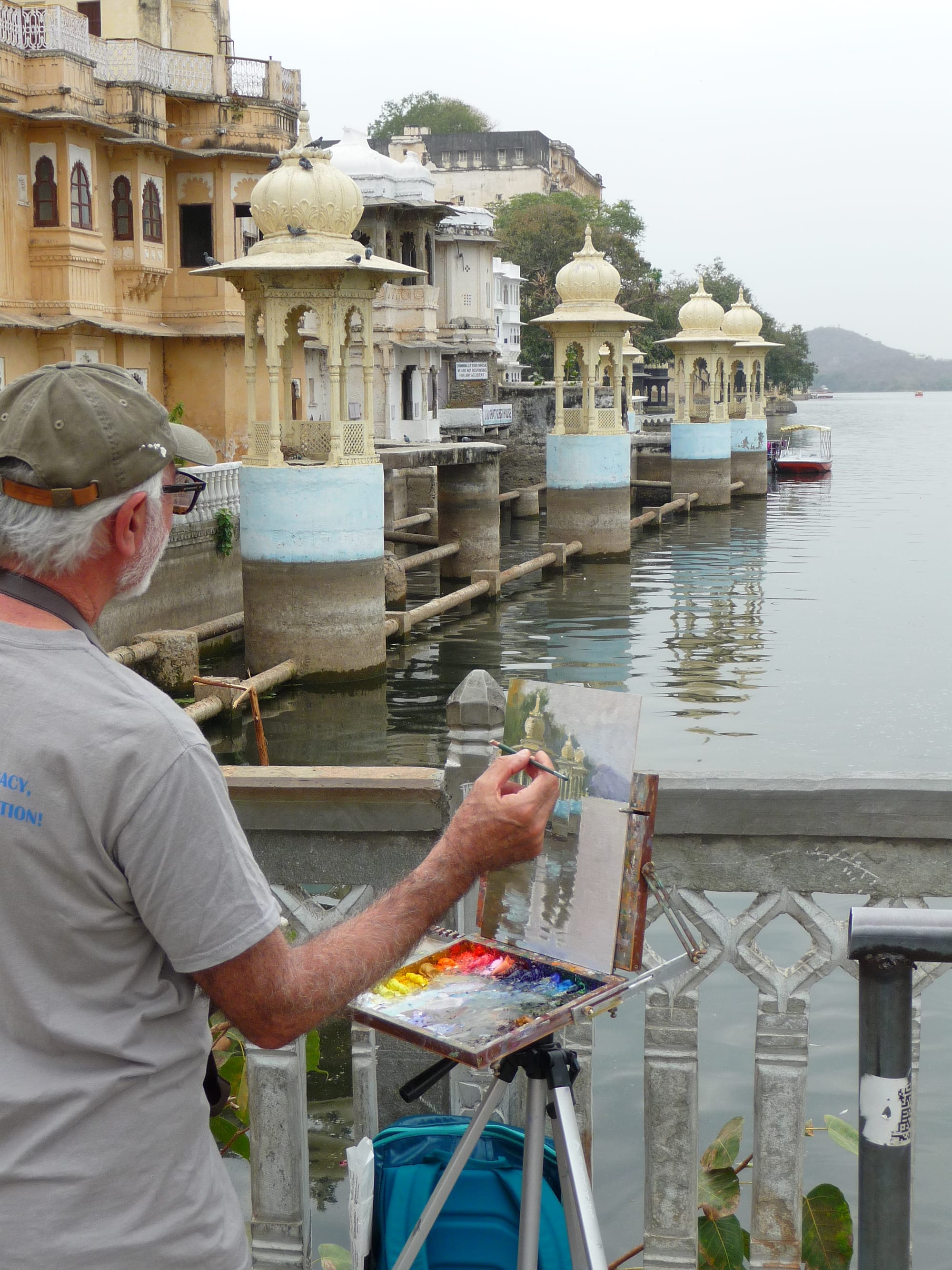 Classic Hindu subjects with a modernist flavour, carved before your eyes.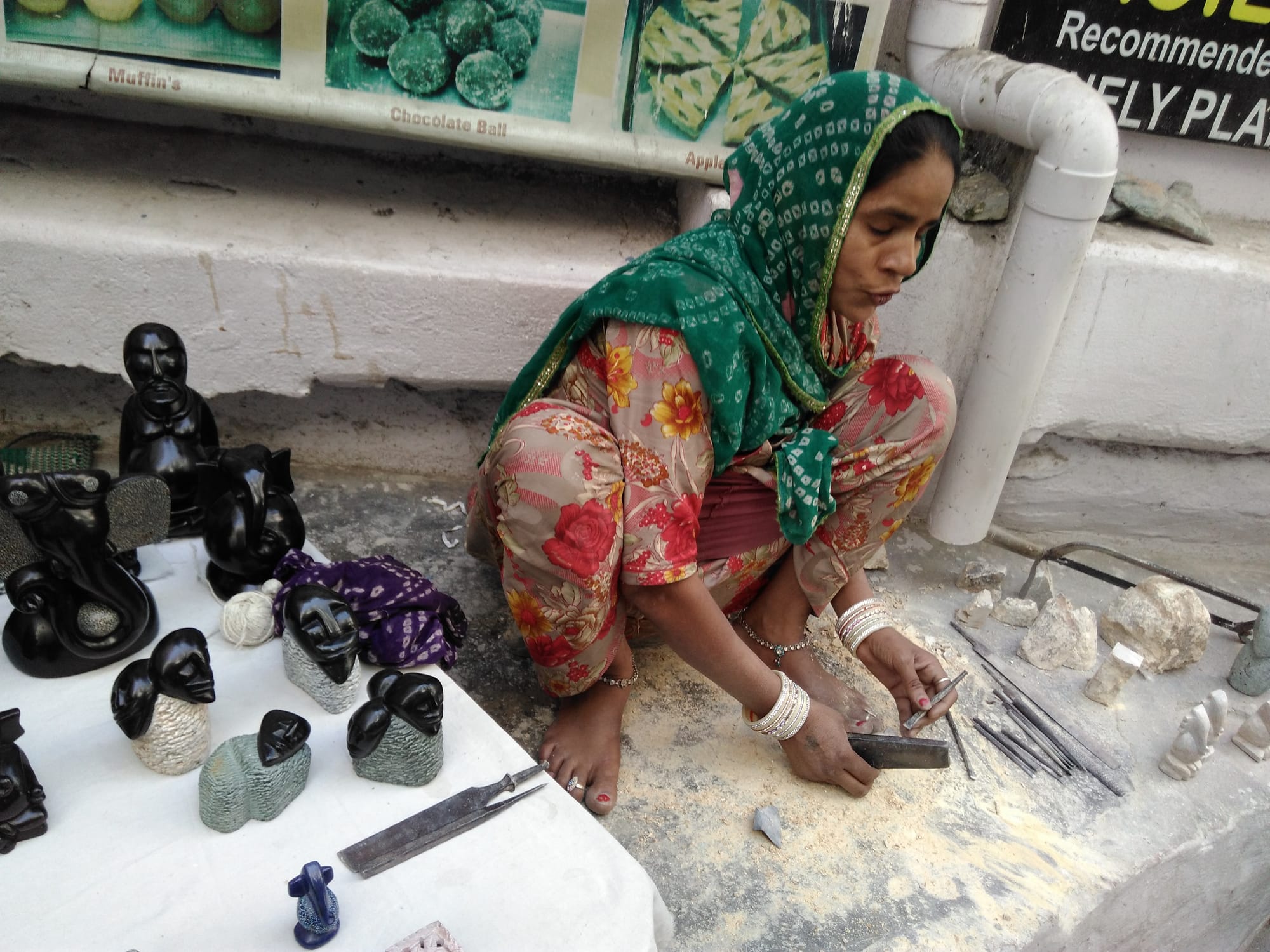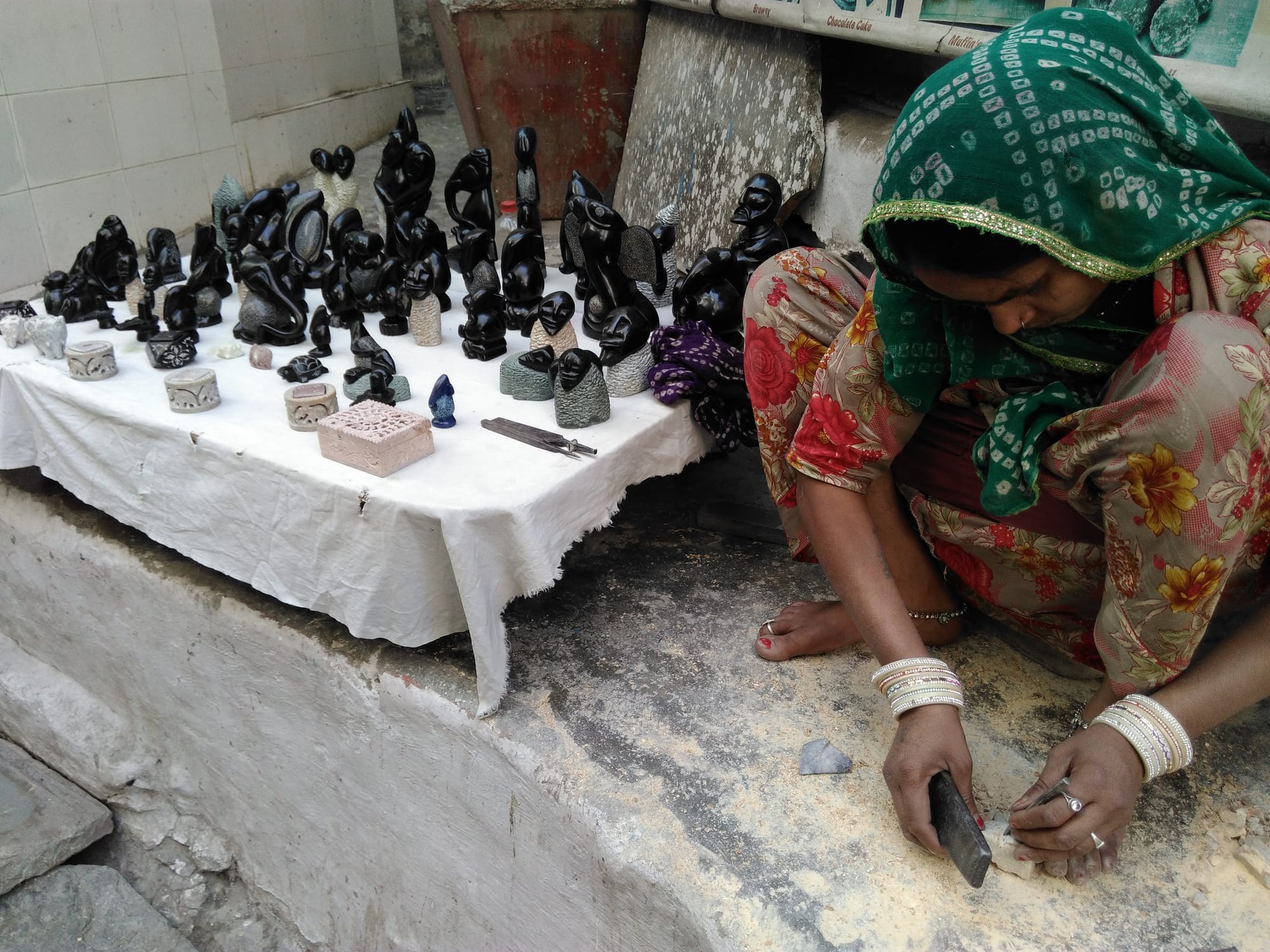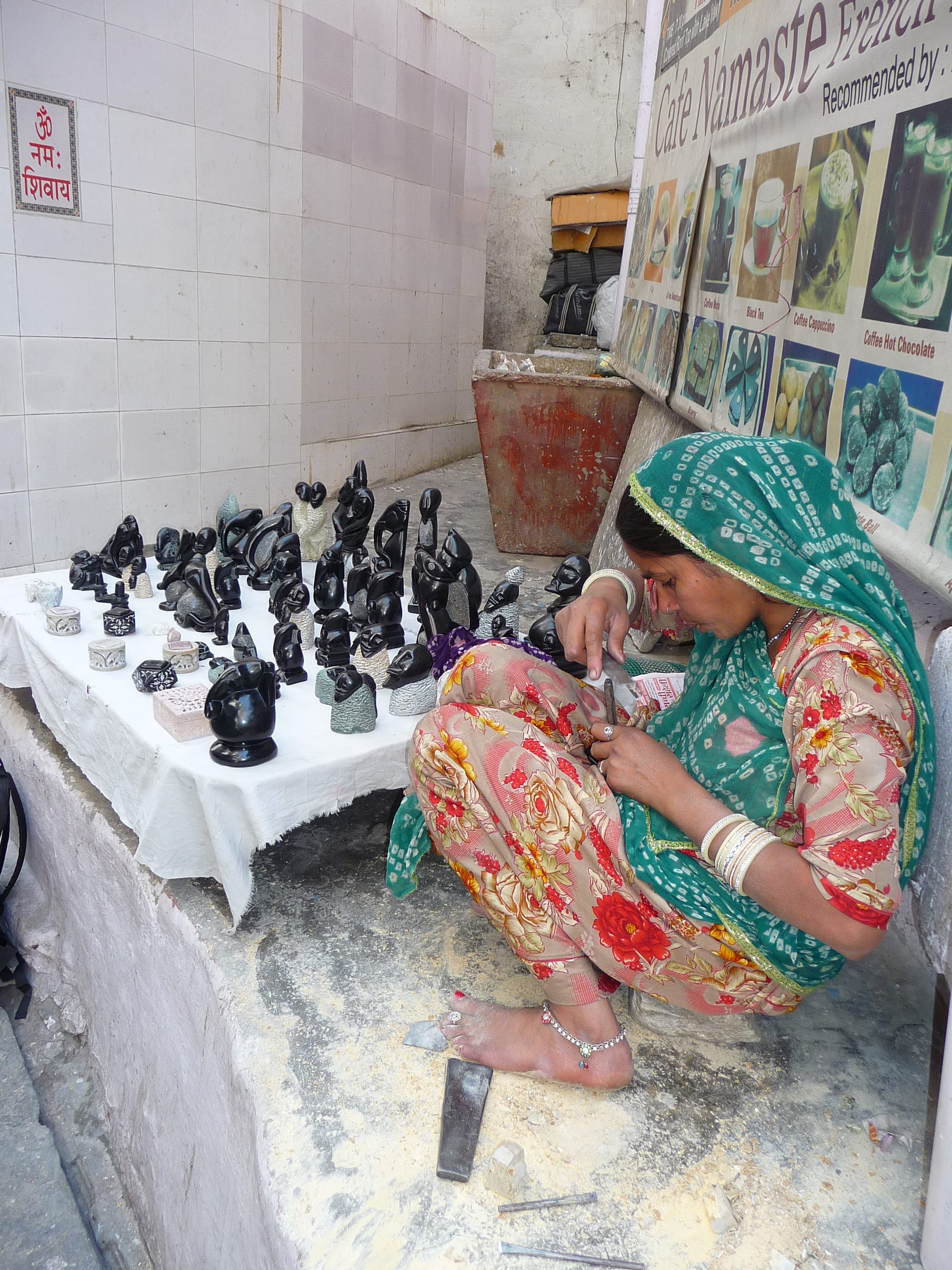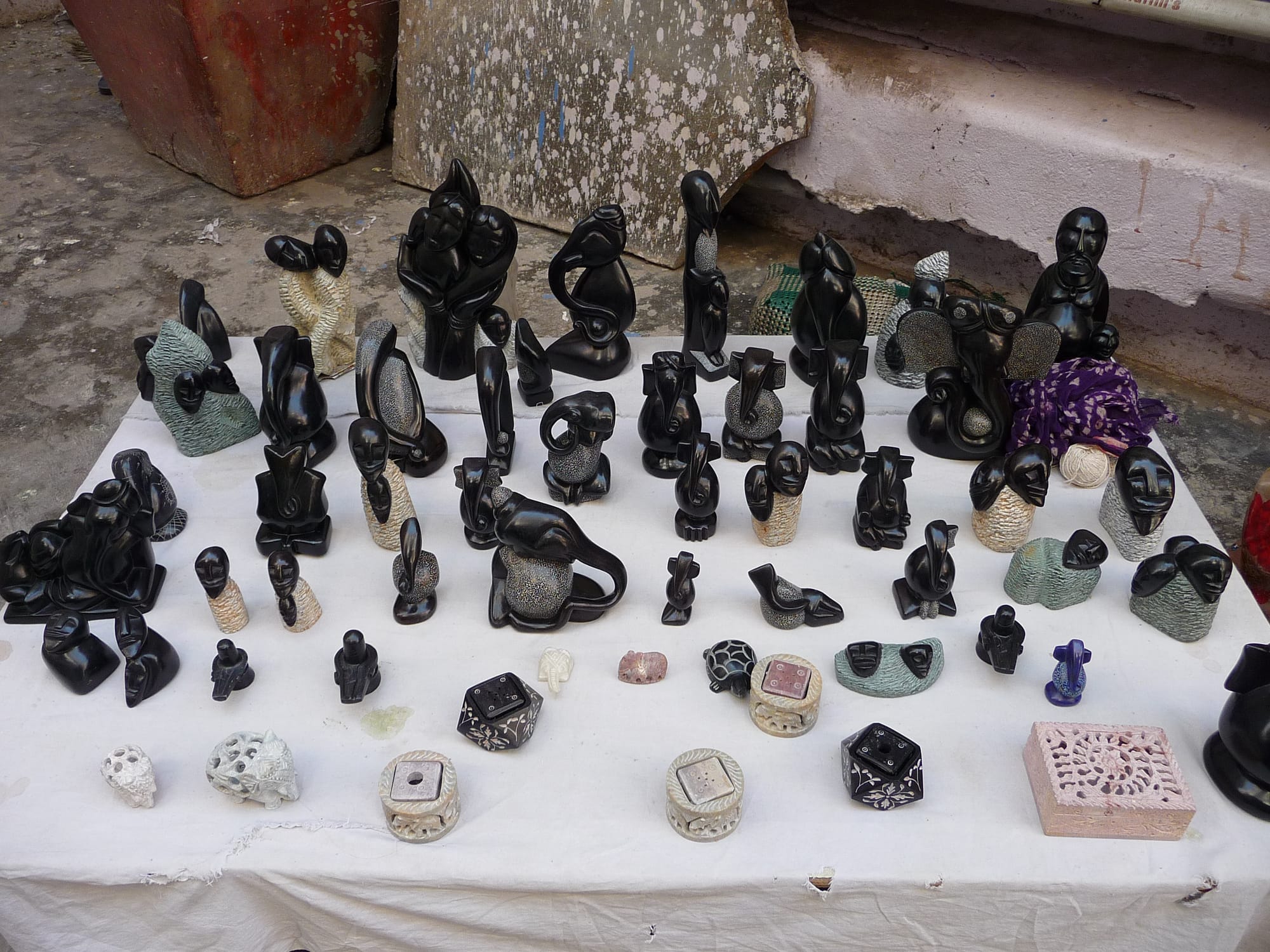 My Hindi lessons continue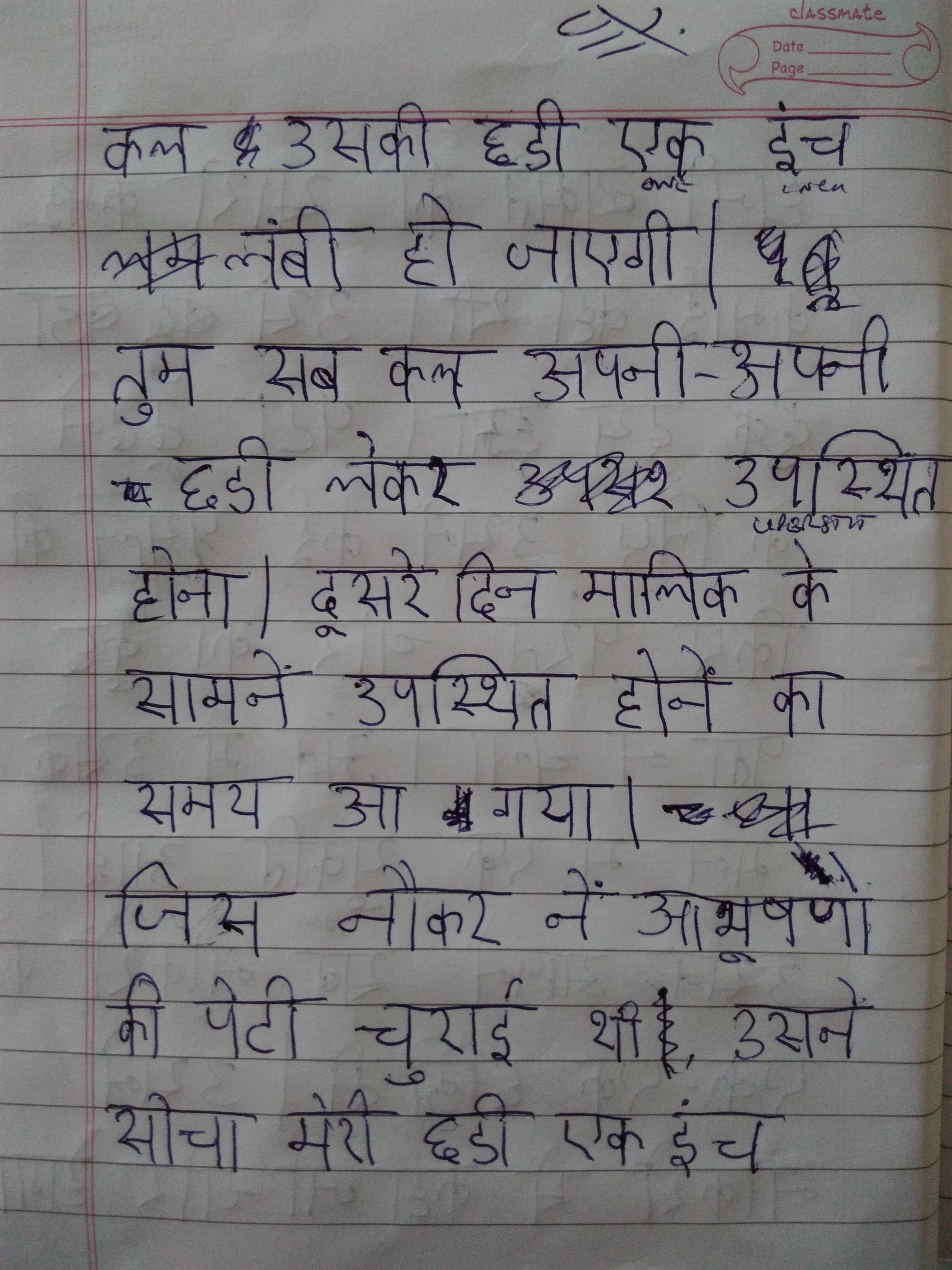 Gandhi stands where once Victoria did, in front of the former Victoria House, now a library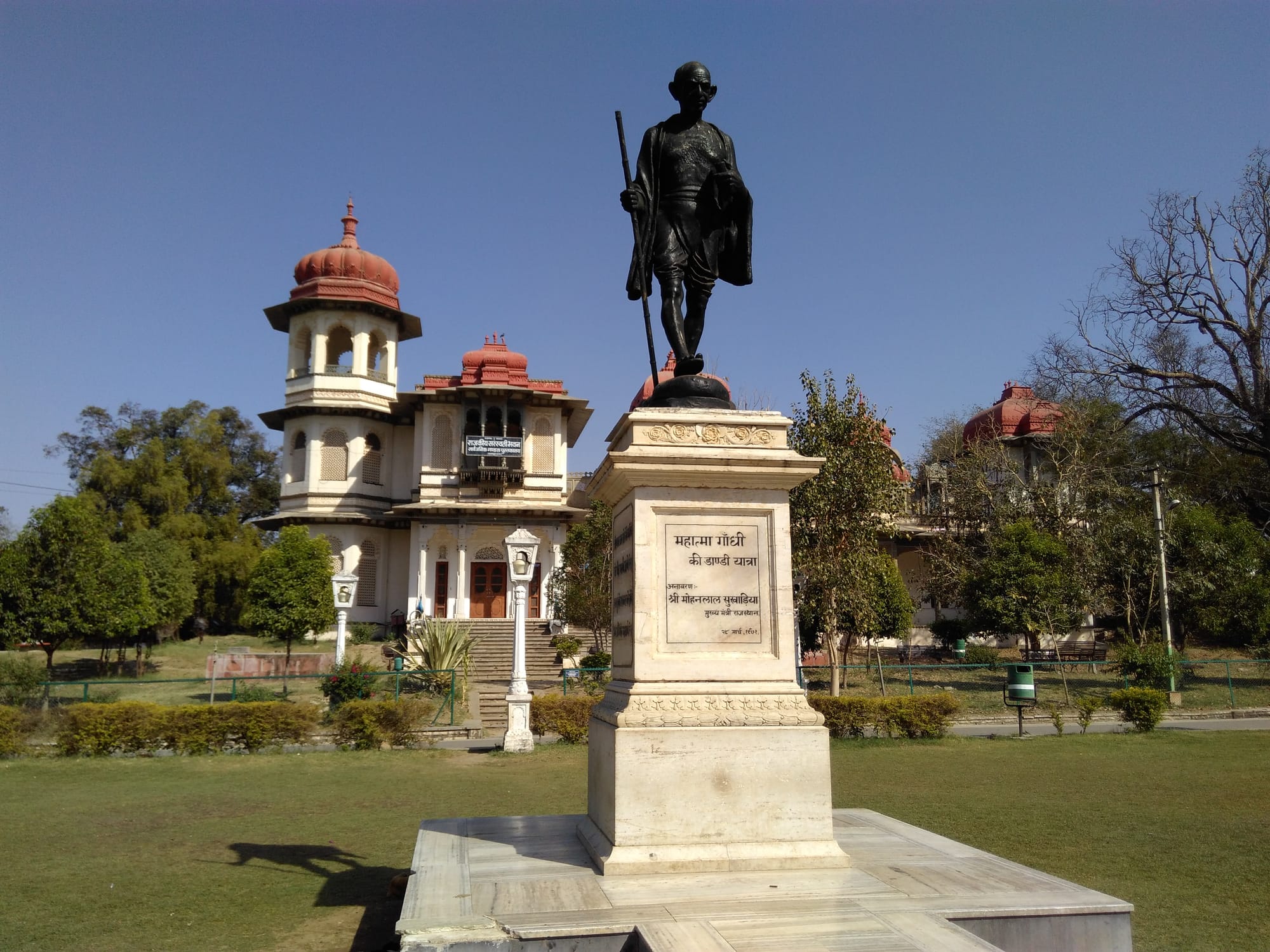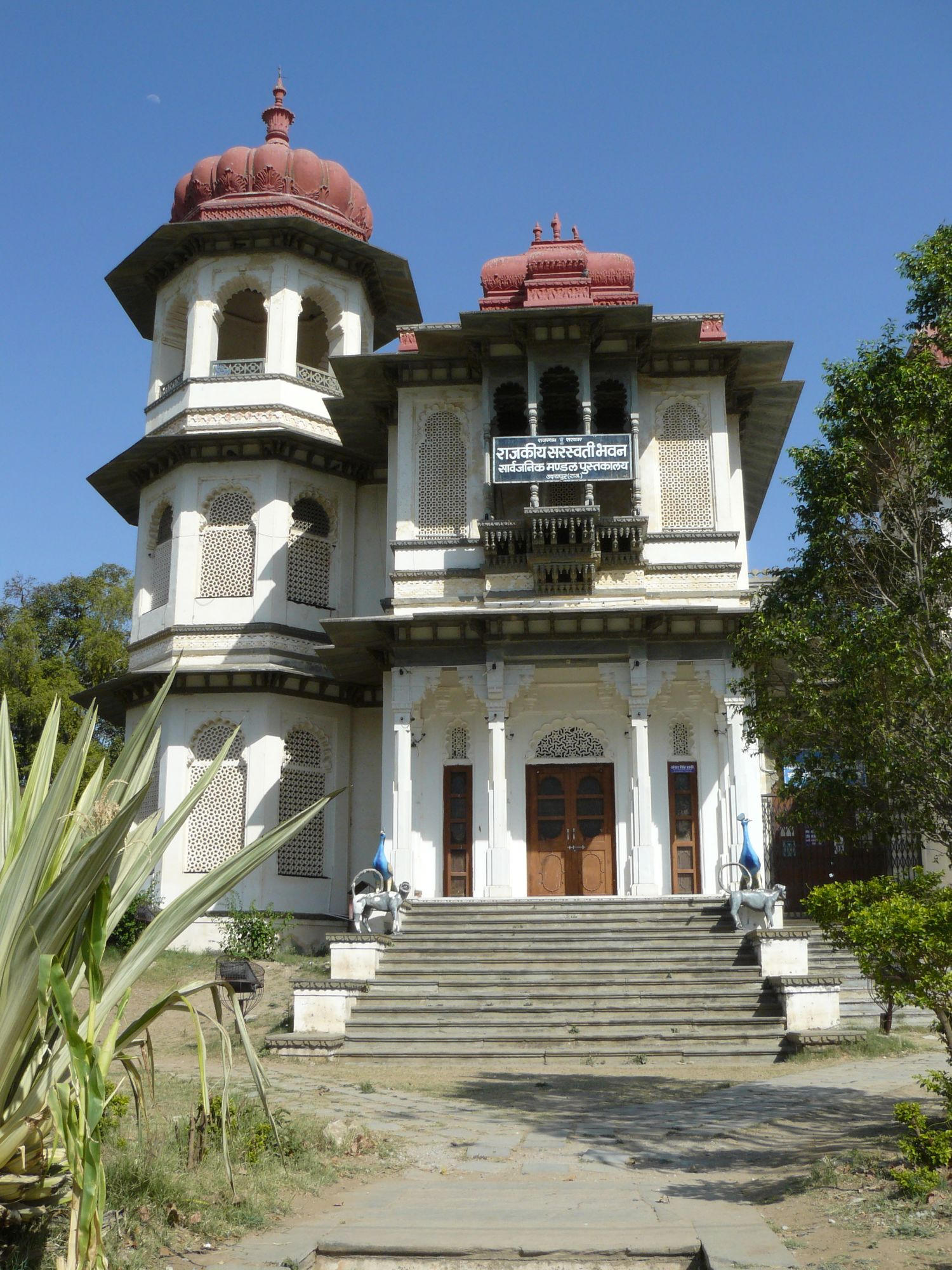 Full Bat-tree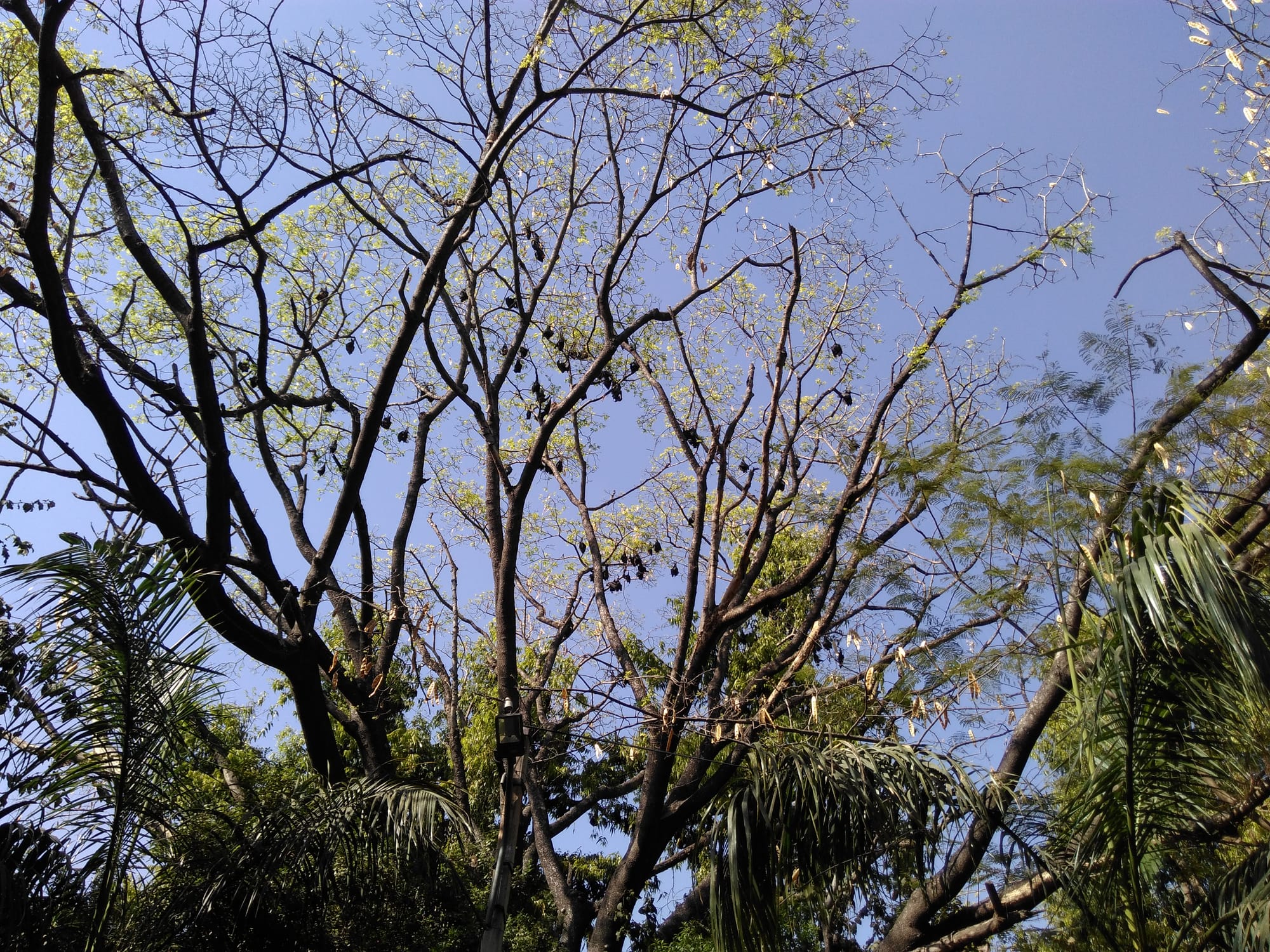 Surprised to see bats sleeping in daylight in temperatures reaching 40° C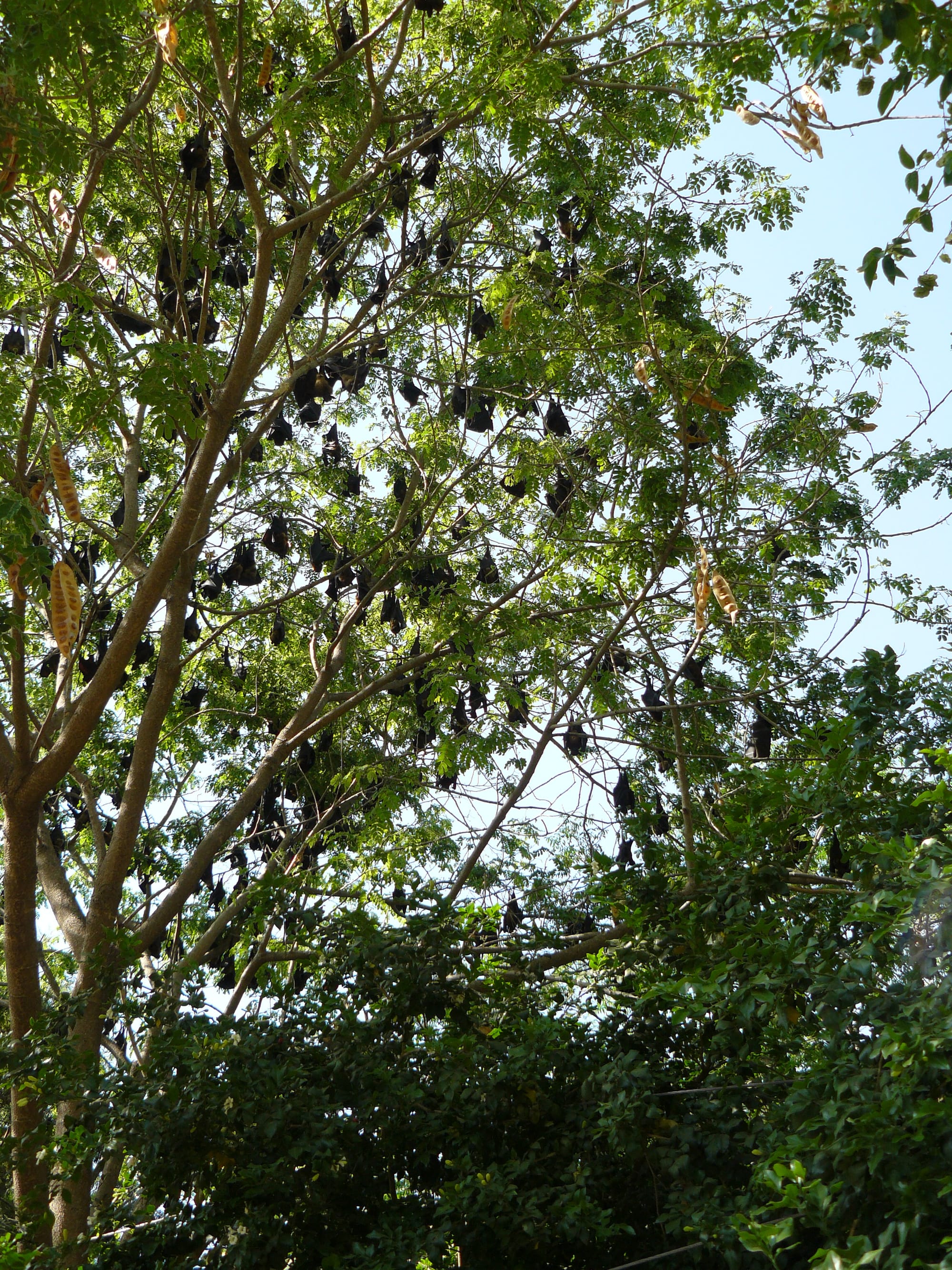 Caption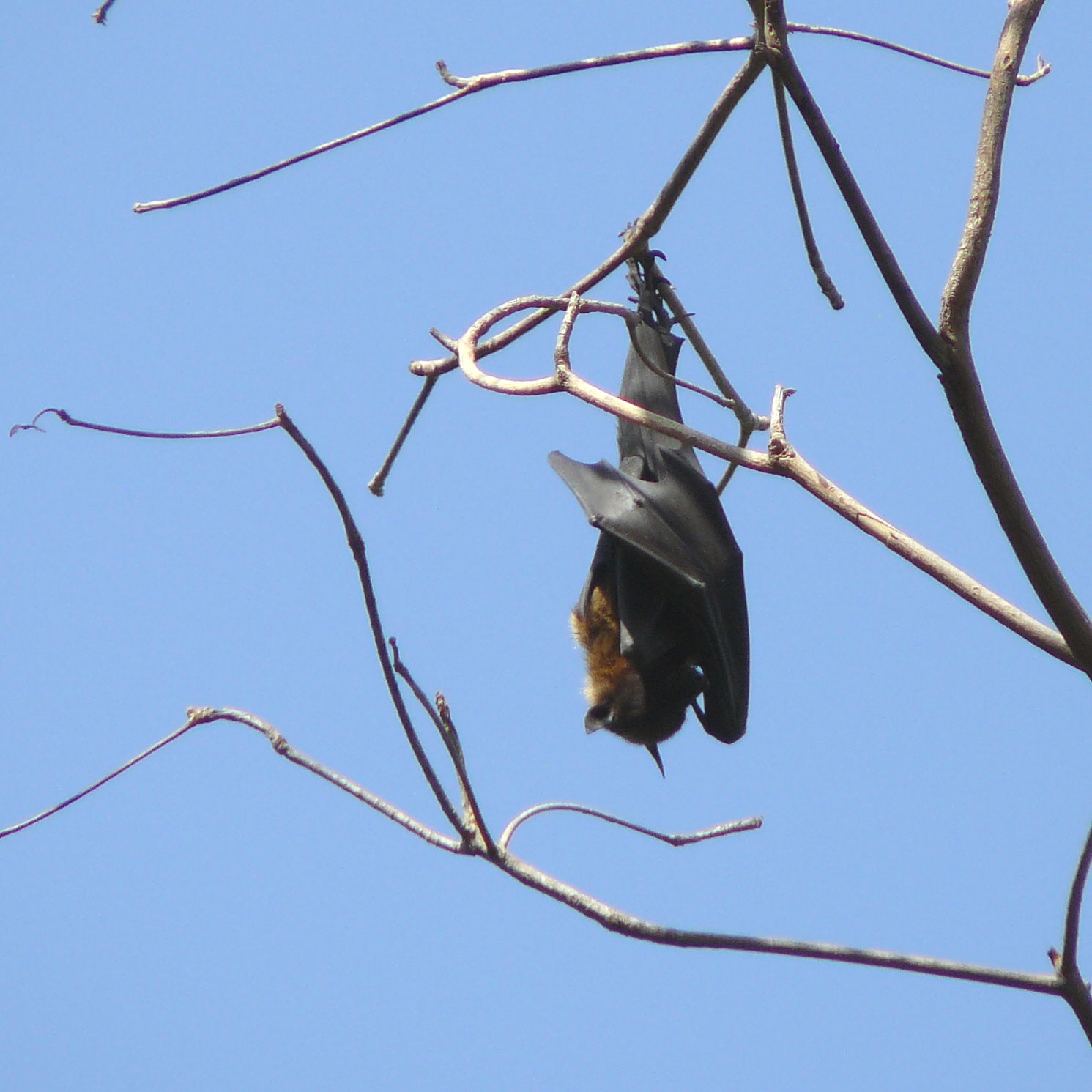 Caption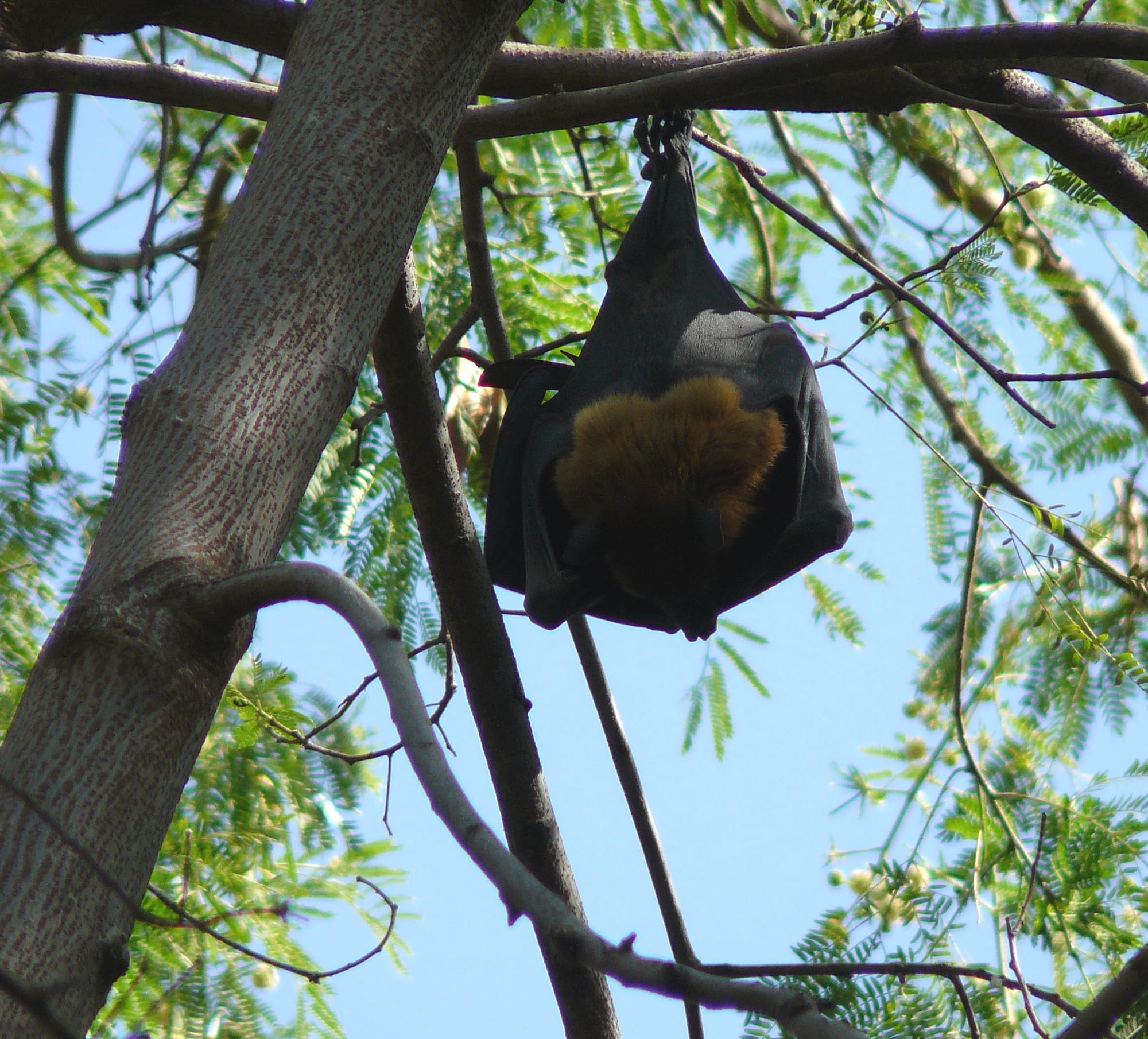 Hemant making Uttapam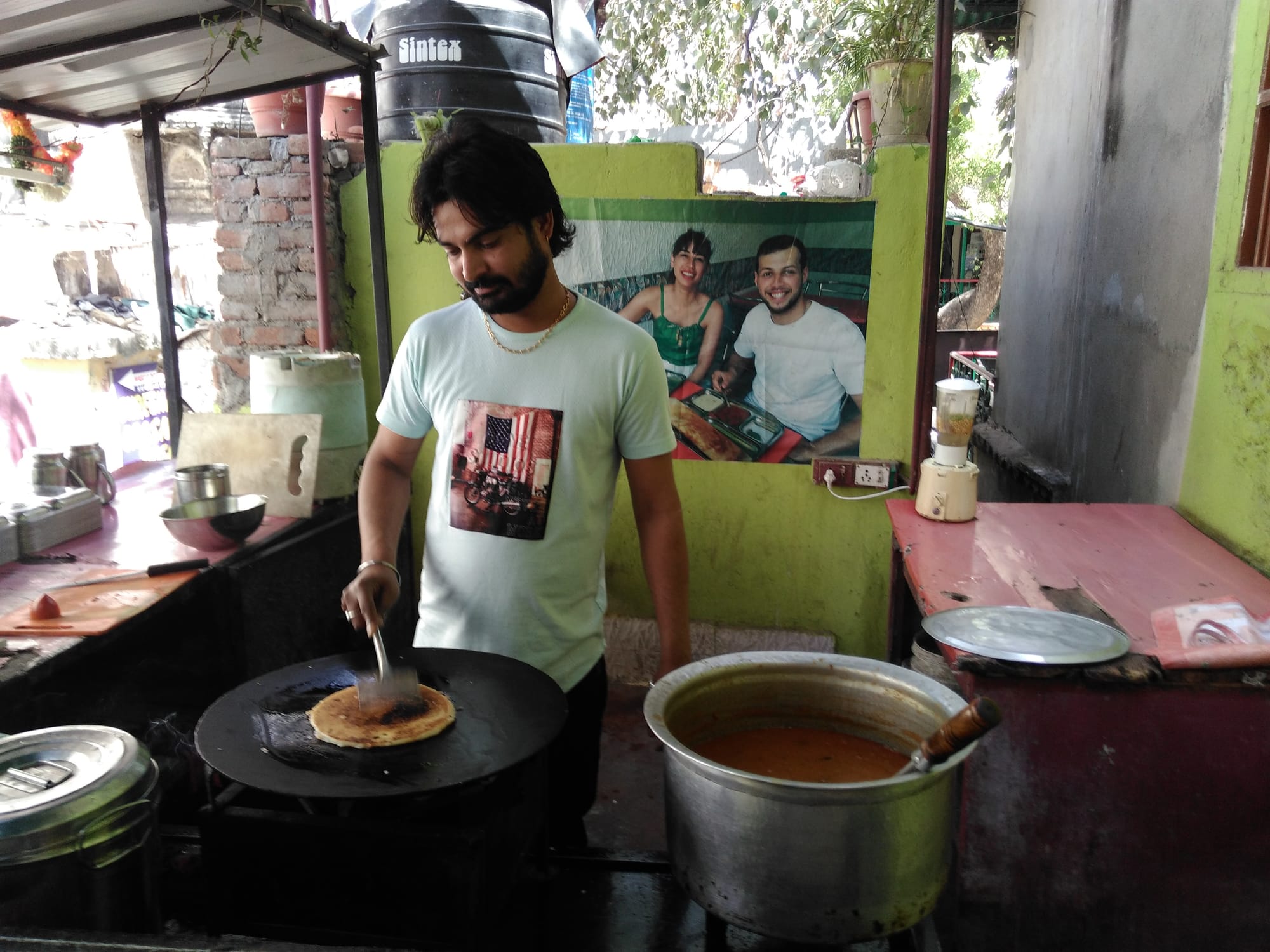 Love this Ayurvedic Pharmacy............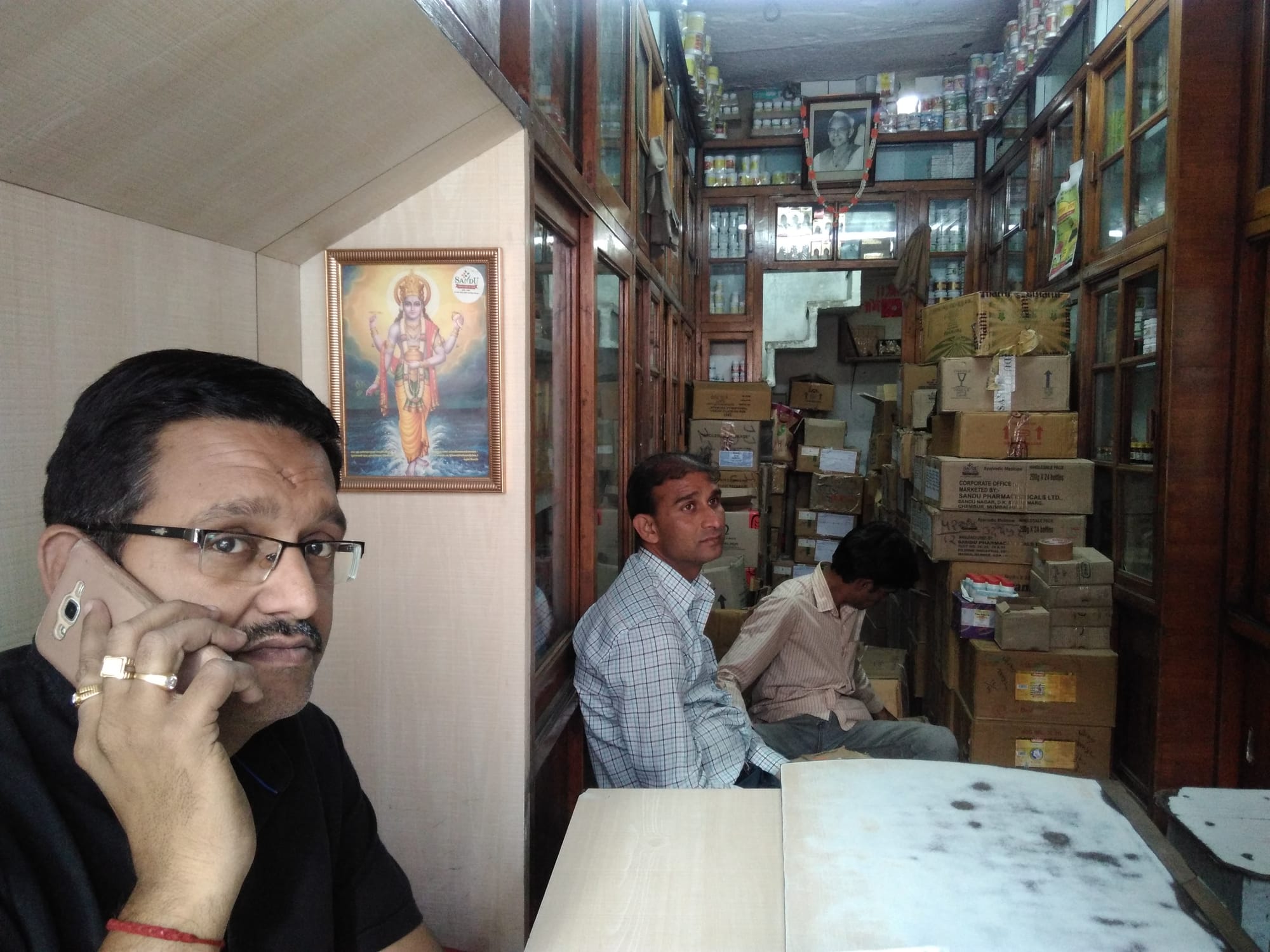 Glimpse into a private world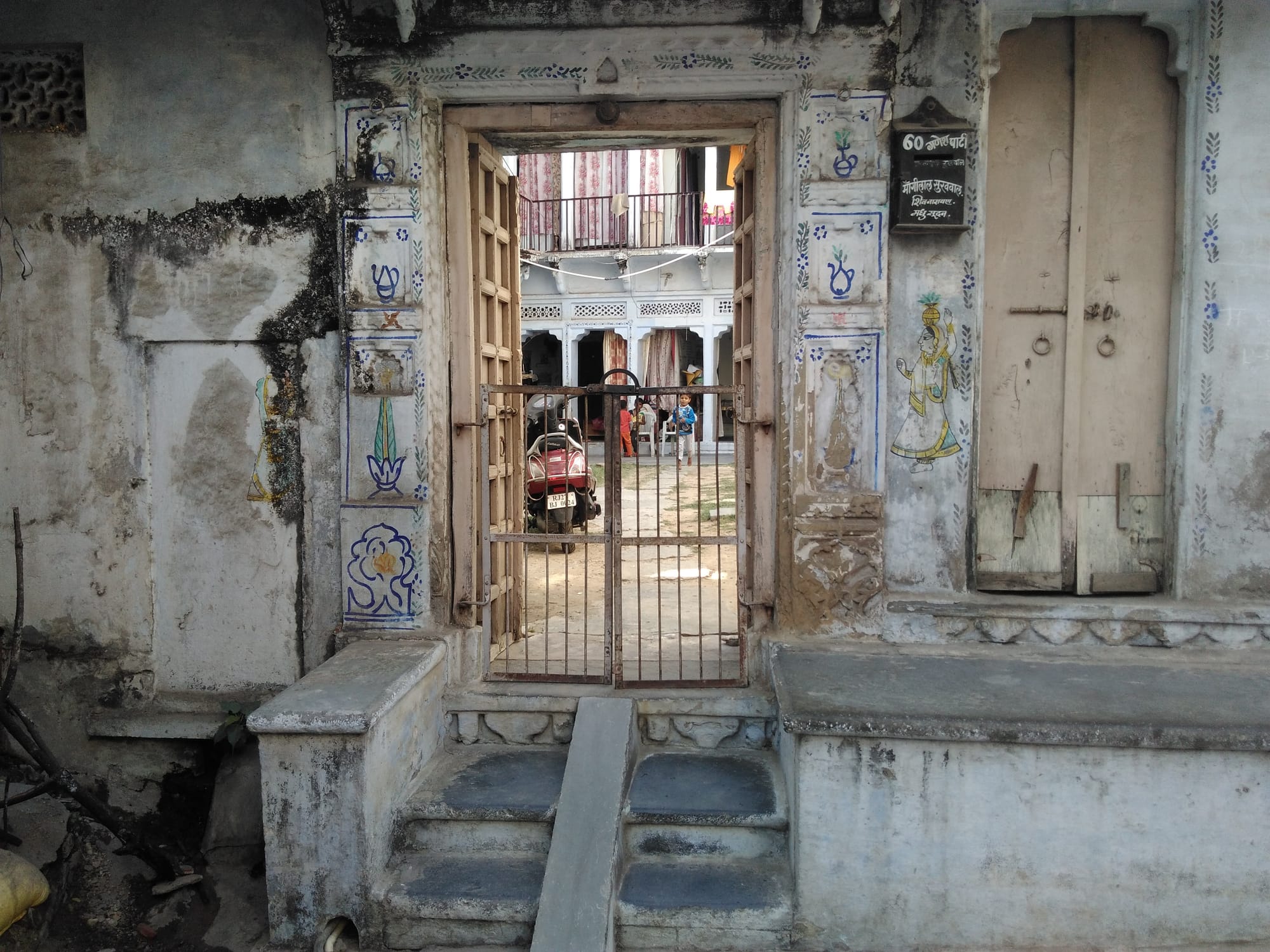 Dream Heaven Restaurant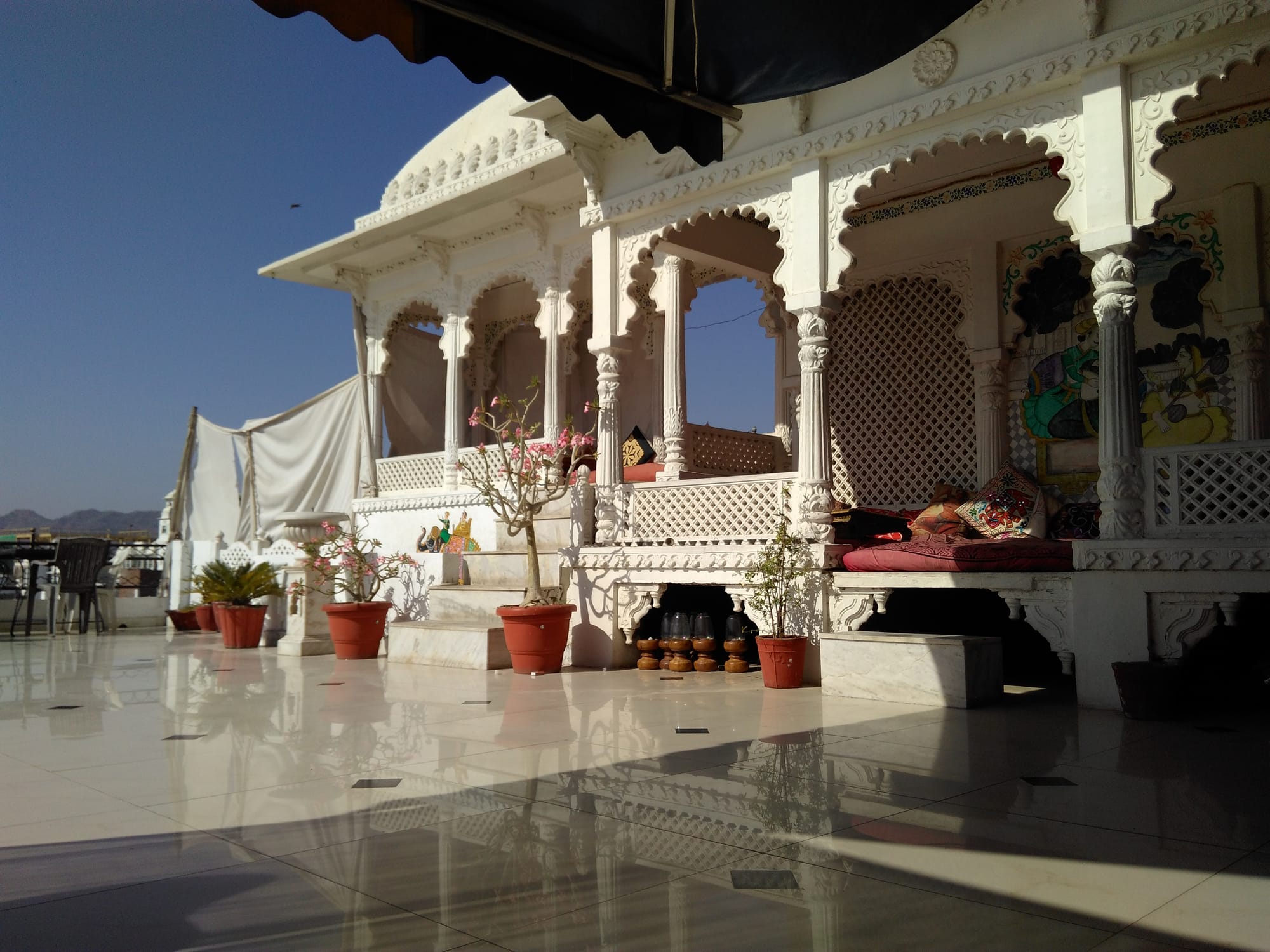 Tree House. Built in 2000. Not a single branch was cut during its construction.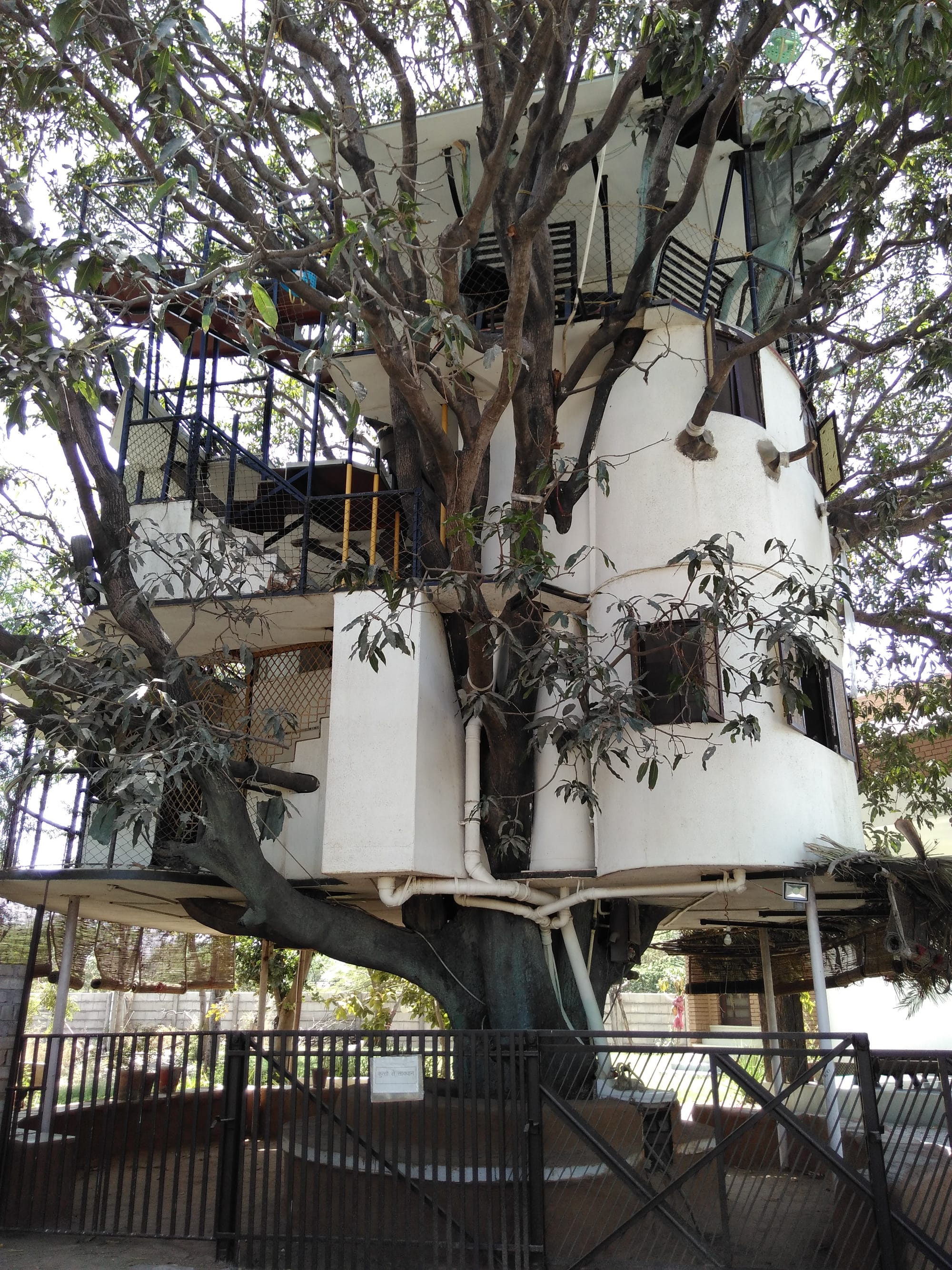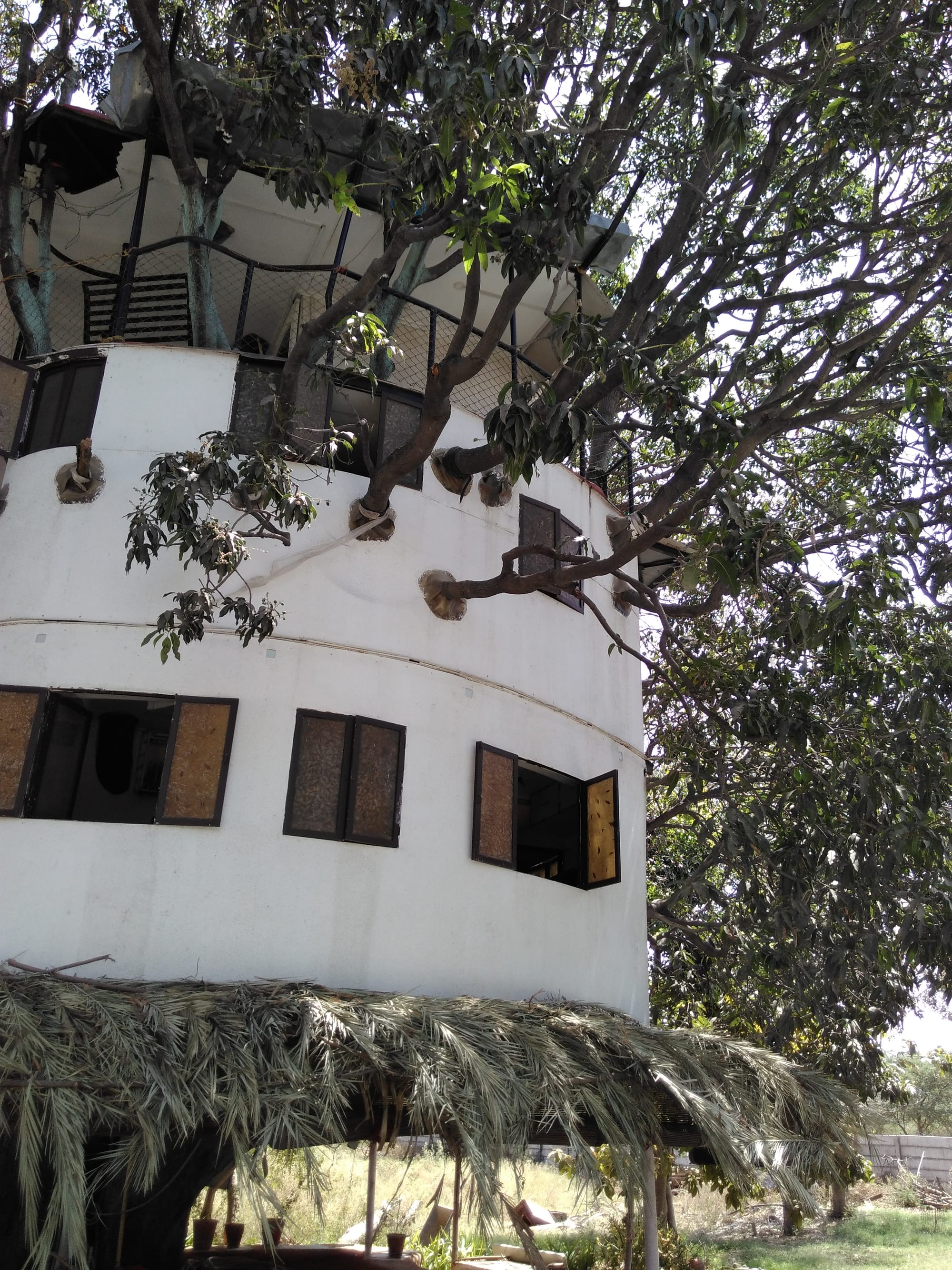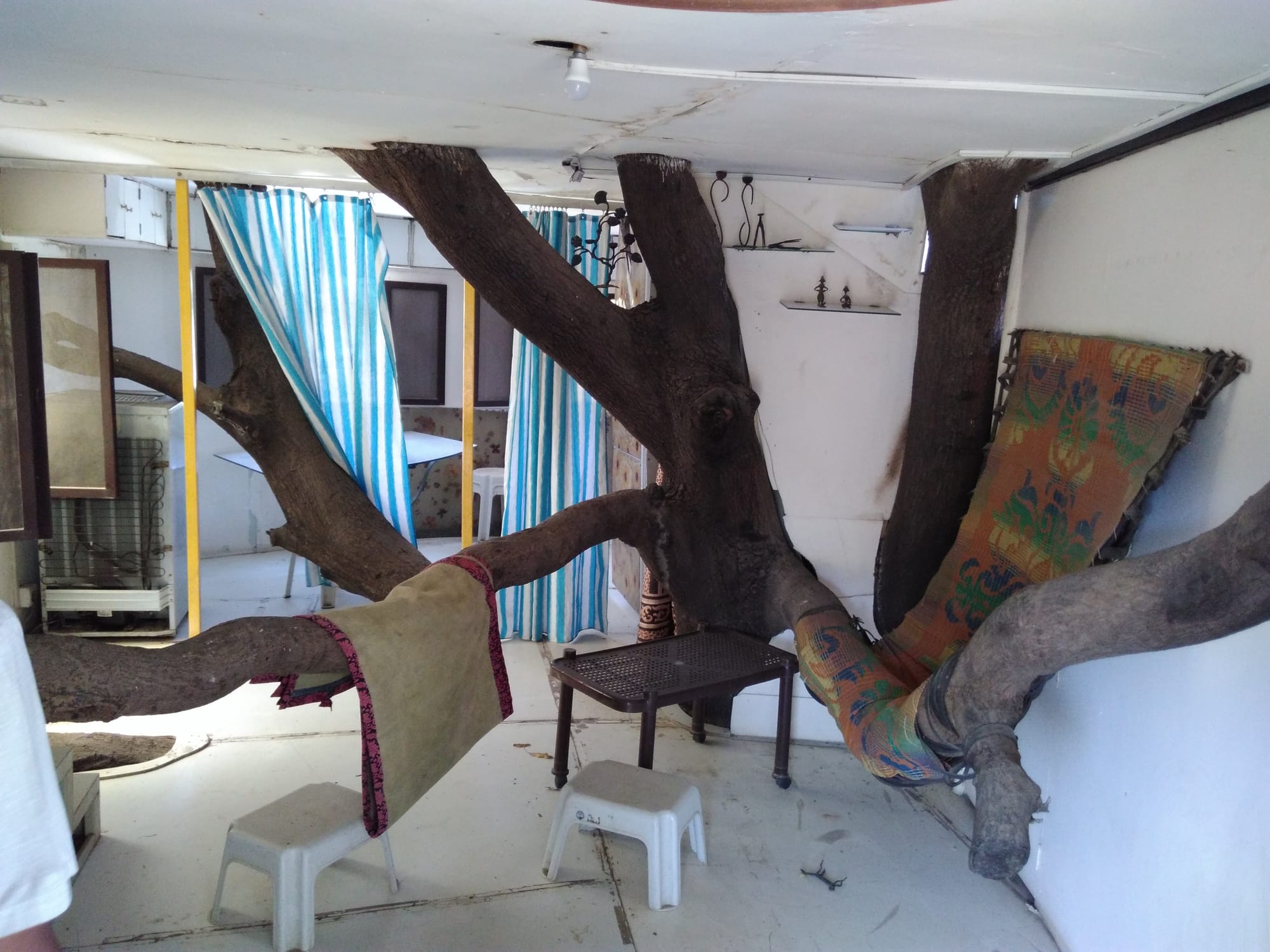 Tree House : Roof-top terrace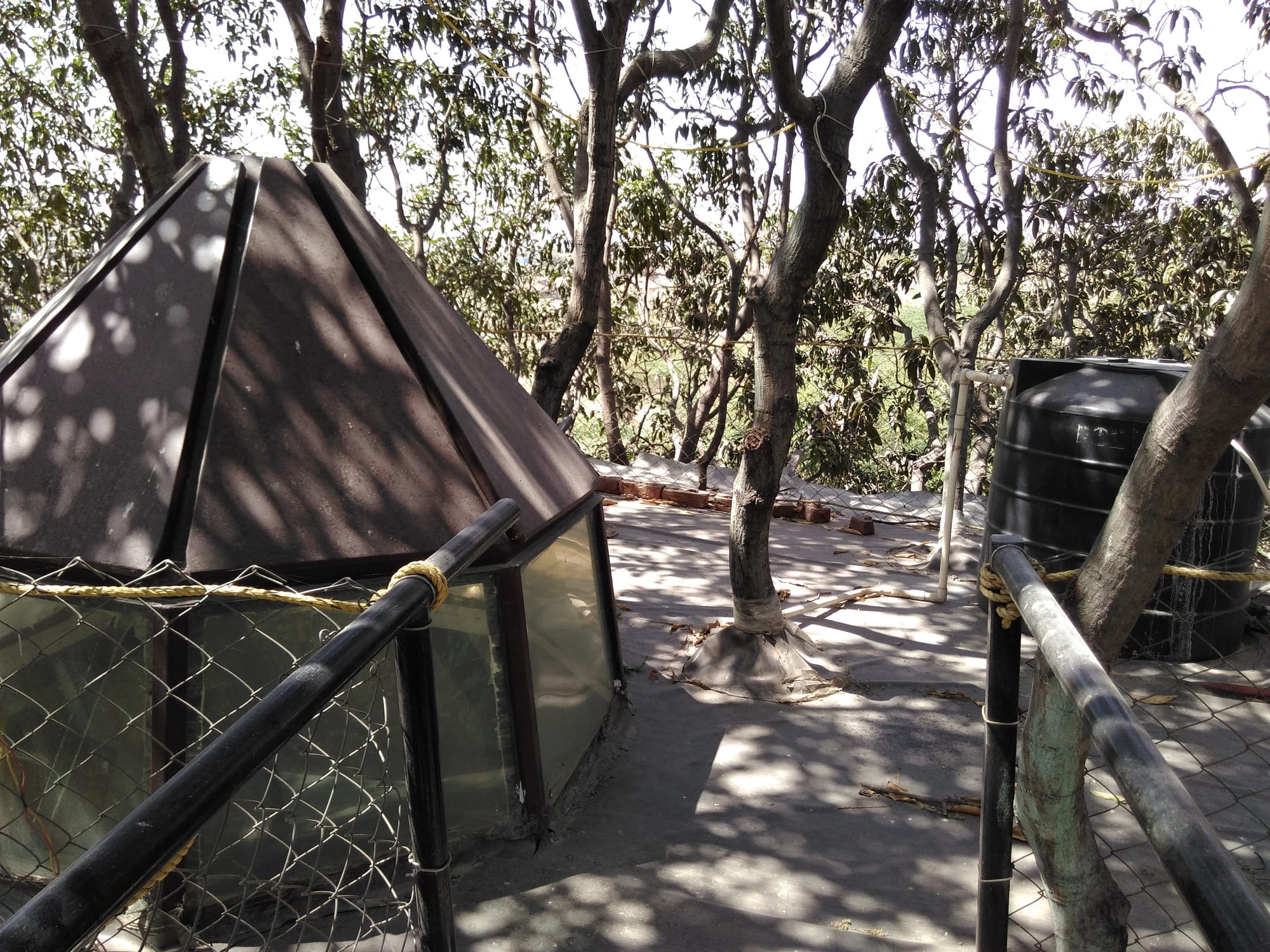 Classic and traditional dance at the Bagor ki Haveli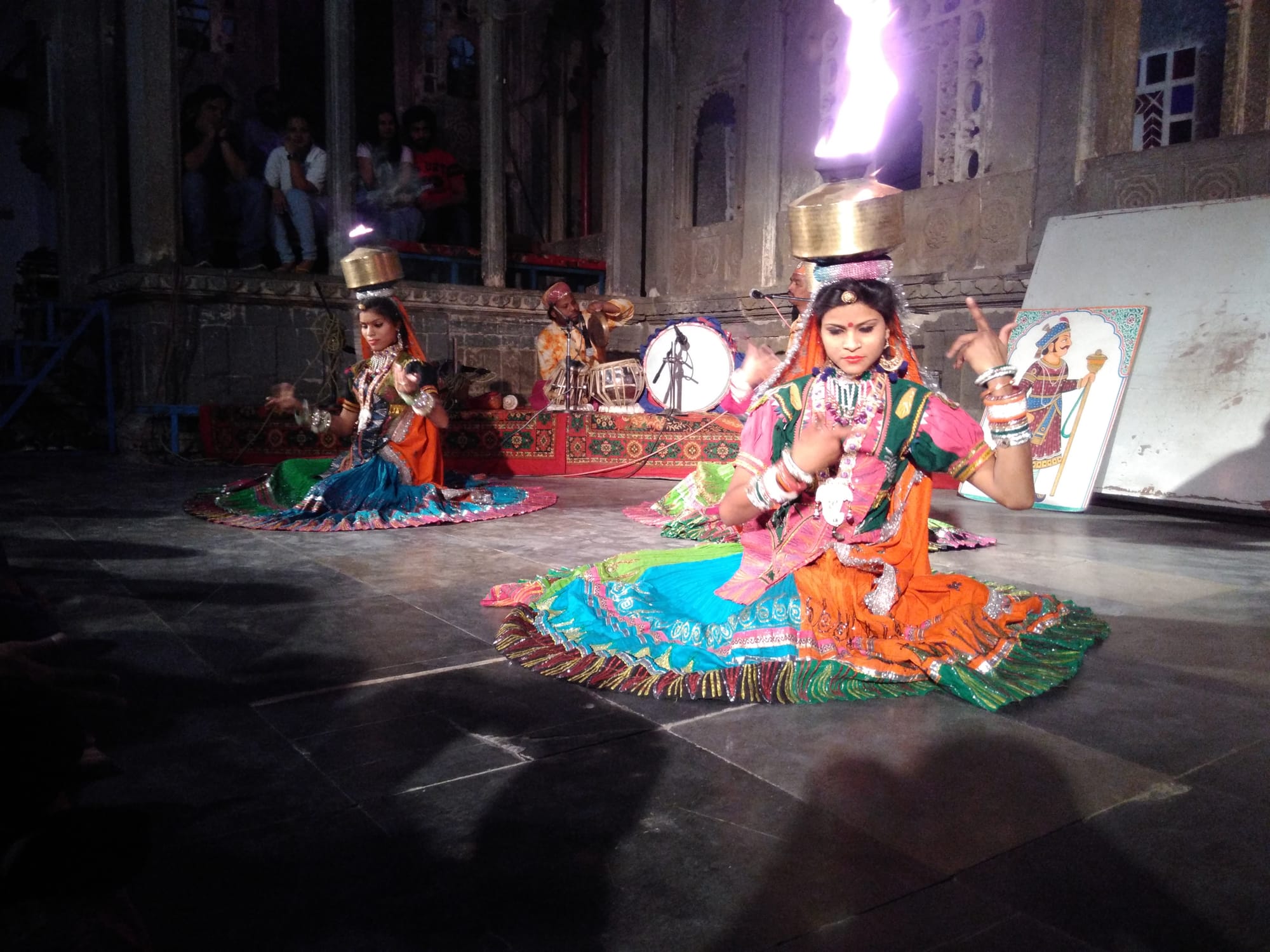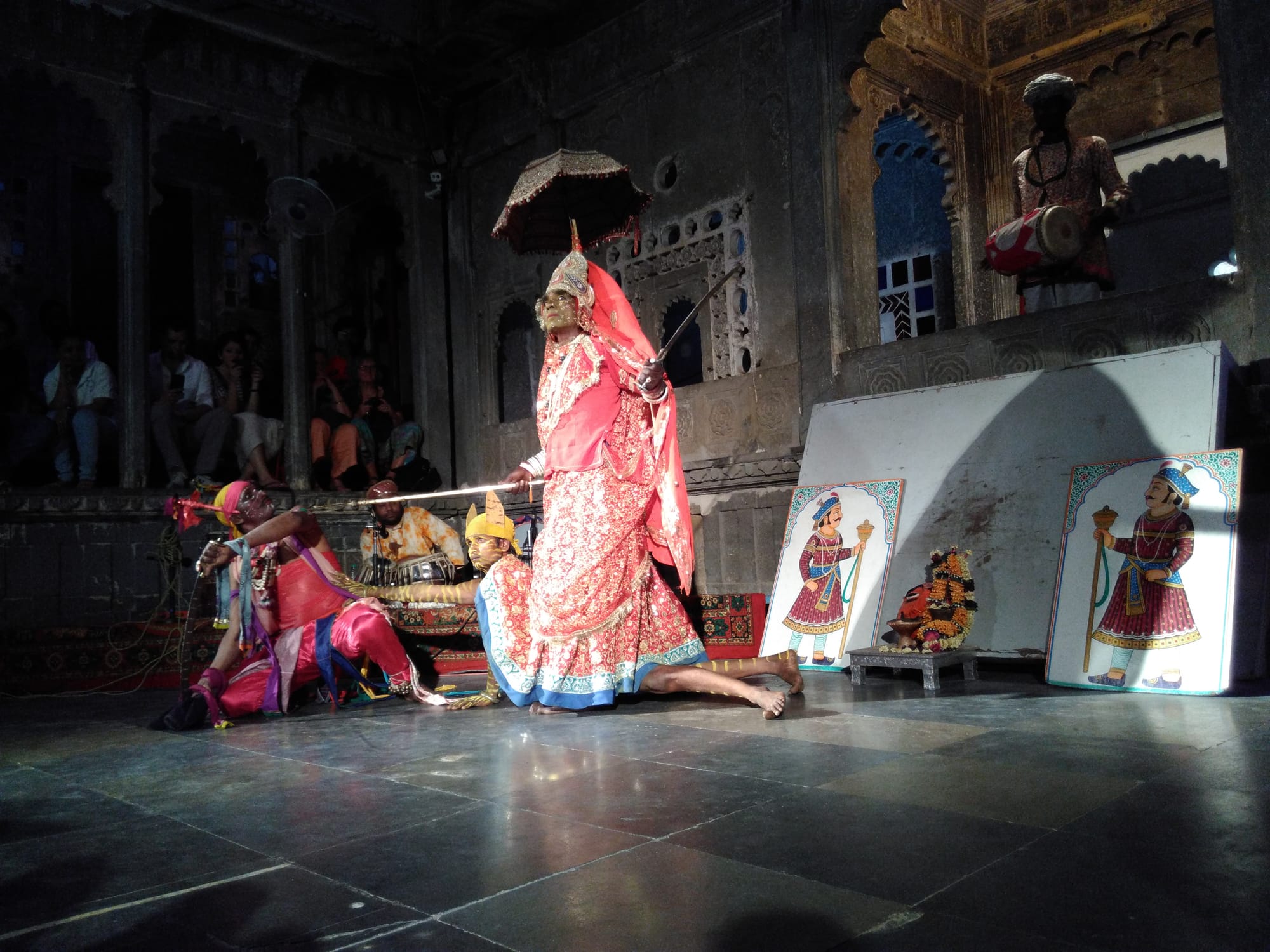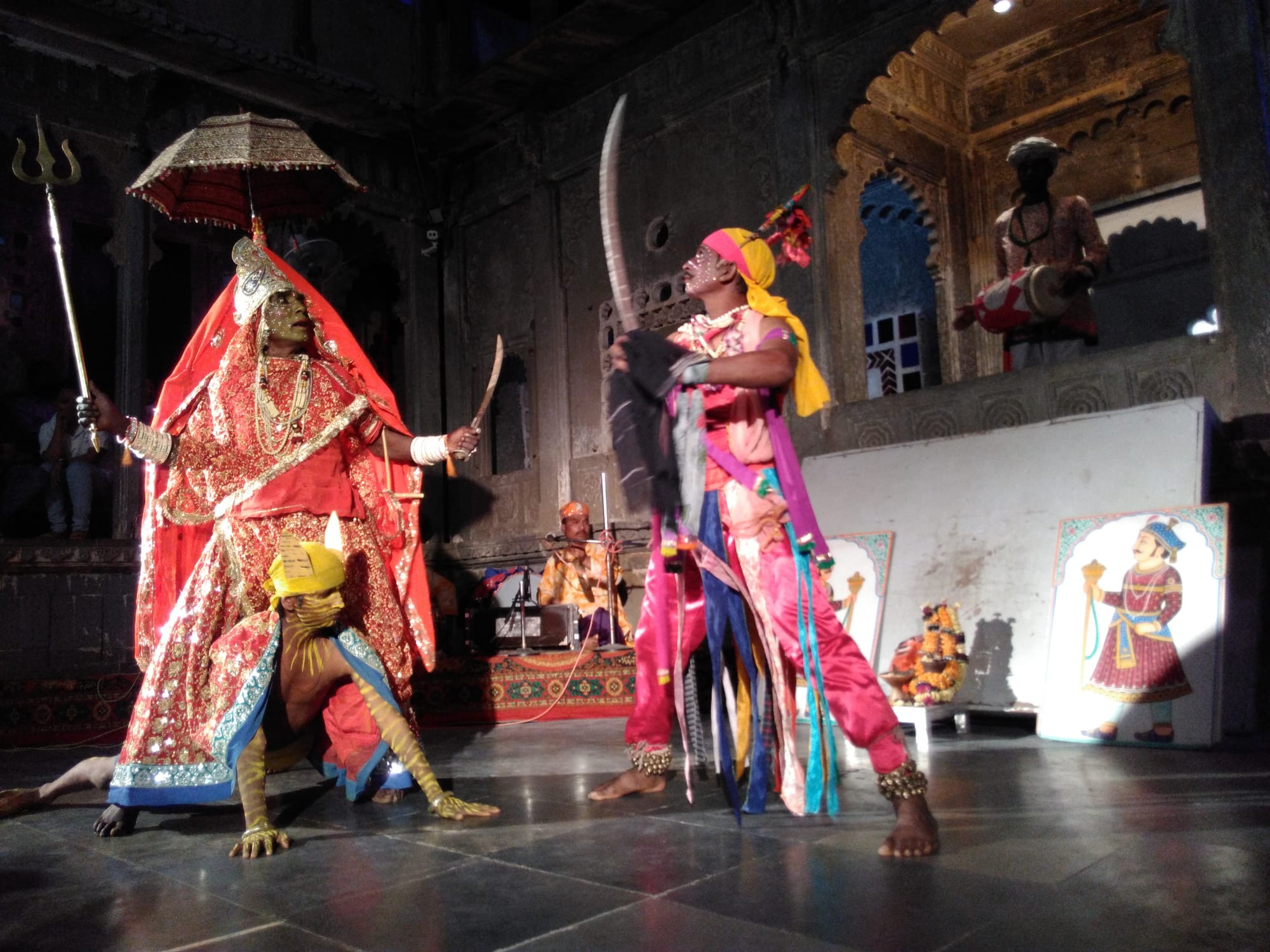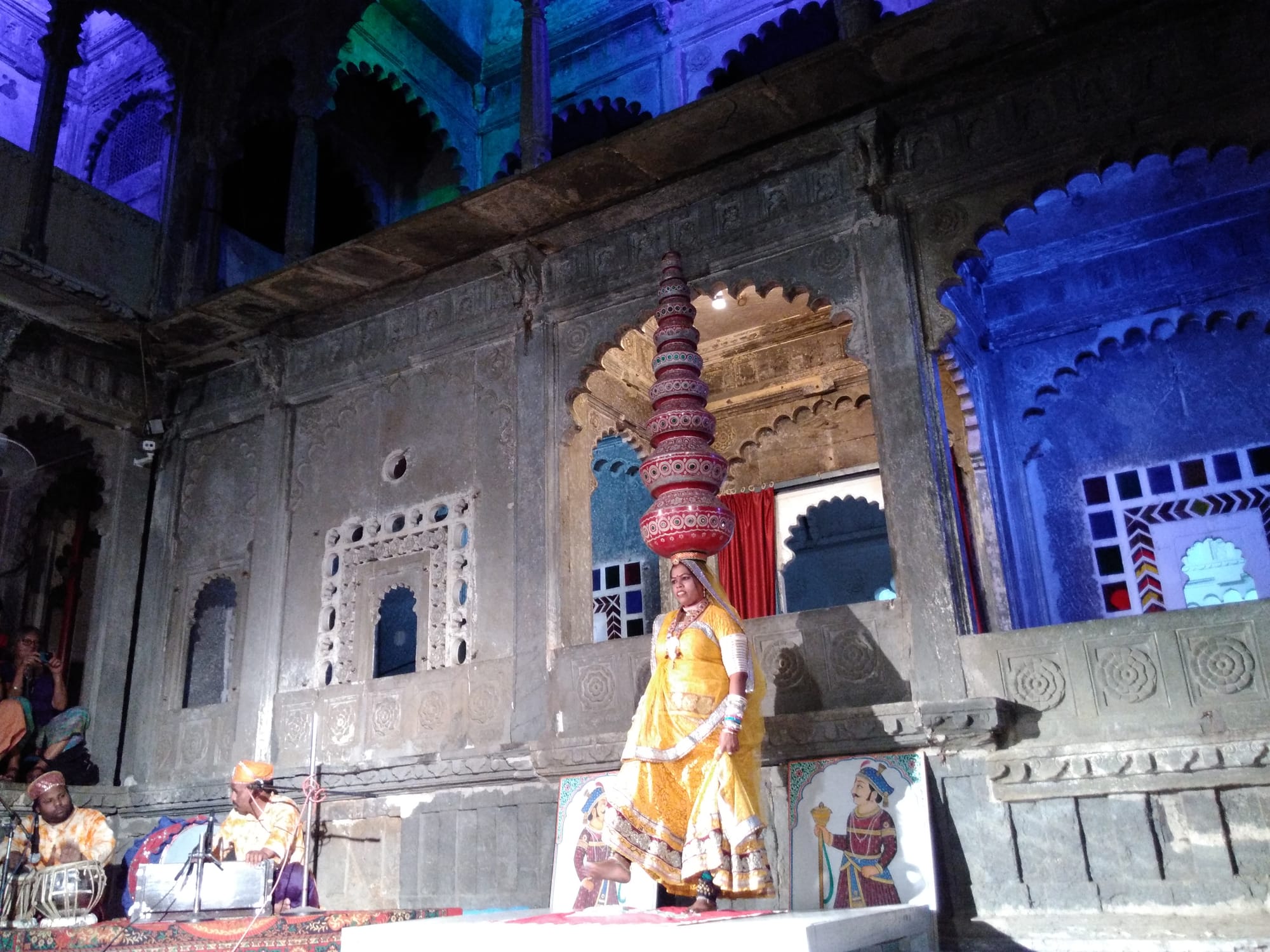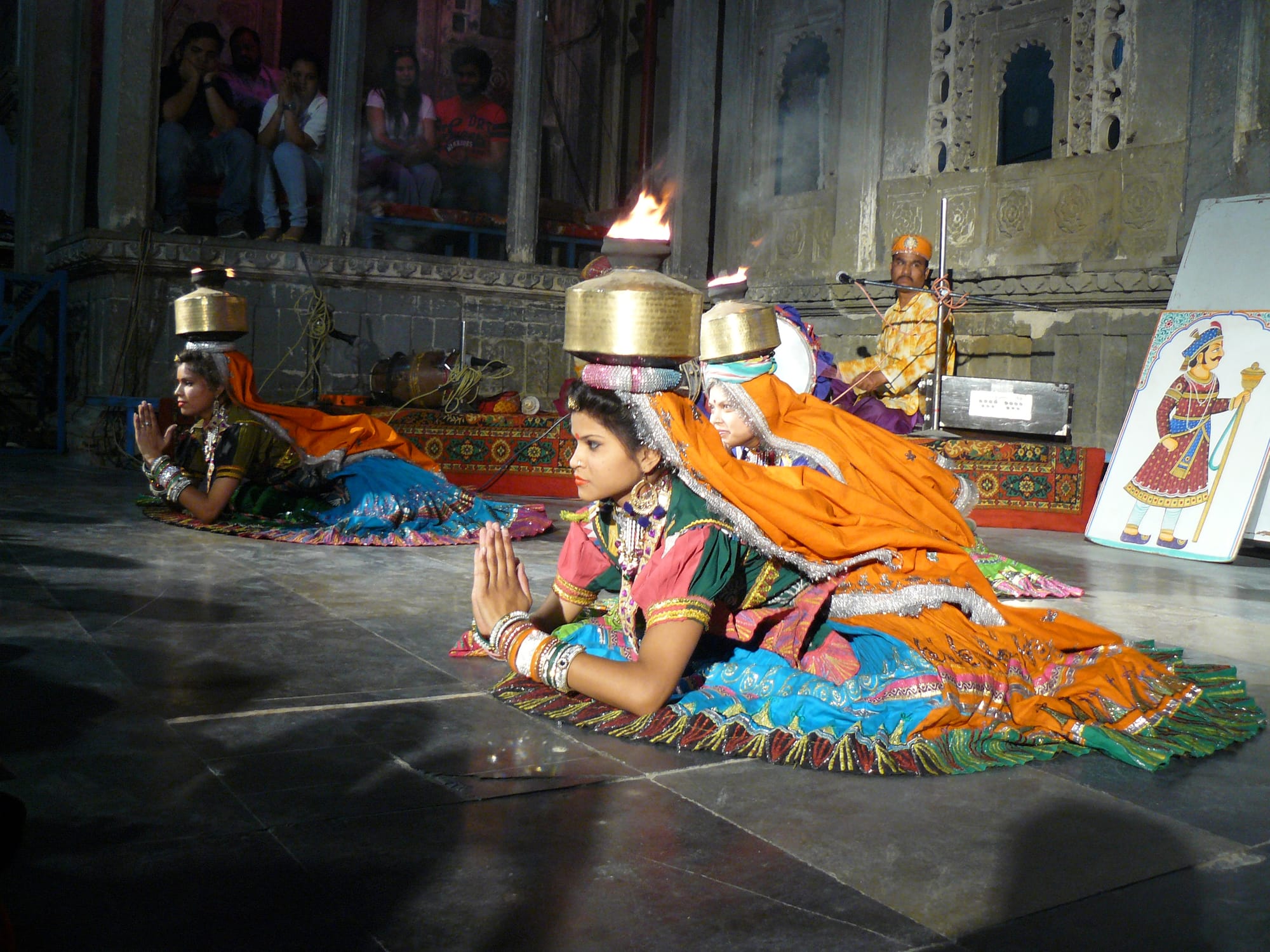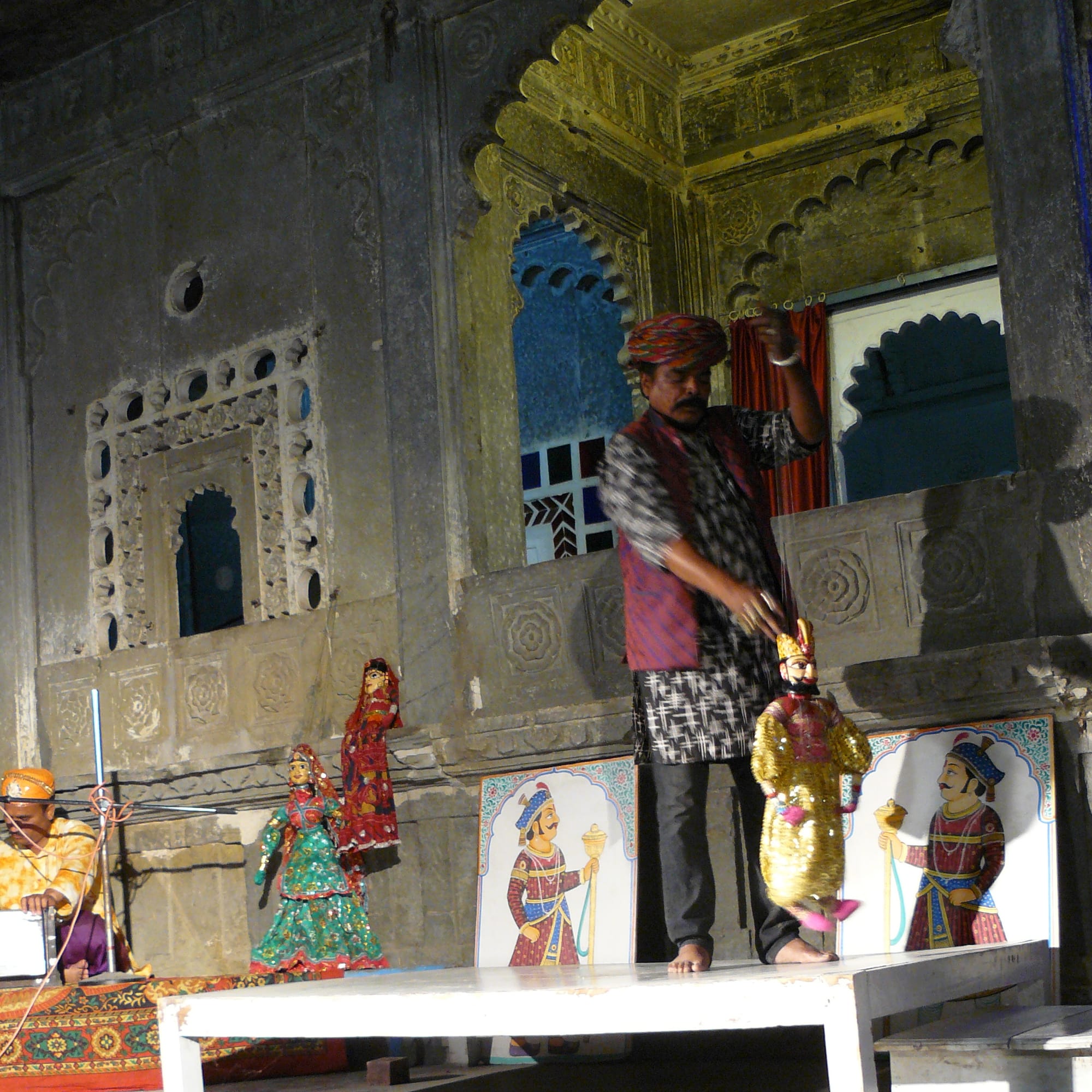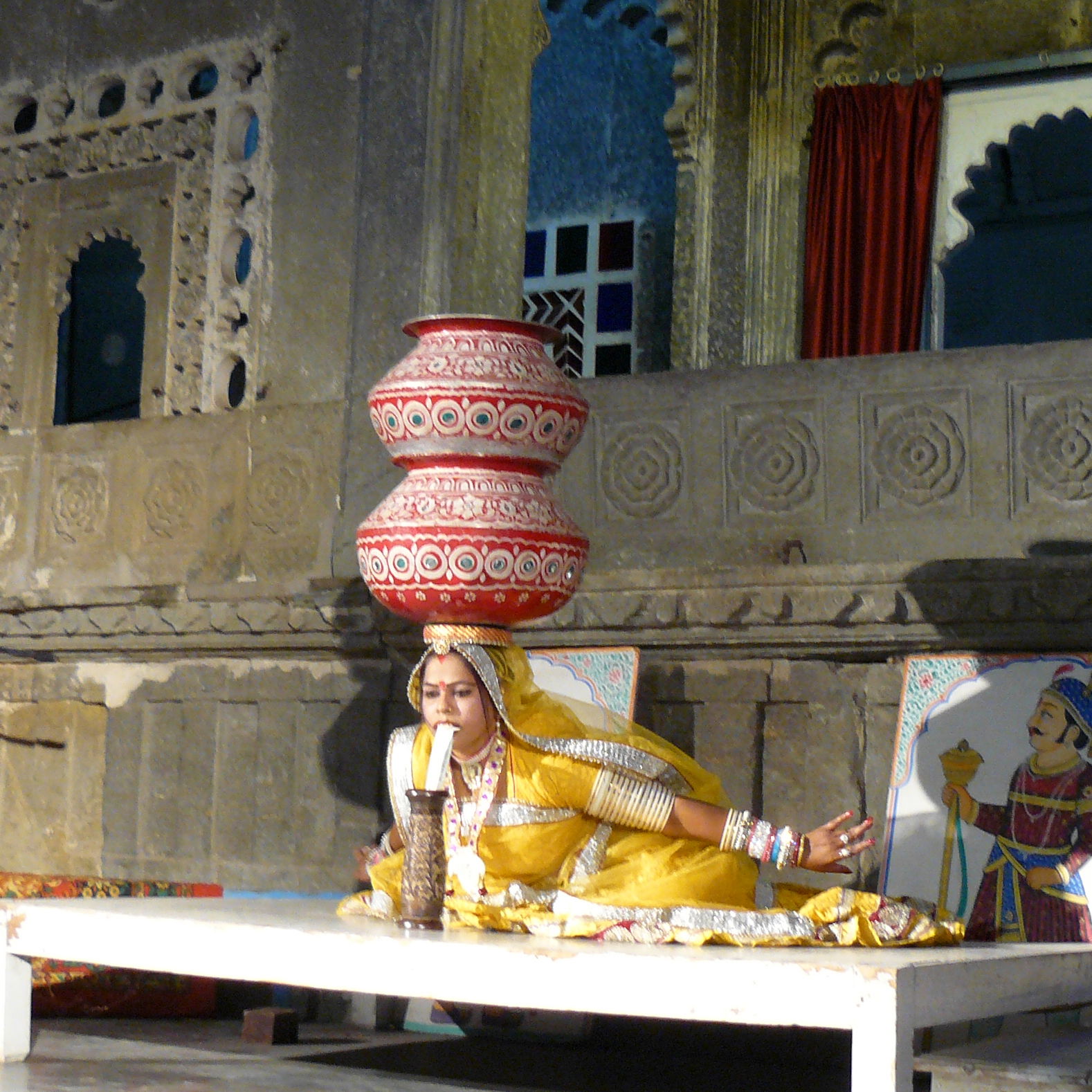 Eggs - Any way you want them, so long as they're fried.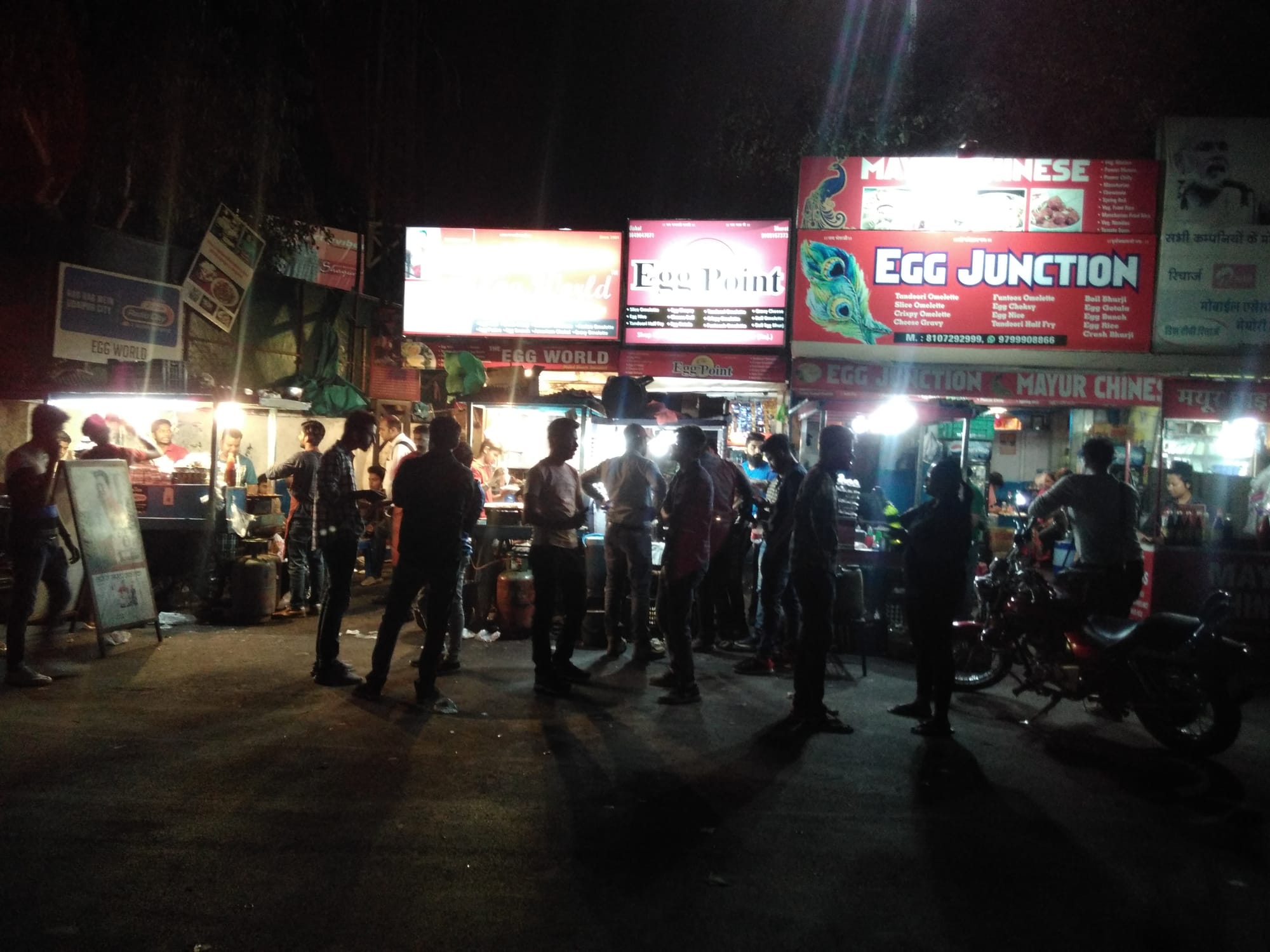 Another festival, I think this one was by the Jain Community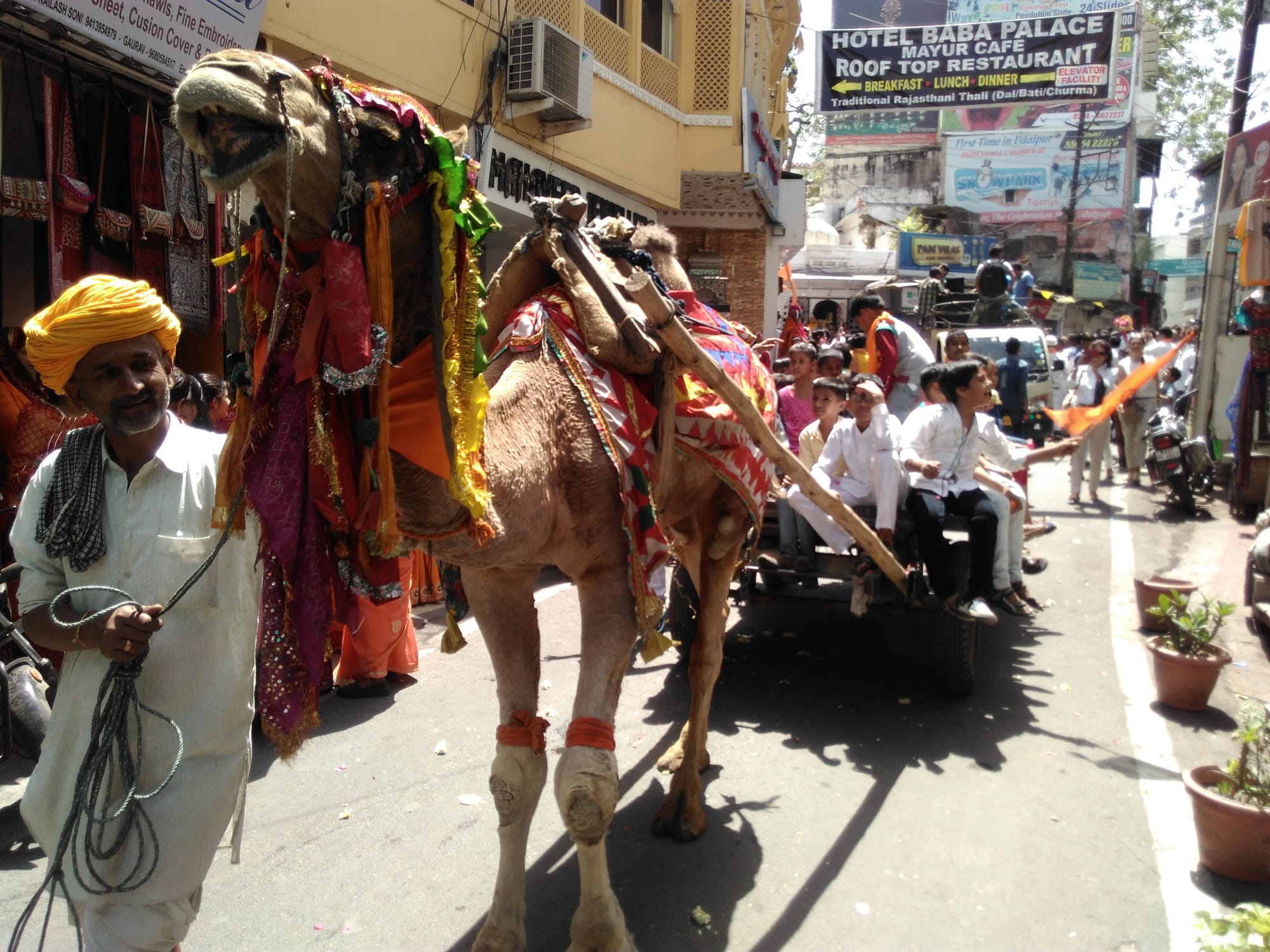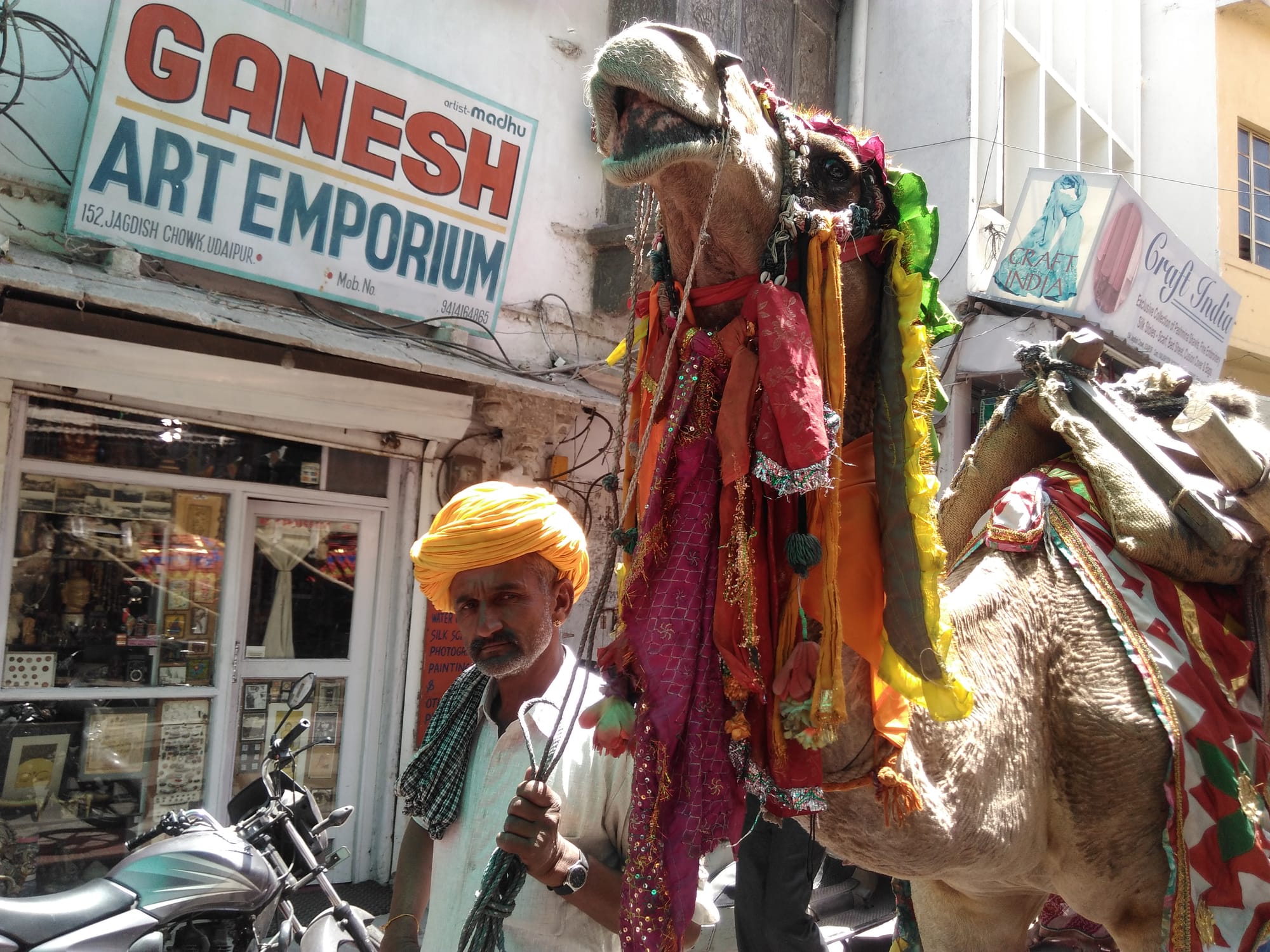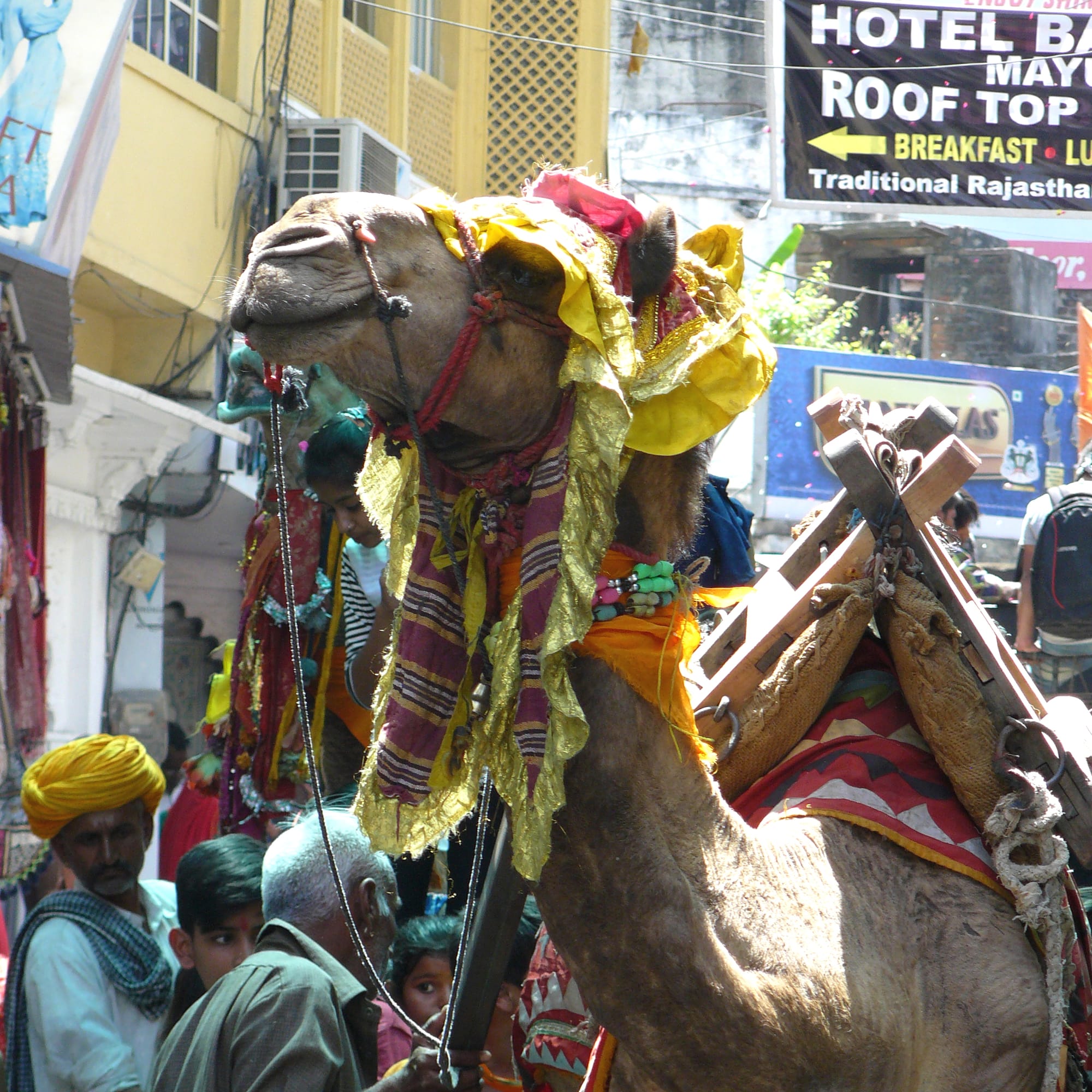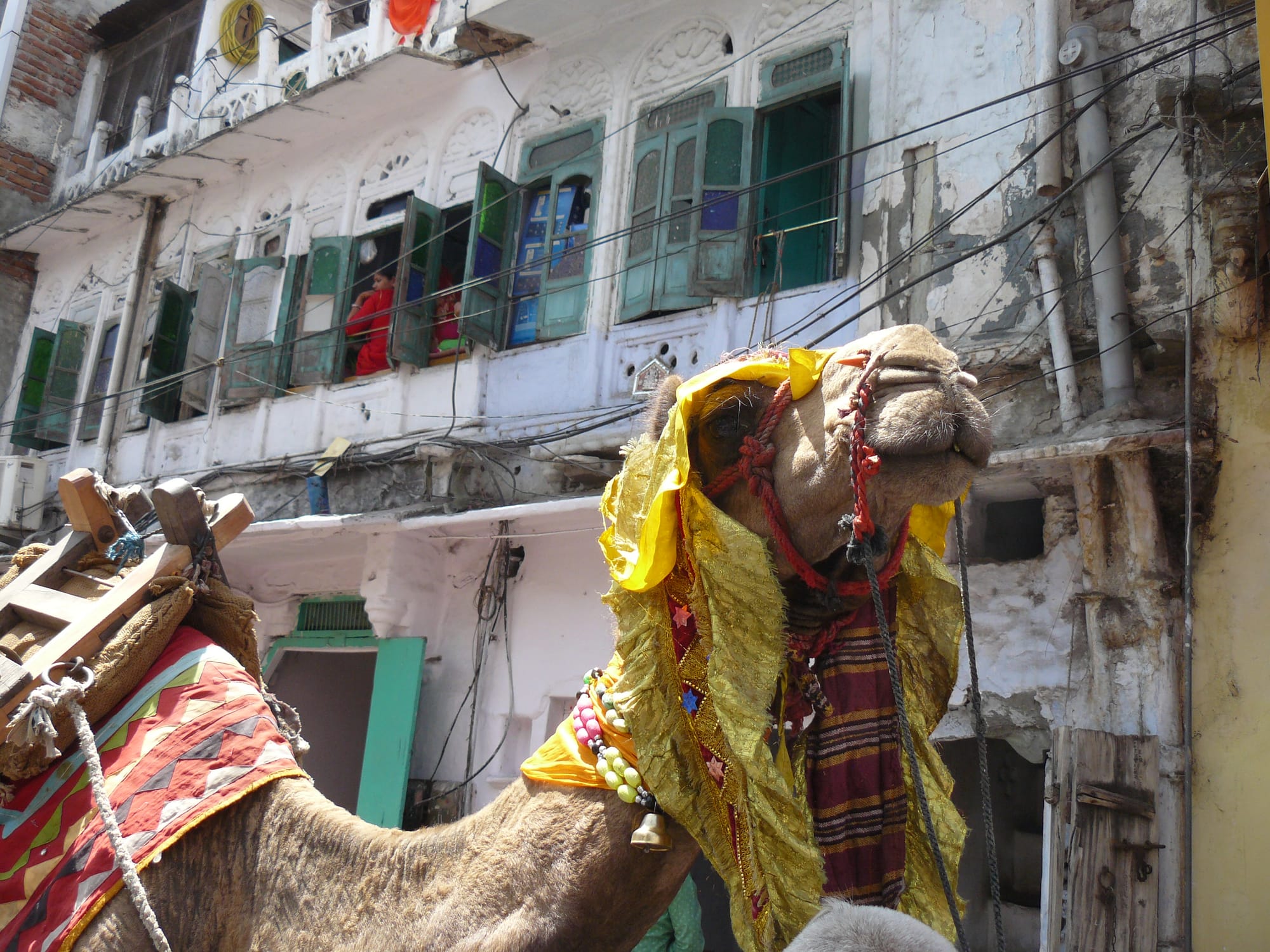 Beautiful Albino Horses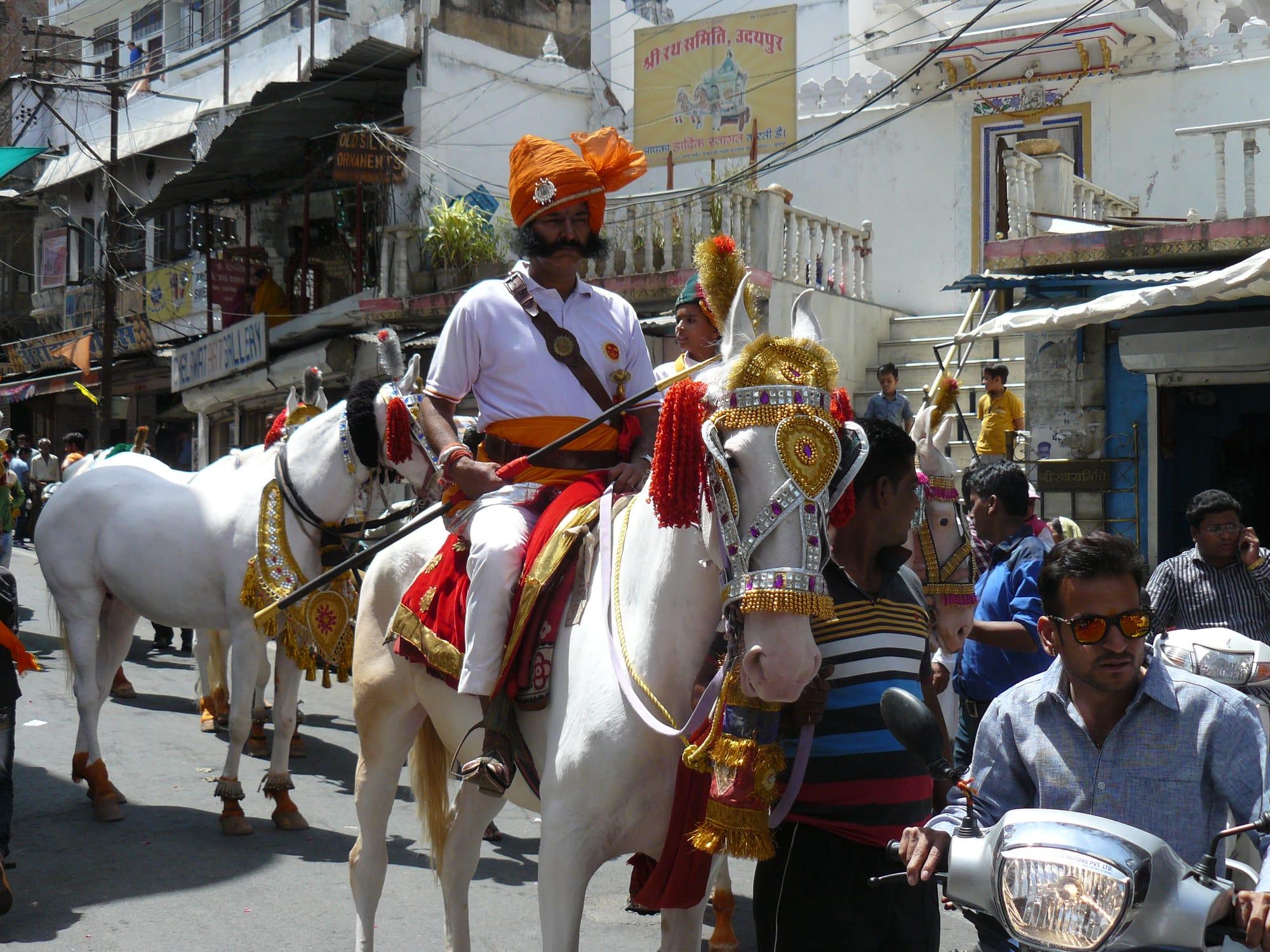 Your Mahout went that way....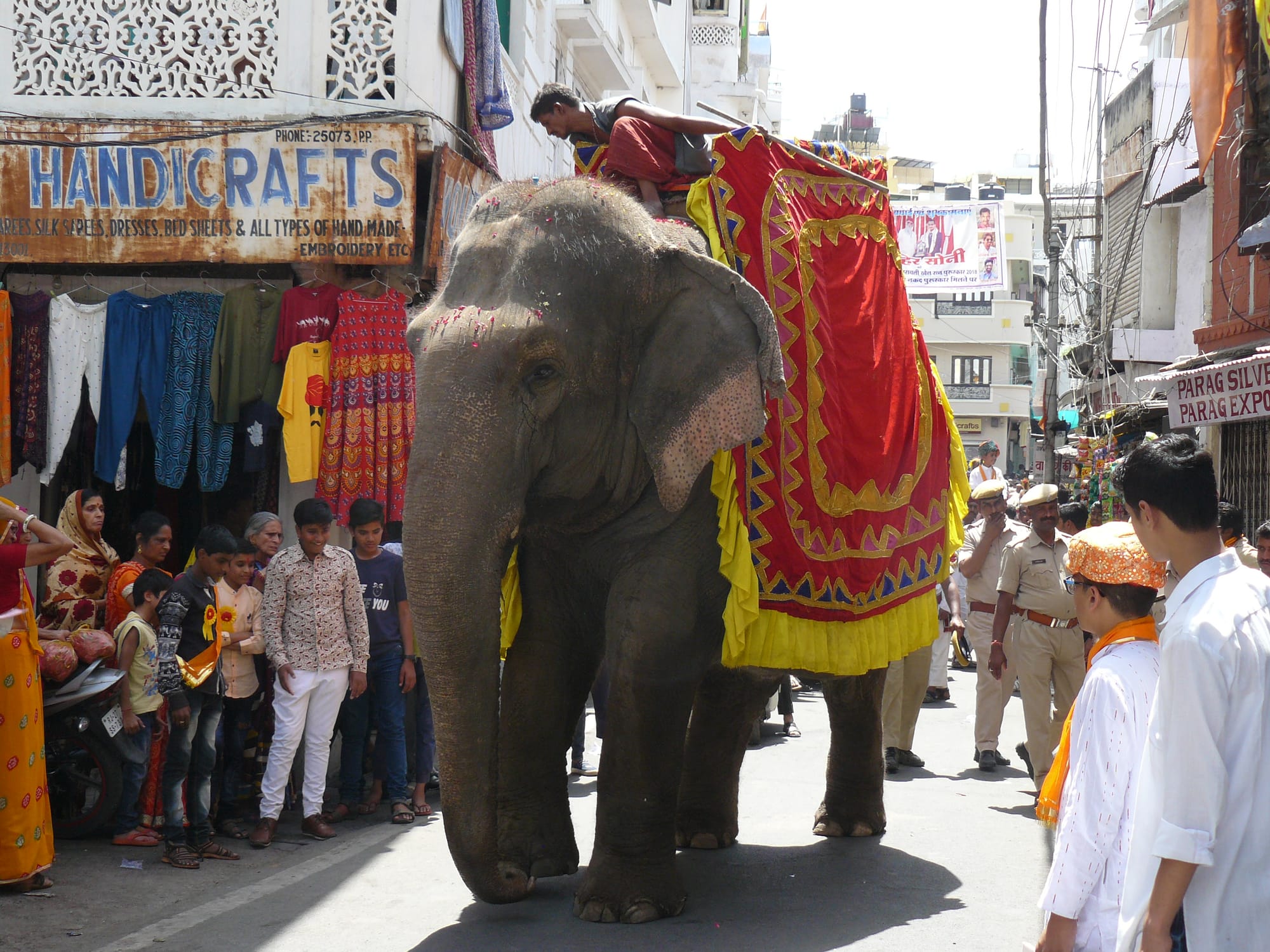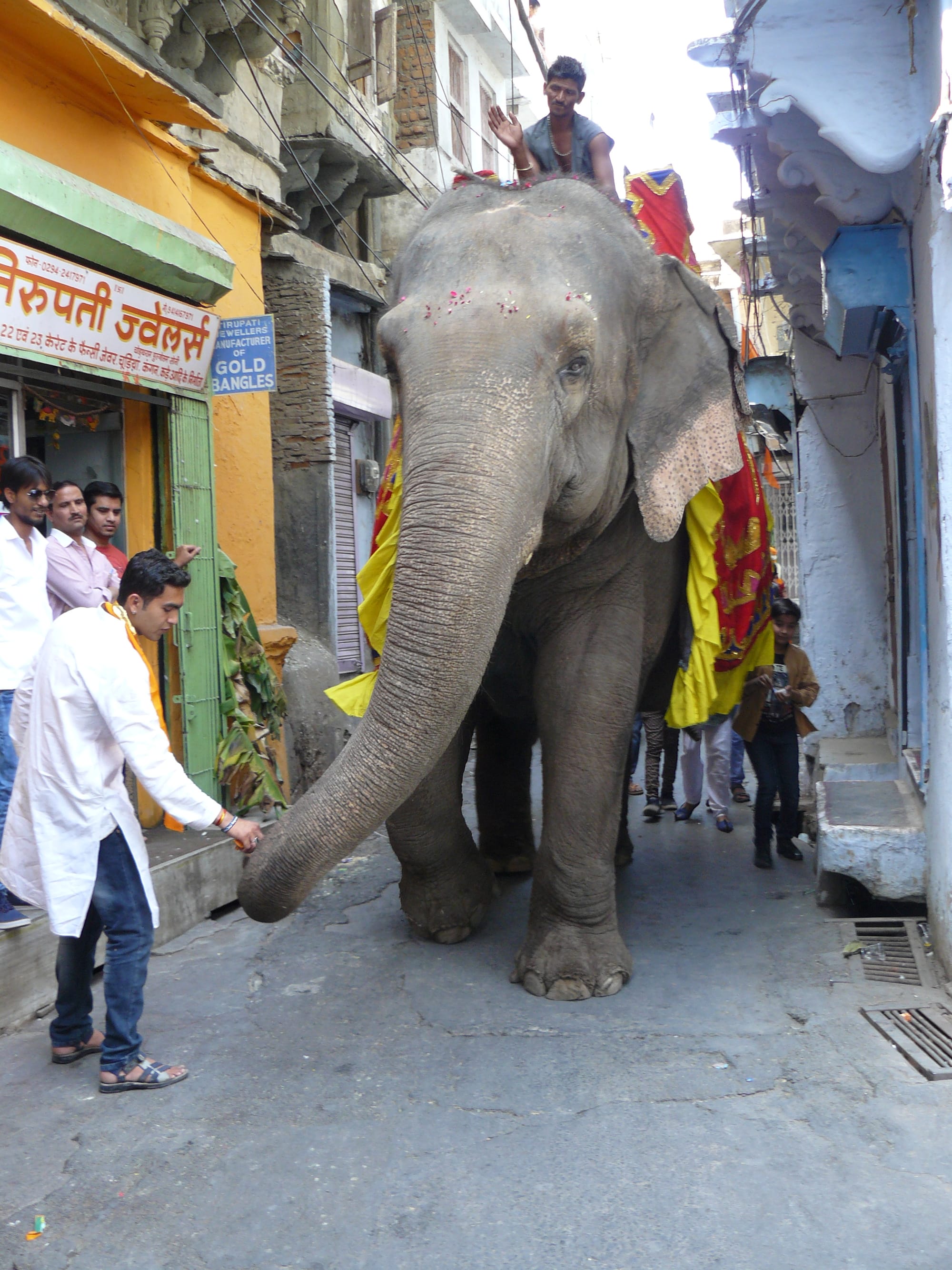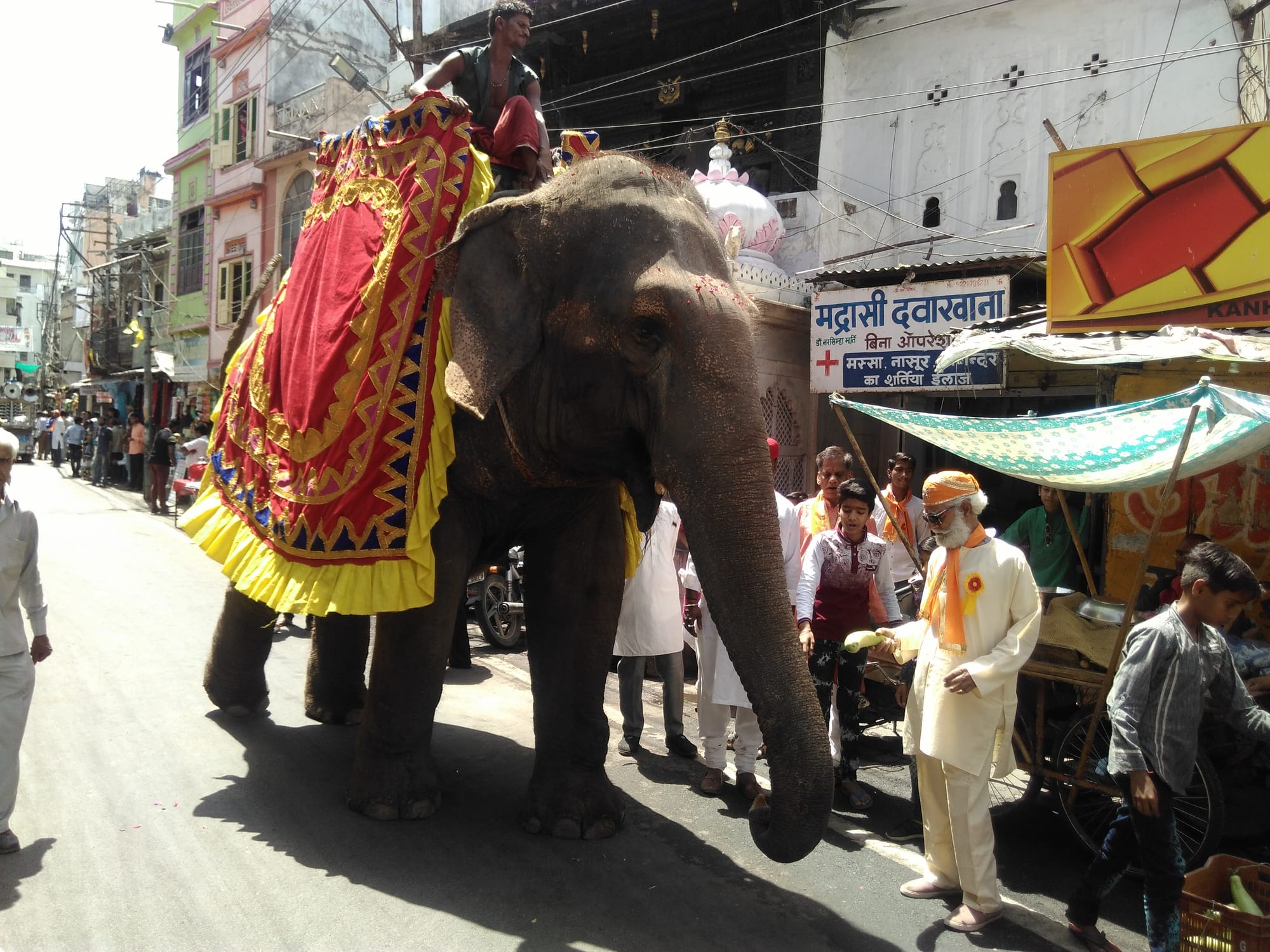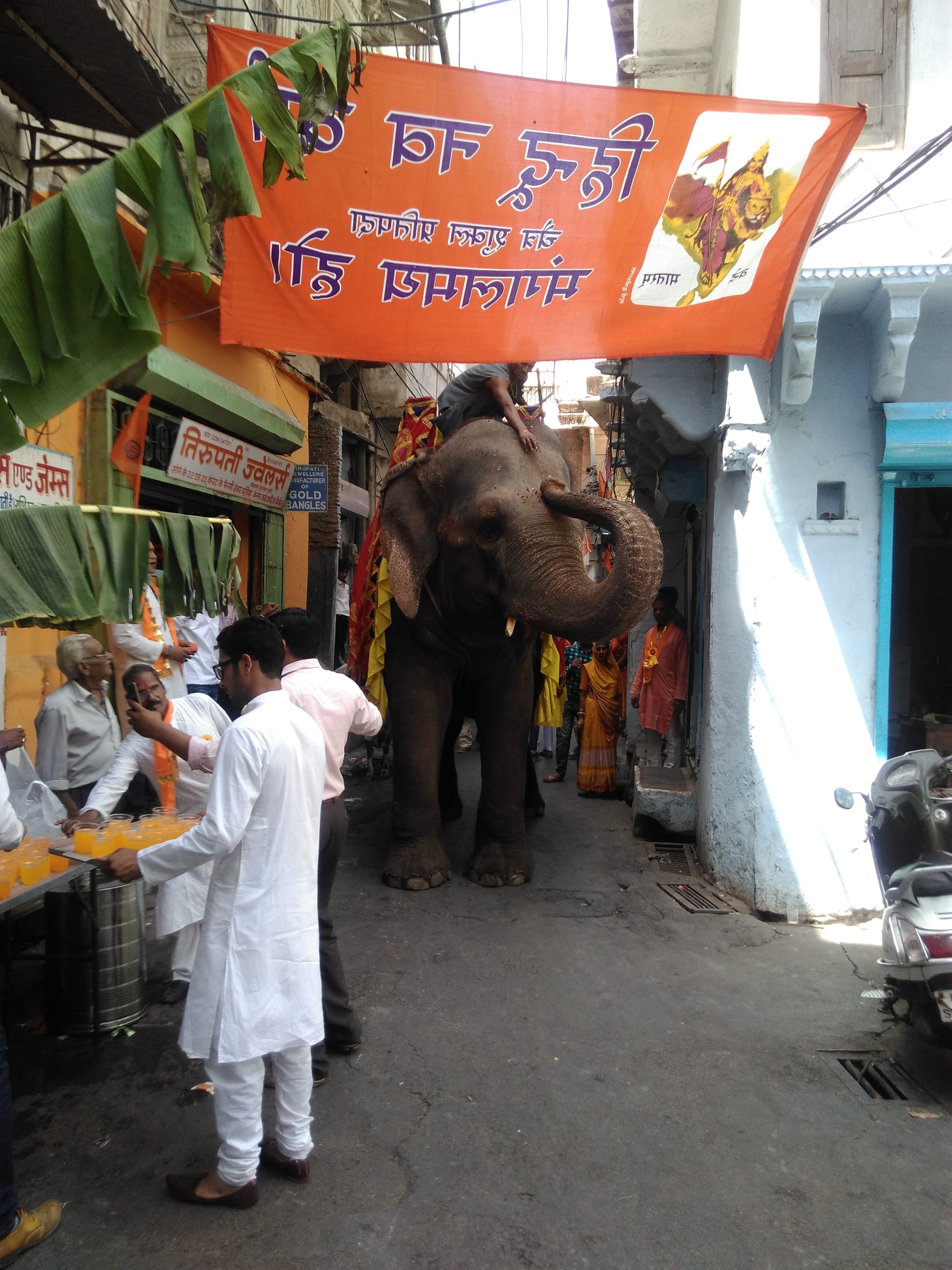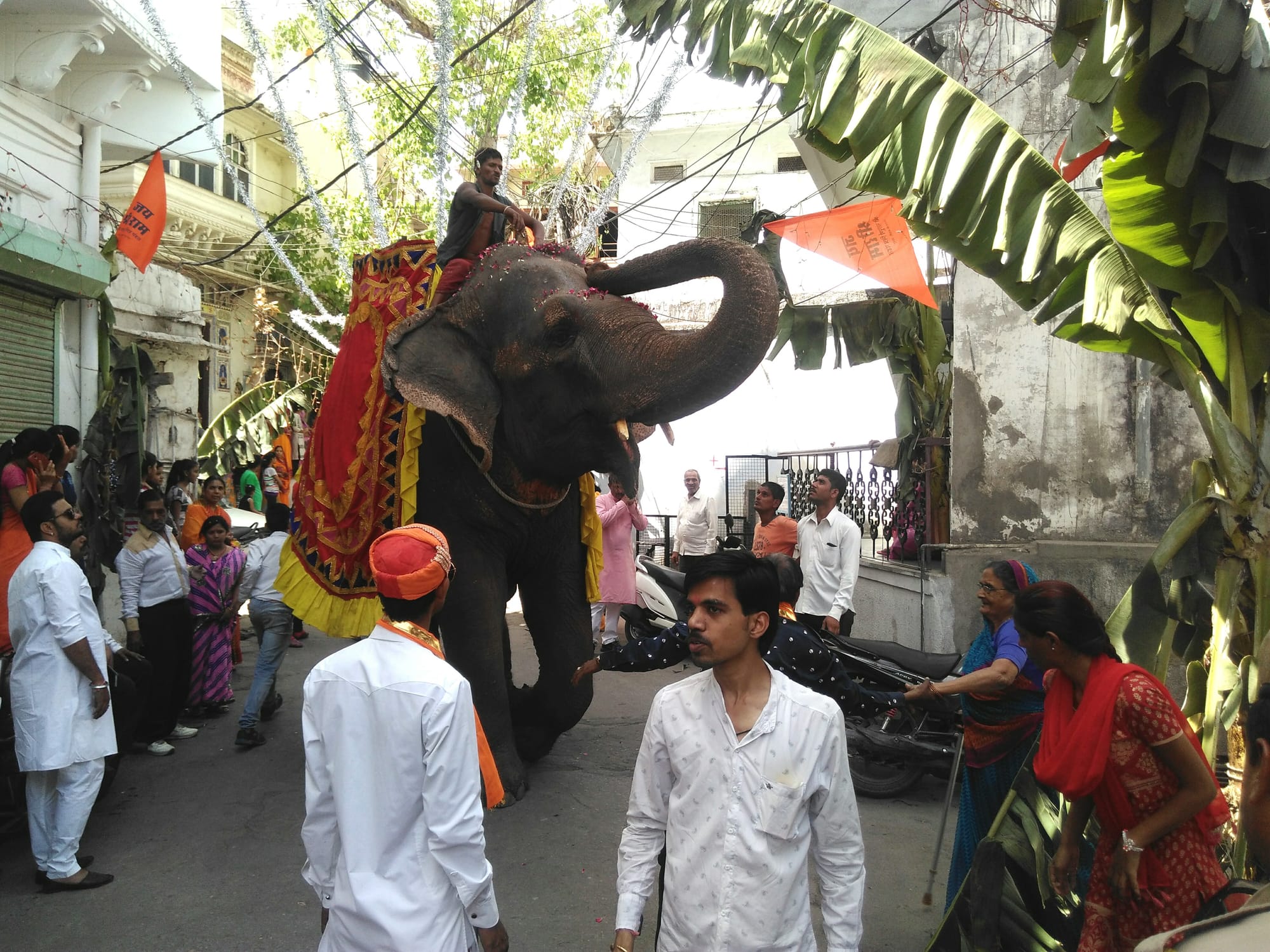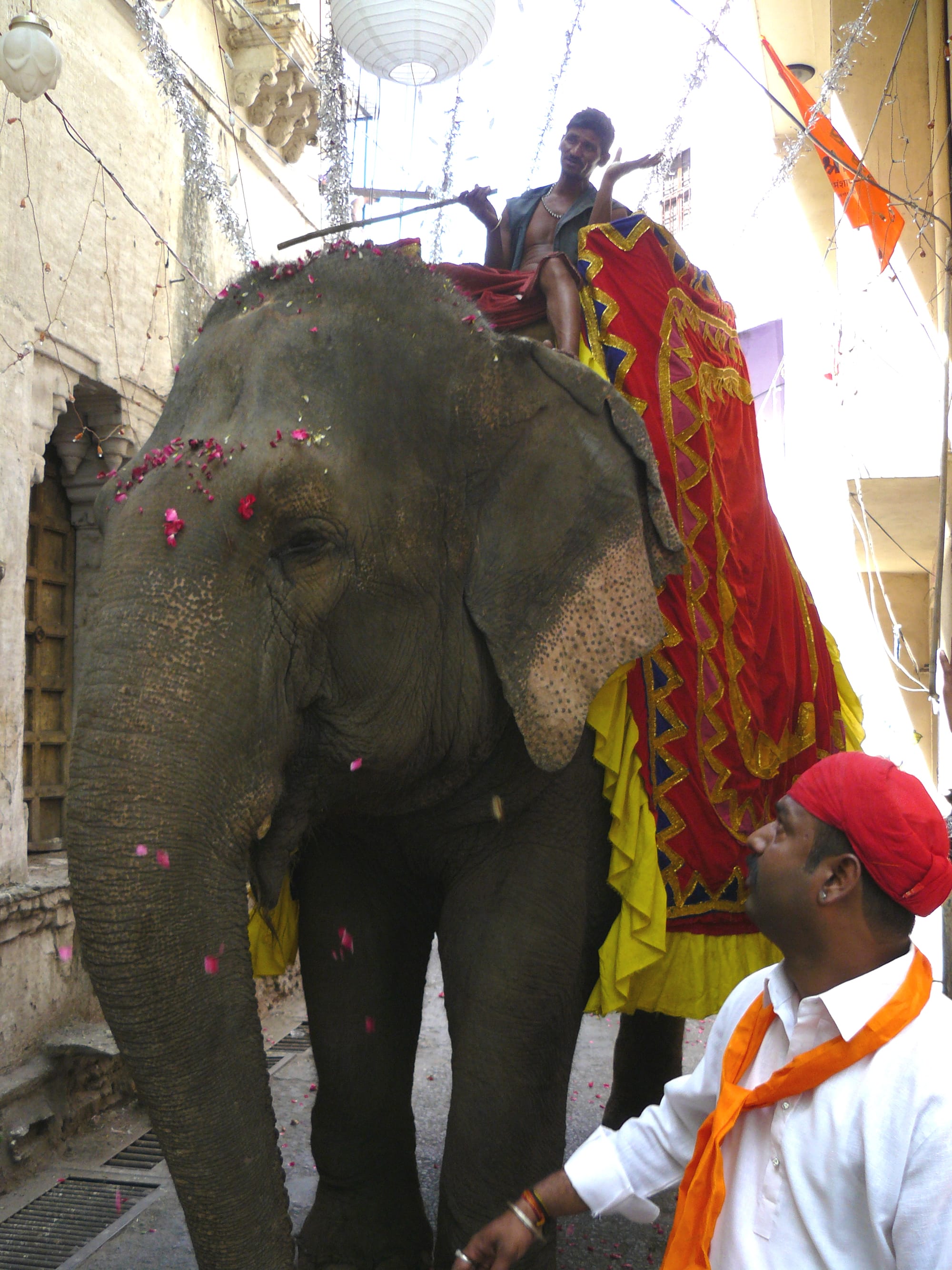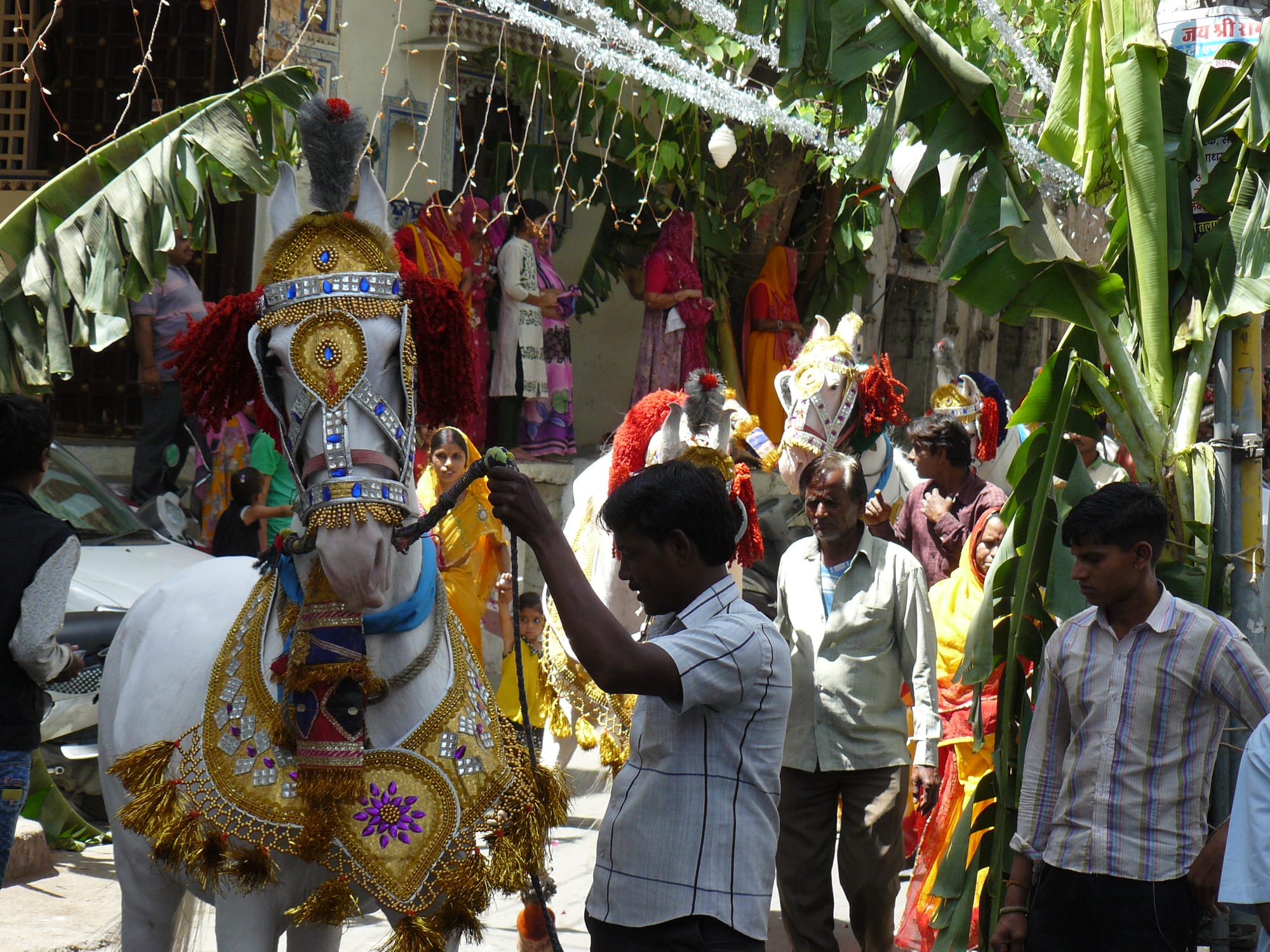 Cooking for the Free "Dal Bati Churma" Meal at the Ladies Festival on Gangaur Ghat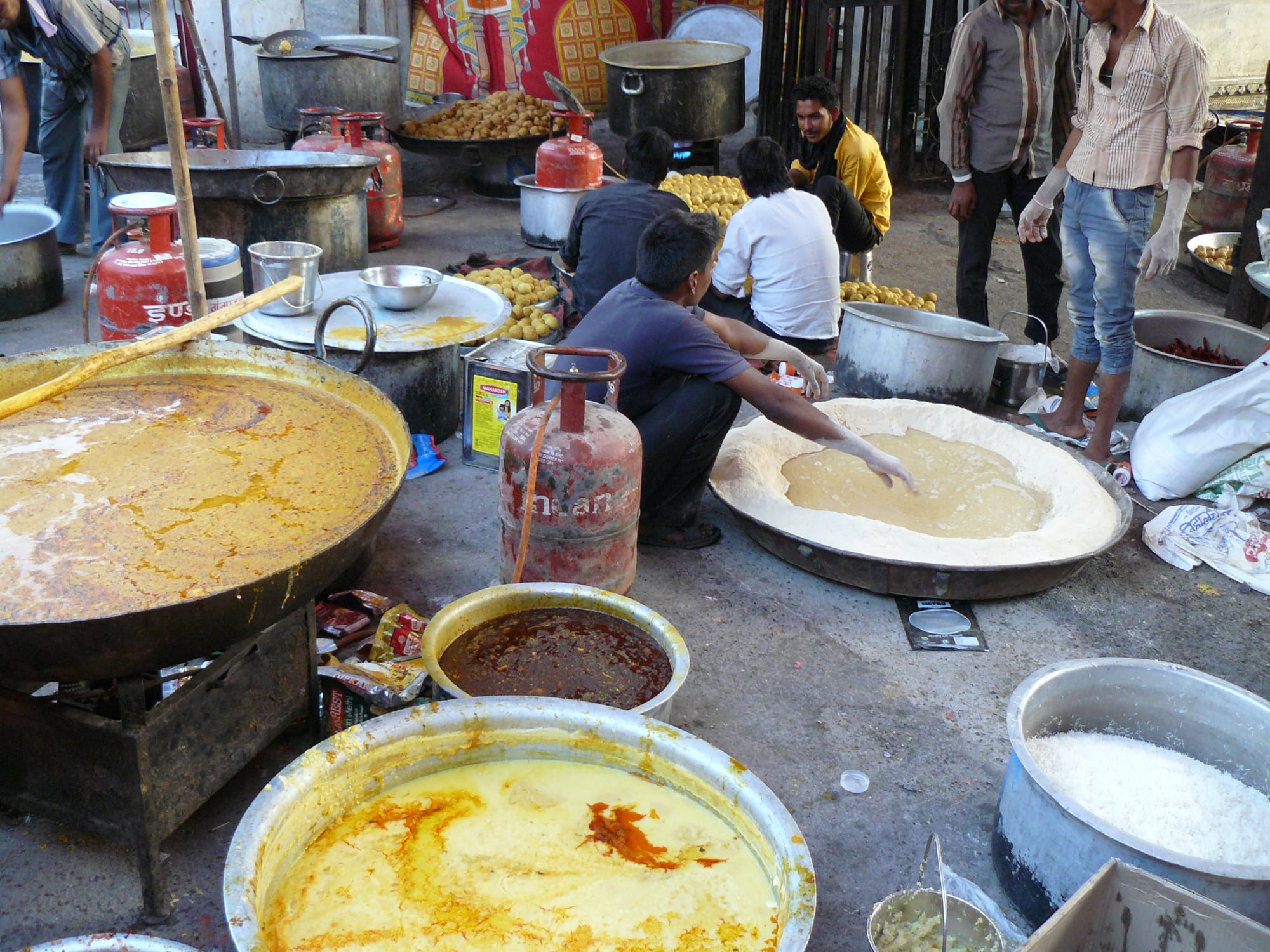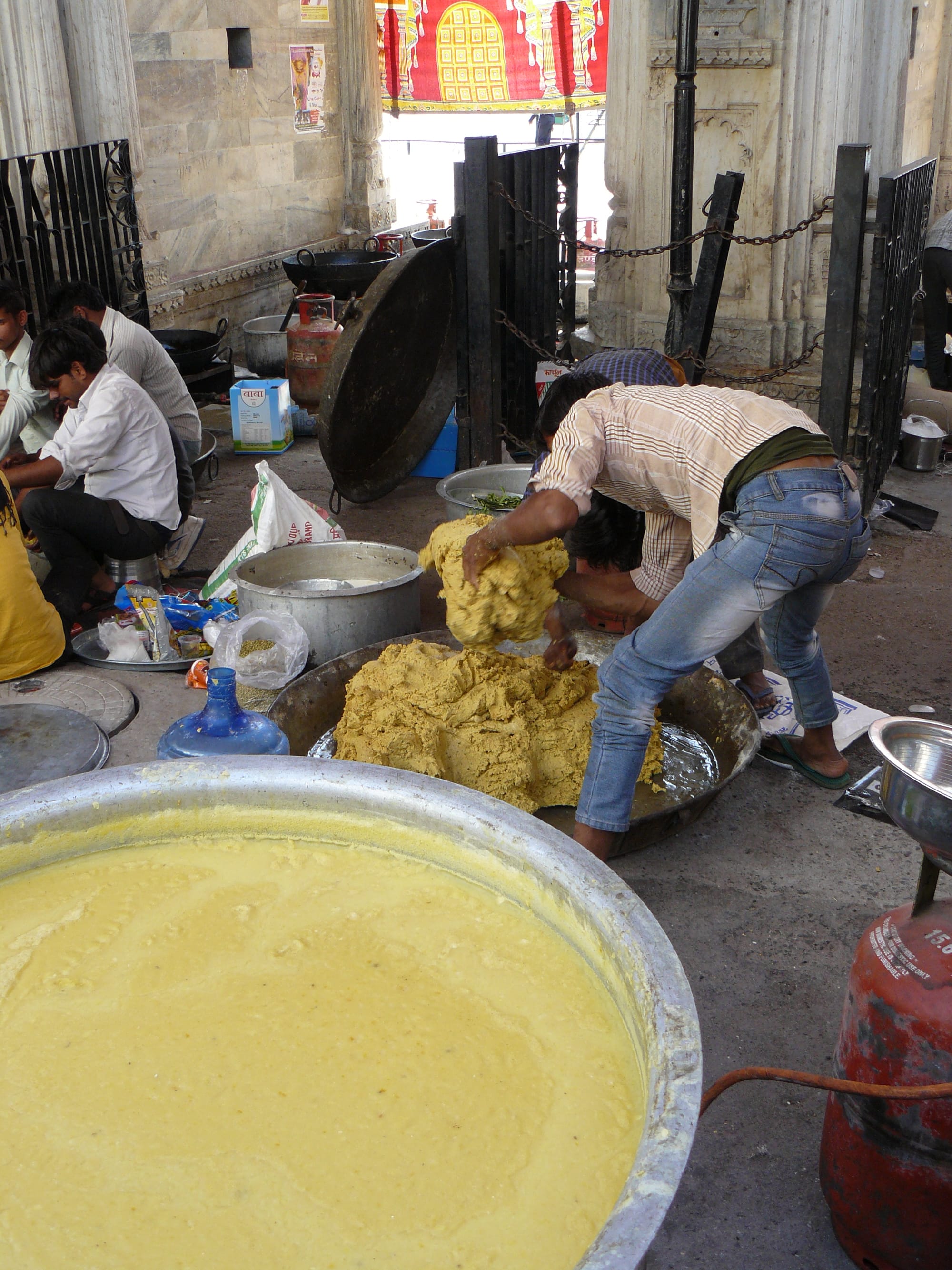 There's enough for 2000 people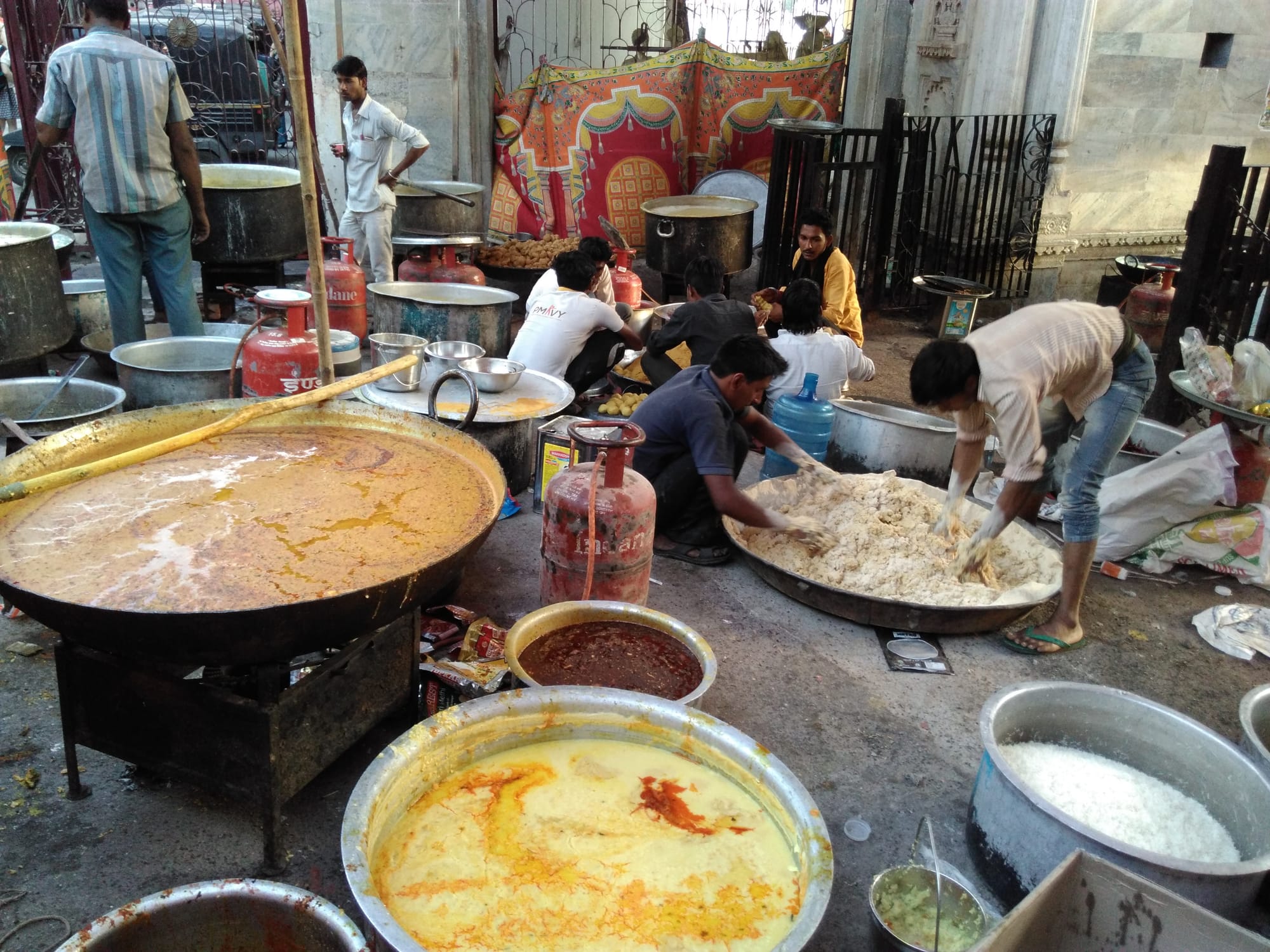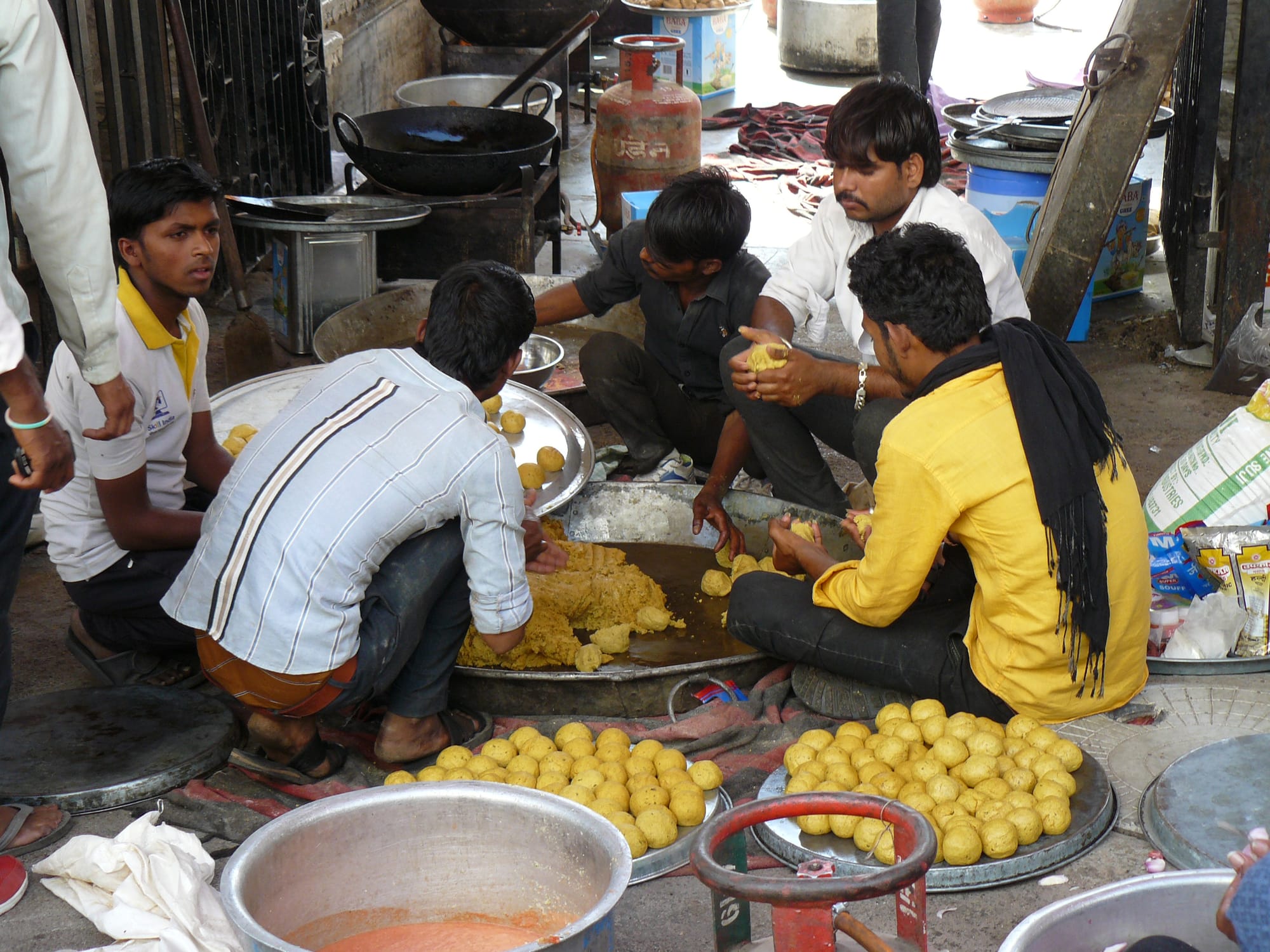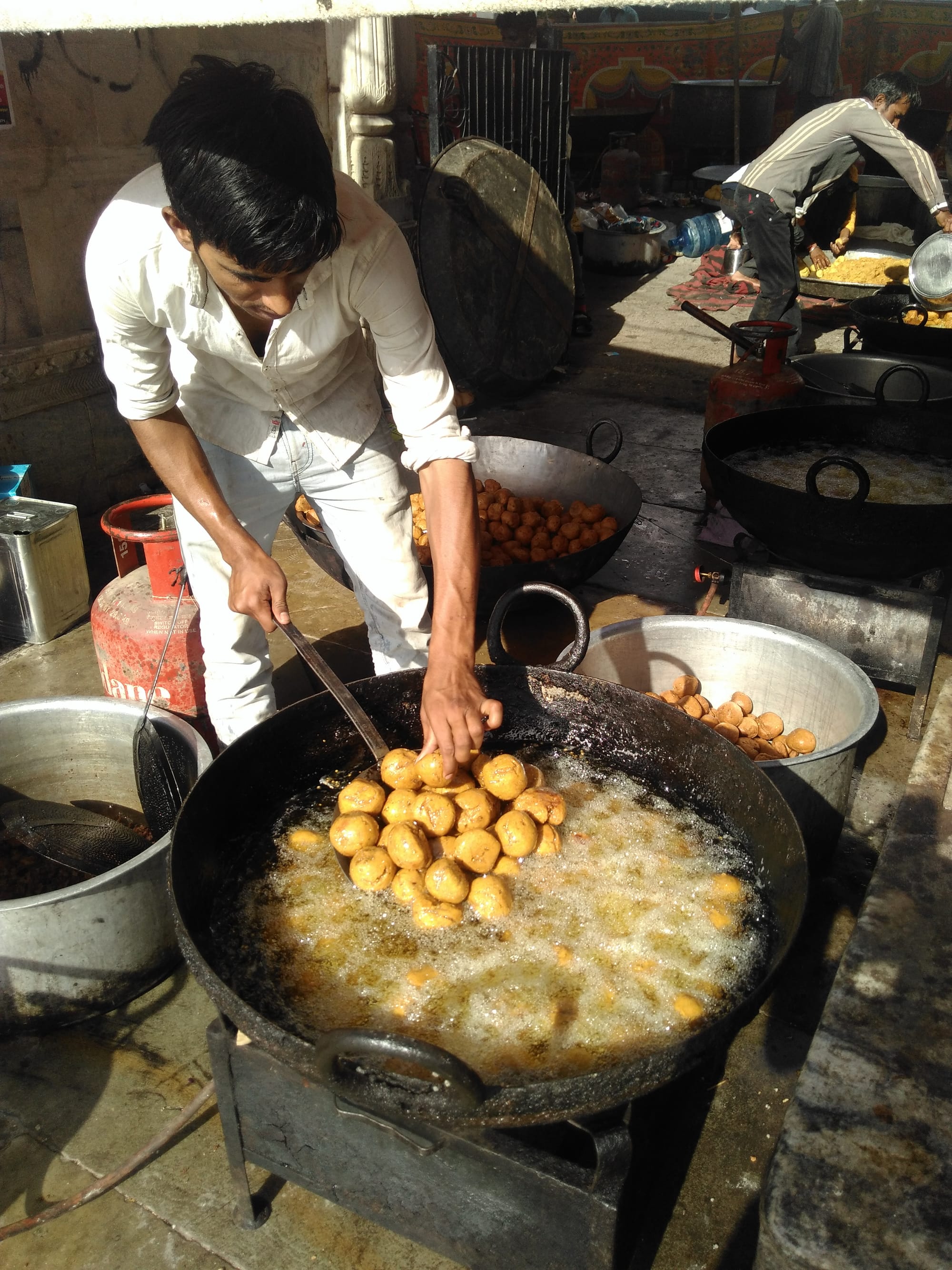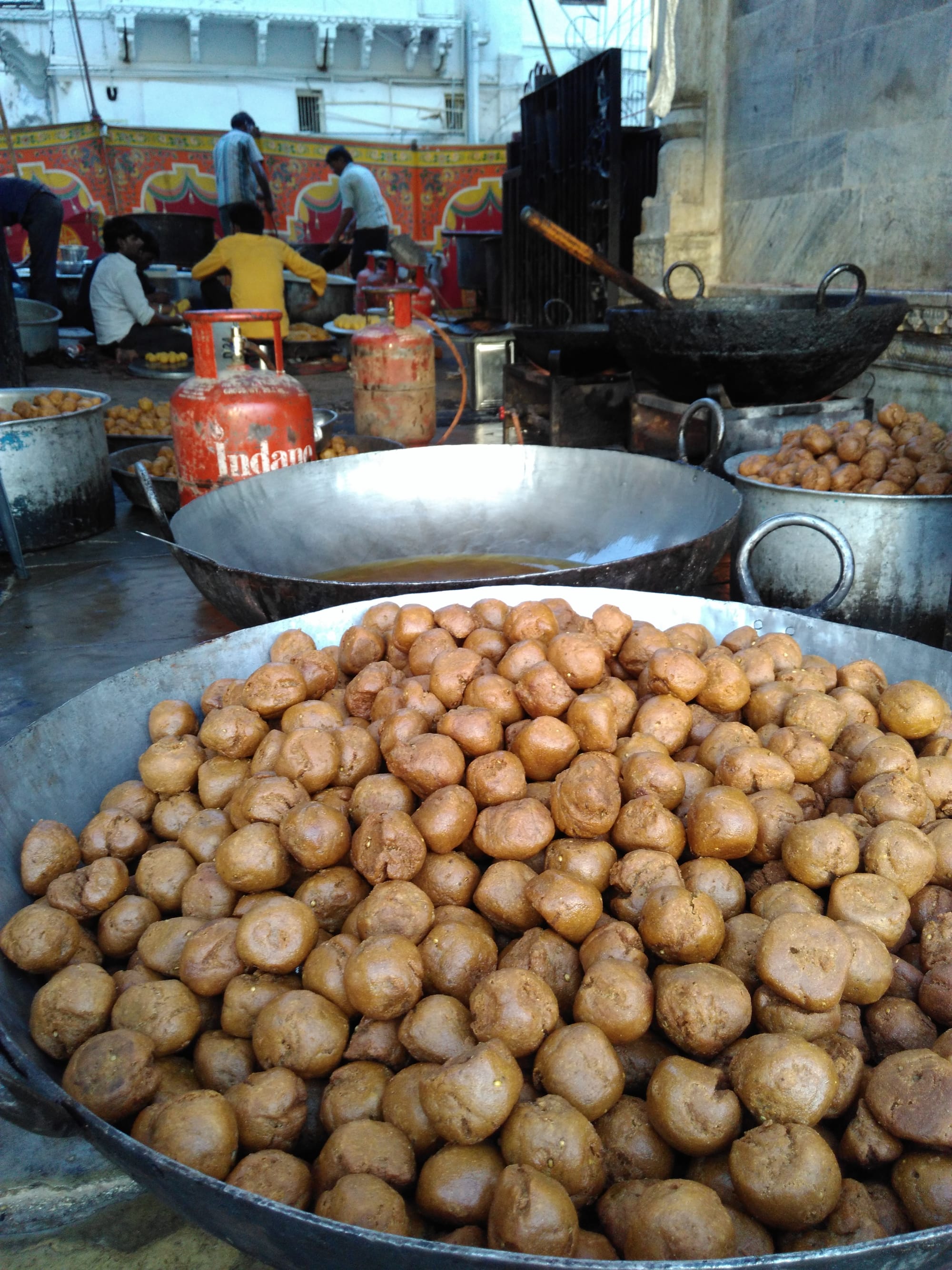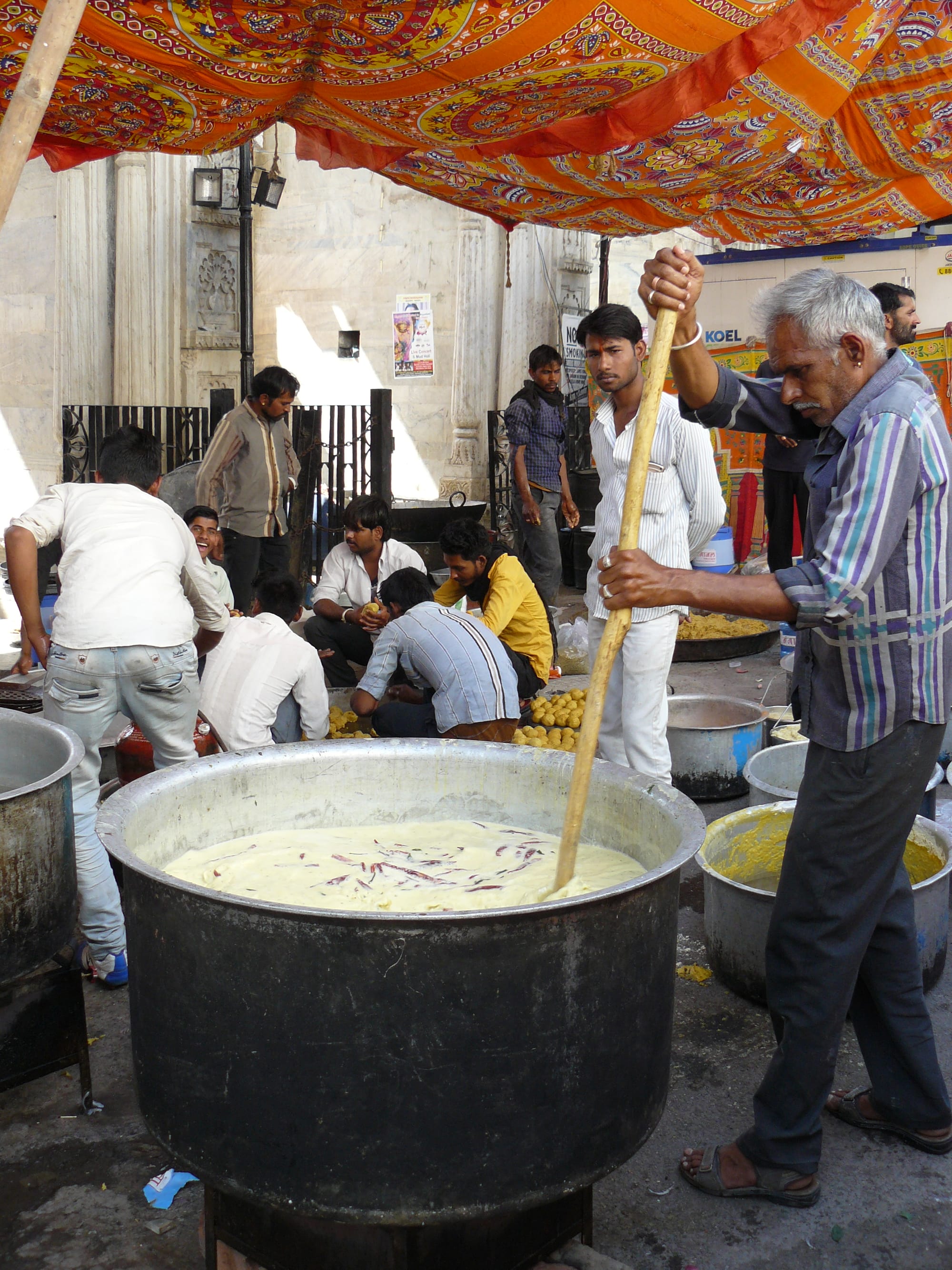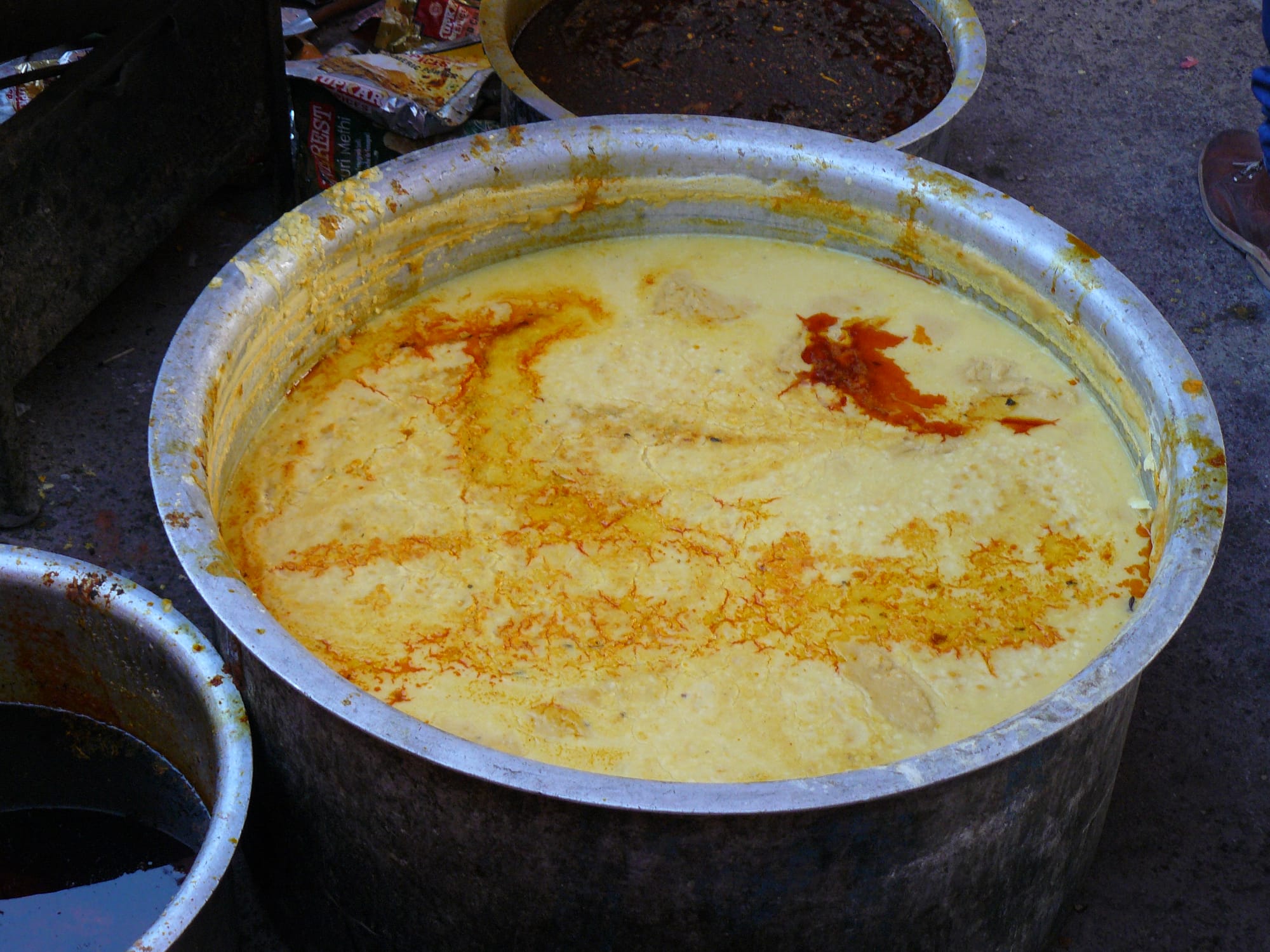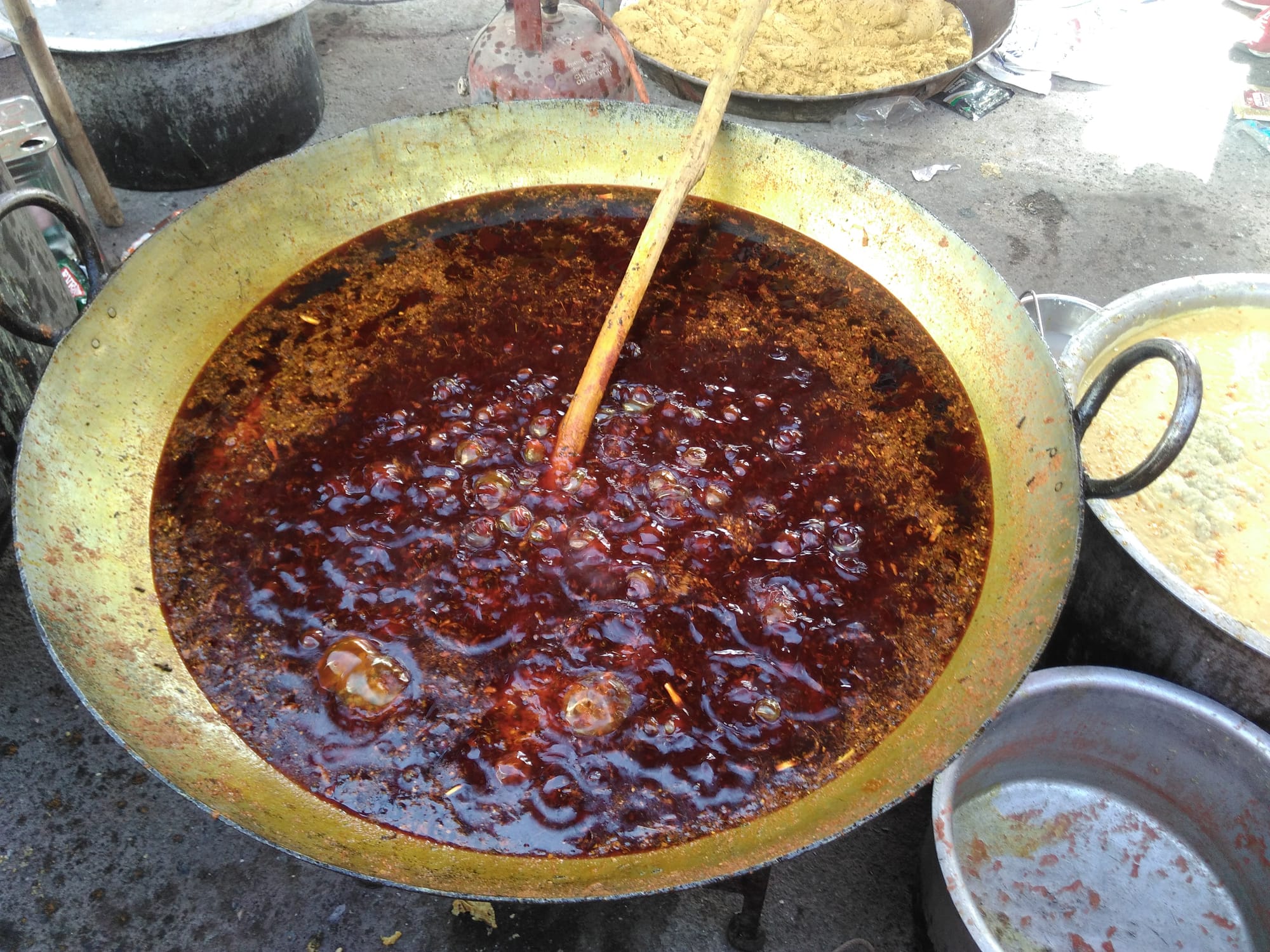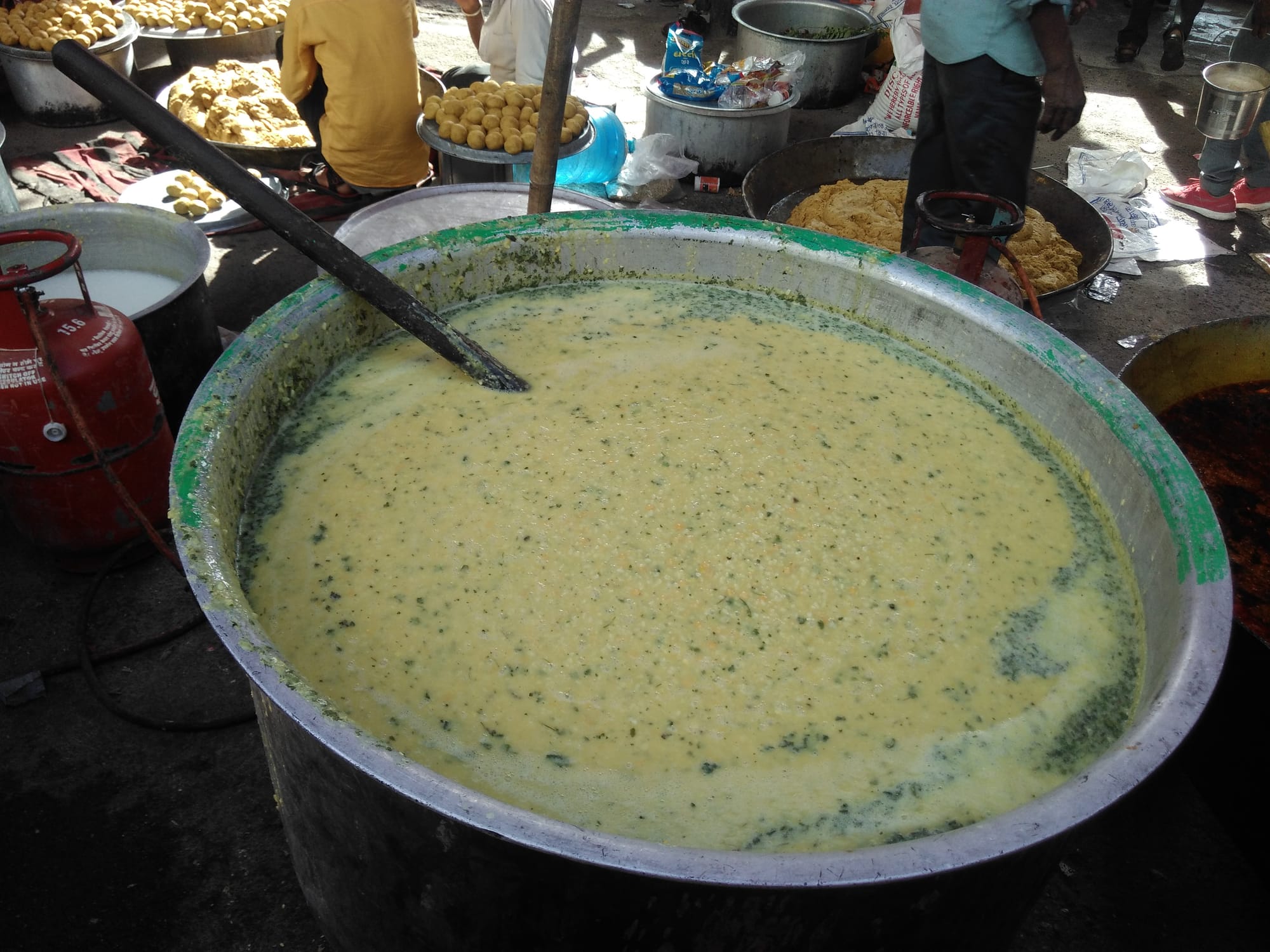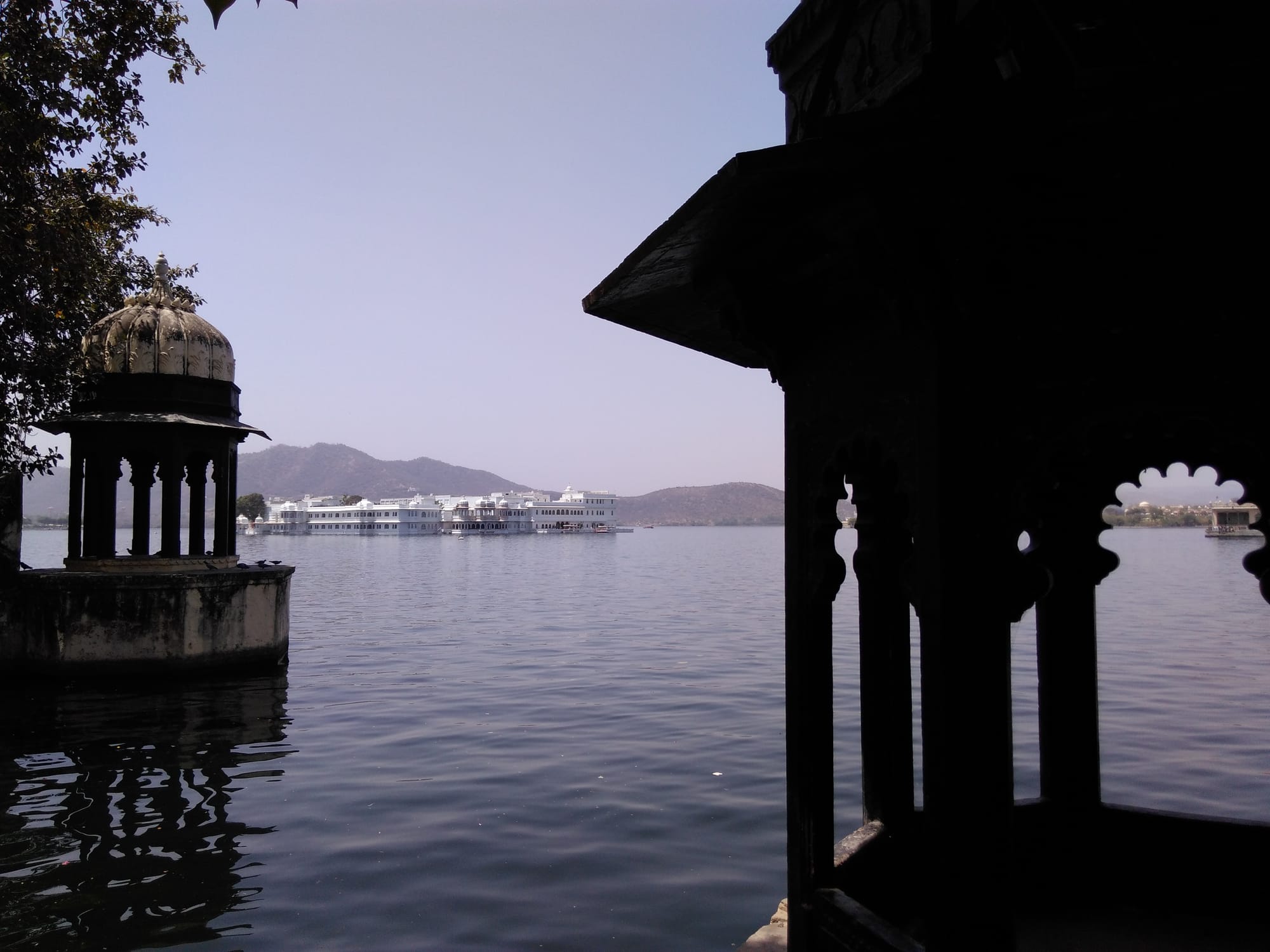 Simple is best !! Fresh Food Café, Udaipur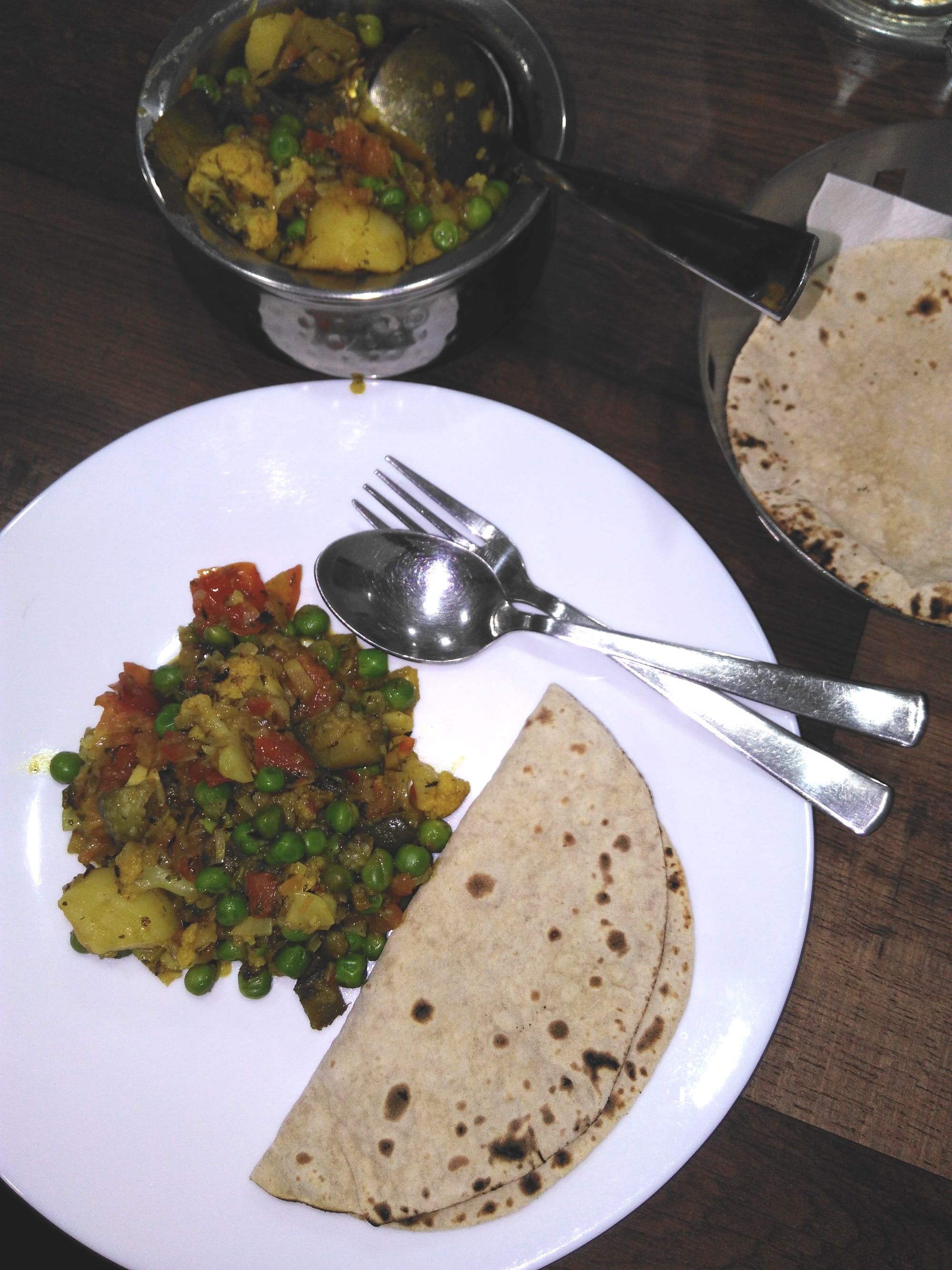 Gangaur Ghat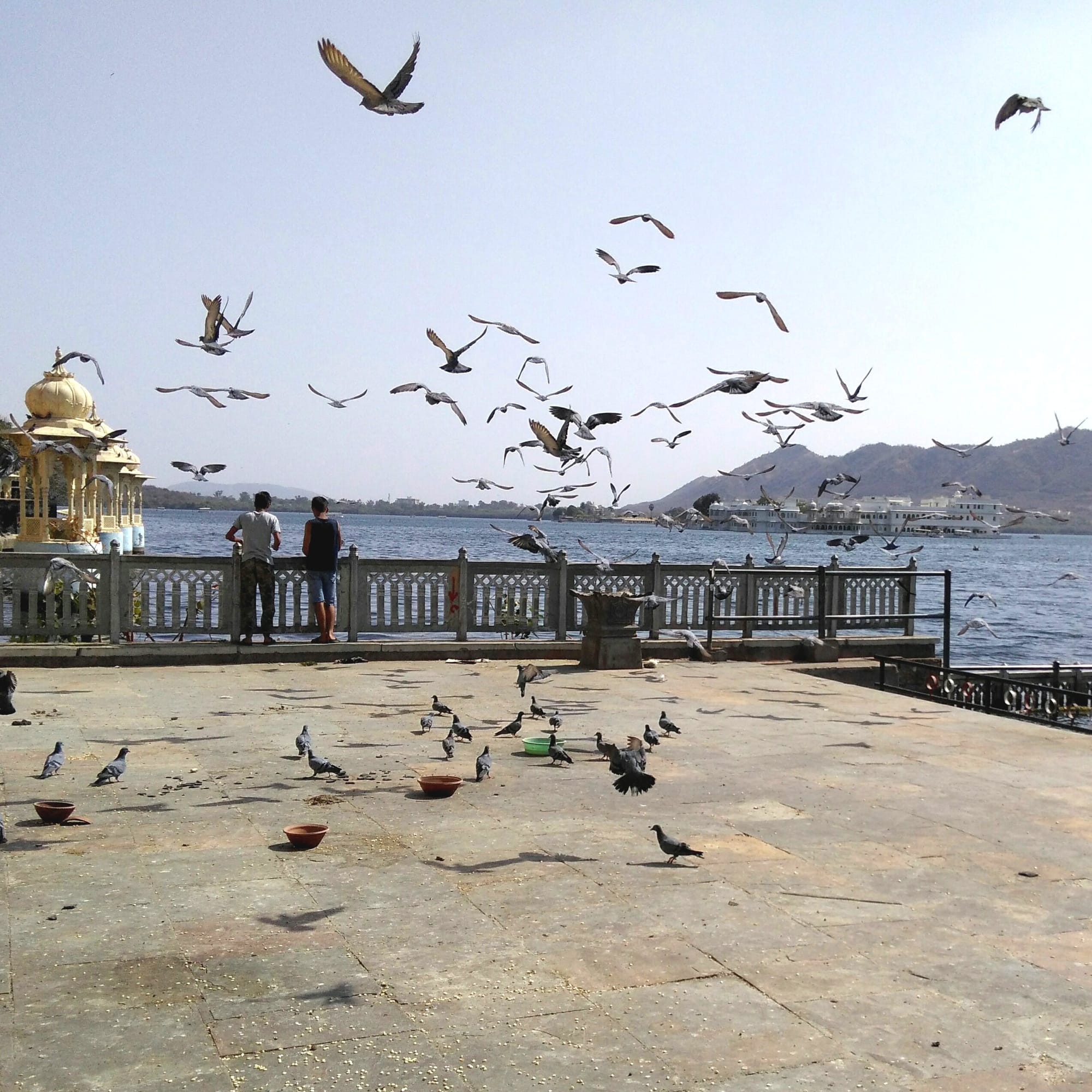 Wall Painting inside Udaipur City Railway Station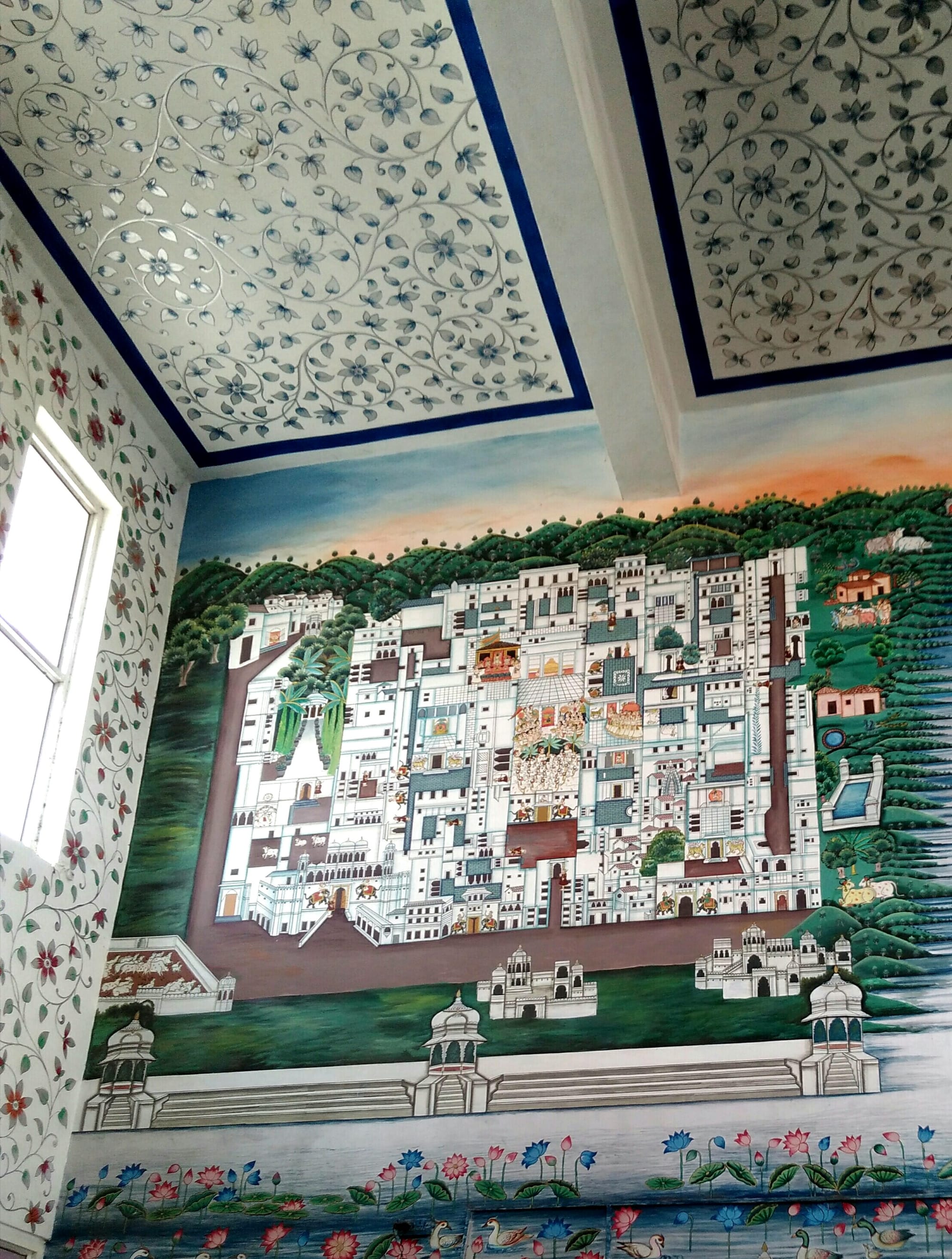 Outside Udaipur City Railway Station
I leave behind several friends and my month of Hindi classes and head for Rishikesh & Laxman Jhula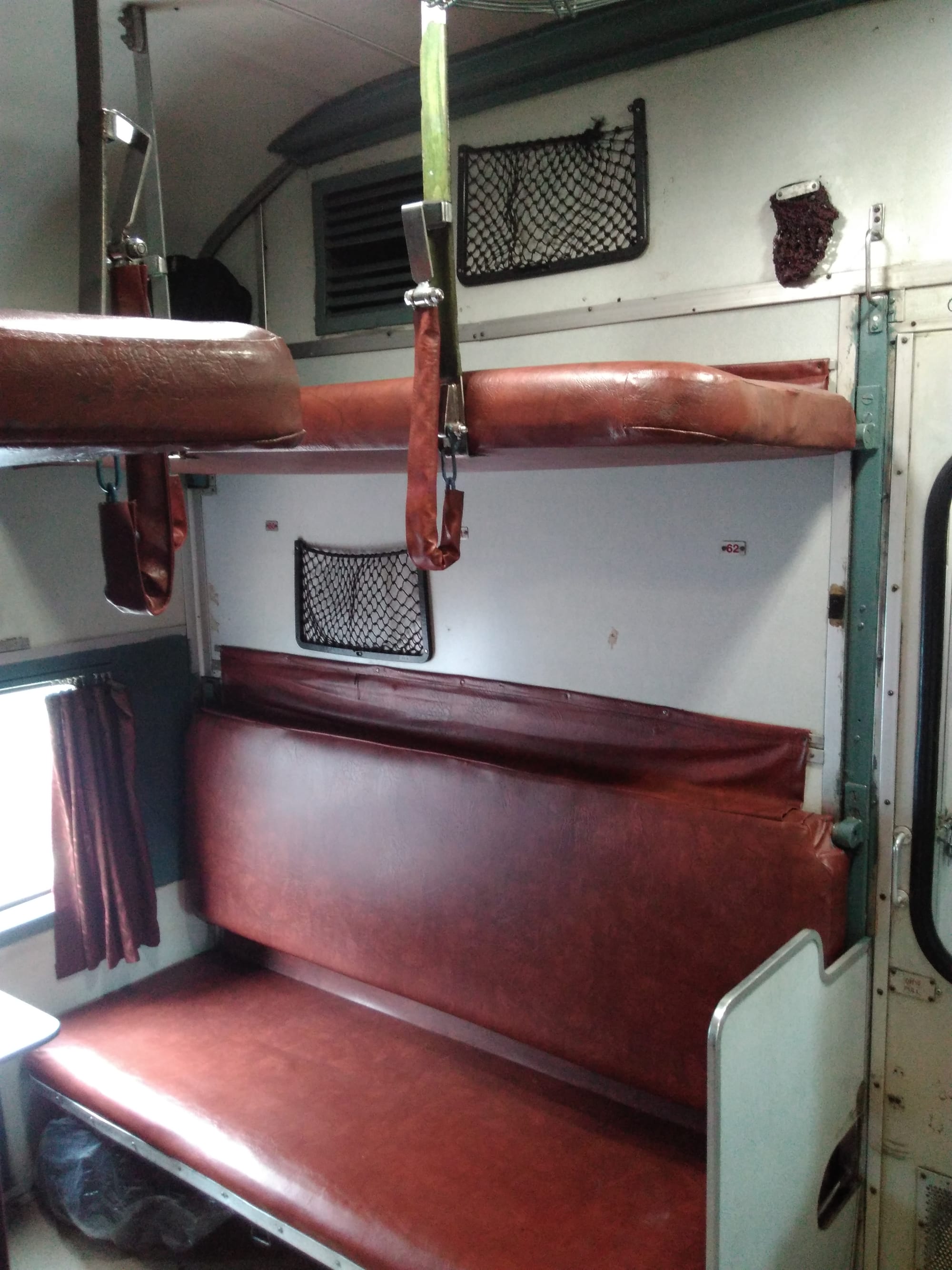 This spookily quiet carriage filled up in the first 45 minutes of the 13 hour journey from Udaiapur to Haridwar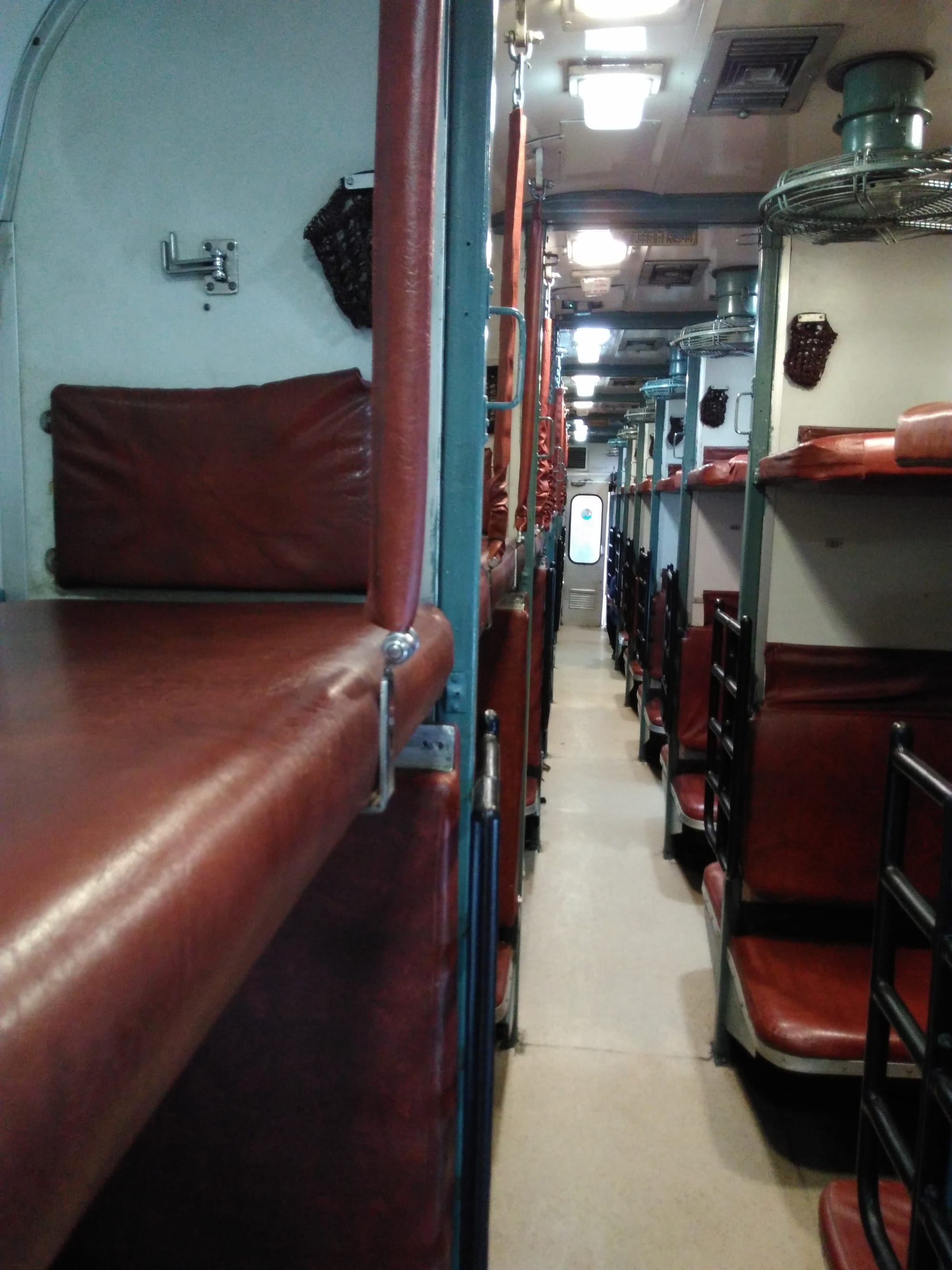 45 minutes from Haridwar Station, I arrive in Laxman Jhula / Rishikesh - Renowned centre for Yoga and Meditation.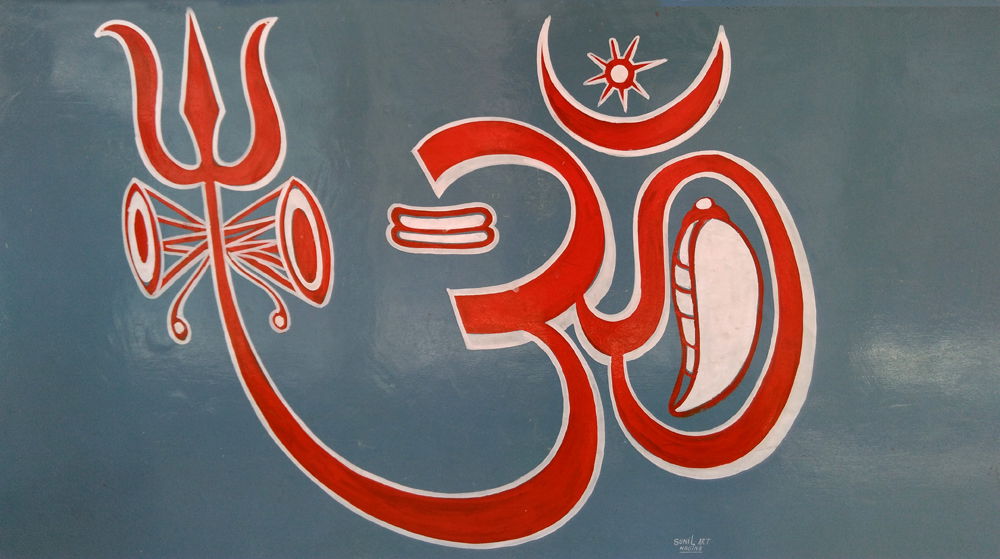 I like drinking my morning chai on the street, like this one here in Laxman Jhula, where you can watch the town waking up and people greeting the new day.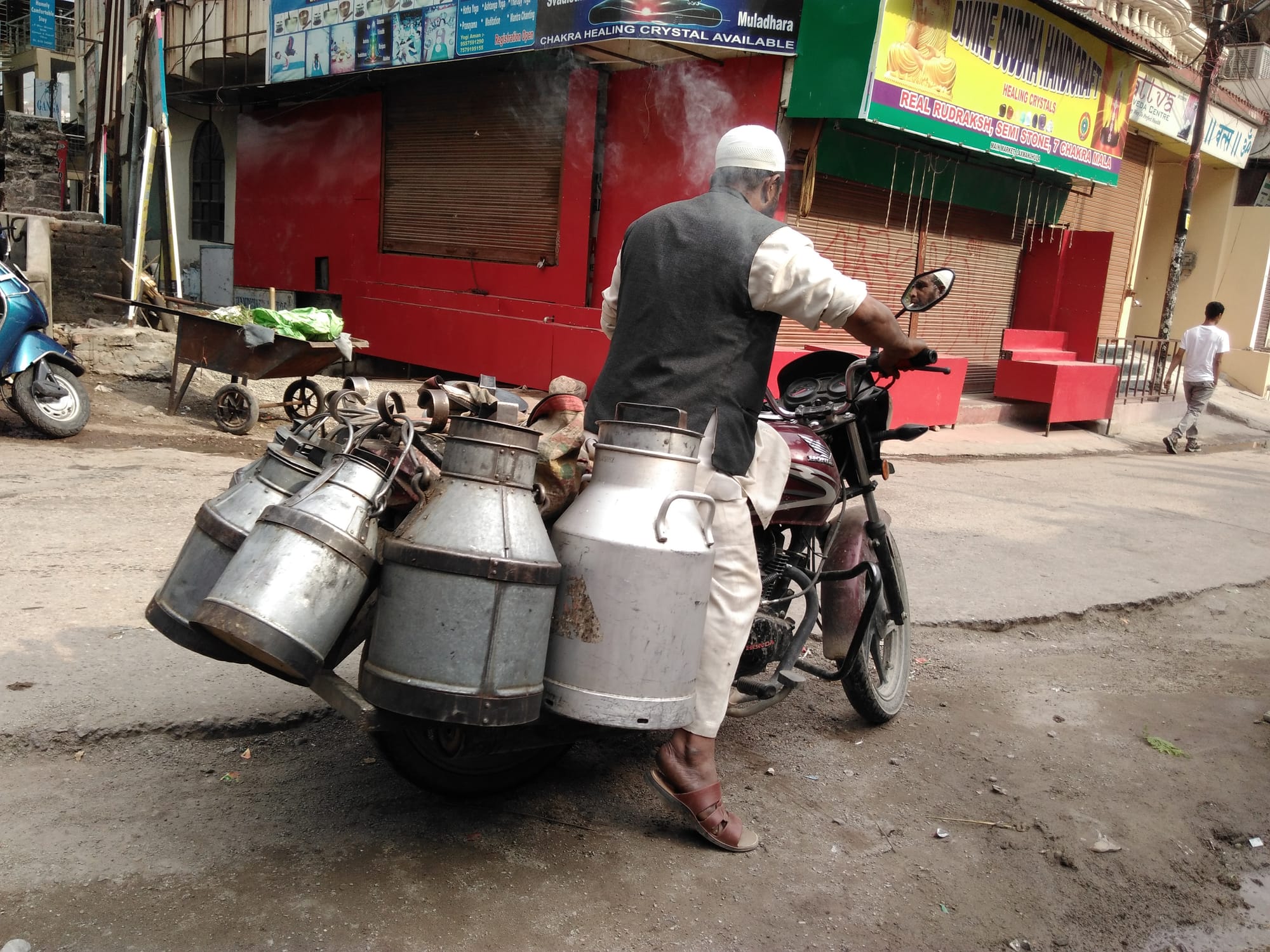 Gurus, Babas and Sadhus are some of the first people to appear in the morning.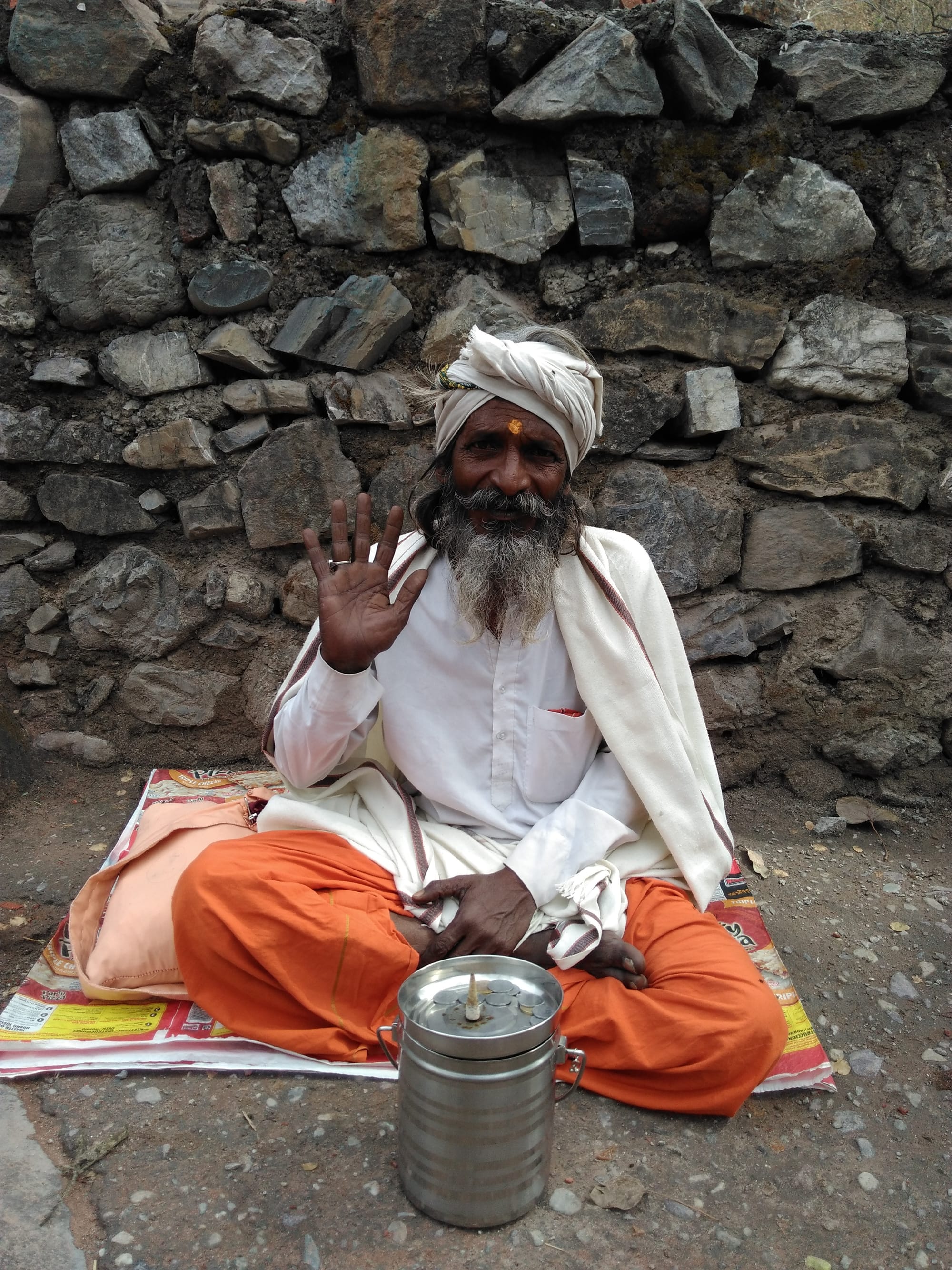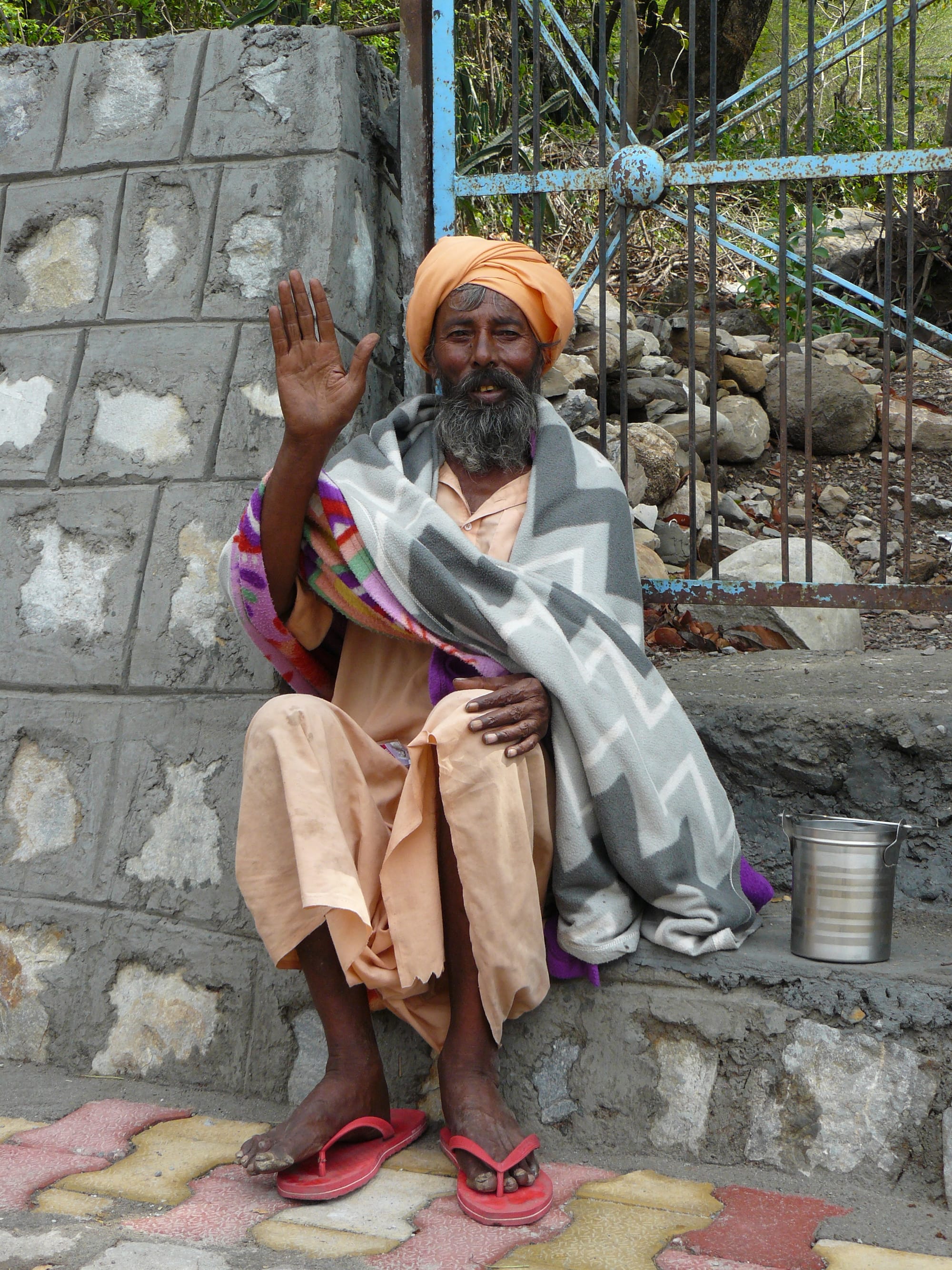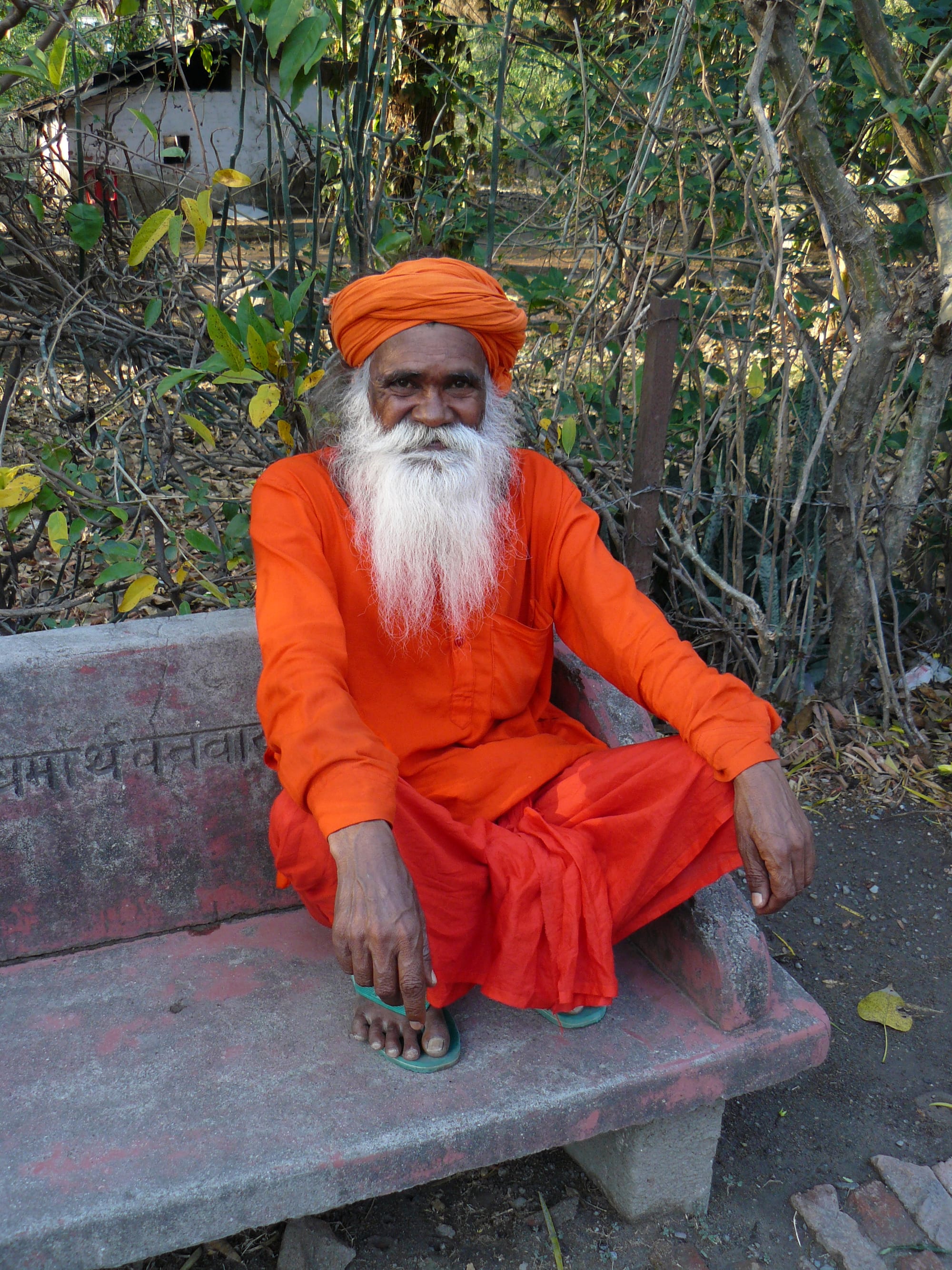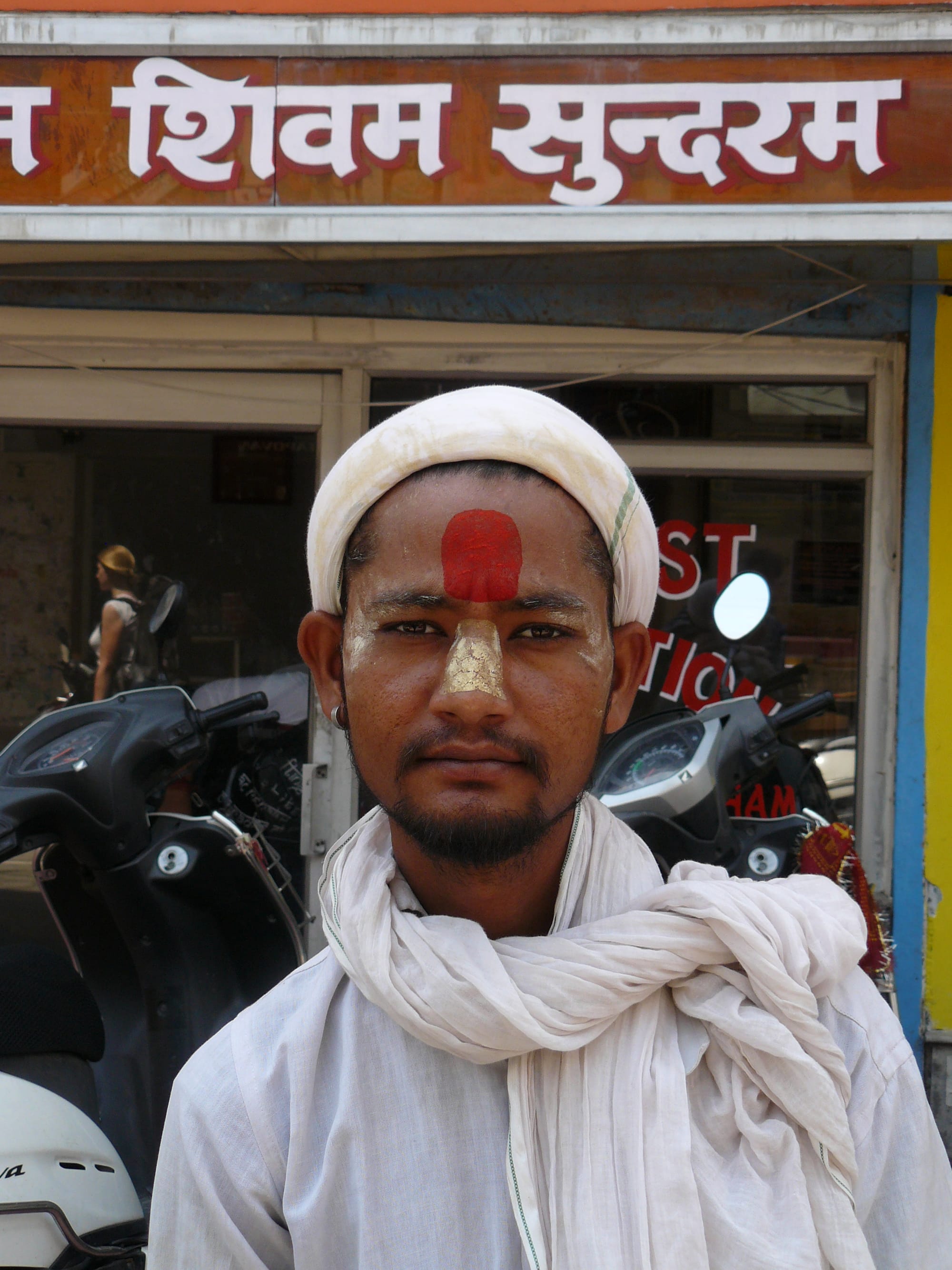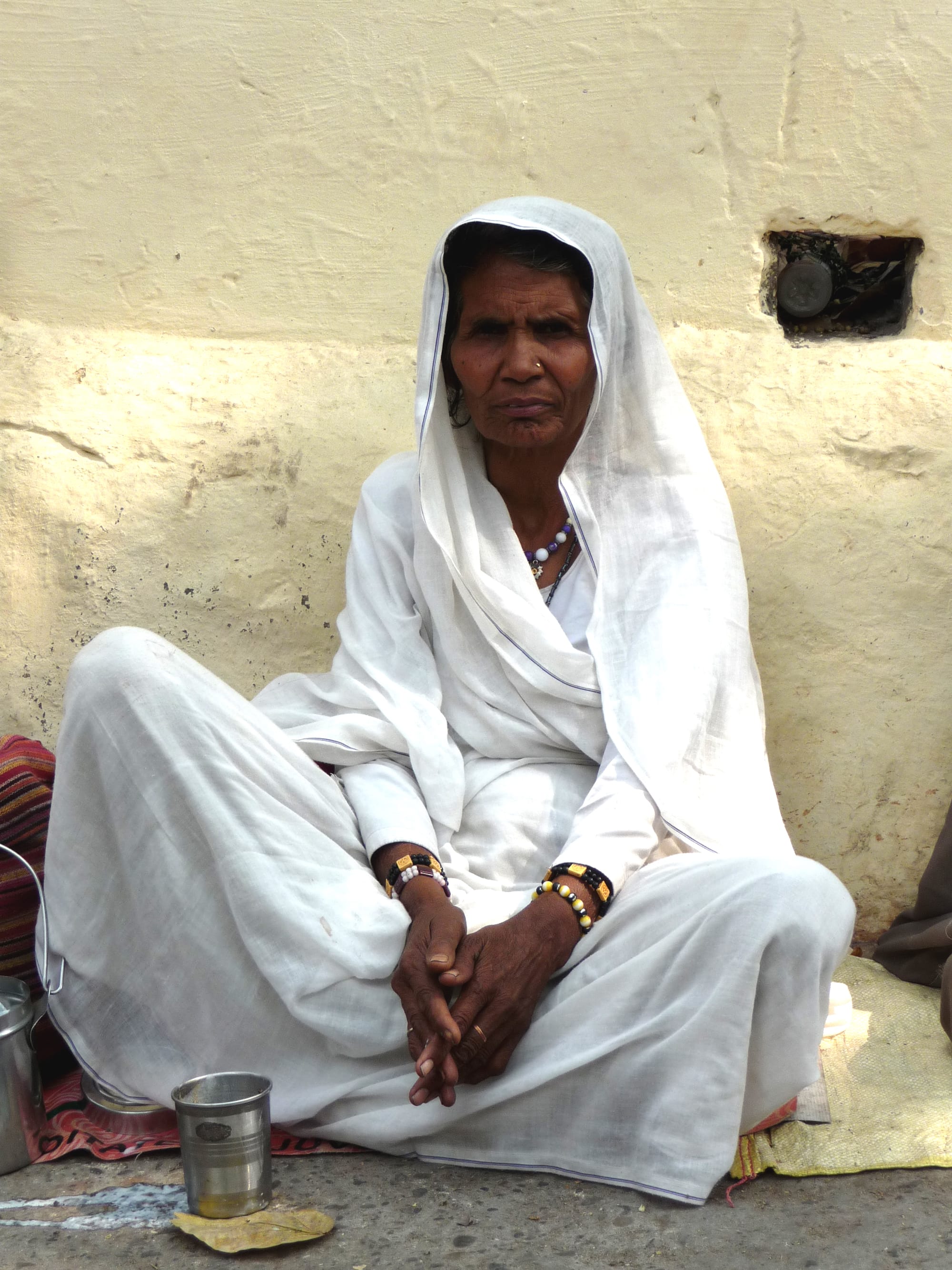 Morning Greeting from Shiva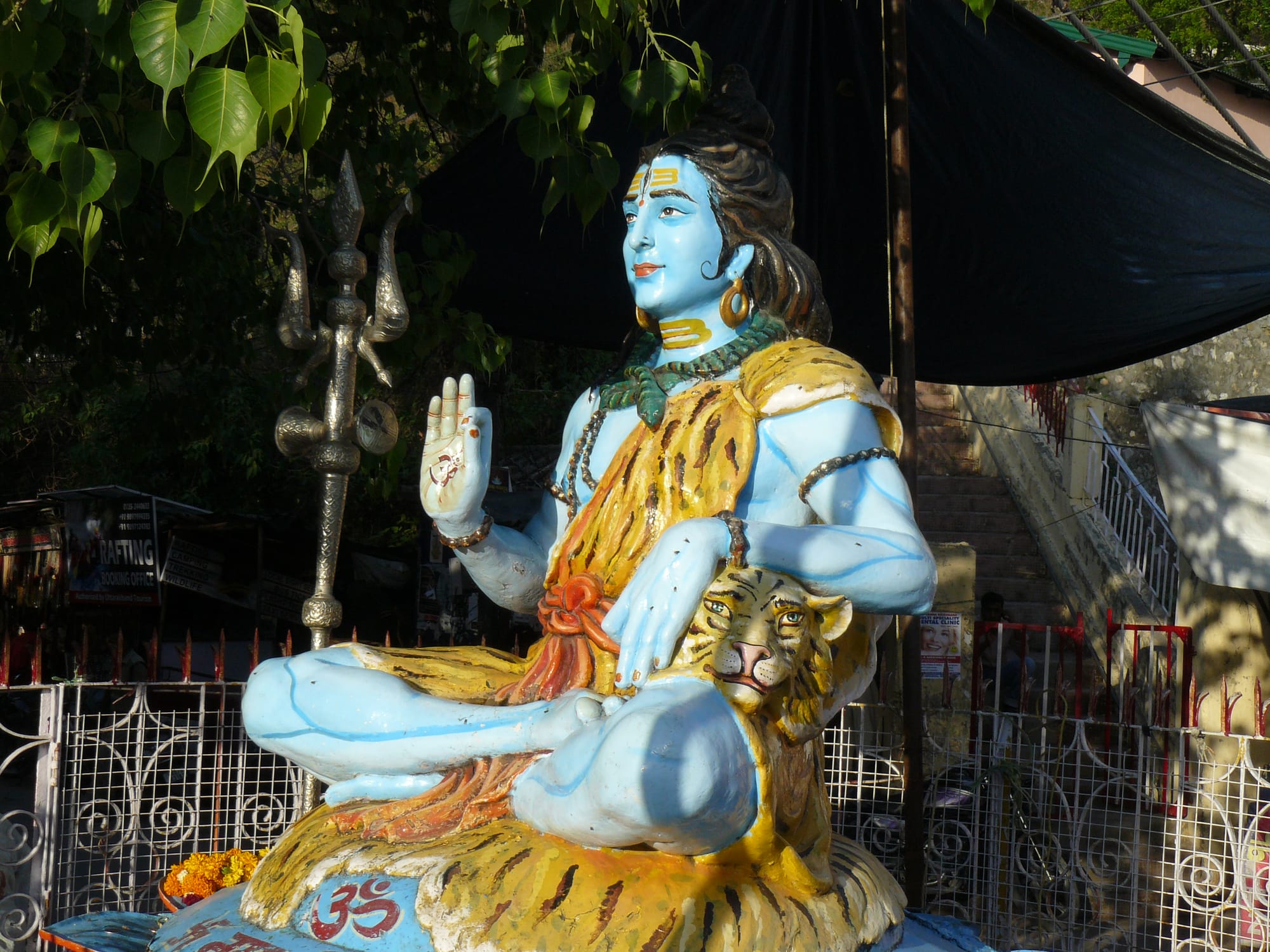 Some people have more difficulty getting up in the morning.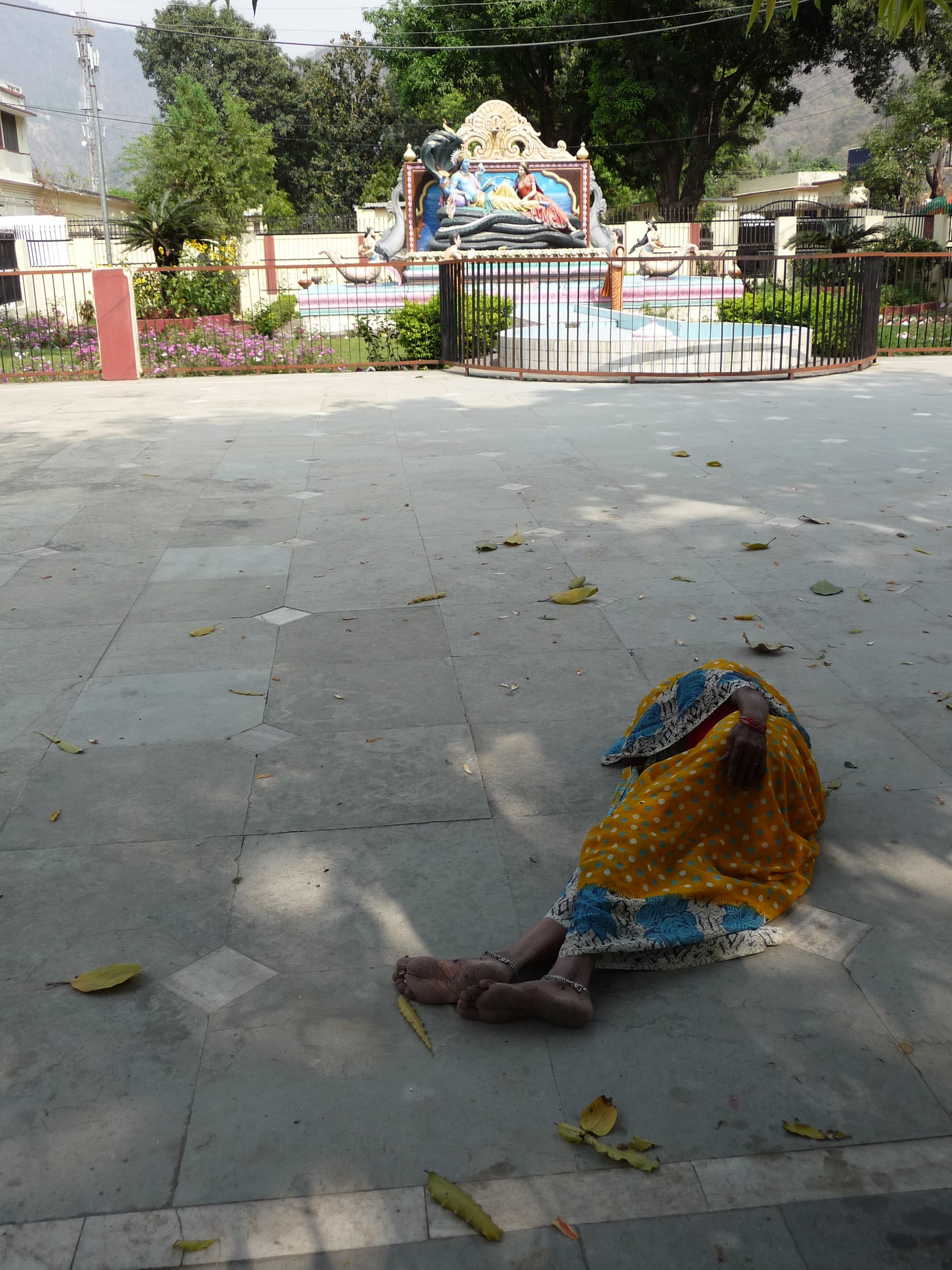 Morning Puja under Laxman Jhula Bridge.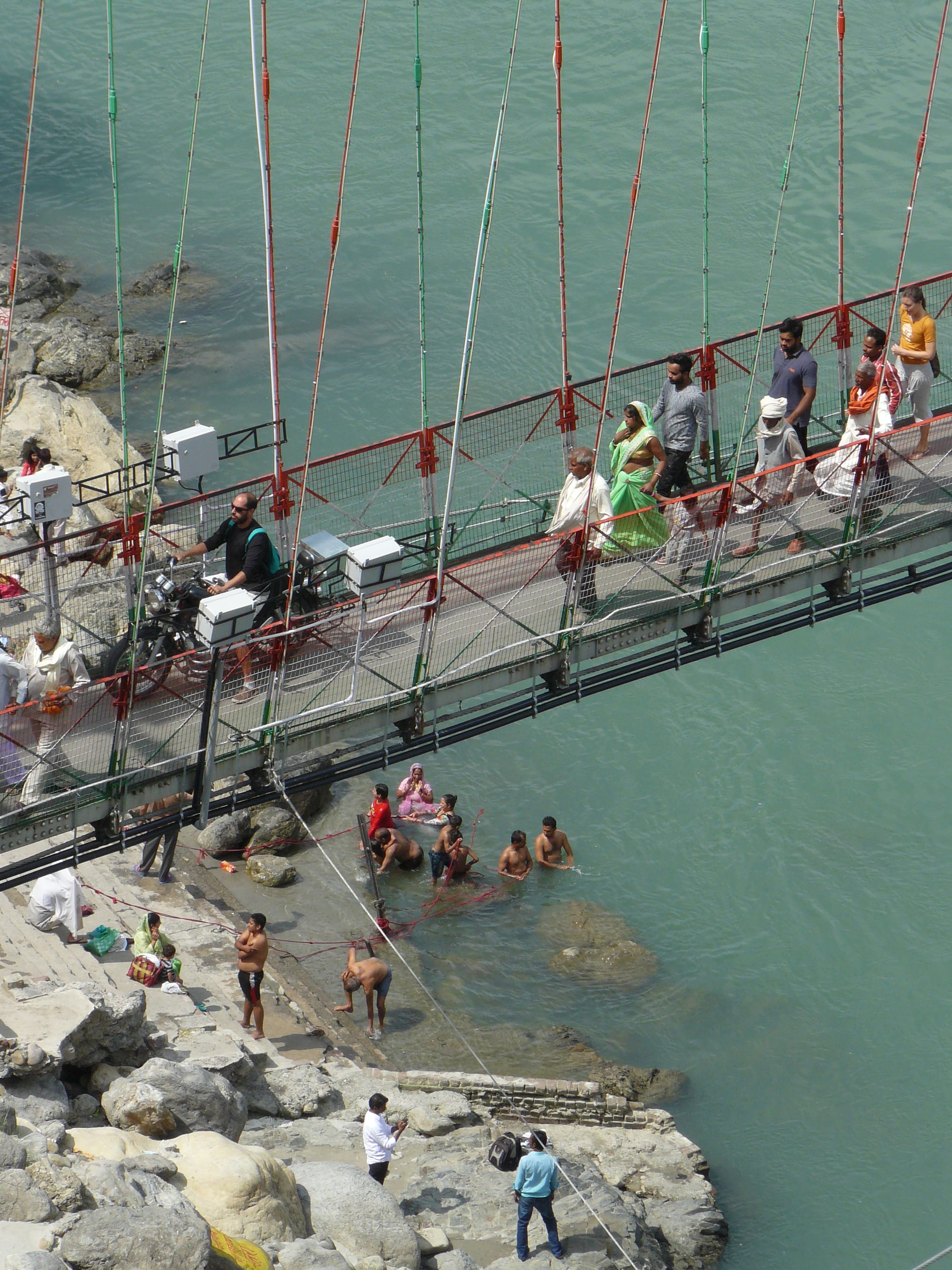 Morning Puja in the Ganga with friends.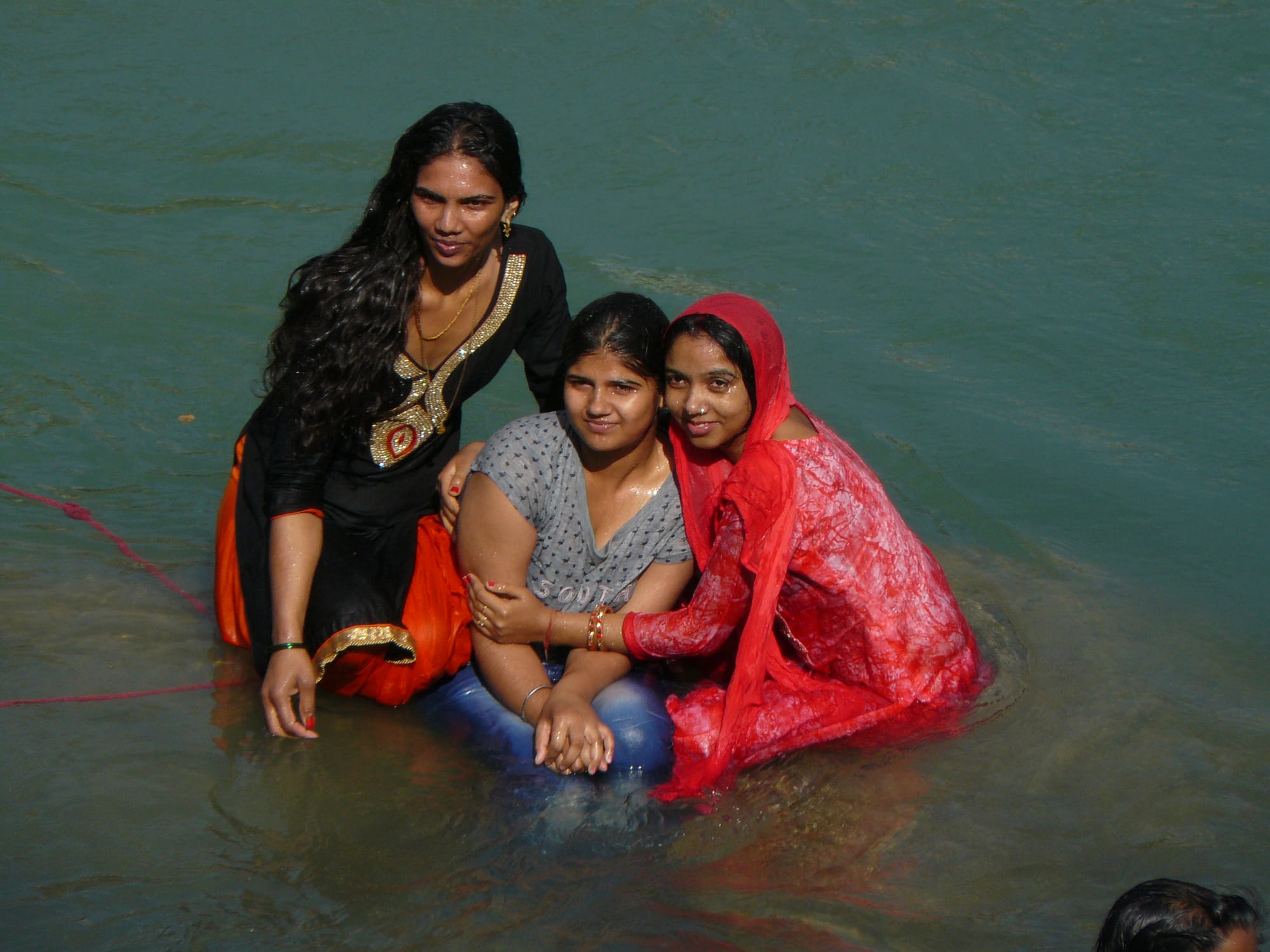 The first of 3 major storms in the 10 days I was in Laxmn Jhula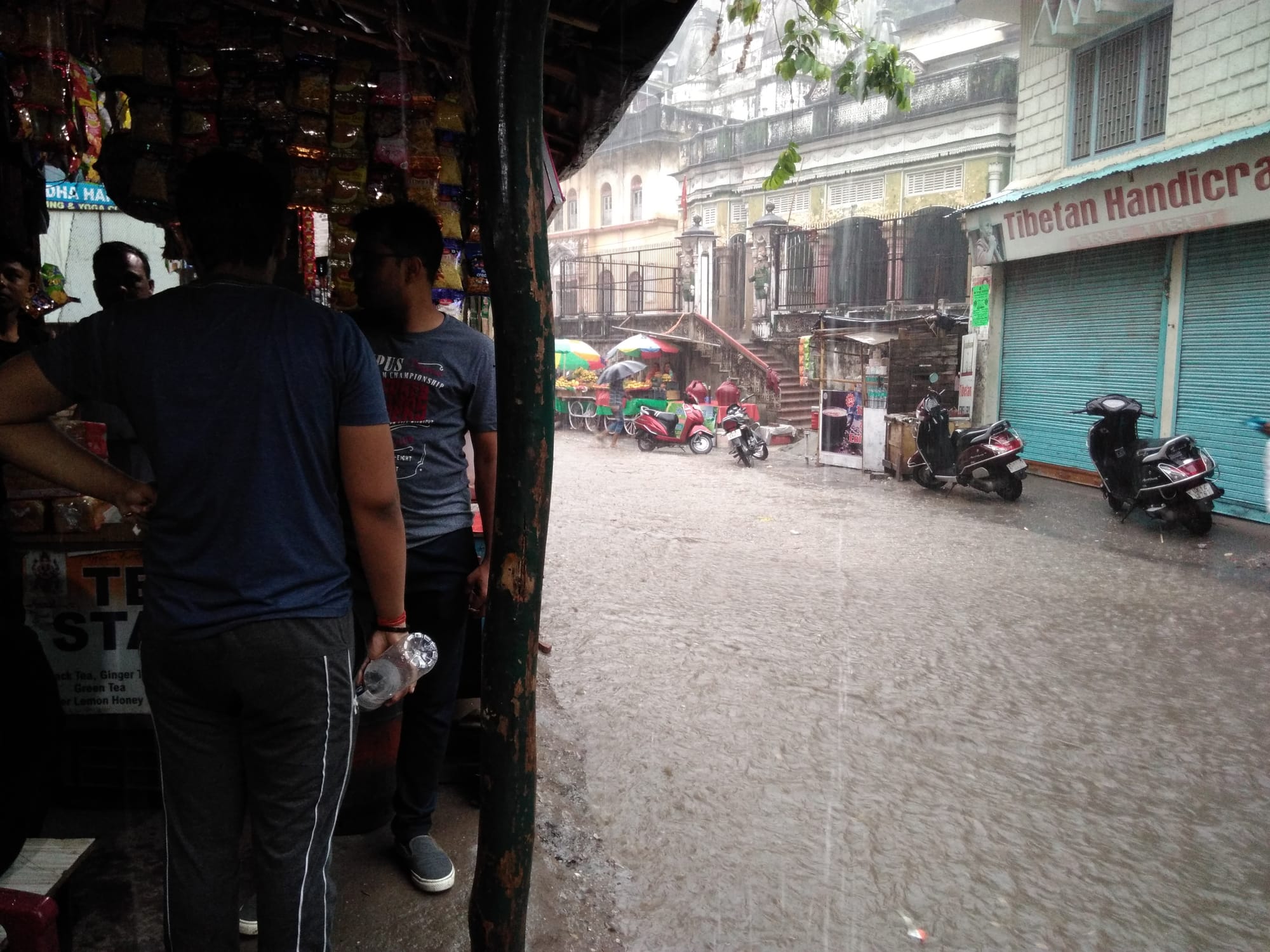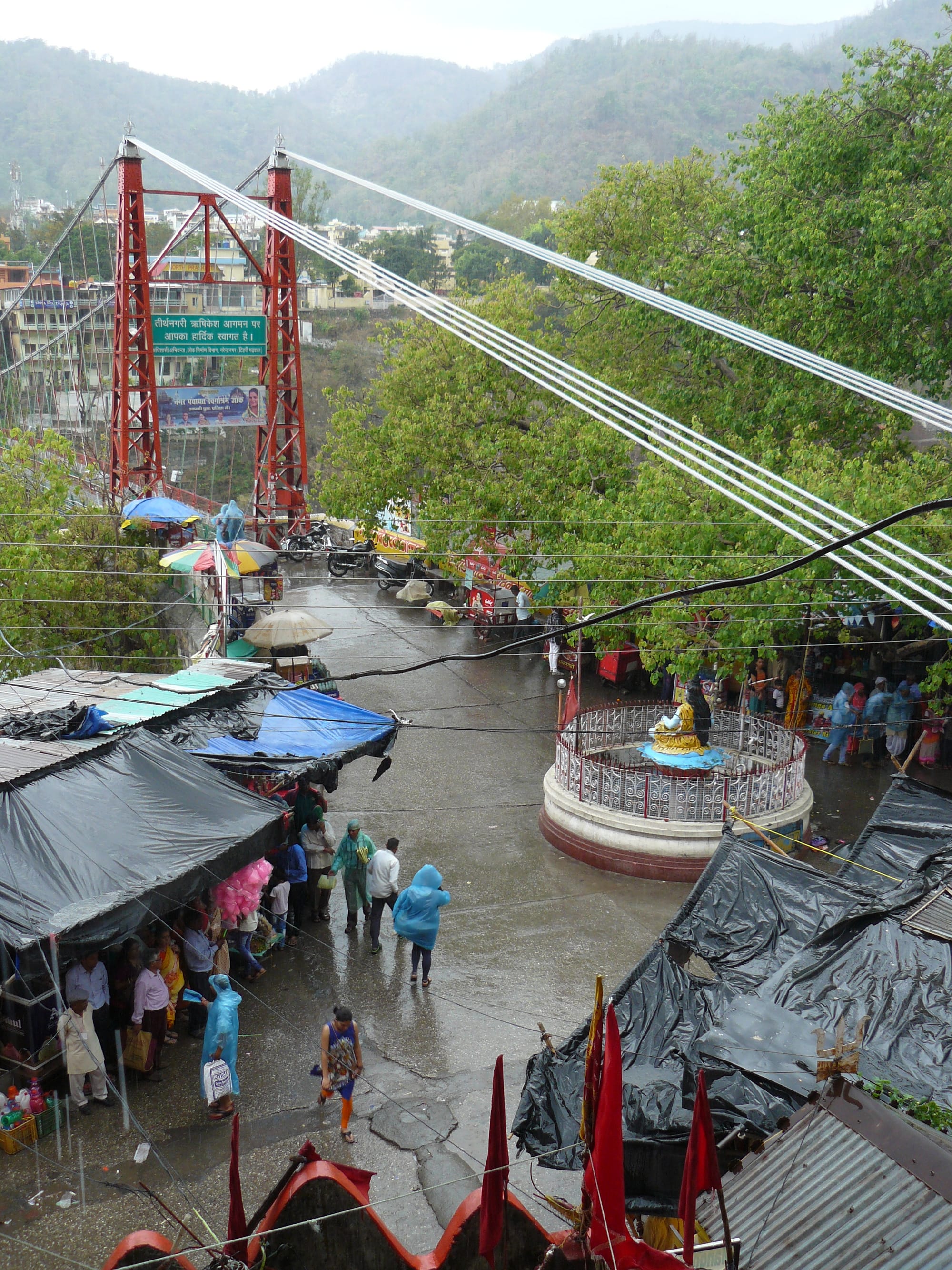 Things soon get back to normal - breakfast is served.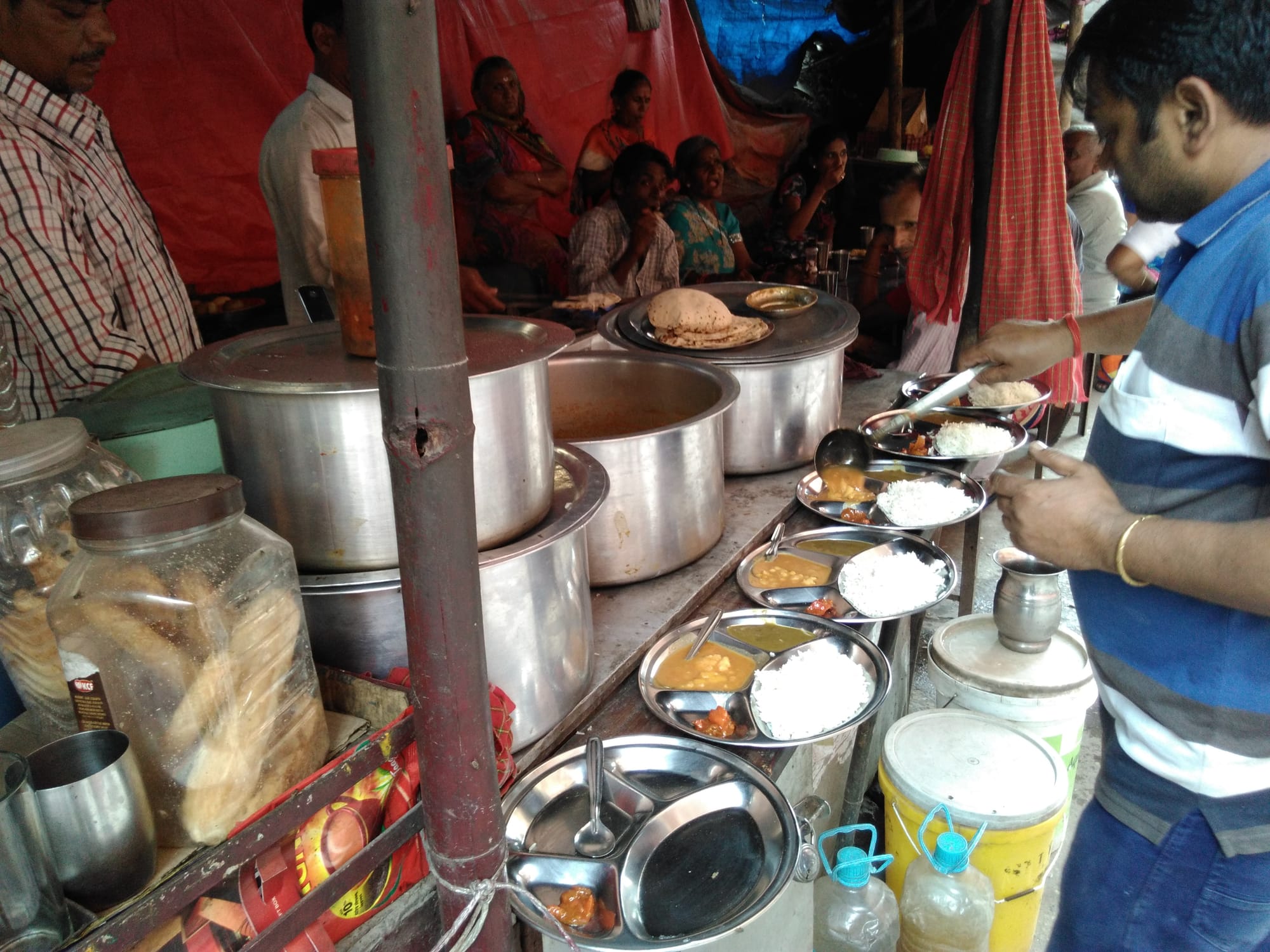 People can go about their business again.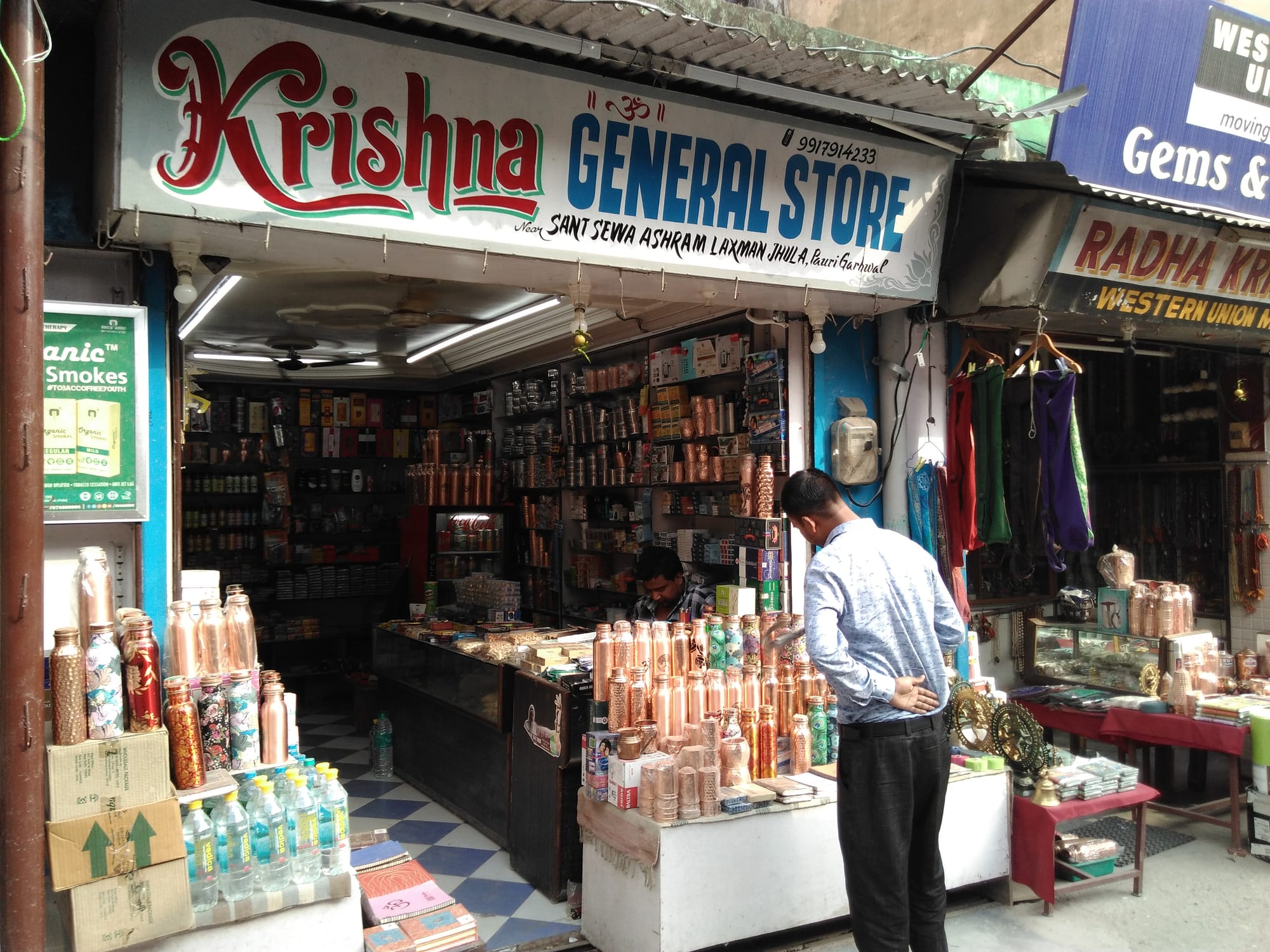 By Midday it's over 35° C again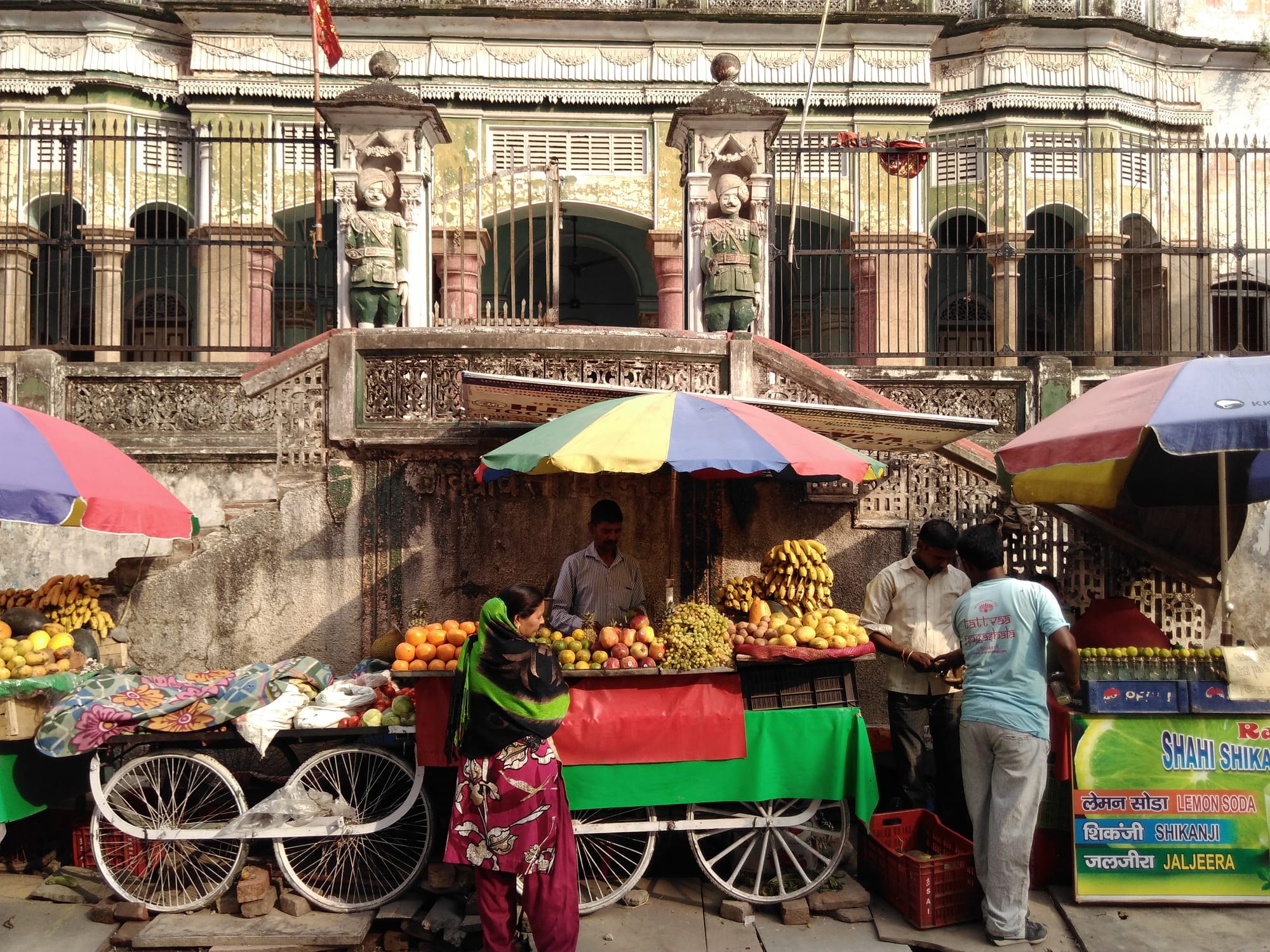 Boat trips can resume.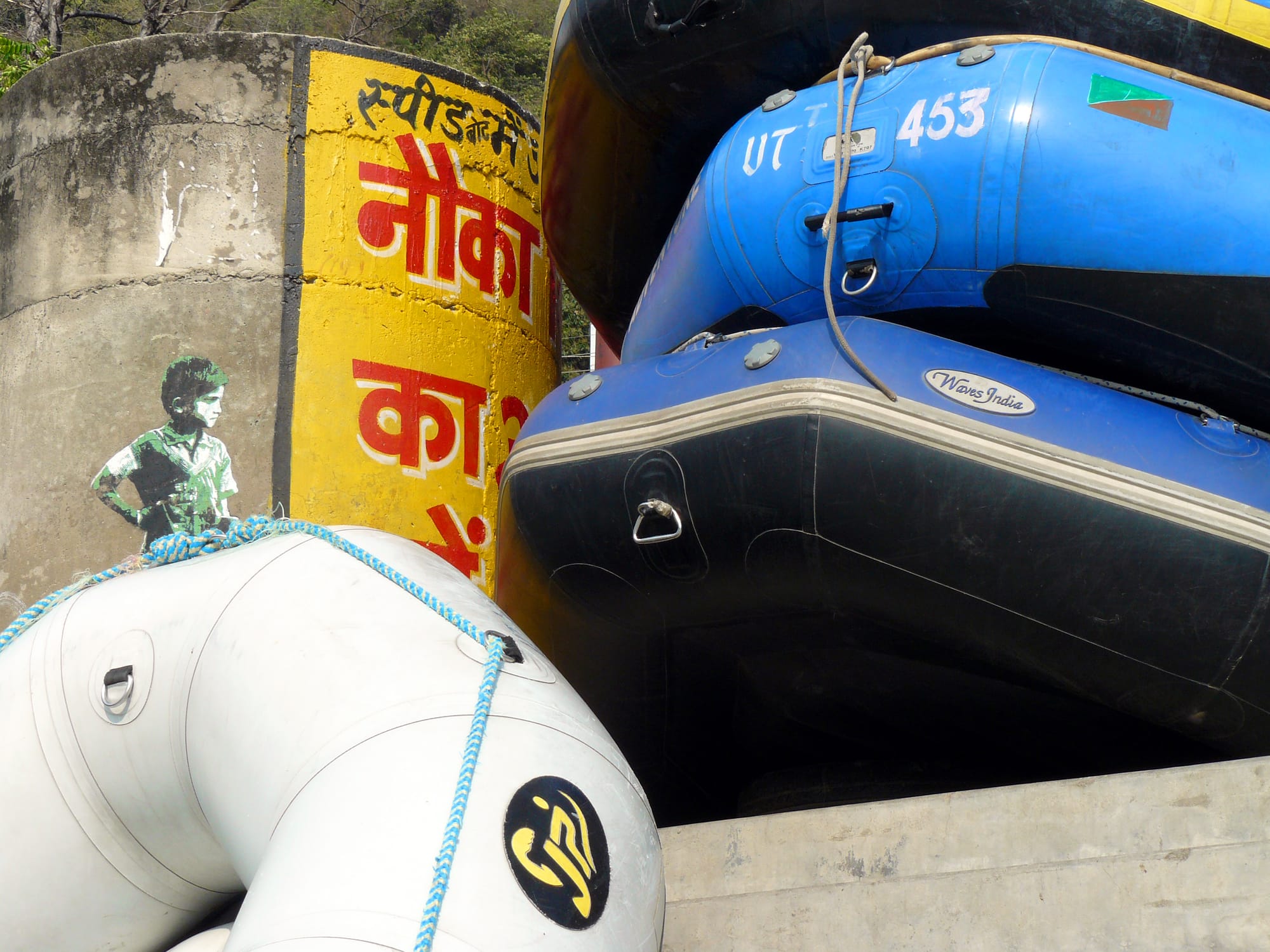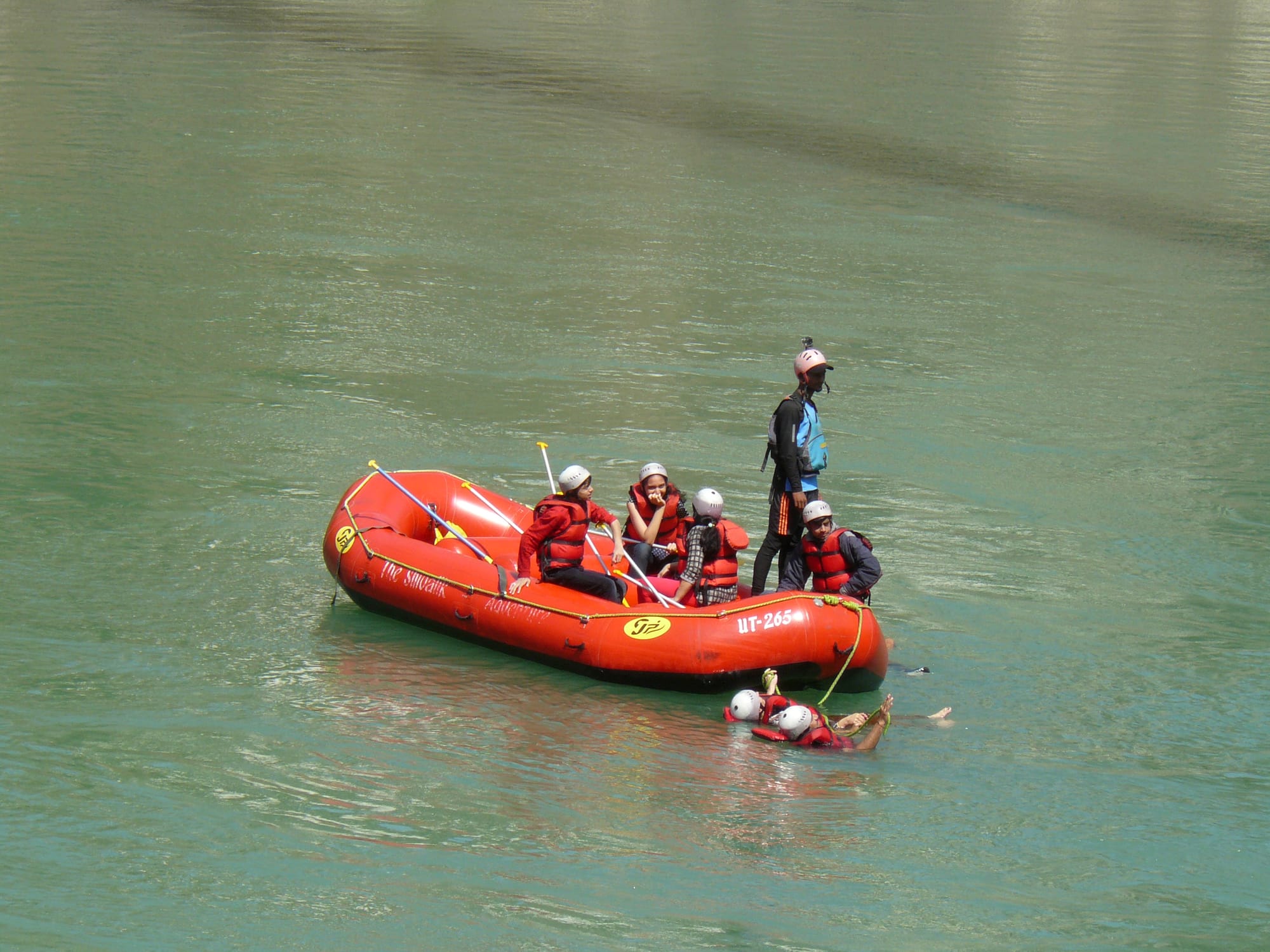 The Temples can get back to business too.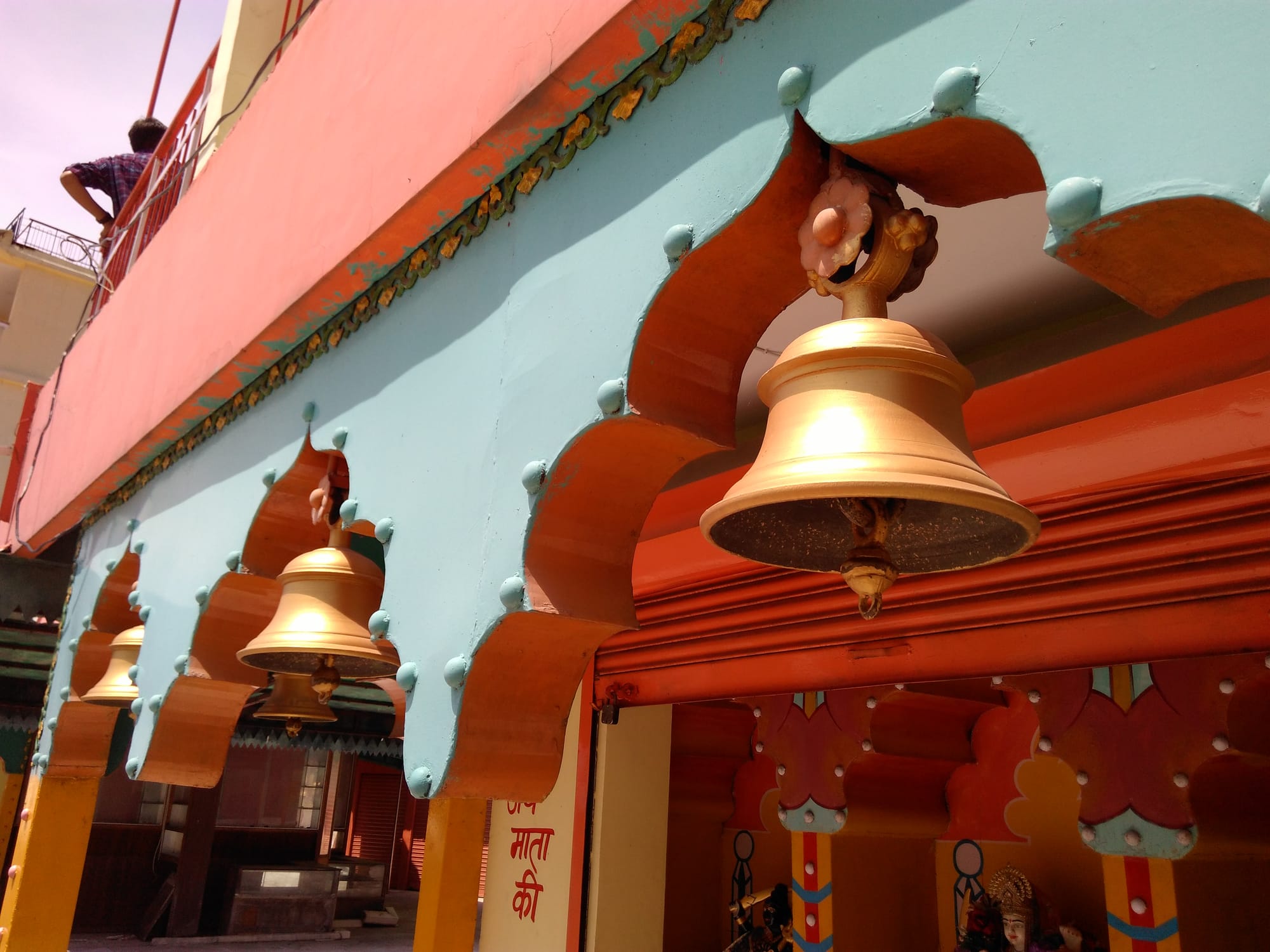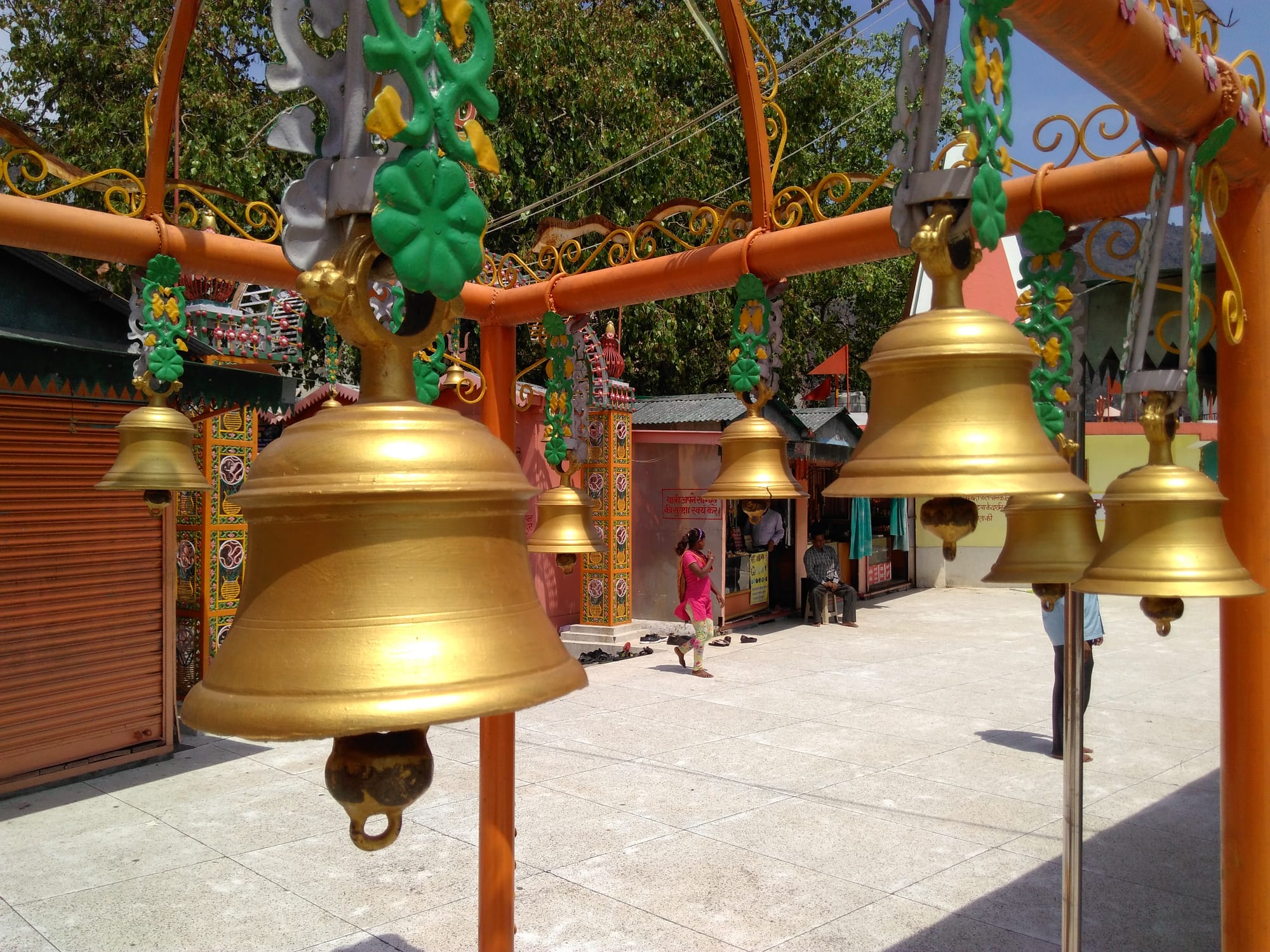 Laxman Jhula from the 13 storey Trayambakeshwar Temple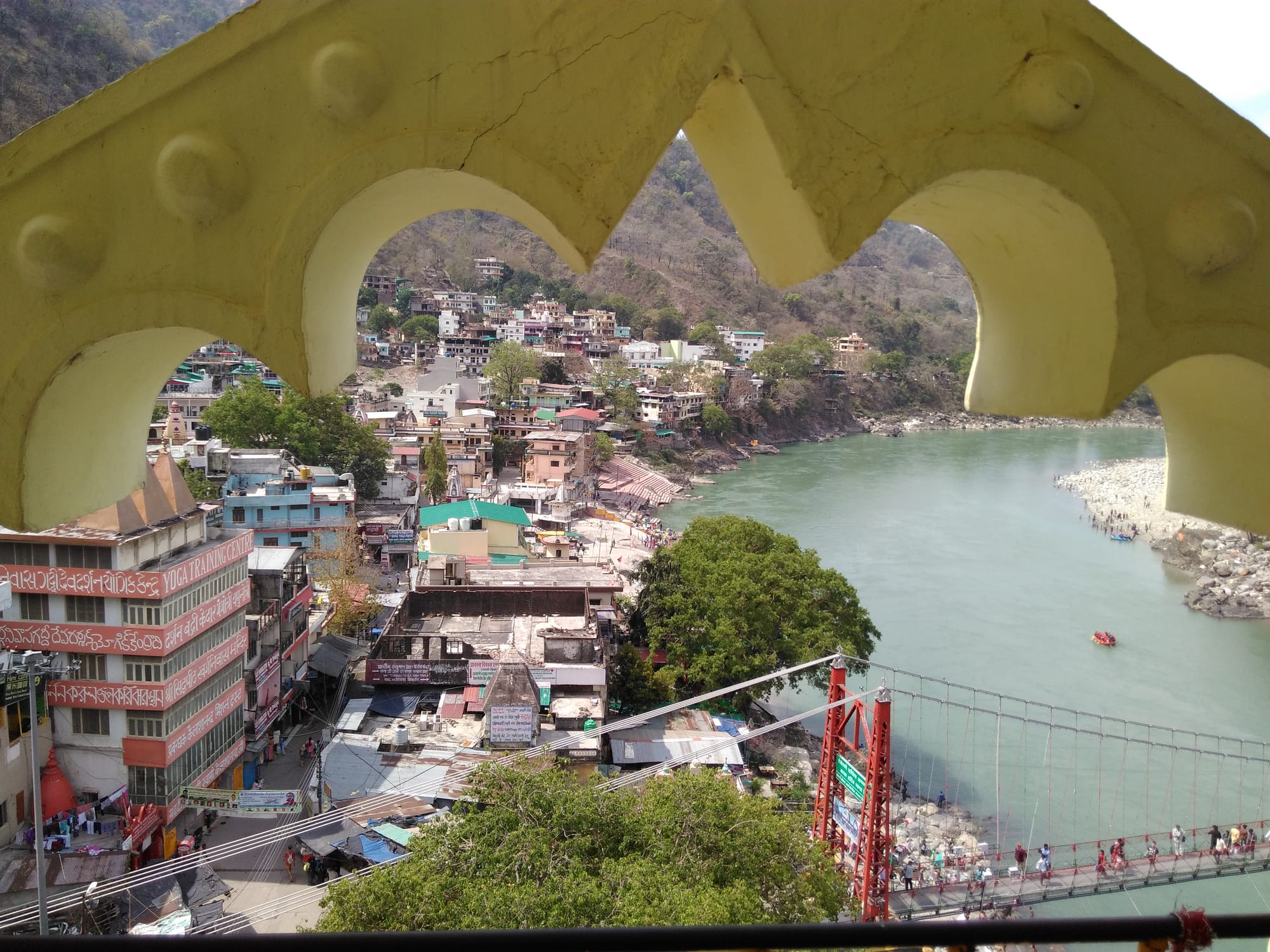 Rishikesh from Trayambakeshwar Temple


Trayambakeshwar Temple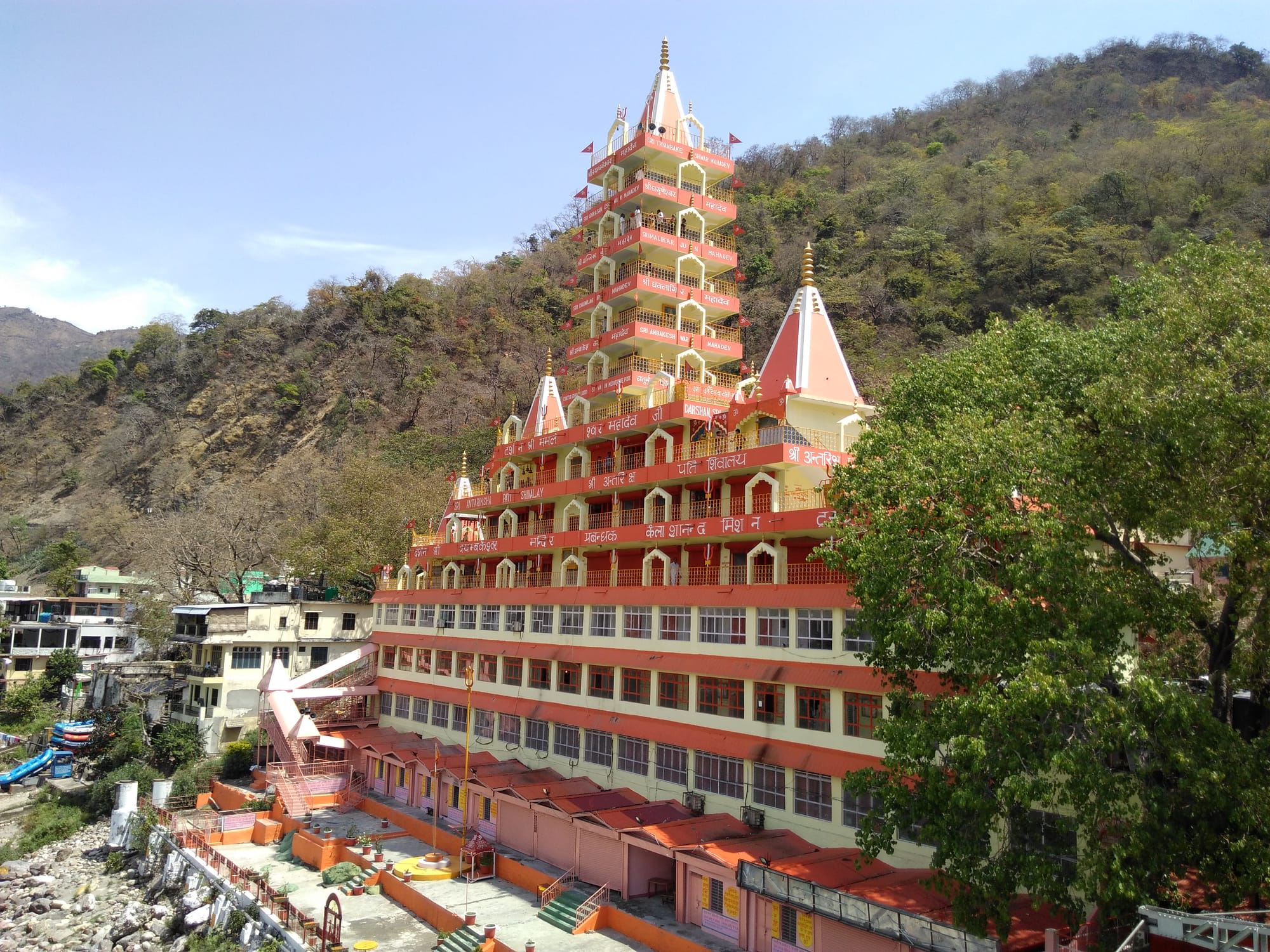 Make the most of it, the rain will be back again tomorrow. But for now..................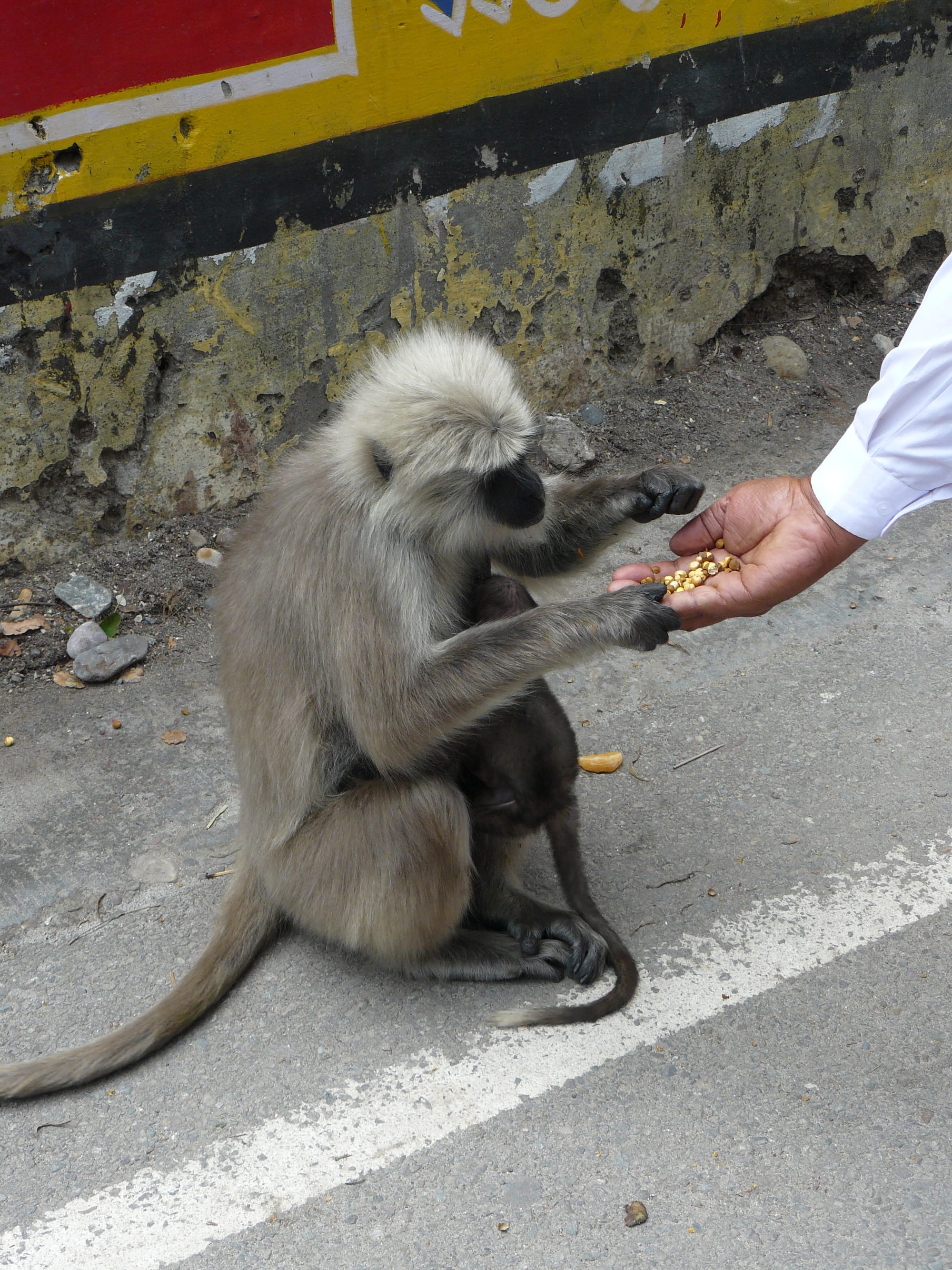 Have a real old-fashioned lemonade while you wait....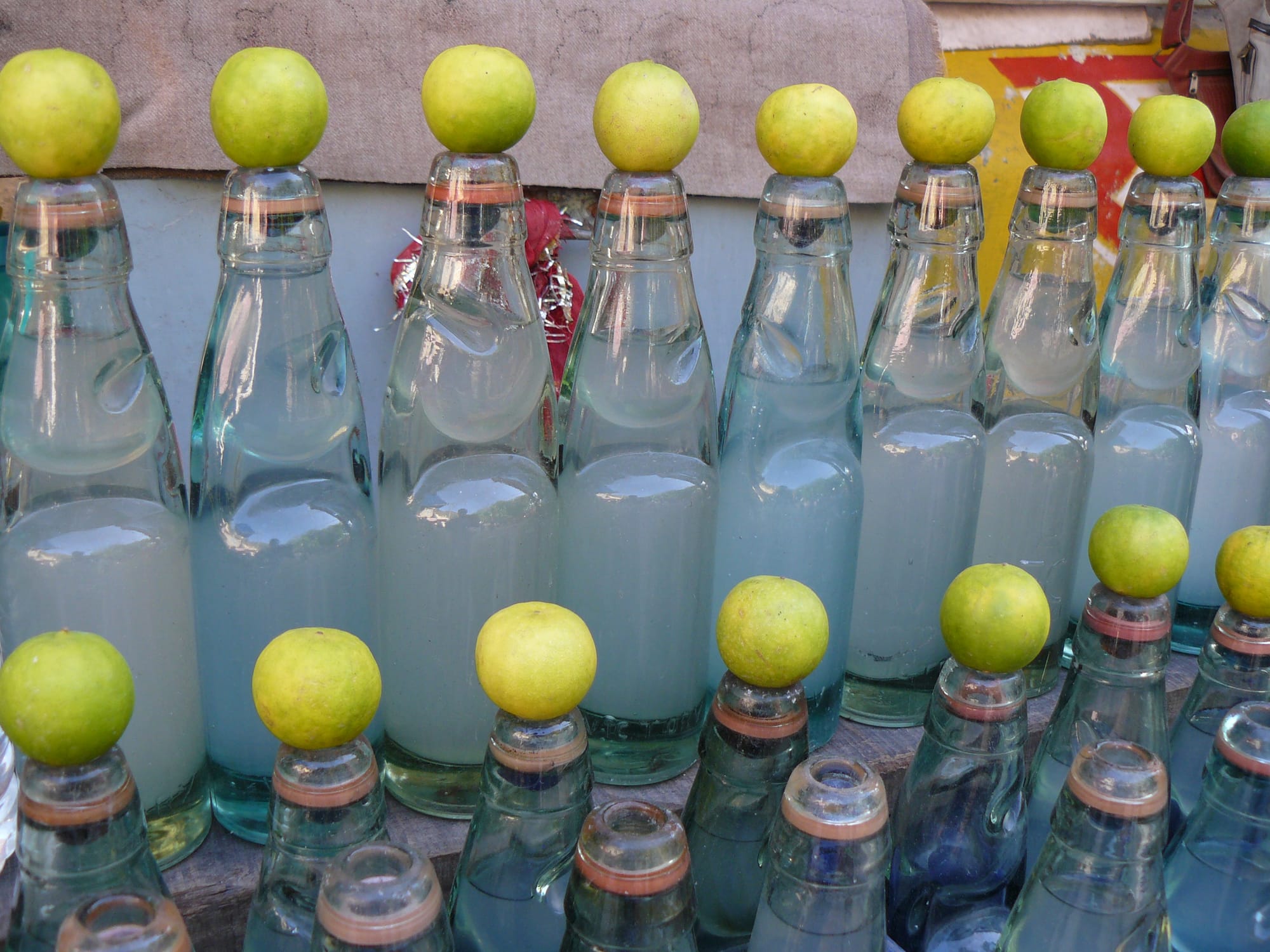 Or take a look in the Laxman Jhula-ry shops......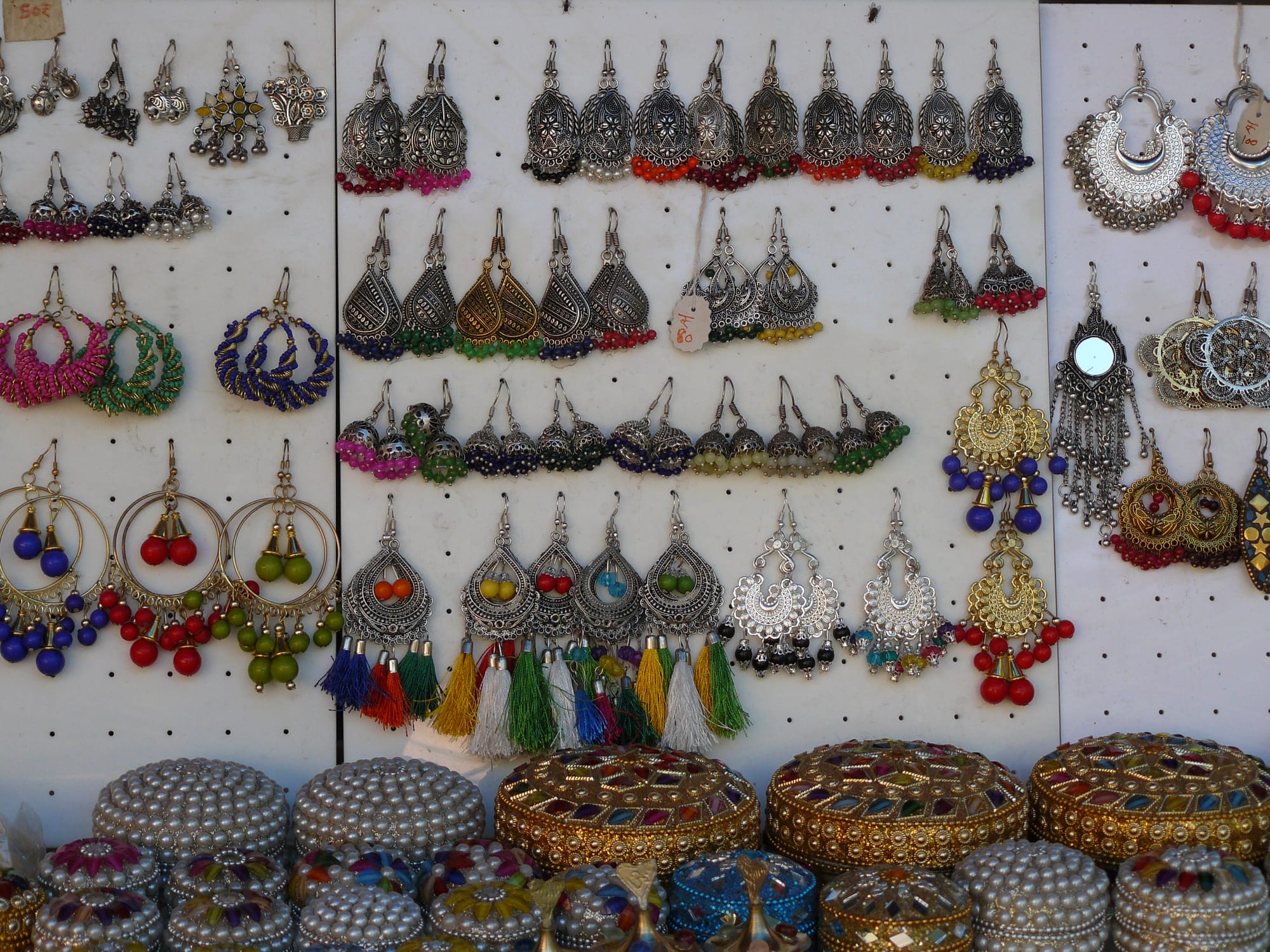 Or bag a colourful bargain......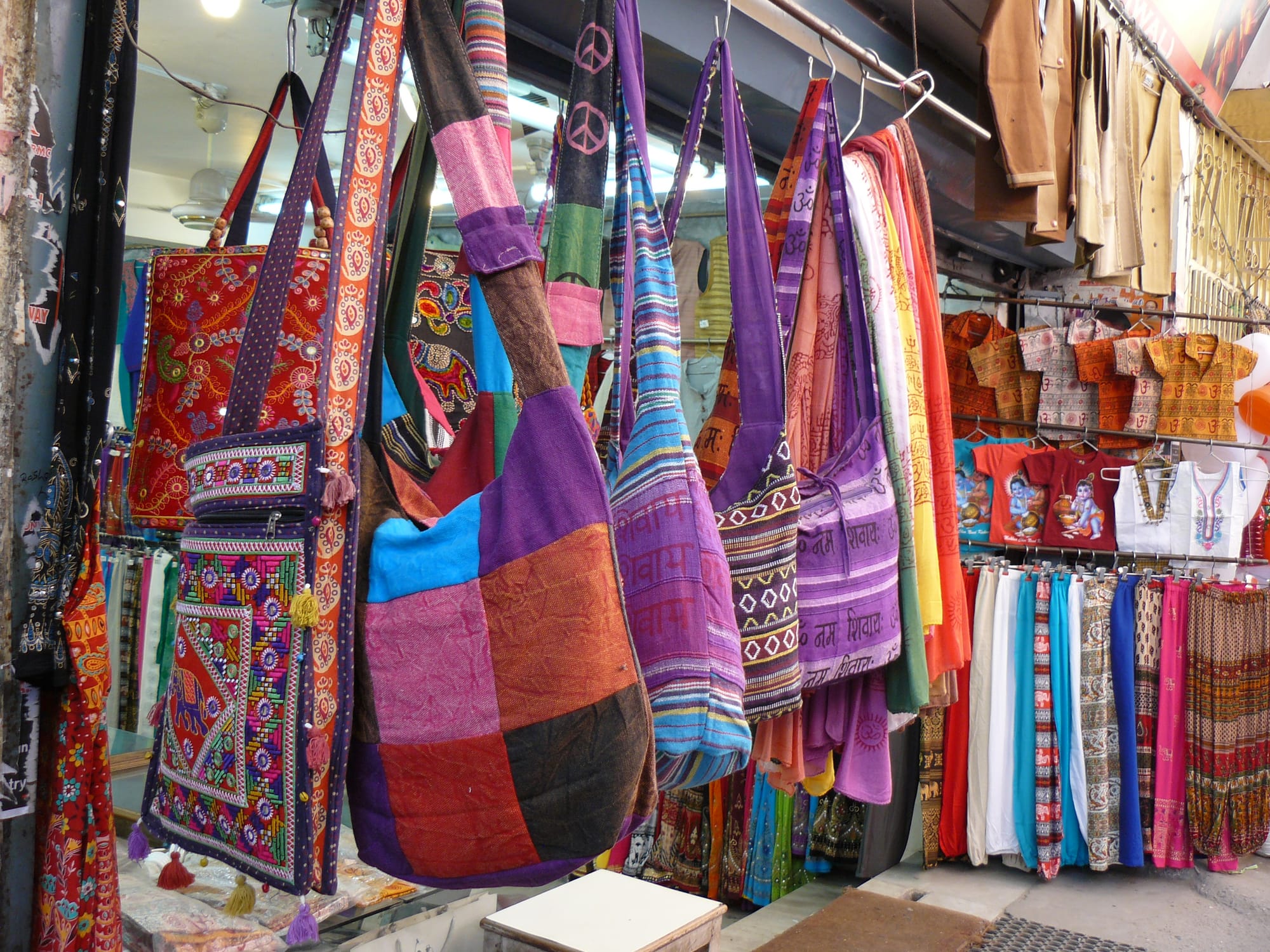 Or treat yourself to some chic "French" toilet paper.....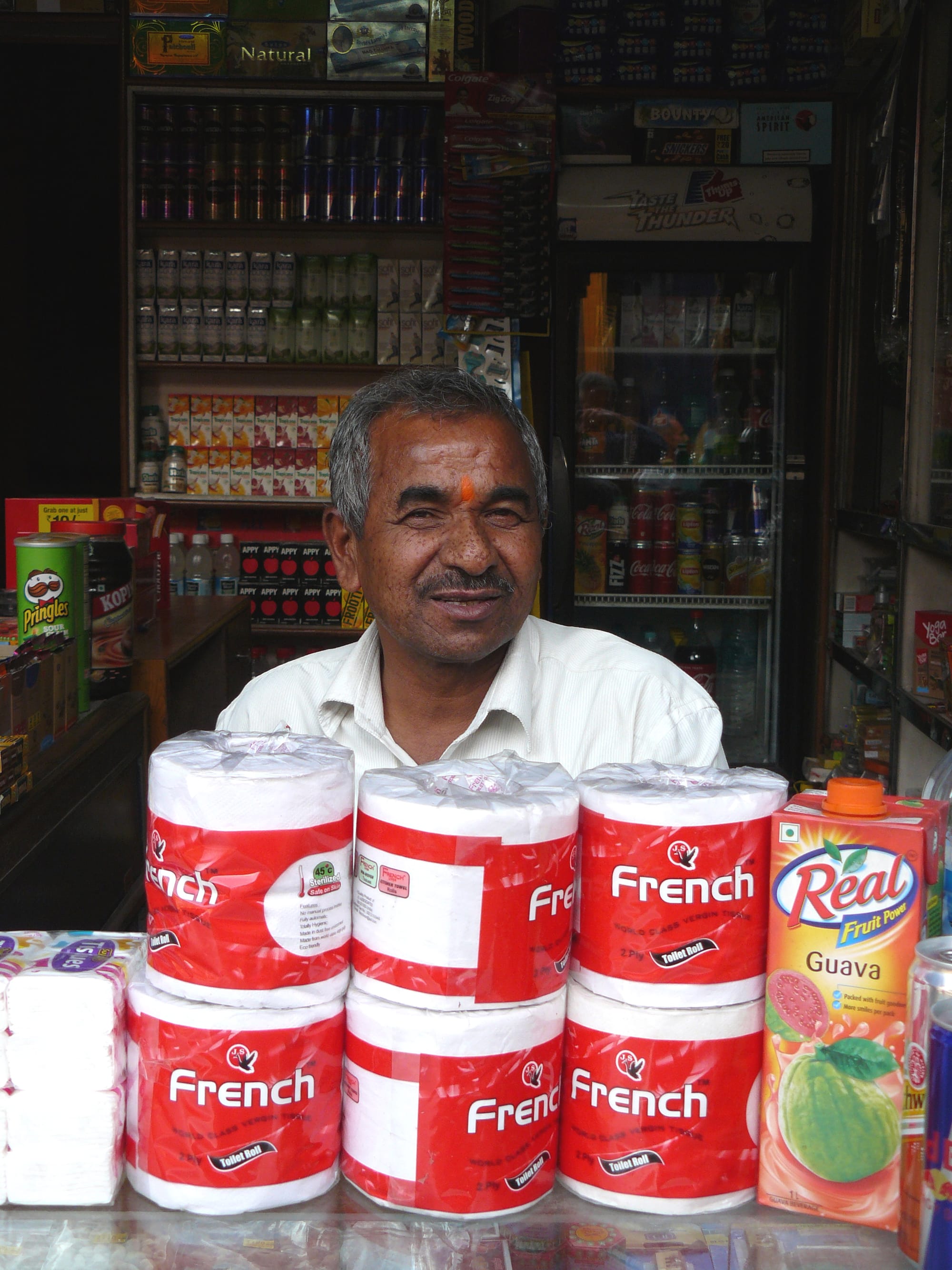 Grab some fresh fruit.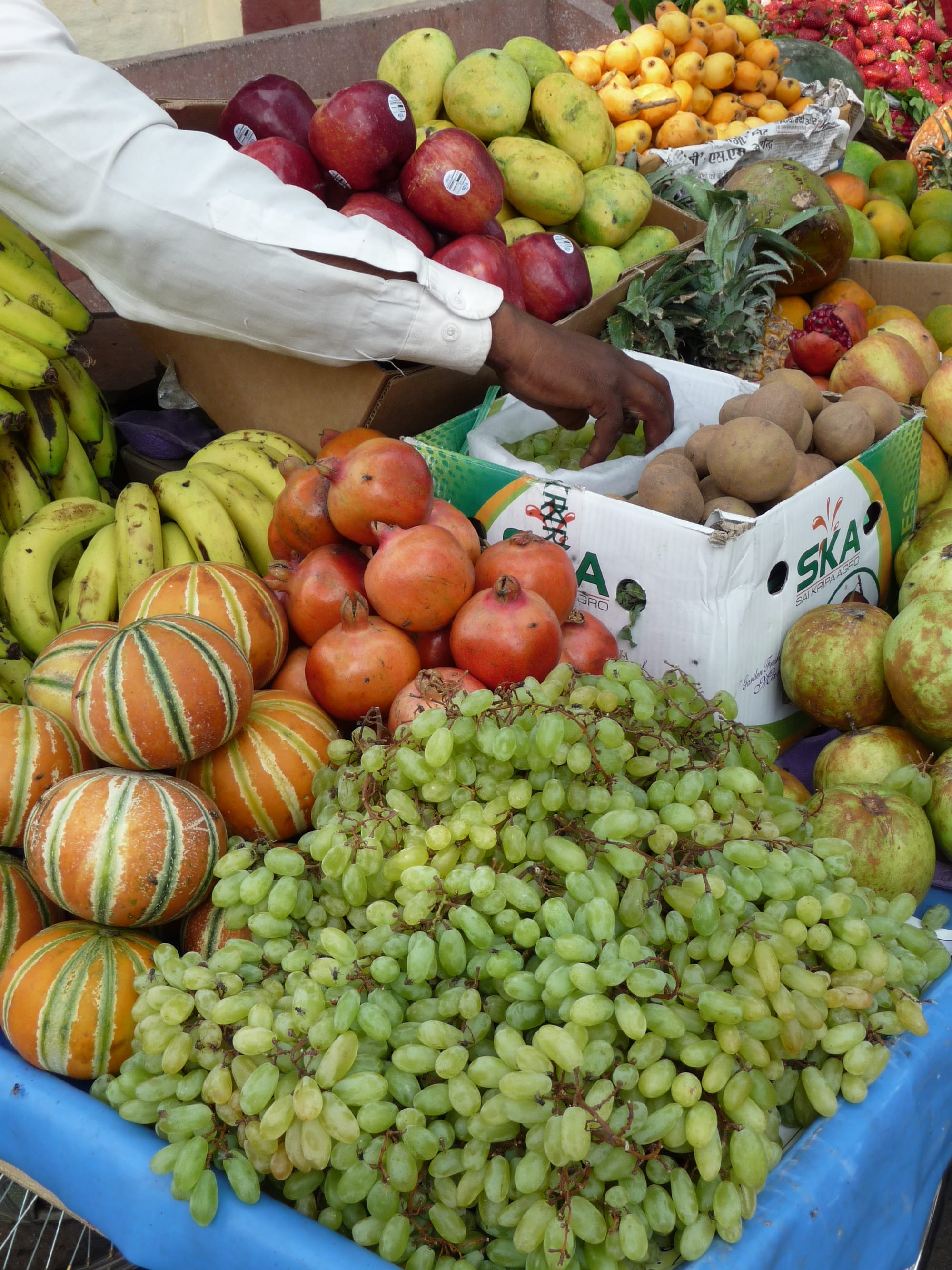 Grab a photo of a local star....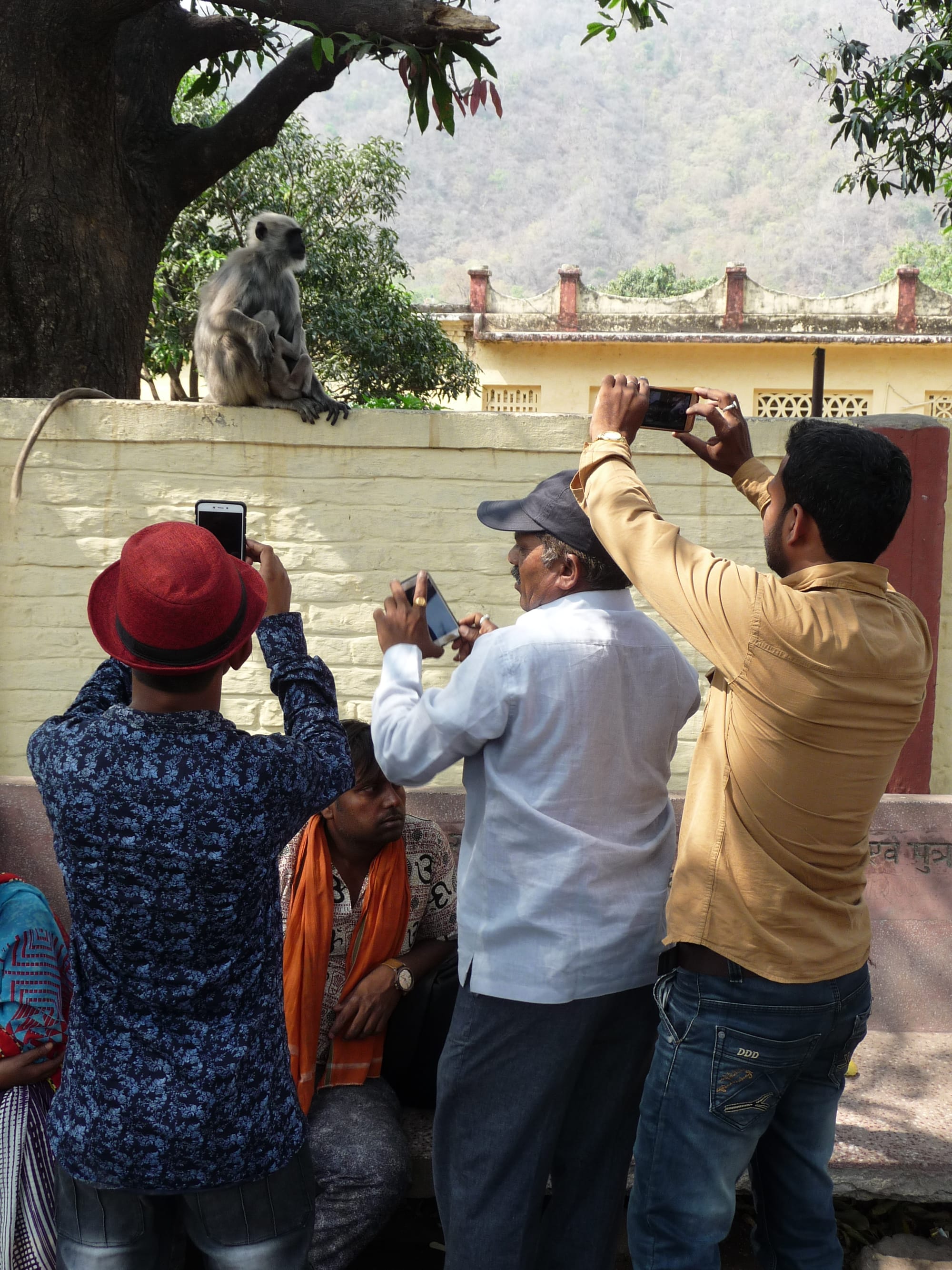 Grab an abassador before they're all gone....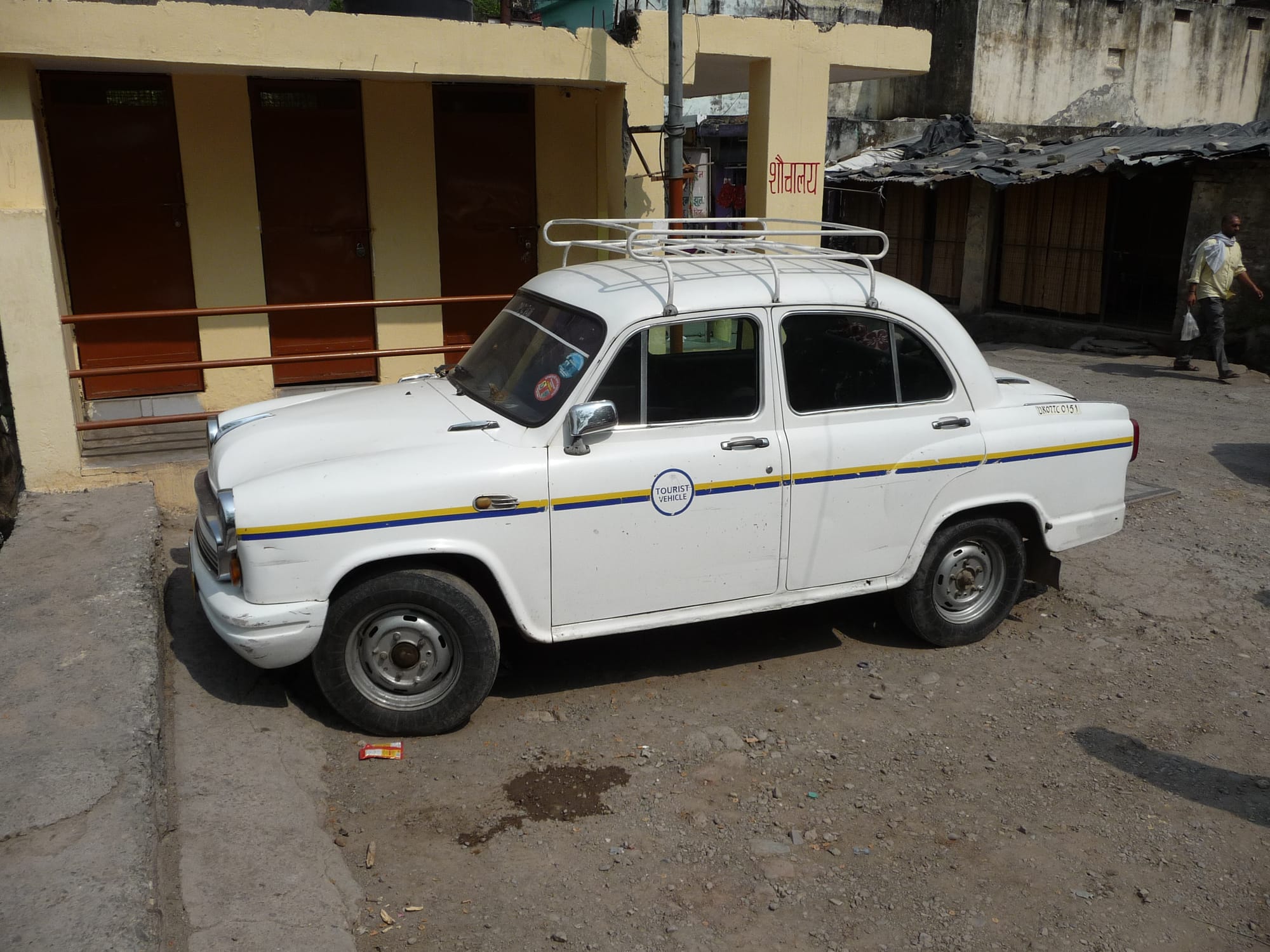 .... and they all end up like this.... Sadly, they stopped making them several years ago.....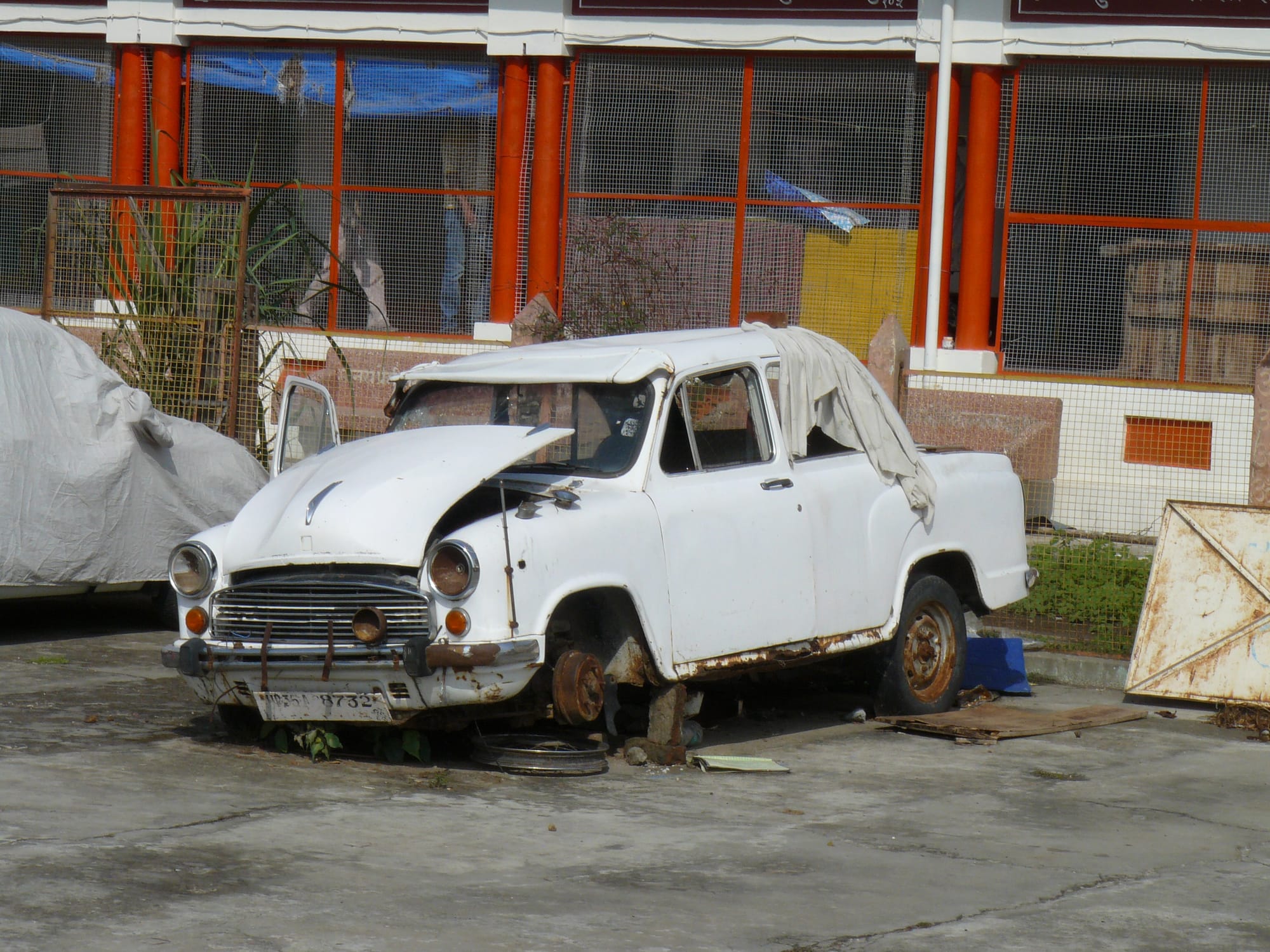 Grab a bite to eat at one of the 2 neighbouring restaurants, both called Chotiwala.....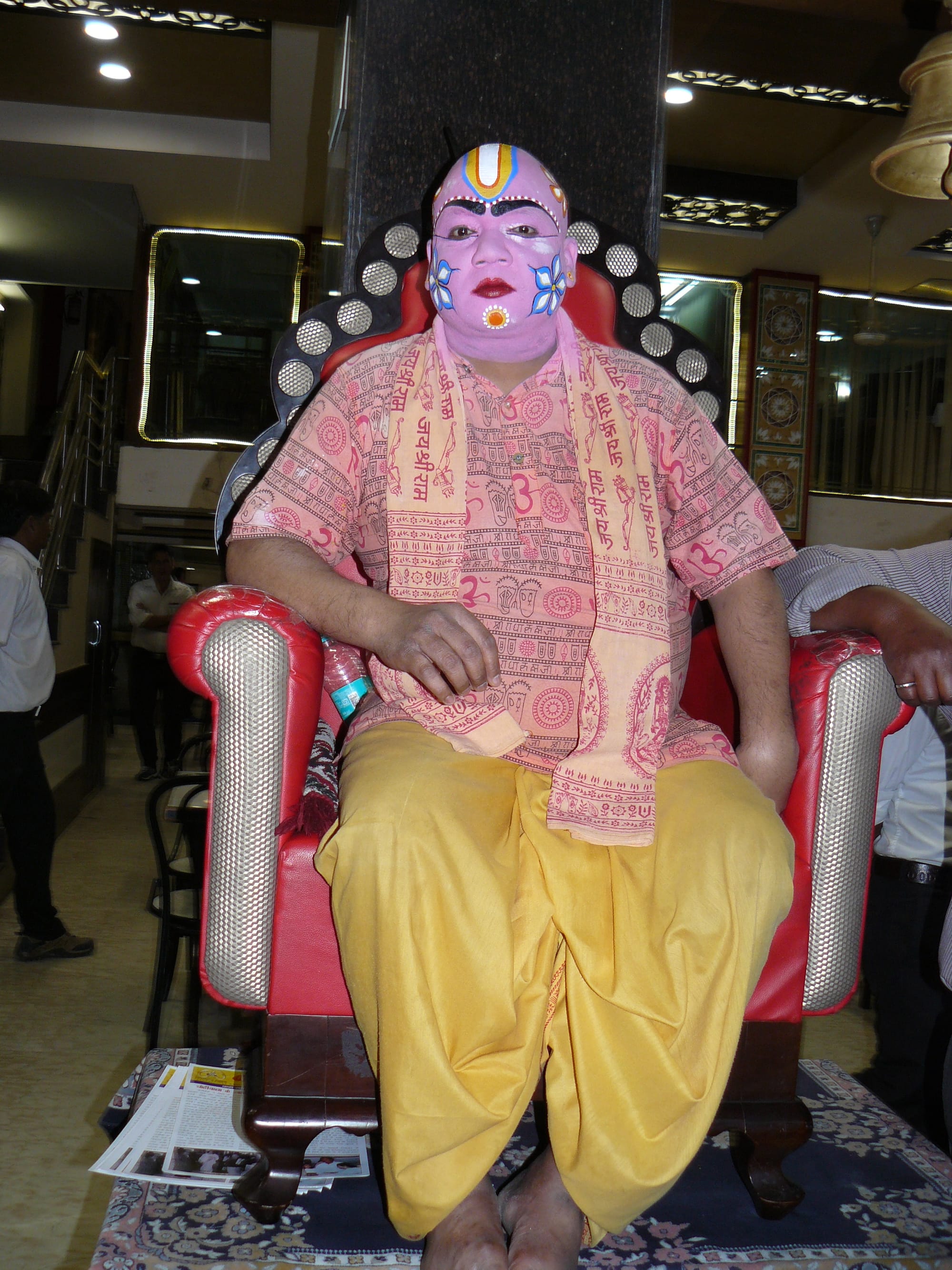 Whichever one frightens you the least.... !!!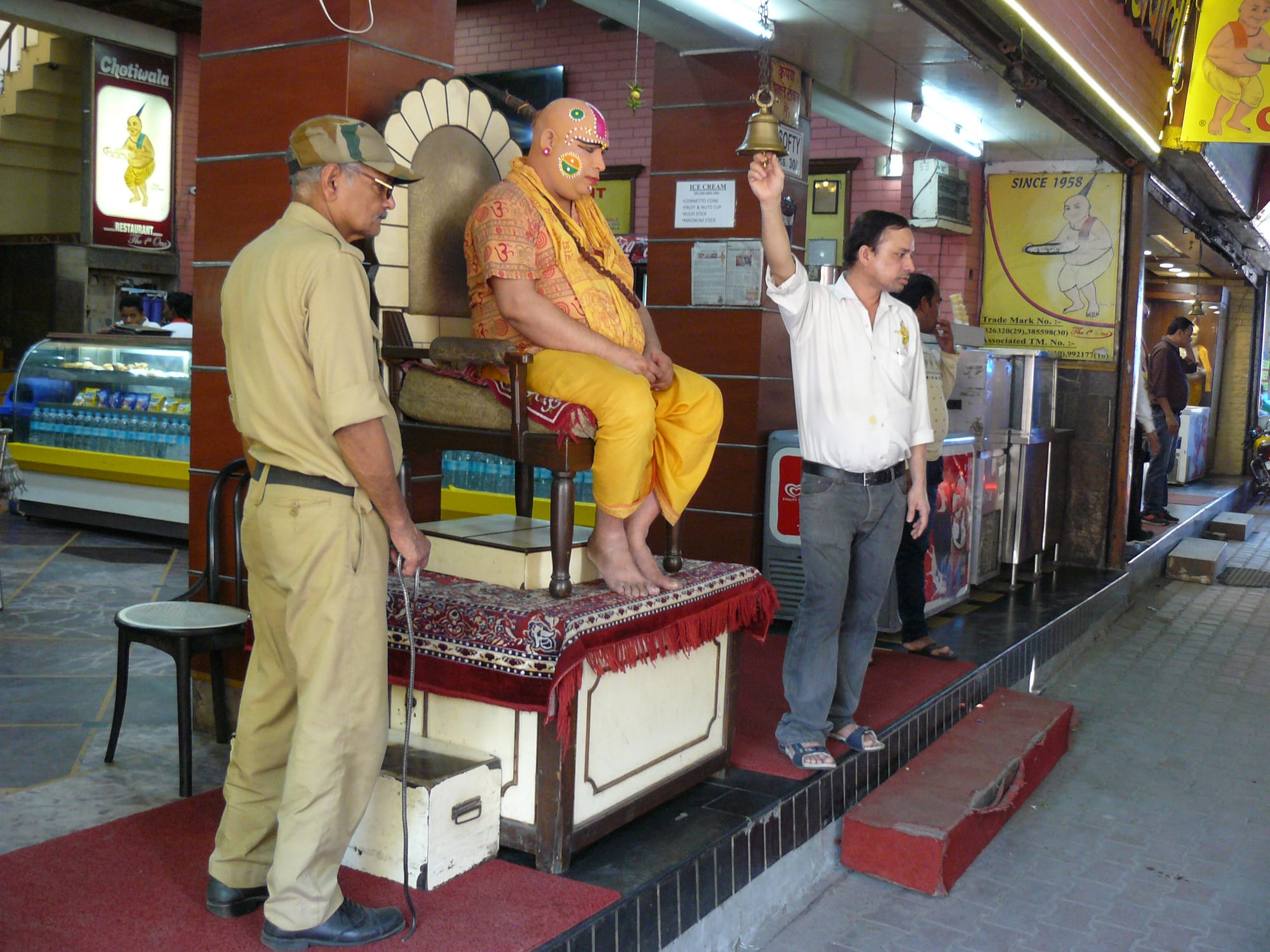 Dosa - the day gets off to a good start...Laxman Jhula Beach - the sense of calm is overpowering !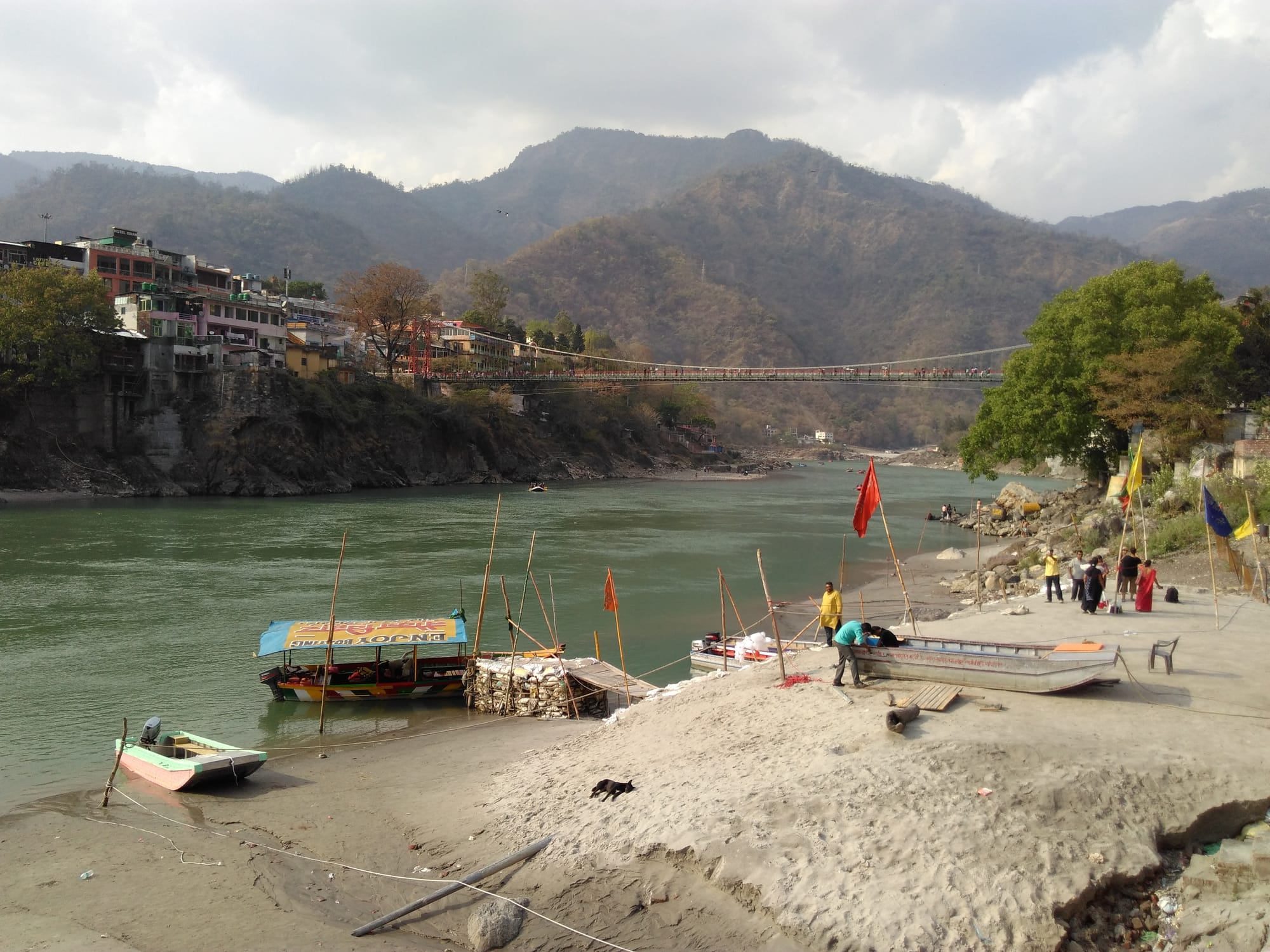 The sacred Ganges - Mata Ganga - winds her way through Laxman Jhula and Rishikesh.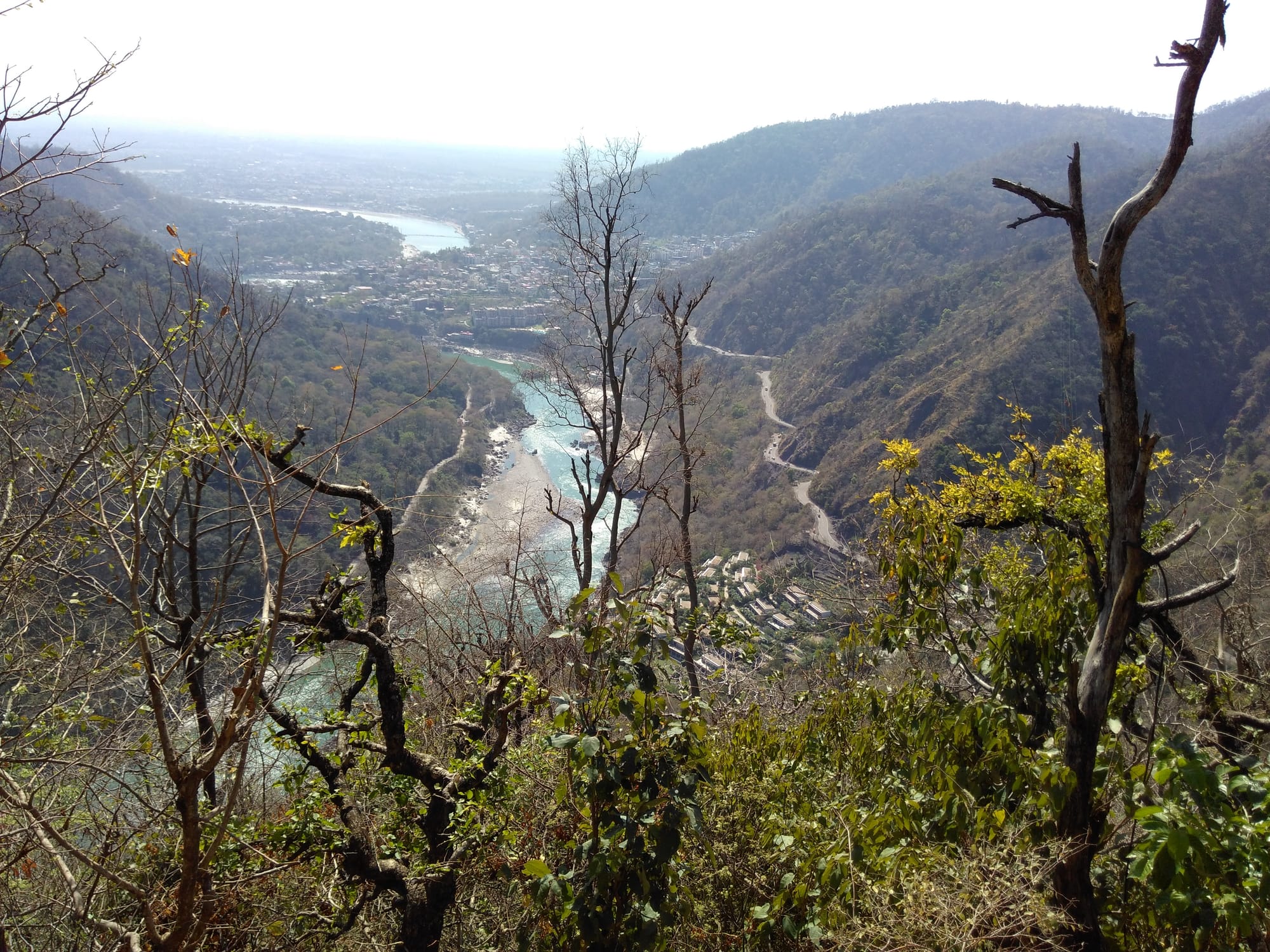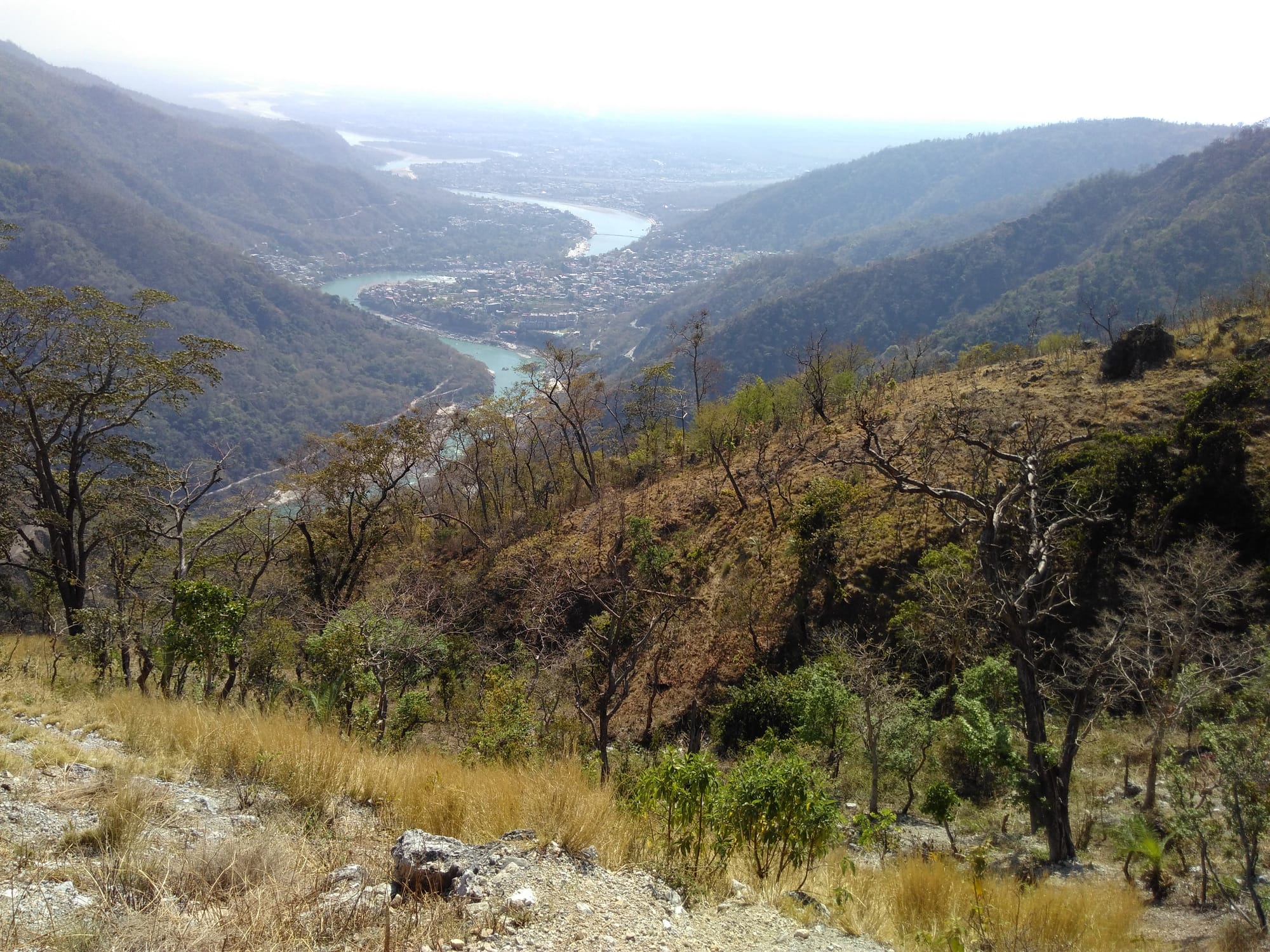 Visit to the abandoned Maharashi Mahesh Yogi Transcendental Meditation Ashram - visited by the Beatles in 1968Maharashi Dhyan Vidhaapeeth - Maharashi Meditation University - महर्षि ध्यन विधापीठ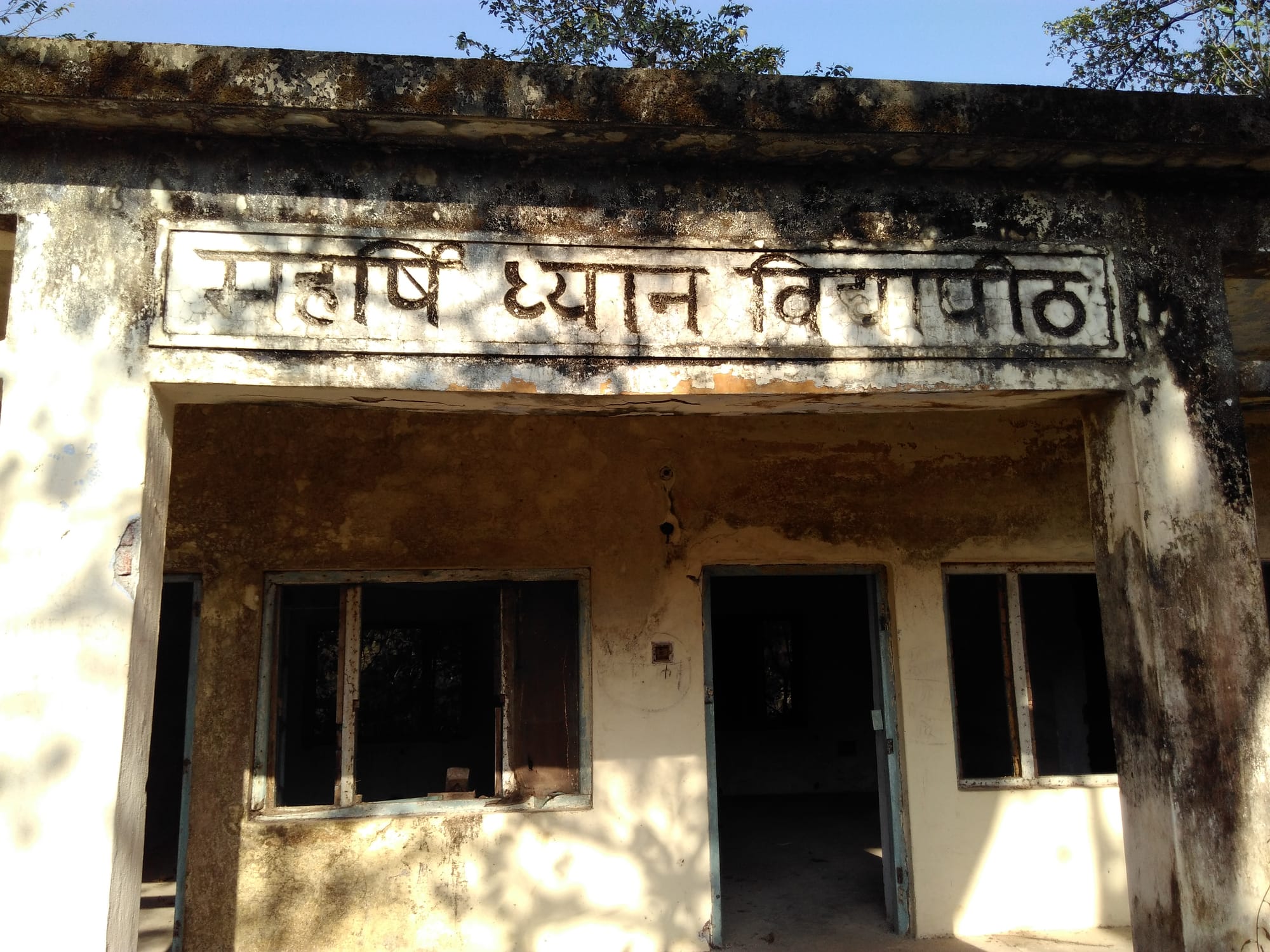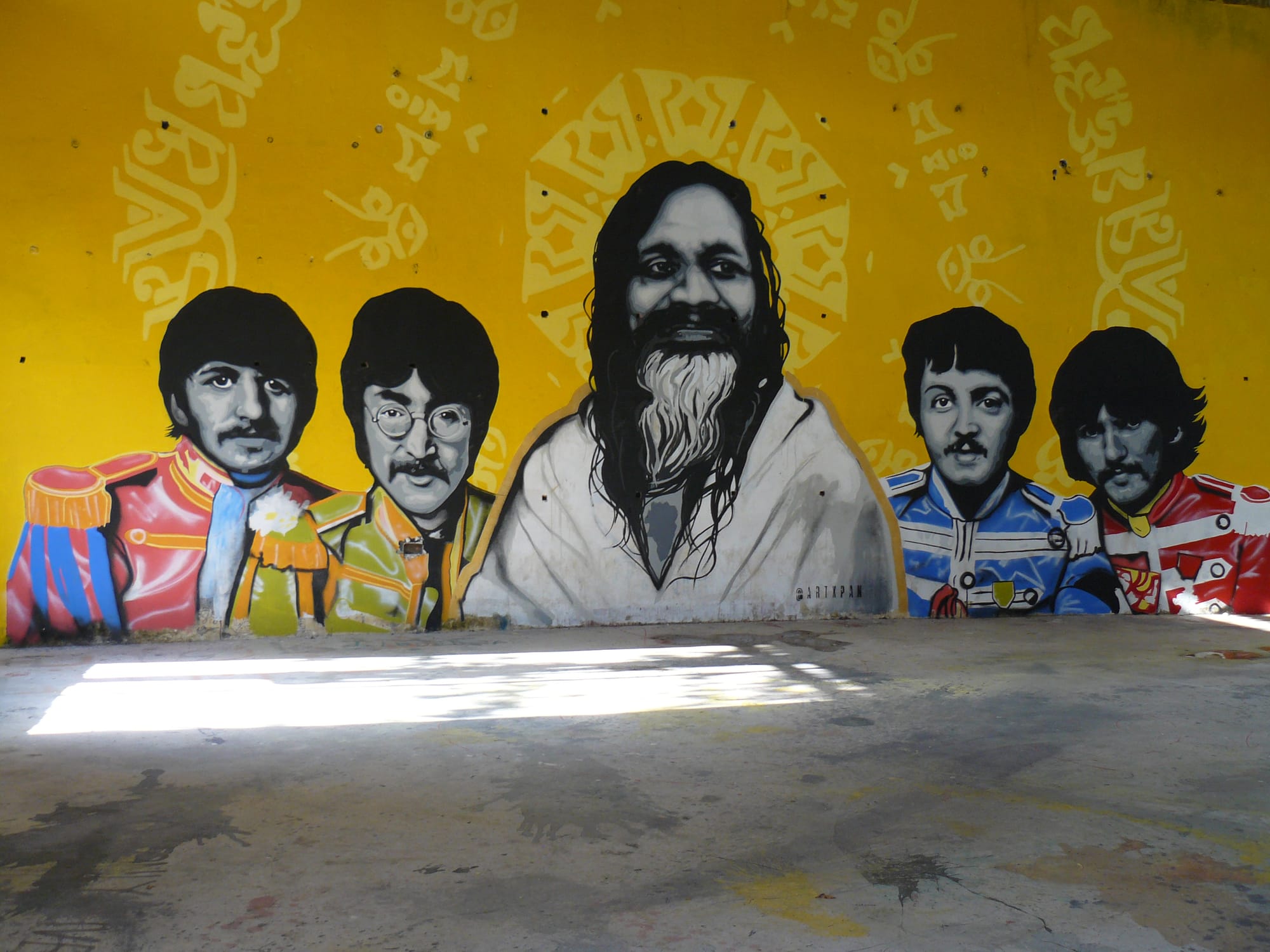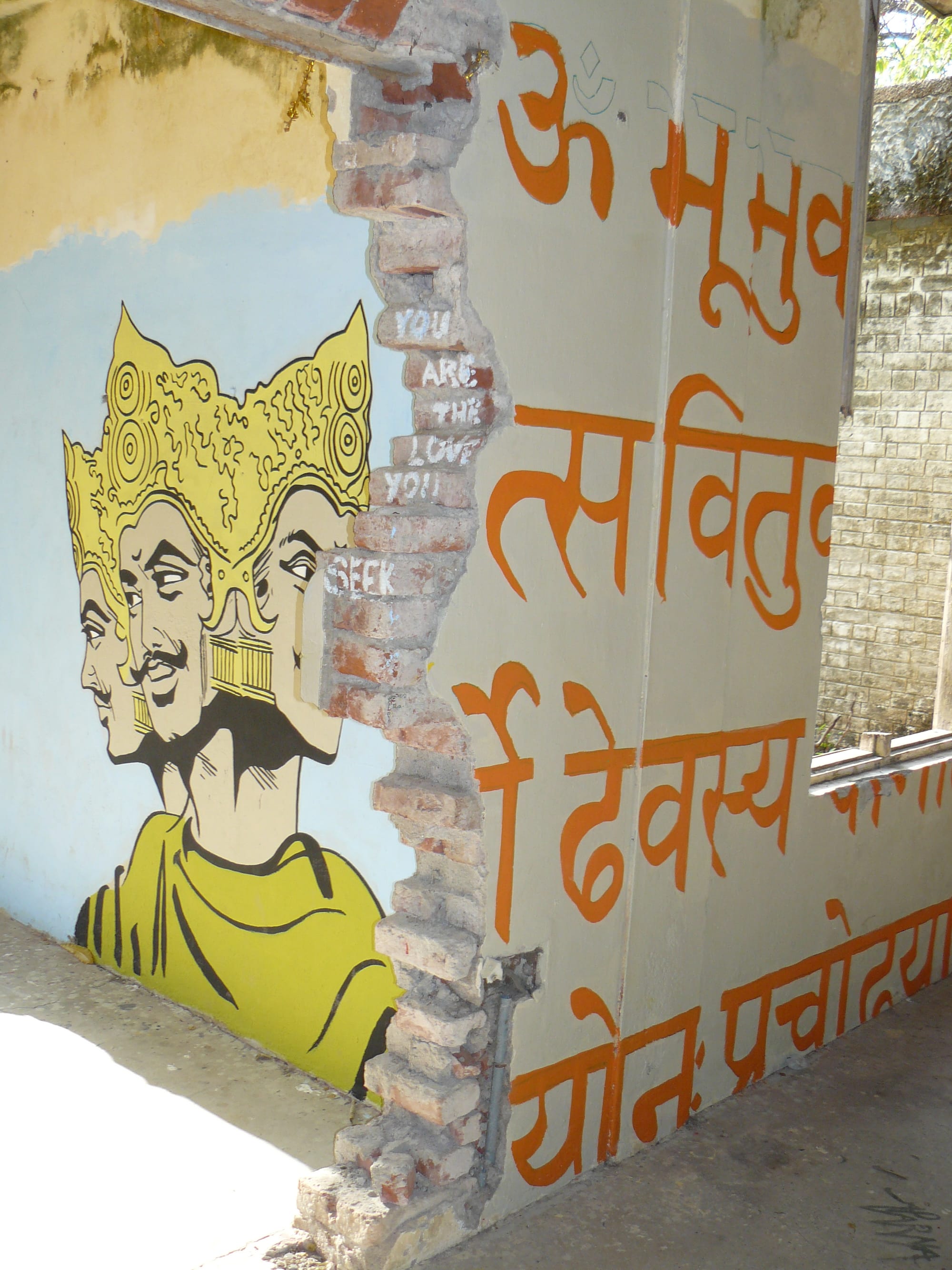 Visitor accommodation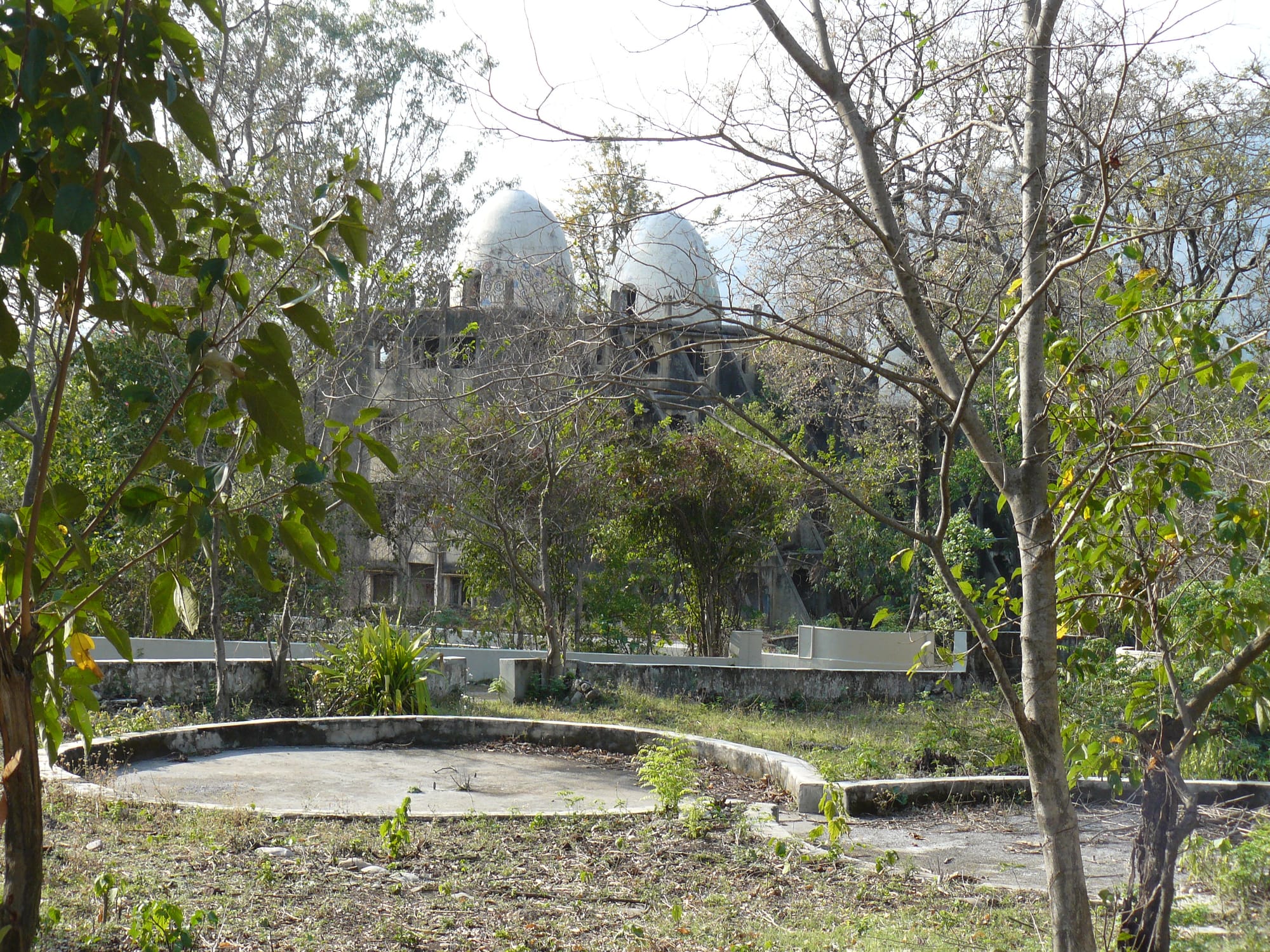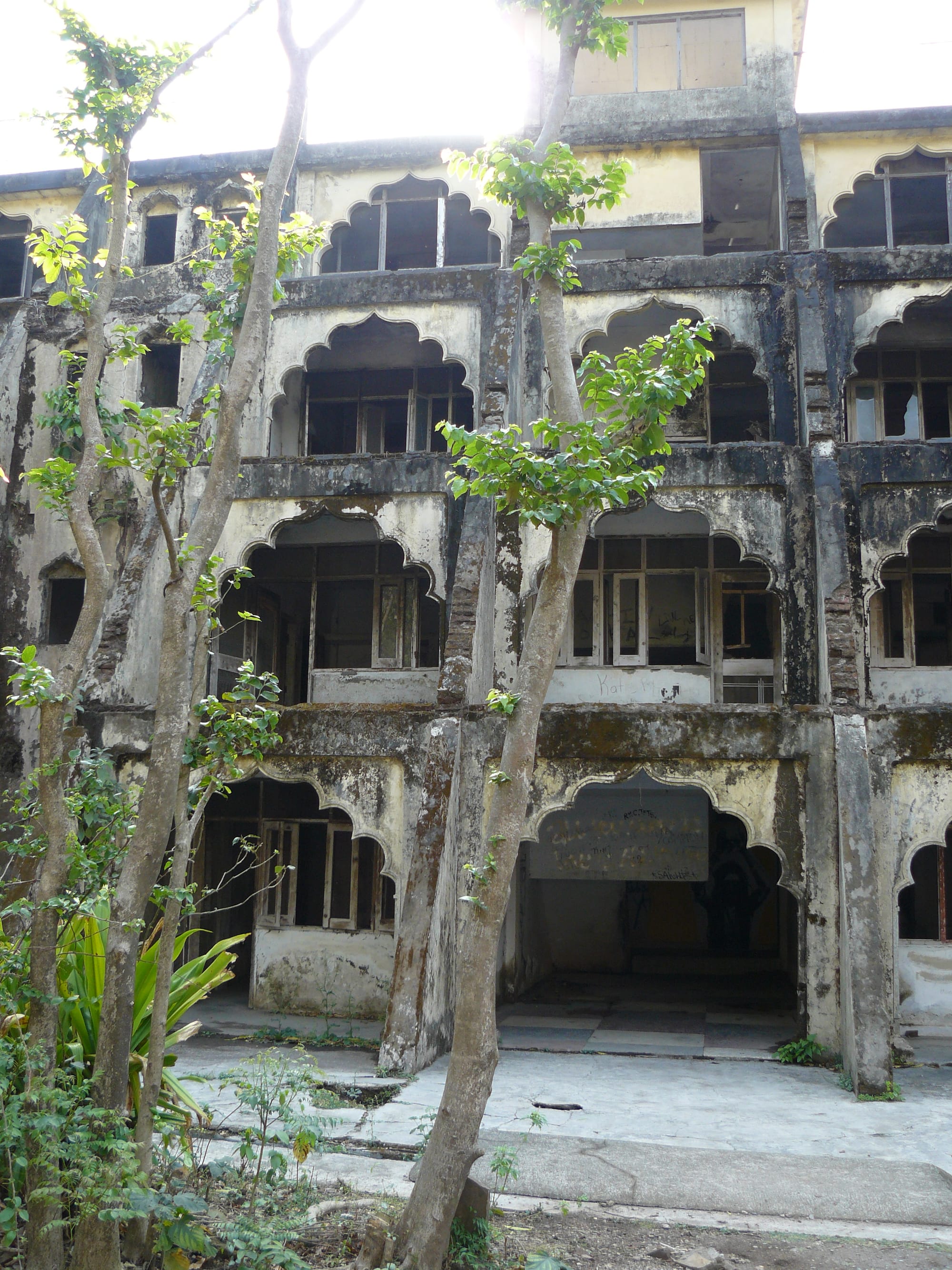 The Beatles' Bungalow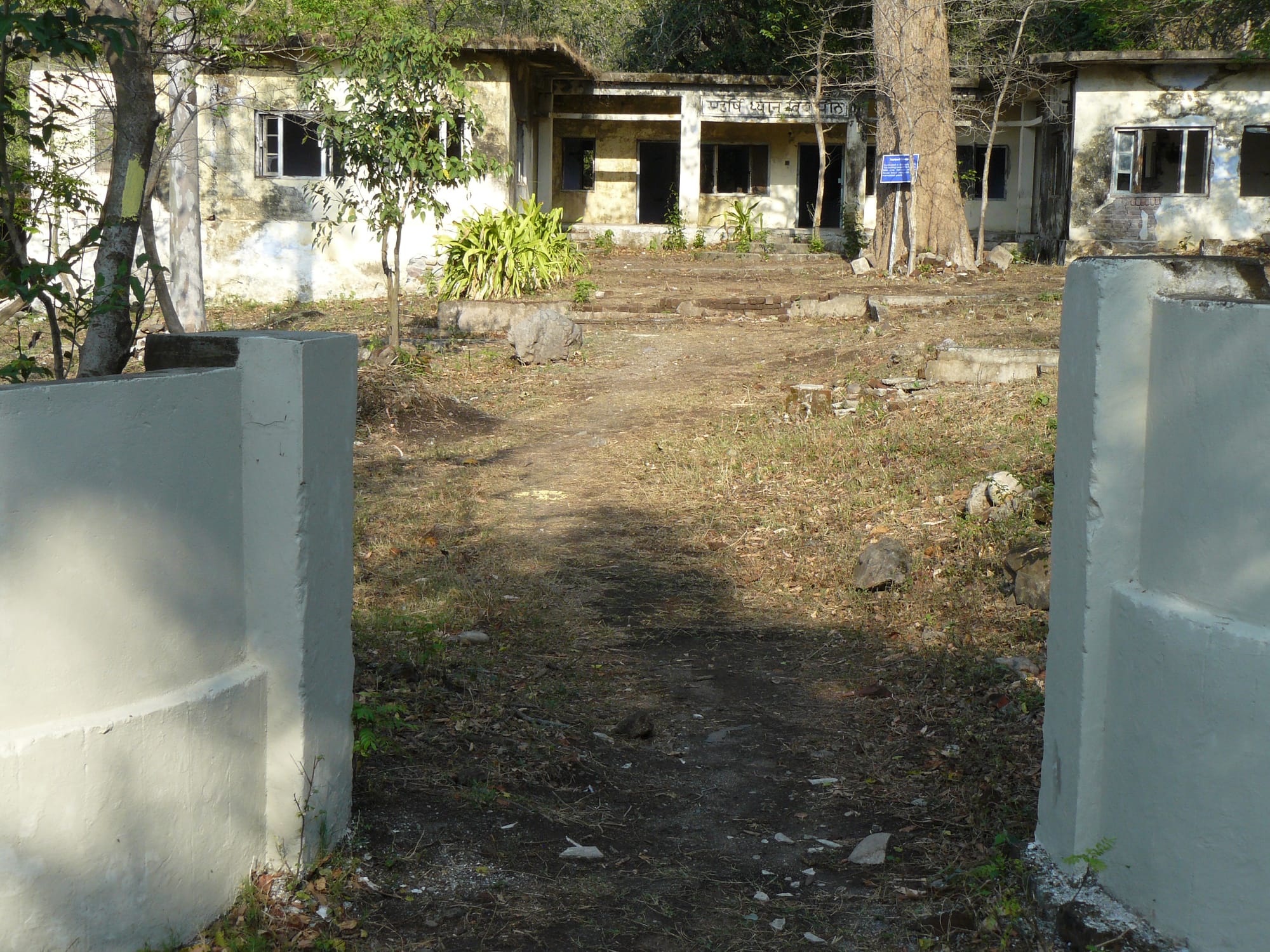 There is an amazing eerie sensation in this overgrown sanctuary of calm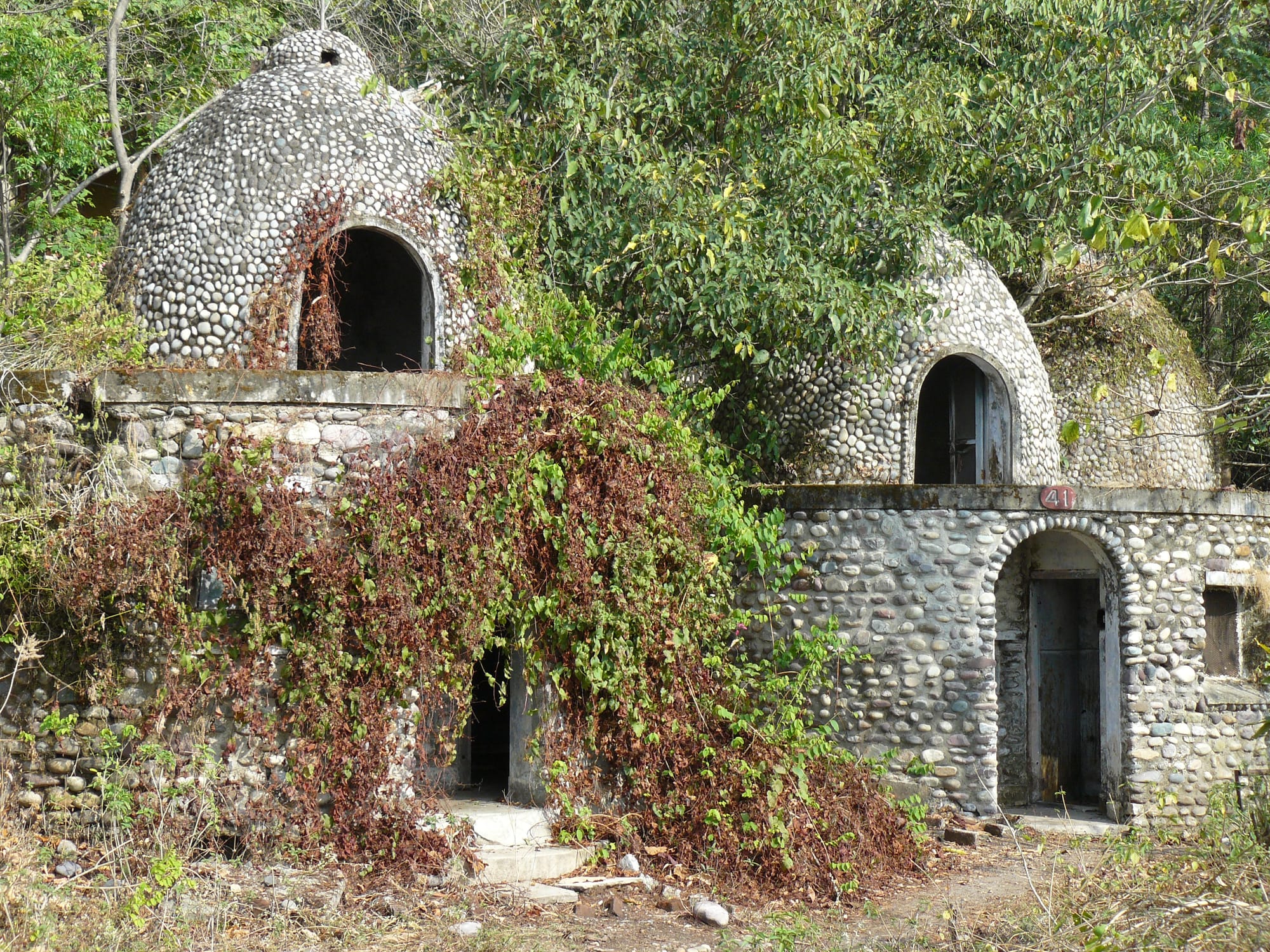 The 100 or more "Meditation Pods" originally even had electricity....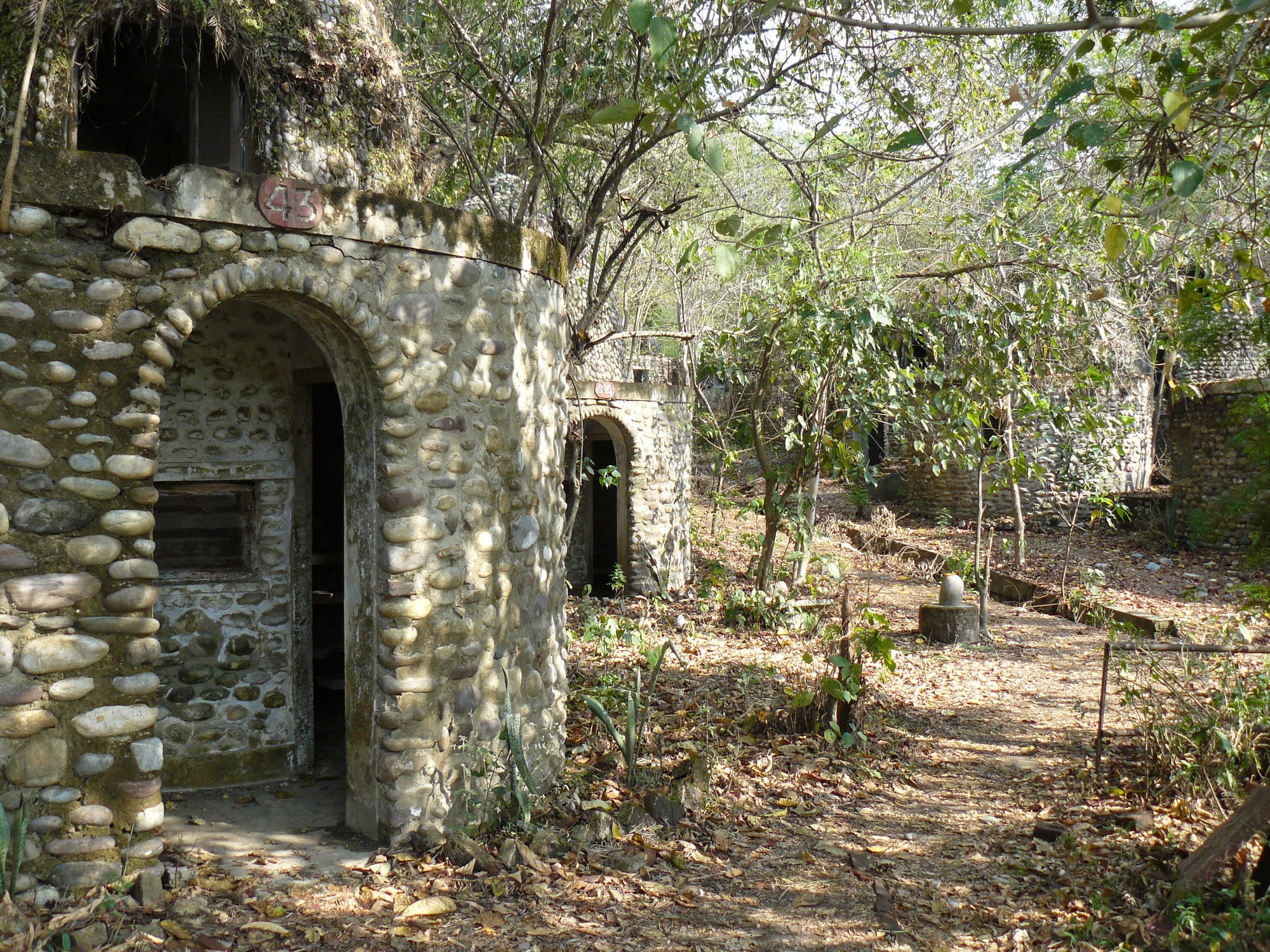 K
itchen and Dining Rooms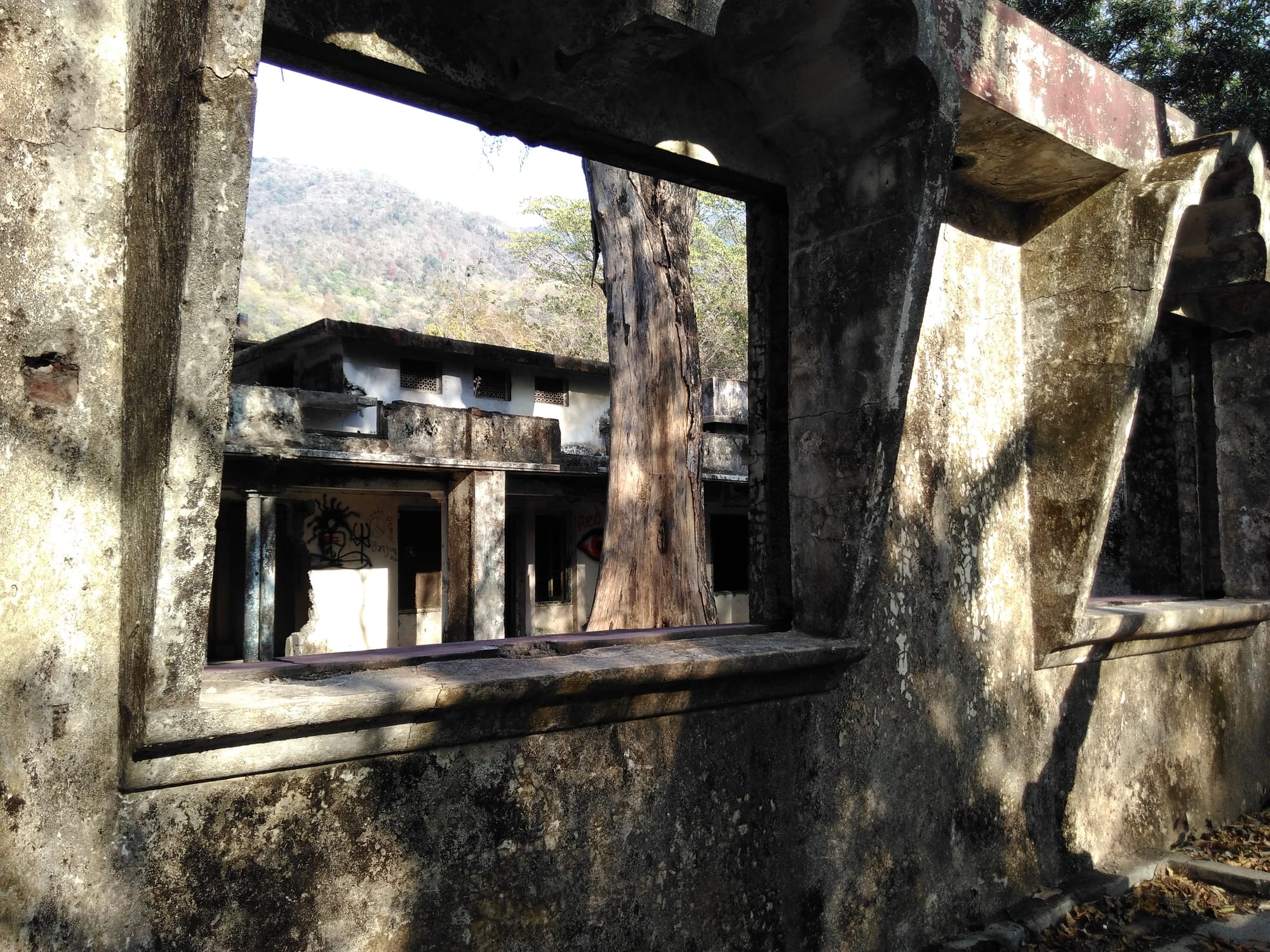 The Ashram had its own Post Office, Printing Press, Temple........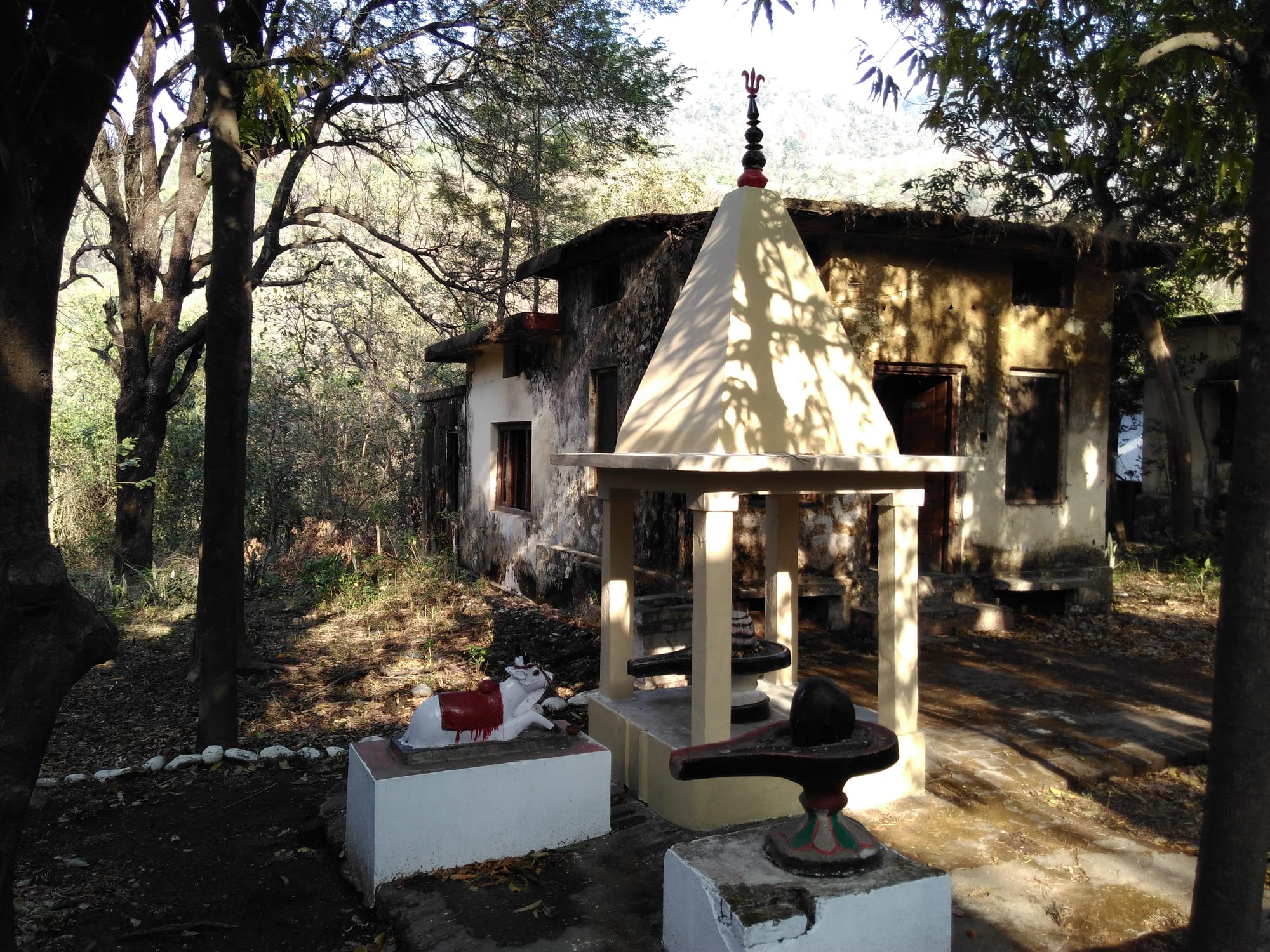 .... meeting rooms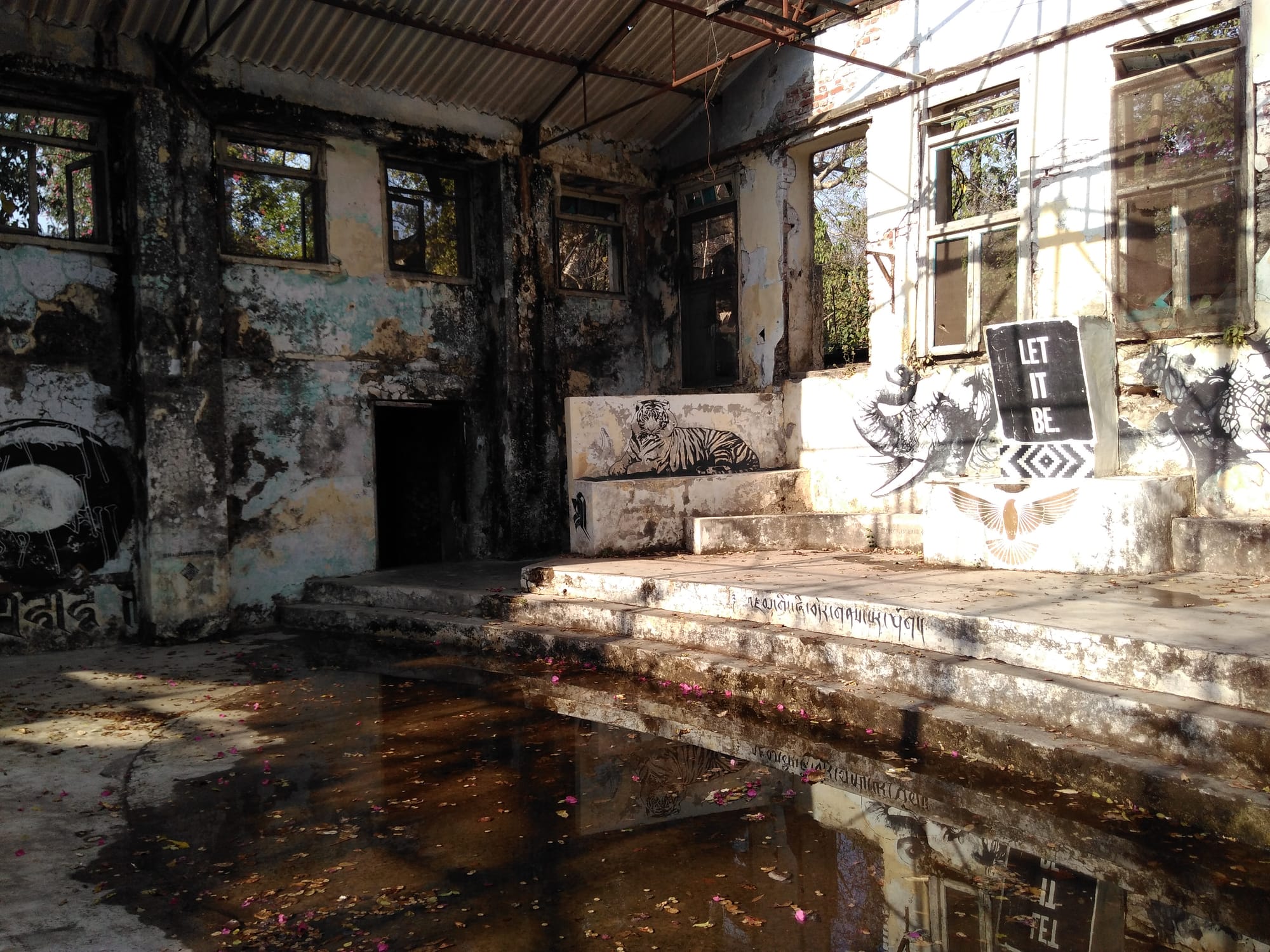 ...
... offices etc.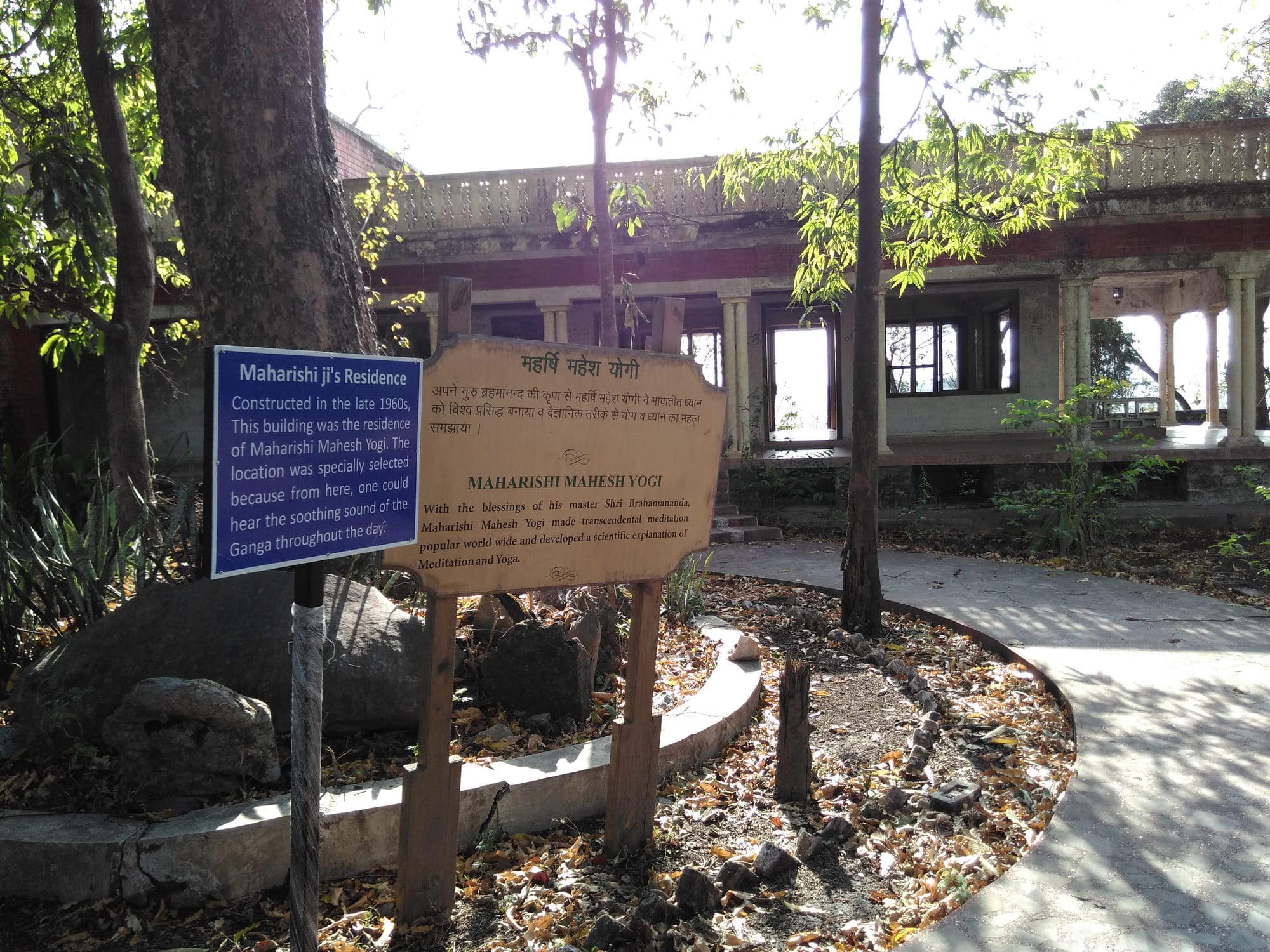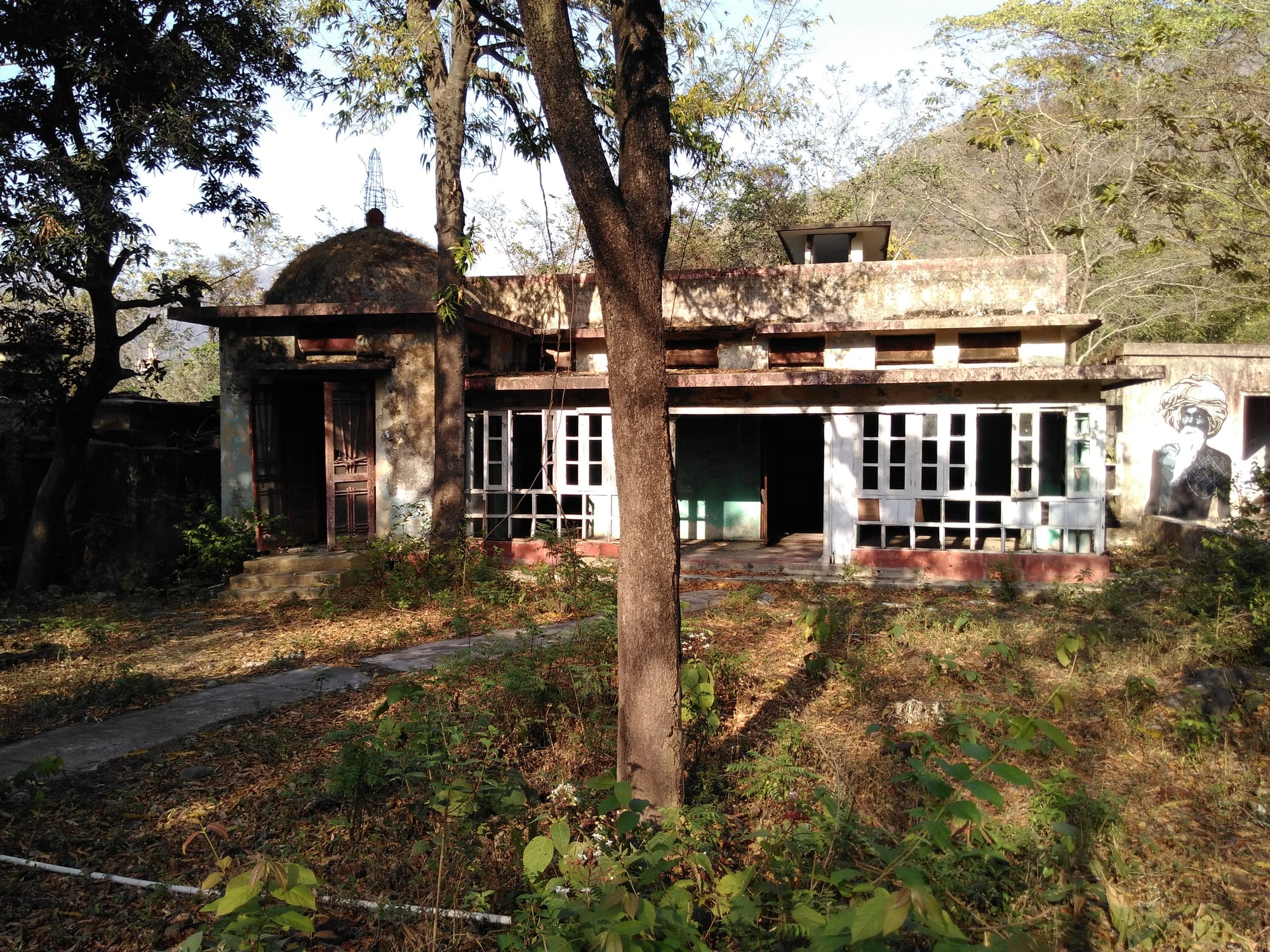 An hour before sunset, back in Laxman Jhula, the colours soften, and architecture blends into nature.....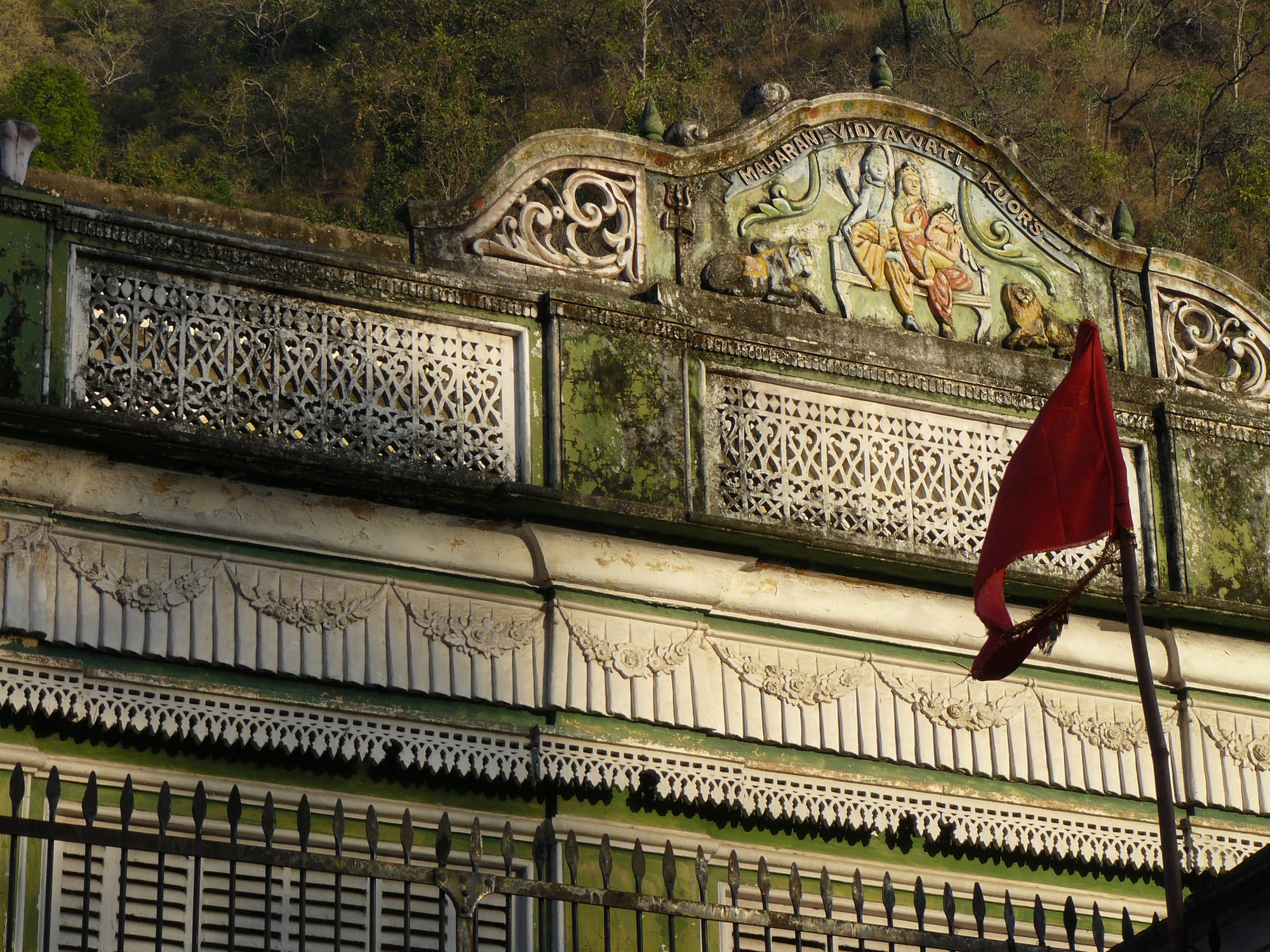 Stupas into flora.....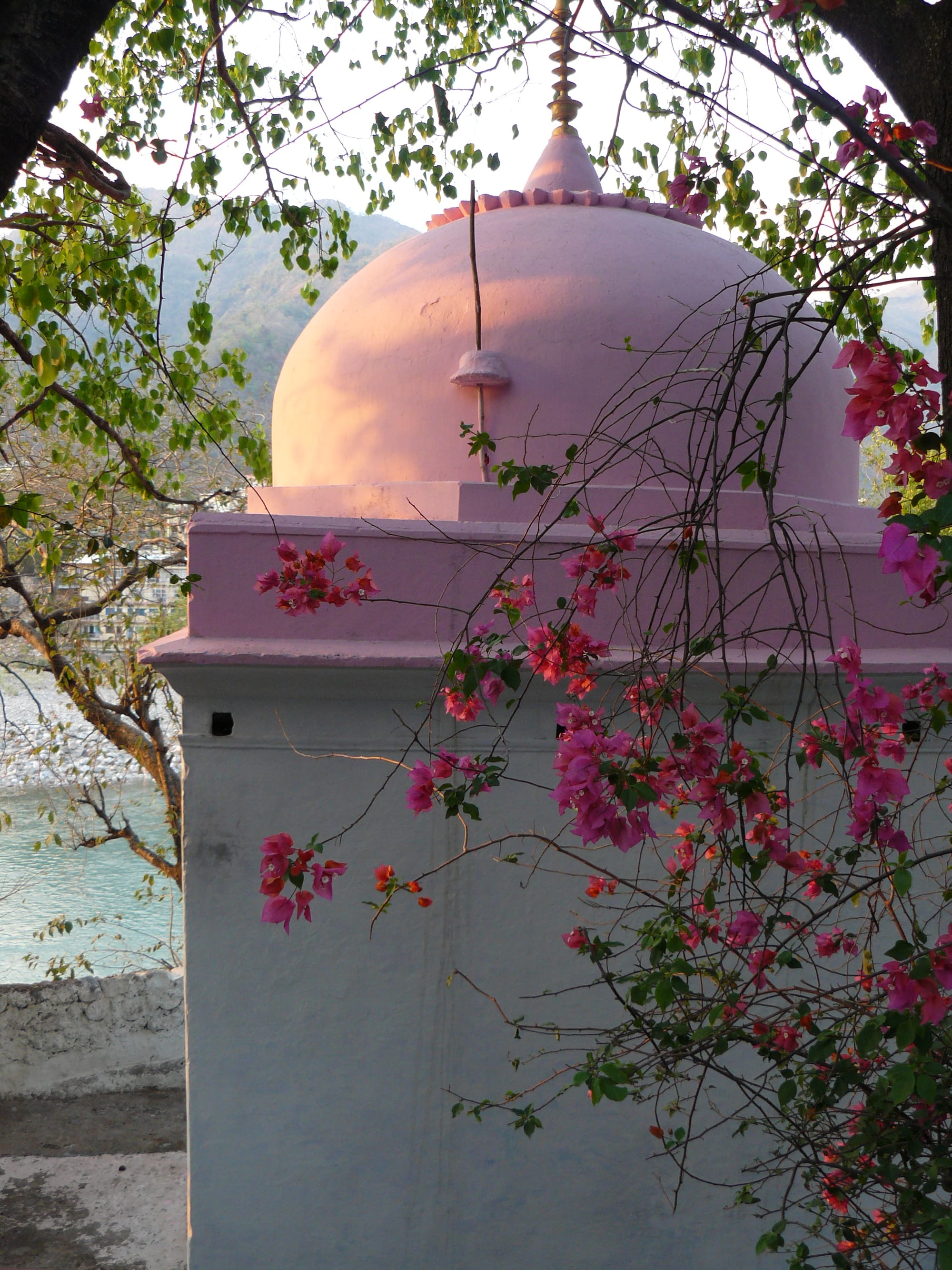 Temples into rocks.....
And the last boats full of tourists return from the "sunset trip"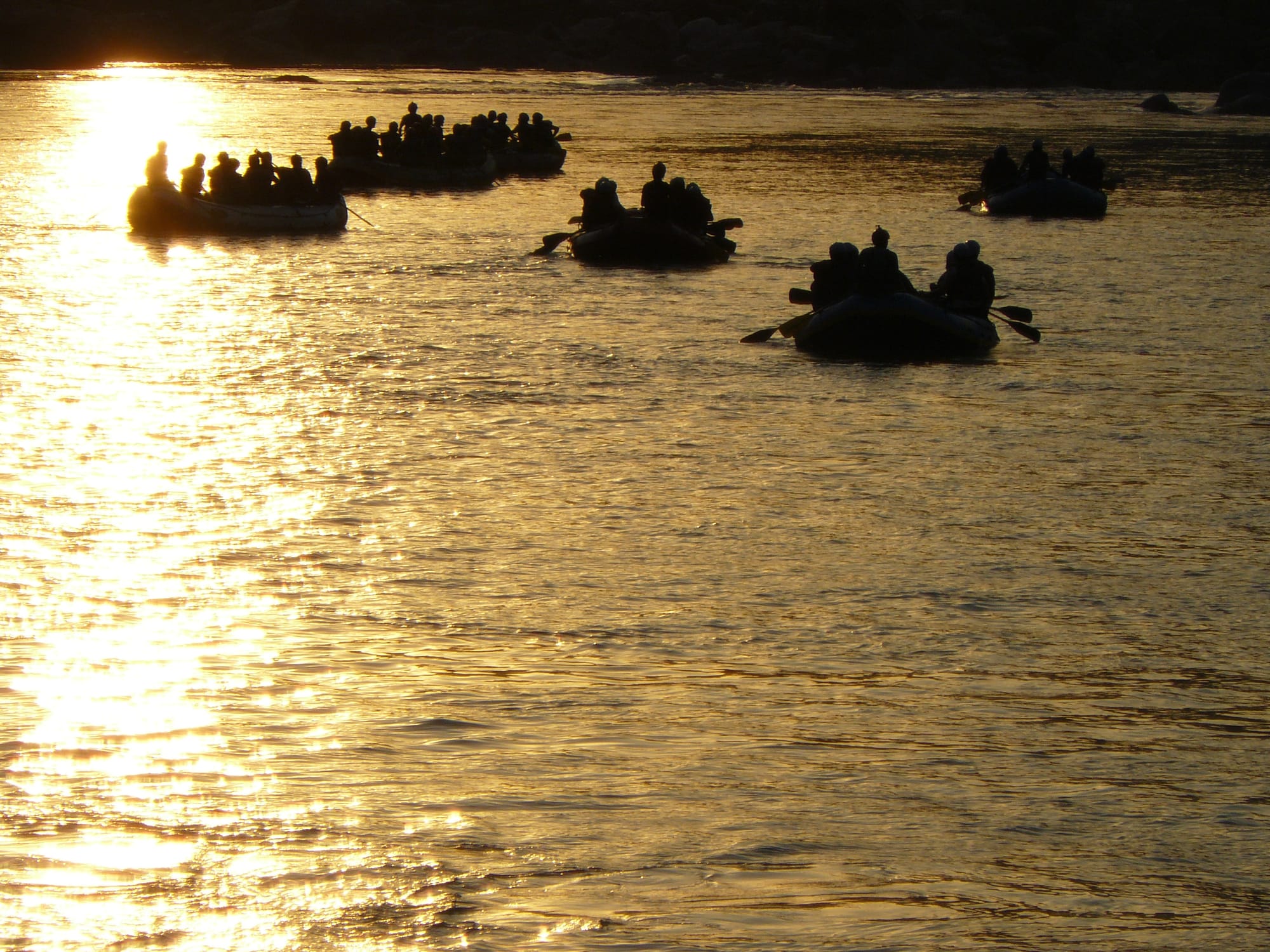 Time to start planning 2019......